MD contributor Lia Braswell, who recently replaced all snare drum parts with samples on tour with the band TR/ST, finds out how the dual drummers in Minneapolis's favorite indie-dance-rock band fare with a similar challenge.
As Polica presents their new album, When We Stay Alive, to live audiences, they maintain the dreamlike soundscapes they're revered for while integrating a new, entirely electronic drum setup.
Singer Channy Leaneagh and producer Ryan Olson first collaborated in the band Gayngs back in 2011, and soon after furthered their musical compatibility in Polica. With the help of Chris Bierden on bass and Drew Christopherson and Ben Ivascu both holding down the beats, they've been developing their own unique sound ever since. "We basically improvised our parts on the first record," says Ivascu. "Our first practice was the first time we'd all been in the same room together."
Five full-length albums later, the drummers have reestablished their roles without giving up their individualism. While Olson solely contributes to the band's electronic textures as writer and producer off stage, Christopherson and Ivascu create polyrhythms within the band's atmospheric melodies live and in the studio, always taking care that their kick drums don't flam, as Christopherson puts it.
While discussion about the relative benefits of acoustic vs. electronic drumkits are not likely to end anytime soon (do electronics add or take away from performances; do they limit a drummer's playing style?), the musicians in Polica have embraced the transition with a positive attitude. "Ben and I both play Roland TD-50s now," says Christopherson, "because Polica wanted to make a fully electronic album for once. The experience has been, frankly, a blast." Both drummers say they're still able to play with their own personal style, countering the argument that electronic kits limit a player's feel.
"We had to change a lot of things about how we approach playing," says Christopherson regarding working together as a duo, "things like blast beats and cymbal grabs. But the challenge has been really fun. The dynamic range is much bigger with two drummers. It gives us a lot of freedom to go very quiet and minimal if we want, or to hit it super hard together. Playing with Ben is incredibly fun because he's able to play a lot of different feels and fills that I cannot do myself, but it feels like they're coming from me since they are coming from us." Meanwhile, Ivascu jokes, "The most challenging part for me has been dealing with Drew's overall enthusiasm for everything—but I've overcome/embraced it."
Whether a band has one, two, or more drummers in the lineup, driving for hours on tour and not getting proper sleep remain a challenge. "It's important to take nights off from the party hang and to get sleep," says Christopherson. "I have a hard time remembering even those two simple things. But spending a night in and watching movies with your bandmates is an excellent way [to maintain balance]."
Regarding Polica's collective warm-up routine, Christopherson says, "We slap the insides of our legs like sumo wrestlers to get the blood flowing right before we go onstage," while Ben says he utilizes his exercises from high school drumline to loosen his wrists.
Along with his own musical projects, Christopherson runs the record label Totally Gross National Product with Olson, representing artists such as Lizzo and Jason Feathers, among others. "Touring can be a motivating and inspiring time if you let it be," says Christopherson. "It provides an opportunity to discover new music. Totally Gross National Product is actually a little more on my radar when I'm traveling and playing [music]. The downtime at the venue before and after soundcheck is a great time to have my face in a computer."
Admirably, Christopherson makes a point while on tour to go out on the floor and watch at least some of the other bands on the bill, if not their whole sets. Besides acclimating him to the volume and feel of the venue, "It helps to ground me in the place and time," he says. "For a group of Wisconsin thirty-somethings to finally get to go to Europe often, and to see places like Singapore and Finland, we try to be as grateful as we can be for the opportunity."
---
Also on the Road
Thomas Hedlund and Christian Augustin with Cult of Luna /// Kofi Baker with the Music of Cream /// Cindy Blackman Santana with Santana /// John McEntire with the Sea and Cake /// Brad Morgan with Drive-By Truckers /// Debbie Knox-Hewson with Nasty Cherry /// Justin Brown with Thundercat /// Michael Cavanagh and Eric Moore with King Gizzard and the Lizard Wizard /// Atom Willard with Against Me! /// Kris Myers and Andy Farag with Umphrey's McGee /// Christopher Guanlao with Silversun Pickups /// B.B. Borden with the Marshall Tucker Band
---
ADVERTISEMENT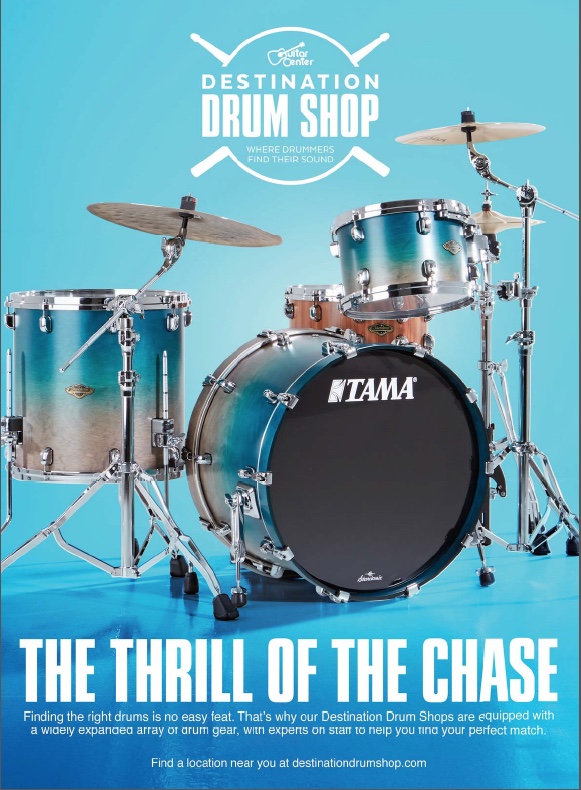 Modern Drummer Special Offers