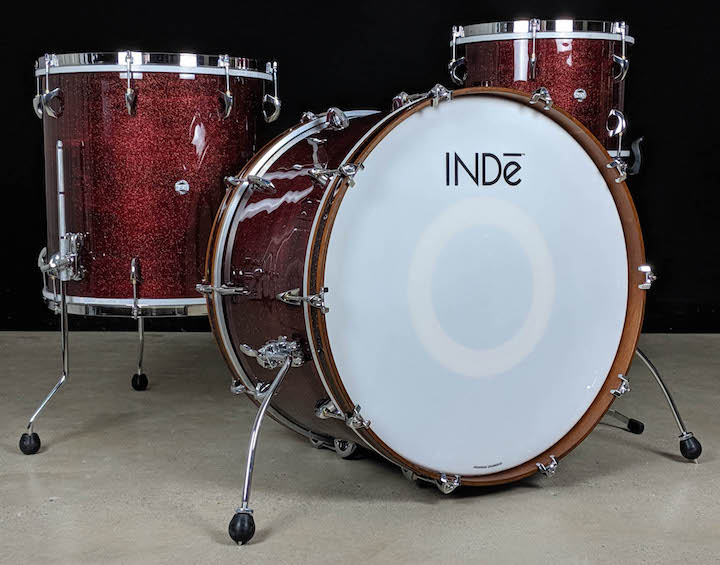 A trifecta of classic do-all tone, sleek and innovative hardware, and a gorgeous, nearly bulletproof finish.
Independent Drum Lab (aka INDē) is an American company founded in 2015 by drummer/designer/engineer Josh Allen, who got his start in the industry reimagining hardware technology for one of the most iconic brands in the States. With an emphasis on honesty and integrity, Allen now handcrafts professional-grade kits and snares at his own shop in Michigan that are meant to produce full, open tones, are lightweight and easy to tune, and are competitively priced. To provide live/touring drummers with additional durability, Allen developed a nearly indestructible hand-applied finish, called RESoArmor, which protects the shell from damage better than a plastic wrap, but without dampening shell resonance. This finish is available in a nearly limitless combination of colors, swirls, and sparkles. For this review we were sent a three-piece RESoArmor shell pack with a 14×22 bass drum and 9×13 and 16×16 toms in Solid Burgundy Sparkle ($2,699).
Specs and Techs
INDē's proprietary ultra-thin maple shells are 4.3 mm thick and feature two thin plies with vertical grain and three thicker plies with horizontal grain. The vertical plies allow for easy transfer of vibration from top to bottom, thus improving the shell's sensitivity and resonance. The horizontal plies give the shell the necessary stiffness to remain perfectly round under drumhead tension. The bearing edges are rounded to maximize shell-to-drumhead contact, which adds punch and fatness.
The toms came with 2.3 mm triple-flange steel rims, and the bass drum hoops are maple with matching inlays. INDē's proprietary arch lugs and bass drum claws are designed to have minimal mass and no tone-dampening components, like plastic inserts and rubber gaskets. The floor tom legs and bass drum spurs are attached to the shells via sleek, small BR2 tunable suspension brackets, which allow for maximum sustain as well as sturdy positioning. These brackets can also be adjusted to tweak the amount of resonance to find each drum's specific sweet spot.
Any combination of Aquarian drumheads is offered. Our review kit came outfitted with single-ply Texture Coated Power Dot tom batters and single-ply Texture Coated resonants. The bass drum had a Force I Clear batter, which is a single-ply head with an internal muffling ring around the perimeter. The front head is a smooth-white Regulator, which has a 7″ circle of dampening on the underside.
Style and Sound
Given the traditional sizes and old-school dotted tom heads on this RESoArmor kit, I expected that it would be most at home at higher tunings, . la classic rock legends John Bonham and Mitch Mitchell. While it sounded great tuned high, it also sounded awesomely full yet punchy in the middle and lower registers. There was airiness in the tone that pervaded at any tuning, even when the heads were cranked beyond the threshold of choking on most ply-shell drums. Yet with barely any tension on the heads at all, the drums somehow still managed to produce pure, focused notes.
The decay of these drums was super fast but not overly abrupt, so they spoke with a full tone that died down quickly to allow space for subsequent notes to articulate clearly. This experience was consistent at all tunings, even in the medium range, which is often plagued by excessive sympathetic shell resonance. I didn't need to add any dampening to the RESoArmor toms at any tuning, and the kick had a huge, full voice that was equally punchy and boomy. Tuned medium or medium-low, this 14×22 drum could easily fill a midsized room. If you prefer a more focused, chesty thump, simply toss a towel or small pillow inside, and you're ready to roll.
As a huge fan of vintage and modern drums, I find it incredibly inspiring to see a new, forward-thinking company like INDē embracing the classic sounds and aesthetics of drum manufacturing from the past while introducing a slew of improvements and innovations to push the instrument into the future. Check out more about the Independent Drum Lab, including Allen's science-based theories on drum shell and hardware design, tuning, and more, at indedrum.com.
---
 ADVERTISEMENT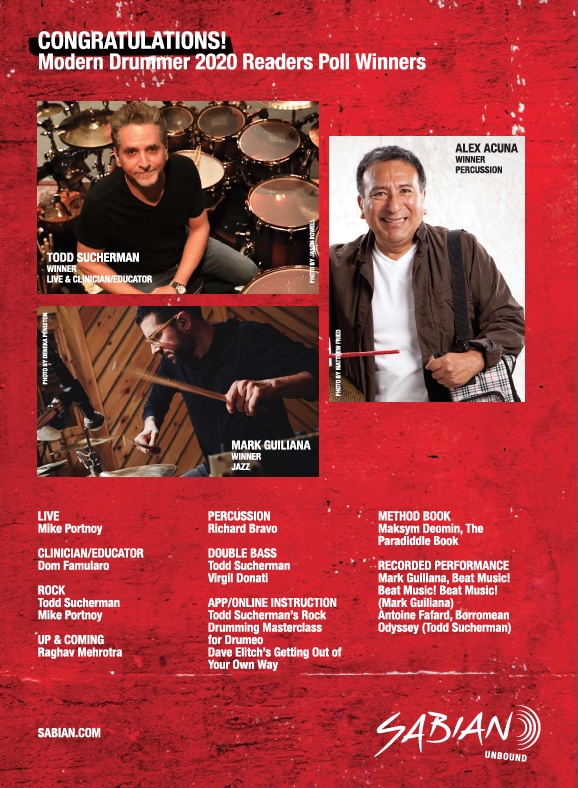 Modern Drummer Special Offers