A year shy of twenty, the popular gathering offered its usual mix of classic gear, new offerings from contemporary manufacturers, and thrilling performances.
The nineteenth Hollywood Drum Show was held this past October at the Glendale, California, Civic Center. Packed with booths of vintage and modern drum gear, the show offered a lot for the attendees to check out and purchase. In addition, several great drum clinics were held on the main stage. These included an epic drum battle between Jimmy Ford and Randy Caputo, a special drum trio by the talented Wackerman brothers, a jazz trio performance led by Peter Erskine, and a fusion trio performance led by Gergo Borlai. Spotted in the crowd were celebrity drummers including Abe Laboriel Jr. (Paul McCartney), Bernie Dresel (Brian Setzer, BERN, the BBB), Rick Latham (Juice Newton, Rick Latham and the Groove Doctors), Eric Singer (Kiss), Anthony "Tiny" Biuso (T.S.O.L.), and Jon "Bermuda" Schwartz ("Weird Al" Yankovic).
For attendees looking to check out the latest gear, there were booths from drum companies Acoutin (introducing the first "Inconel" metal alloy drum shell), Billy Blast, Cogs, Doc Sweeney, Dunnett Classic/George Way, DW, Fever, Gretsch, Jenkins-Martin, Pfeifer, PDP, Pork Pie, RBH, Tama, and Yamaha. Cymbals were displayed by Bosphorus, Istanbul Mehmet, Koide (a new company making cymbals in Japan), Meinl, Paiste, Sabian, and Zildjian. And accessories from Regal Tip, Techra, Vic Firth, Promark, Remo, D'Addario, Cymbolt, Drum Flip, Low Boy, No Nuts Cymbal Sleeves, Rob Cook/Rebeats, Tackle, and Mee Pro were in abundance.
Collectors and vintage drum buffs could get their hands on a number of great vintage drums, cymbals, and spare parts from Camco, Gretsch, Kent, Rogers, Ludwig, WFL, Premier, Slingerland, Zildjian, and Paiste, to name a few. Also in attendance was Carl Stewart's Drums for Drummers, a non-profit organization established to donate drums to underfunded schools.
Randy Caputo and Jimmy Ford are no strangers to the Hollywood Drum Show, having appeared several times. According to Randy, the two met in the mid '80s at an Anaheim music store, where the owner suggested they both try out a snare. Randy and Jimmy each played some rudiments, and Randy thought Jimmy sounded like Buddy Rich while Jimmy thought Randy sounded like Gene Krupa. They had an immediate connection, so Randy suggested they get together to jam.
Over time, these informal sessions sparked the idea of doing reenactments of the famous Buddy Rich and Gene Krupa drum battles. Jimmy said playing with Randy was like "old friends getting together for dinner—a musical conversation." They intentionally perform with little or no rehearsal so as to keep it spontaneous and fresh. It was a truly exceptional experience to watch them channel the spirits of Buddy and Gene.
The legendary drummer/author/educator Peter Erskine took the stage next, along with Bob Sheppard on sax and Edwin Livingston on bass. Erskine's trio played a number of jazz tunes, including "How Deep Is the Ocean," "Twelve," "Charcoal Blues," "Cats and Kittens," and "You and the Night and the Music." Peter's drumming on a Tama S.L.P. New-Vintage Hickory drumkit was an exhibition in fluidity of motion, dynamics, style, and grace. For the first time in his many years attending the show, Peter also had a booth at the show, where he was selling some of his private collection.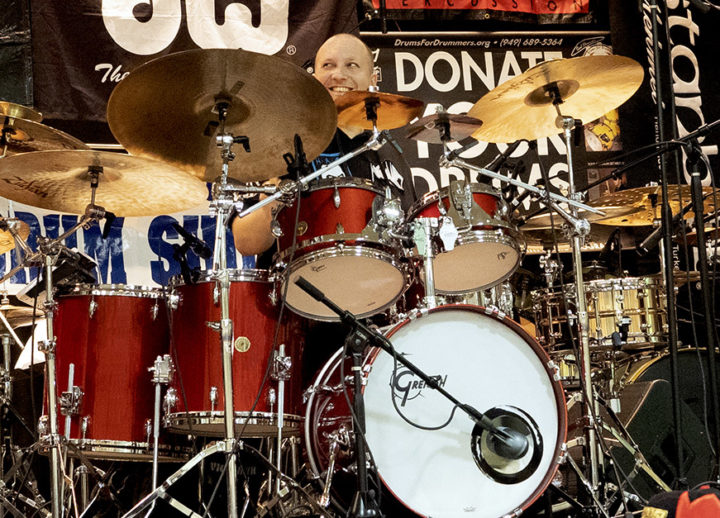 Gergo Borlai and his fusion trio with bassist Anthony Crawford and guitarist Alex Machacek followed Erskine's set. Borlai sat behind an eye-catching red Gretsch USA Custom drumkit, and his trio performed a handful of Machacek's original compositions. The drummer emphasized two key attributes for all players to master: practice ("Don't play—practice!") and patience.
Last onstage were the incredibly talented Wackerman brothers, Chad, John, and Brooks, each of whom played on a gorgeous DW drumkit. "It's been ten years since we last played together," noted Brooks, as their father, Chuck Wackerman, a renowned music teacher with more than sixty years experience, watched from the audience.
During their performance, John played a short solo on vibraphone while Chad played some melodic ideas on a Roland SPD-SX multipad. All three Wackermans addressed a variety of questions from the audience. In response to an audience member's query about how to improve musically, Chad responded, "Learn other instruments, because it will make you a better drummer."
---
ADVERTISEMENT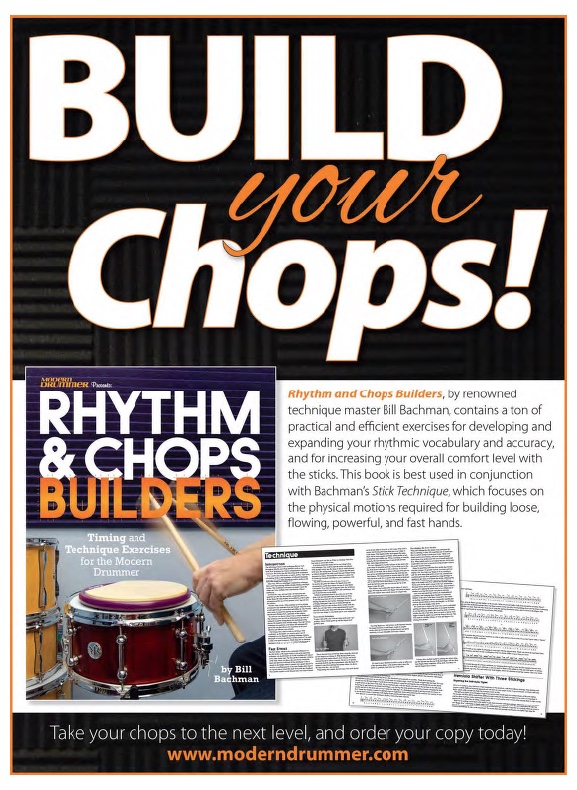 Modern Drummer Special Offers