Part 1: Congas, Bongos, and Timbales
As a working drummer, it's likely that you're going to be asked to play some hand percussion instruments at some point. This could range from overdubbing a simple 16th-note shaker part to pulling off more idiosyncratic patterns for congas or timbales. While you don't have to spend years of practice time to become a master percussionist, you should be able to cover some basic grooves. Also, as a drumset player, knowing the percussion parts for a particular style or song can help you better understand the music as a whole. That way you don't step on the percussionist's toes. You'll also more easily draw on the melodies and rhythms of the percussion parts when there's not someone else playing alongside you.
This miniseries is broken into two parts. In Part 1 we're covering the big stuff: congas, bongos, and timbales. Part 2 will address handheld instruments like shakers, tambourines, bells, and blocks. All of the grooves we've included are general suggestions and should be adjusted based on the requirements of your particular situation. Remember that serving the song is paramount.
Congas
When playing congas in pop music, you can get away with knowing just a handful of grooves. The most universal pattern is derived from the Latin tumbao. A pop song that utilizes this groove is "Smooth" by Santana. (O = open tone, P = palm, T = tips, S = slap, M = muted tone)
The verse part is played as follows.

The chorus part, which utilizes three drums, is played like the following.

A more melodic version of this pattern is featured in "Do It Again" by Steely Dan.

Tumbao grooves can also be interpreted with swung 8th notes, like in "Build Me Up Buttercup" by the Foundations.
Our next conga groove is often called the "soul tumbao." In this pattern, the open tones mimic a kick drum, and the slaps mimic a snare. You can hear the soul tumbao on "Inner City Blues" by Marvin Gaye.

Next up is the a caballo (translated as "on horseback"). This groove is similar to a traditional merengue pattern. The a caballo works well in dance-hall reggae or reggaeton tunes. You can hear it in action on "Dile" by Don Omar.

The fourth pattern you should know on congas is the calypso. You can hear Ralph MacDonald play this open-toned groove on the classic Grover Washington Jr. song "Just the Two of Us," which features legendary R&B singer Bill Withers.
The verse part is this:

The chorus part is this:

Bongos
A bongo pattern that works well in most situations is the martillo (or "hammer"). While it's commonplace for the bongo player to elaborate on the martillo with a fair amount of improvisation, you should be able to play a simple version of it. This figure can be played with sticks or hands. The martillo was featured in the theme song to the hit television show I Love Lucy, and you can hear it at the beginning of "Black Magic Woman" by Santana. (O = open tone, T = fingertips, TH = thumb)

The song "Apache," by the Incredible Bongo Band, starts with a soul tumbao pattern played on bongos.

After the classic drum break at 1:46—famously sampled by the Sugar Hill Gang on "Apache (Jump on It)"—the bongos switch to an improvisatory version of the martillo.


Timbales
The timbalero in a traditional Latin band is responsible for playing a variety of syncopated rhythms on cowbells, blocks, and the sides of the drums. These patterns can be executed on the drumset by adding one or two cowbells to your kit.
The basic cascara pattern that's normally played on the shell of the timbales can also be played on a mambo bell while striking the heads of the drums on beat 4 of each measure (when notated in cut time). You can hear this pattern in the song "Black Magic Woman/Gypsy Queen" by Santana. Example 12 shows this pattern notated in 4/4, while Example 13 is in cut time.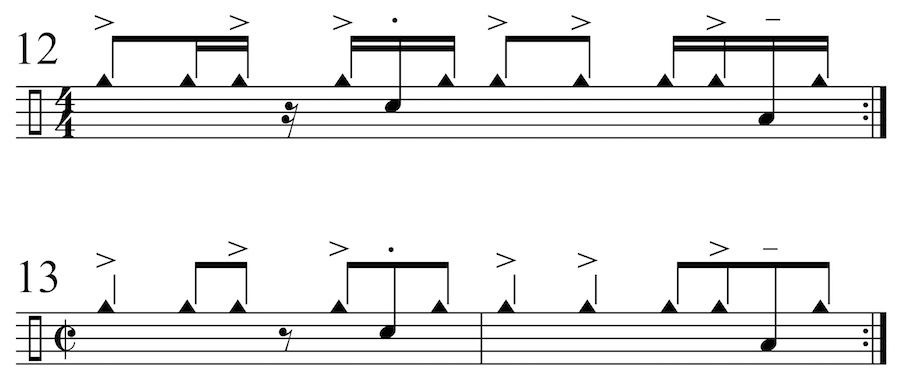 A slower version appears in "Got to Give It Up" by Marvin Gaye.

Another figure used often in pop music is the plena bell pattern. You can hear this rhythm, with some embellishments, in the Robin Thicke hit "Blurred Lines."

Be sure to visit moderndrummer.com to check out our video demos of each of these grooves. In Part 2 we'll cover some additional bell patterns, as well as common rhythms for shakers and tambourines.
Marcos Torres and Damon Grant are the hosts of the "Discussions in Percussion" podcast. A graduate of Berklee College of Music, Torres won a Grammy in 2014 for his work with the Pacific Mambo Orchestra. Grant has performed with Charlie Hunter, Morgan James, Horacio Hernandez, and Stefon Harris, and he leads his own group, the Damon Grant Project. Damon was an original cast member of the Emmy and Tony award–winning show Blast!, and he currently teaches at his alma mater, the University of Massachusetts at Amherst.
---
ADVERTISEMENT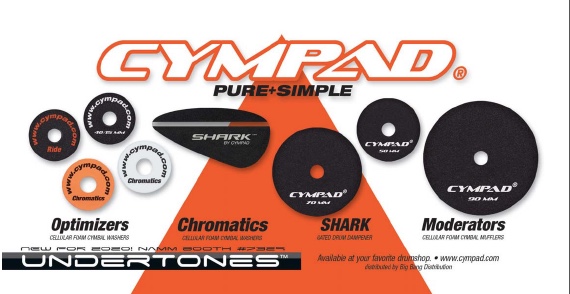 Modern Drummer Special Offers