Power. Passion. Precision.
Eloy Casagrande was only twenty years old when he joined the legendary Brazilian metal band Sepultura. The group has roots in metal that date back to the days of MTV's Headbangers Ball, and Eloy was born the year that the video for "Dead Embryonic Cells," from the band's iconic 1991 album Arise, first aired. In fact, when Eloy came into the fold in 2011, there were no original band members remaining in the lineup, and there hadn't been for five years. Nonetheless, Eloy's presence captivated drummers and fans alike, and today he and mainstays Derrick Green (vocals), Andreas Kisser (guitar), and Paulo Jr. (bass) keep the Sepultura name as relevant as ever.
Casagrande first caught the attention of Modern Drummer back in 2005, when, at just fourteen years old, he won MD's Undiscovered Drummer Contest in the eighteen-and-under division. Eloy performed at the Modern Drummer Festival that year, and his career has been in ascendance ever since. He's the personification of raw power meeting absolute precision.
Sepultura recently released their fifteenth studio album, Quadra, and will be spending the next two years touring behind it. The recording was produced by Jens Bogren (Opeth, Devin Townsend, At the Gates, Between the Buried and Me), and Casagrande delivers his most ferocious drumming to date, pushing himself to the physical limit while executing envy-inducing grooves chock-full of melodic sensibility and polyrhythmic wizardry.
We caught up with Casagrande in the months leading up to the album's release, a time he covets for being able to practice in his studio every day and teach clinics and master classes during which he gets to connect with his fans. If his playing doesn't say it for him clearly enough, Casagrande is an intense and passionate man with a hunger for creative artistic expression. His goal is to continually push himself to seamlessly translate that energy into his performances. All the while he never loses sight of the creative expression of playing music with other people—and sharing that gift with audiences to create a memorable experience for all.
MD: Your playing is extremely physical and explosive, yet tasteful and dynamic. Do you practice playing softly with intensity?
Eloy: My biggest problem in life is trying to play soft! [laughs] I started playing drums learning Brazilian rhythms. Sambas and bossa novas are played softly. I continue to struggle with playing quietly. When I'm doing drum clinics or master classes, it's really hard for me to play an example of an exercise quietly, but I try! To have a good sound on the drums while playing soft is difficult; you have to have the right touch. I don't consider myself a good drummer in terms of playing with soft intensity. I'm more about giving a hundred percent.
MD: Before we dive deep into the new album, how did you go from playing sambas and bossa novas to getting into heavier music?
Eloy: When I was eight and just started playing, my first drum teacher only played Brazilian music. My dad gave me four albums: Deep Purple's Made in Japan, Van Halen's 1984, Led Zeppelin IV, and AC/DC's Back in Black. That was my introduction to rock music. But it wasn't until I was thirteen that I discovered metal bands like Metallica, Iron Maiden, and Slayer. My interpretation of metal was that it was strong music, so I felt like I had to play it with power and play it loud. That's something that's just natural for me, and it creates energy between the band and the crowd. They give the energy back to you, so it's an adrenaline cycle that never stops during the show.
MD: Other than the drums, it looks like you hit the gym pretty regularly as well. Do you work on any drumming-specific muscle groups when you work out?
Eloy: When I was seventeen or eighteen I started getting inflammation in my tendons, so I started going to the gym for the purpose of getting stronger to avoid those pains. When I'm working out, I don't think about the drums. I try to take care of my body so that when I'm playing I can give a hundred percent of myself.
MD: What's your approach to playing live shows versus how you play in the studio?
Eloy: A lot of metal musicians feel that they have to follow these "rules." They also think that the fans also have these rules, where what makes a good musician is someone who is able to reproduce or deliver exactly the same show every night. But to me that's just BS! I want to be different every day. I get tired of playing the same thing. I actually want to forget what I played yesterday and be a new musician today.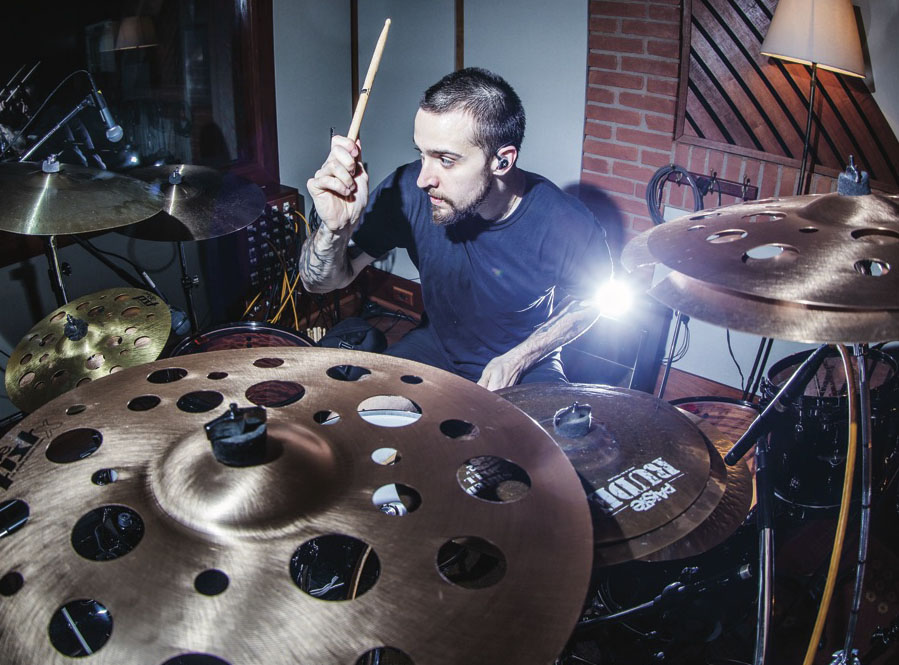 MD: Quadra definitely sounds like a record where the music and drums are interconnected and the parts are dependent on each other. It's an unpredictable record, with twists and turns that keep the listener engaged. Was the entire band in the room hashing these songs out?
Eloy: Actually, no. Andreas Kisser and I wrote all the music together, and then Derrick Green added the lyrics and the melodies. Derrick lives in L.A. and we live in Såo Paulo. Andreas and I started writing the album at the end of last year, and we began by sending each other ideas. I'd send him some grooves and he'd send me some riffs, so when we got together and started rehearsing we had some place to start. It was a really easy album to write because we had a lot to say musically. We weren't thinking about the past catalog or what types of songs we wanted to write, we just started creating music in the moment, for the moment.
MD: Your drum sounds on this record are unusual compared to others on the current metal scene. They're organic and sound more like a percussion section.
Eloy: There are no samples on this record. I had to play all those parts. It was one of the most difficult recordings of my life. Jens Bogren was constantly pushing me and asking so much of me and being so evil. [laughs] He was picky with everything I was playing. He was equally concerned with how the drums sounded, and he didn't want to add samples on the drums, so I had to really nail the performances and get the best and most consistent sound out of the drums on every performance.
Jens respected that I had more percussive sounds in how I tuned my drums and instead of using three toms with similar tunings, I [swapped in] a smaller rack tom without a bottom head and tuned it high, almost like a timbale. That actually changed how I had to think about my fills and my parts, because my rack tom is now a new instrument. That took some thinking and adapting with how I approached what I played. I had to find new vocabulary when writing my parts because I couldn't just play these fast tom fills that I used to do.
MD: With your current touring setup, did you also have to change how you're approaching older songs?
Eloy: Yes! I use two floor toms, but one on either side of me. Some of the older songs with fast tom fills are too fast to play between the two floors, so I have to use the 12″ rack tom. It sounds really different, and I like that.
MD: The song "Means to an End" is relentless in terms of the drumming. When you have the capacity to technically play whatever you want in a genre in which playing a lot of notes is encouraged, when do you know when to go for it and when to lay back and allow sections to breathe?
Eloy: "Means to an End" is more of a groovy Sepultura song, but it's also a pretty intense song. When I was trying to record that in the studio, I was dying. It's not that it's a fast or thrash metal song, but if you don't play the parts of that song with high intensity it loses the groove, and the entire point of that song is the groove. On some songs I do like to give more than I do on others. The last two songs on the album, "Agony of Defeat" and "Fear, Pain, Chaos, Suffering," are more like "ballads"—at least ballads for Sepultura, meaning slower songs. I tend to hold off a little more on songs like that to give the vocals and guitar solos more space.
MD: You'll often hear drummers say how in the studio they play completely differently from how they do live, in order to get the best sound out of the drums. They'll play softer or avoid playing rim shots. Something tells me that's not at all how you approach recording.
Eloy: No. I was probably playing harder and more intensely during this recording process than I even do live, because I wanted all that energy to translate. Each take I was playing, we had to stop and retune the drums. After almost every five minutes of playing, we had to stop and retune. I respect that Jens stopped when he heard the tuning of the drums changing, because the end result sounds incredible. Though sometimes when I'm warmed up and ready to go, I don't want to stop. I would discuss that with Jens and say, "If you don't stop me it's going to help me give a better performance. I understand you might lose a little bit of tuning consistency, but I'd rather have a good performance." Jens is a very methodical producer, so I also understand his logic. We struck a good balance, and he was really respectful of how I played.
MD: In the studio artists and producers can sometimes disagree on what defines a "perfect" take.
Eloy: We recorded in the past with Ross Robinson, and he's totally the opposite. He likes to live in and respect the moment, and if you're crying or screaming or dying, that is better than how it sounds. I love that approach, but on the other side you do sacrifice the sound. Jens pushed me to the limit to get both the best sound and the best performance. He had no problem telling me if he felt that my energy or my sound wasn't consistent.
MD: Are you tracking to a click?
Eloy: I tracked to a click with Andreas playing along with me. We did five or six takes for each song, and then did one take without the metronome.
MD: Are the takes that made the record the ones with or without the click?
Eloy: I don't know. That was up to Jens. For some of the faster songs we actually divided them in half, recording the first part and then the second part so I could keep my energy at the highest level. I was playing so hard that I had trouble keeping my energy at the same level. It's kind of shitty to admit that for some of the faster songs I needed to stop halfway through in order to maintain my power.
MD: Well, the recording is permanent, so it doesn't sound like an inability to play the part that you were struggling with as much as wanting to put as much energy as possible into each take so it translated the emotion accurately. When it comes to live shows and your desire to stay in the moment, do you tend to use a click to start songs, so that your adrenaline doesn't get the best of you?
Eloy: I use the click for three or four songs, especially if the songs have some form of overdubs or sequences like violins or choirs. But on most of them I don't use a click. The fun part of playing live is that every night the show is different, and that's a good thing.
MD: Do you record your shows to listen back to them?
Eloy: Sometimes I do, and most of the time I don't like what I hear. [laughs] Because sometimes you're feeding off the energy of a certain crowd, and so the band plays faster and it makes sense in the moment. But when I listen back afterwards, then I start being critical of myself.
MD: So listening back to shows is more about finding a balance of wanting to critique yourself in order to improve, but also not playing so conservatively that you're depriving your audience of the energy and passion you put into your performance?
Eloy: Right. I really respect the moment, and I'm good with giving myself some forgiveness when I listen back to the show. I put it into perspective and think about how the show itself was. Sometimes I feel I put myself at risk when I play live, because I also don't like to play the same fills every night. I'm always challenging myself. I'm playing the same song 120 times a year, and if I had to play it identically every time I would hate myself. It's so boring for me, and I think I would end up in a deep depression. I challenge myself and try to make the best experience for the audience. The most important thing to do when playing live is to not think. All the thoughts I have about the show are before I get to the stage. Once I'm at my drums, I just want to live in the moment and be present and enjoy the music.
MD: As an educator, when you're planning your clinics, do you go into them with a specific point you want the audience to walk away with?
Eloy: Today, with Instagram and YouTube, where it's all about likes and followers and comments, I believe this generation is growing up with the wrong idea about what it means to play music. It's really sad that kids are playing music by themselves in their rooms. They don't have the artistic vision. What inspires you on your instrument can come from outside of music. It can come from art, books, movies, or culture. I try my best to explain that you don't have to follow the rules. You have to go beyond and push yourself to have an artistic voice on your instrument.
---
Casagrande's Setup
Drums: Tama Starclassic Bubinga
5.5×14 metal snare
8×10 tom
10×12 tom (without bottom head)
14×16 floor tom
16×18 floor tom
16×22 bass drum
Cymbals: Paiste
20″ 2002 Wild crash
15″ Formula 602 Modern Essentials hi-hat
19″ Formula 602 Modern Essentials crash
12″ Rude Shred Bell stacked on top of 14″ Rude Blast China
14″ PST X Swiss Flanger Stack
20″ Formula 602 Modern Essentials crash
14″ Formula 602 Modern Essentials hi-hat
20″ Formula 602 Modern Essentials ride
20″ 2002 Novo China
Heads: Evans coated Genera HD Dry snare batter and UV1 resonant, clear G2 tom batters and Hazy 300 resonants, clear EQ4 bass drum batter with AF patch
Sticks: Promark classic 5B wood-tip
Hardware: Tama Iron Cobra Power Glide double pedal, Iron Cobra hi-hat stand, Roadpro stands for all cymbals and snare drum
Electronics: Yamaha DTX drums and EAD10 Electronic Acoustic Drum Module In-ear monitors: Clear Tune AS-7
Cases: Bombags
Cables: Data Link
---
ADVERTISEMENT
Modern Drummer Special Offers