---
RECORDINGS
---

Charles Lloyd Quartet Montreux Jazz Festival 1967 Live
JACK DEJOHNETTE at a career crossroads.
By the time master drummer Jack DeJohnette joined the Charles Lloyd Quartet in 1966, he'd earned sporadic cred with notable jazz leaders. But it was his two-year stint with tenor saxophonist/ flutist Lloyd that truly put him on the map. Lloyd granted his young sidemen—DeJohnette, pianist Keith Jarrett, and bassist Ron McClure, recently replacing Cecil McBee—full freedom, and they soared with it.
Recorded in fine fidelity by Swiss Radio, the two-disc set captures the style hybridizing quartet headlining the first Montreux Jazz Festival at the height of their popularity—Lloyd's Forest Flower was one of the best-selling jazz LPs of the decade. In addition, the unit attracted rock crossover audiences, becoming equally at home playing international jazz festivals and sharing the bill with the Jefferson Airplane at the Fillmore West.
On this set's twenty-seven-plus-minute version of "Forest Flower," DeJohnette injects rock-energy backbeats adorned with untamed improvisation. During this period, Miles Davis had been scoping out the rising drummer, and DeJohnette would later escalate that energy when Miles recruited him to inherit Tony Williams's chair. The game-changing outcome was Bitches Brew.
While the quartet's lyrical side is present here, the most captivating moments are avant-garde excursions where the quartet explores with open abandon while maintaining astonishingly connected interplay and attention to form—a very "in" approach to "out." Especially intriguing is the cat-and-mouse play between DeJohnette and Jarrett during the pianist's solos. They're young, fearless, and surefooted. That bond—already strongly evident here—would spawn a five-decade association that continues today.
A drumming highlight is DeJohnette's must-hear extended solo on "Sweet Georgia Bright." His wildly creative spotlight moment explores unorthodox drum and cymbal textures—eliciting audible glee from the audience—climaxed with a blazing tempest. An overdue and welcome addition to the DeJohnette trophy shelf. (TCB) Jeff Potter
Antoine Fafard Borromean Odyssey
TODD SUCHERMAN's chops and pocket add thrills to this fusion date.
Fans of Todd Sucherman get to hear him infuse live Styx music with excitement and precision playing, but those looking for the drummer free of constraints will find much to enjoy on a new fusion disc from guitarist/bassist Antoine Fafard. Along with Gary Husband on keyboards, the musicians are laying down so much rhythmic information on this set of intricately arranged instrumentals, it's difficult to choose who to listen to. Sucherman's combo of snare ghosting and delayed backbeats over seven in "The Seventh Extinction" drives the track with assurance, before ending with a quick barrage of fill combos that are over way too soon. Check out the lightning-fast singles and perfect flams during his breaks in "Time Lapse" and his grooving sidestick comping under the bass solo in "Inspired Mechanics." Classic rock might pay the bills, but Sucherman's developed voice on more note-centric material clearly inspires him—and gets our blood flowing. (antoinefafard.com) Ilya Stemkovsky
---
TAKING THE REINS
---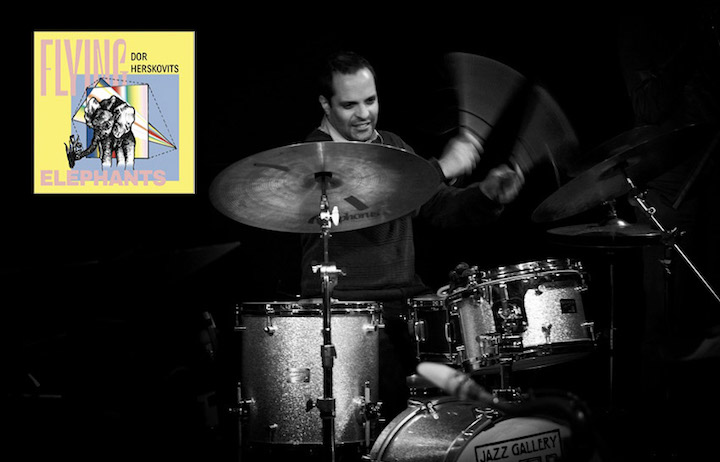 Dor Herskovits Flying Elephants
The Israeli drummer and bandleader twists jazz into a variety of strange shapes.
Raised in Israel and based out of Boston, drummer and composer Dor Herskovits takes listeners on an intentionally disorienting journey through various forms of jazz and rock on his quintet's latest release. Despite a tendency to return to Herskovits's sizzling swing work on the ride cymbal, many of the songs in this set take detours through progressive rock ("Magenta") and cinematic score territory. On "Recursion," Herskovits builds a satisfying solo from the ground up by alternating triplet patterns around different parts of the kit, including rims, bells, and a host of found objects, all before leading the quintet back into a series of slick jazz accents. While much of the material contains sections of pure manic discovery, expertly drawn ballads like "New Fashioned" give listeners plenty of space to catch their breath, while the title track melds funky snare fills and reggae hi-hat stutters into an irresistible half-time groove. (Endectomorph Music) Keaton Lamle
---
Other Drummer-Leds to Check Out
Buddy Rich Just in Time: The Final Recording /// Sunny Jain Wild Wild East /// Aaron Dolman Nostalgia and Other Fantasies /// Greg Essig Numb /// Barrett Martin Group Indwell /// Sebastiaan Cornelissen Bevel Around the Edges ///Jae Sinnett's Zero to 60 Quartet Just When You Thought… /// Ralph Peterson's Gen-Next Big Band Listen Up!
---
TAKING THE REINS
---

Charles Rumback and Ryley Walker
Little Common Twist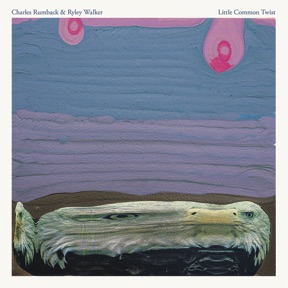 Two veteran Midwestern musicians refract jazz and indie rock into base elements on their second instrumental LP.
Charles Rumback is a drummer who's made the rounds within Chicago's improvisational jazz scene, while Ryley Walker is best known for guitar-driven singer-songwriter work that wanders into experimental jam territory in live settings. On their second collaborative LP, Rumback and Walker explore sparse sonic territory. Rumback's brushwork moves deftly between heavy shuffles and light accents, giving Walker plenty of space to stretch into harmonic discovery. One joy of the album lies in surrendering to what may sound at first like chaos, only to slowly discover an idiosyncratic pulse as Rumback progressively unearths counterintuitive grooves. In other places (notably, "Idiot Parade") propulsive Afro-Cuban rhythms steer the ship confidently from the first beat. While the drumming is not often meant to be the main event here, songs like "Ill-Fitting/No Sickness," with its manic rim-driven percussion, demonstrate the qualities that make Rumback such an inviting collaborator. (Thrill Jockey) Keaton Lamle
---
BOOK
---
Drumming Outside the Box by Joel Rothman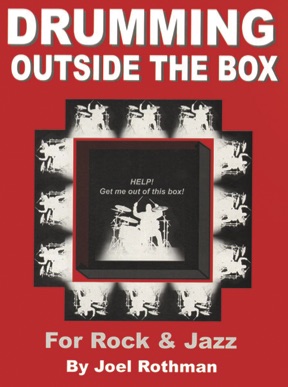 A treasure trove of varying cymbal and snare combos to expand the possibilities within jazz or rock.
For author Joel Rothman, "outside the box" here means changing up the standard ride cymbal beat found in classics like Ted Reed's Syncopation and other educational texts from drumming's nascent period. Clearly laid out with easy-to-follow examples of cymbal and snare notation, the material in this book introduces line after line of changing rhythmic ideas, as opposed to the traditional, static spang-a-lang ride pattern and snare "melodies" you're used to seeing. That creates challenges right away, because if you were to play a page from the top down, it would almost sound like what Philly Joe Jones or Art Blakey were doing on your favorite recordings from the 1950s, minus the magic of course. Rothman gets into dropping out parts of the triplet, incorporating sextuplets, and four-bar patterns in 5/4 time, so there's a lot of meat to work with. But students can realistically spend years combining just a few ideas presented here, and then adding dynamics and individual creative spark into the mix. (joelrothman.com) Ilya Stemkovsky
---
ADVERTISEMENT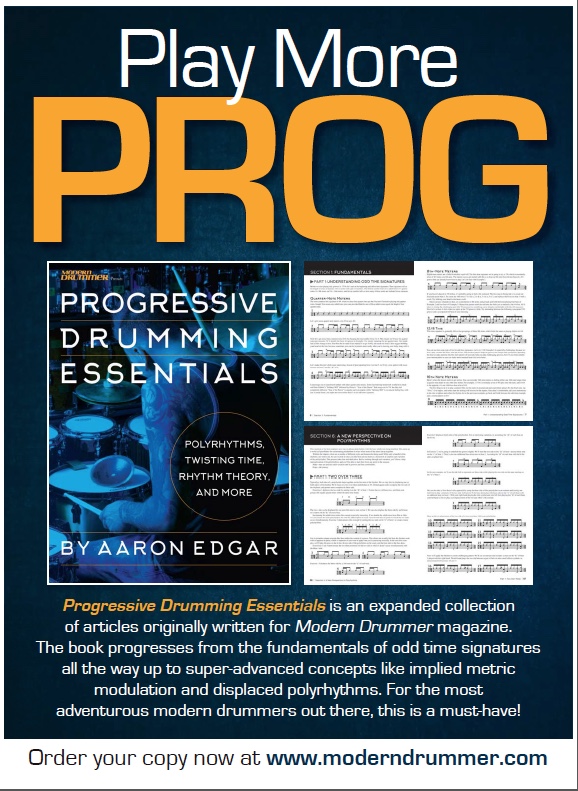 Modern Drummer Special Offers