When Tommy Harden moved to Nashville in 1991, he hit the ground running. "I was a newlywed, and my wife, Lorrie, and I had to decide where to go to best further our musical careers," he says. "L.A. and New York were the hip, cool places, but Nashville not only had a lower cost of living, but it also was known for full-band tracking." Harden's goal was to be a studio player, but after four months in town he got a touring gig with Larry Gatlin and the Gatlin Brothers. "I had no audition, but because I was recommended by [legendary session drummer] Eddie Bayers, that was all it took," says Tommy. "I owe so much to him."
After several years with the Gatlin Brothers, Harden went on a three-year stint with country legend Ricky Skaggs. "He has such a high level of musicianship, and he demands the same from his players," explains Harden. "It was quite an honor to be in his band."
Once Harden and his wife started having children, the drummer began pursuing session work so that he could be home more often. "It took about two and a half years of really slugging it out until things finally clicked," he says. "Then about three years in I get a call from a friend who asked if I wanted to go out with Reba McEntire for a summer tour. I initially declined. My buddy pressed on, and I eventually agreed." Little did he know that what was initially a six-week tour would turn into a fourteen-year career with the singer. "Keep in mind, this was happening after my session work had taken off ," Harden says. "I would get on a tour bus, go play an arena, get back home, and drive straight to a studio for a session. It's really a dream life. Now I'm playing with Alabama and doing pretty much the same routine."
Breaking into the session world is difficult, particularly in Nashville. "Folks need to know that you can come in and get the job done expeditiously because there's a lot of money being spent on a recording," Tommy says. "Of course, the only way you can show that you have what it takes is by doing it. But if they don't see you, they won't call you. You have to get one or two studios to take a chance on you just to get your face in the game. Then people start talking about you, and then doors start to open. I started out getting two or three sessions a week, then I'd get spurts of momentum, and then it would stop. I remember the week it finally started to click. It was in July 1998. One week I had twelve sessions. For the next fourteen years, I did around 500 a year. That was about as much work as I was physically able to do.
"Songwriters, producers, engineers, other players…we all talk to each other," Harden continues. "If you're hard to work with, you'll wash out quickly. I tell young players that it's 50 percent ability and 50 percent the hang. You have to bring something to the table, musically, but it's a team effort. Everyone wins when the song turns out fantastic."
What does Harden attribute his session success to? "My drumming awareness changed when I started writing songs," he says. "Having my own home studio allowed me the luxury of crafting songs and playing on my own demos. I'd play a flashy fill, then play it back and wonder why I did that, because it was taking away from the song. That was an important lesson and taught me to always serve the song.
"Another thing that taught me how to be a better player was to become the lead singer with my own band, Lost Hollow. When I'm standing in front of a band playing guitar and singing, I'm expecting certain things from the drummer. This has taught me what not to do when I'm the drummer. As a lead singer, I want someone on drums who will push but at the same time hold me back. Additionally, a drummer should be able to play at a [lower] volume yet maintain the intensity. A common mistake with drummers is to equate intensity with playing loudly. I've heard some drummers play brushes at a whisper volume but at such intensity that people in the audience were holding their breath."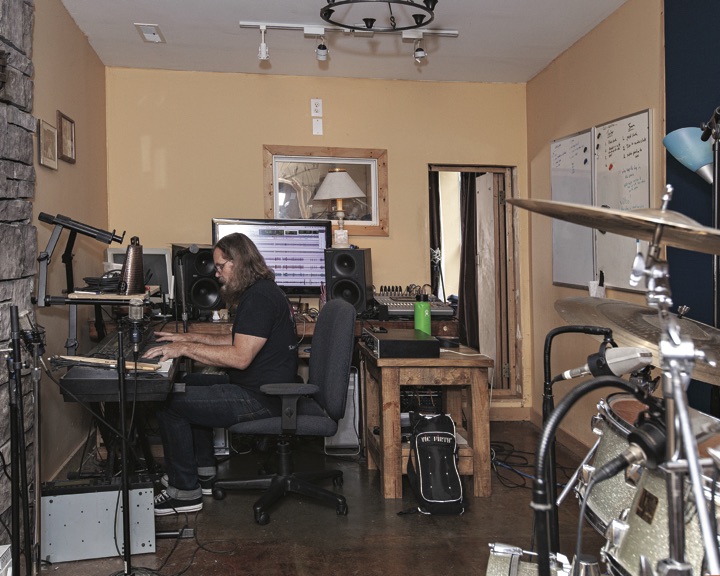 Harden didn't have a home studio until he built the house he's in now. "We built this home in 1999," he says. "I asked the contractor to make the basement ceilings higher than typical. My friend Mark Bernstein, who's a great engineer and carpenter in Virginia, stayed with me for a couple of months to help finish out the space. I wanted a really aggressive sounding drum room, so we left the cement floors as they were and put some stone on the walls.
"I'm often asked whether my tracks were cut at Ocean Way, a legendary studio on Music Row," says Harden. "The folks who subscribe to my YouTube channel think I'm in a giant room, but it isn't at all. The cement floors are a big part of that, but we also took the ceiling down at one end, which effectively compresses the sounds.
"The day after we finished the room, I had folks coming to cut drum tracks—I was nervous. As a test, I brought in a throne, a kick drum, and a pedal. I shut the doors, sat down, hit the kick, and thought: Oh my gosh, we did it! That was the kick drum sound I'd been hearing in my head. The room paid for itself in the first six months.
"I've done somewhere in the neighborhood of 7,000 to 10,000 sessions," Harden recalls. "If you figure that a master session is one to two songs and a demo is usually five songs, that's somewhere in the neighborhood of 35,000 songs. And that's nothing. There are guys who've been doing this way longer than I have!"
As for managing the pace of the sessions at his studio, Tommy often takes care of writing out the charts for the other musicians. "I chart so that the other musicians will be able to read the song correctly the first time around," he says. "I also number each line so that when they're punching in it's easy to get to a particular spot. These are all timesaving tricks. We work wickedly fast. That's what the Nashville session scene is all about."
With six kids, Harden says he's learned how to make do with the gear he had. "I would love to have a pair of Coles ribbon mics," he says. "But the family has to eat! I have sE 3500 mics on the toms, and they're great. I have clients all over the world tell me that my toms are some of the best they've ever heard. It's really all about what you do with what you have. First and foremost, I wanted a great-sounding room. When you get a great drumkit in a great room, it's yours to mess up. Just put in the best mics you can afford."
Another part of the equation, of course, is knowing how to hit the drums. "You're not sitting behind one instrument," Harden suggests, "you're sitting behind nine to twelve instruments. So you're going to hit the ride differently from the snare and the toms. My drum teacher Jim DeLong would tell me to pull the tone out of the toms. That can make all the difference in the world. As a recording drummer, you must learn how to play consistently, to make the kick sound great, and to not play the hi-hats too loudly. If you do, they'll bleed into every mic, which will make the mix engineer's life difficult. That engineer will talk to the producer, and then you won't be called again."
---
Gear Box
Drumsets: Yamaha Absolute Maple (home studio) with a 16×24 bass drum and 10", 12", and 14" toms; Yamaha Absolute Birch (in cartage for outside sessions) with an 18×24 bass drum, and 12", 14", and 16" toms
Snares: 5×14 Joyful Noise chrome over brass, 4×15 Beier steel, 6.5×14 Pork Pie black nickel over brass, 5×14 1923 Ludwig Standard nickel over brass, 1952 Slingerland Radio King, 5×14 1960s Rogers Powertone chrome-over-brass, 5×14 1960s Slingerland chrome over brass, 7×14 Noble and Cooley, 5×14 Yamaha John Robinson with wood hoops, 6.5×14 1983 Yamaha Recording Custom birch, 5.5×14 Yamaha Paul Leim chrome over brass, and a 6.5×14 Yamaha Paul Leim chrome over brass
Sticks: Vic Firth 5B
Drumheads: Remo Emperors
---
ADVERTISEMENT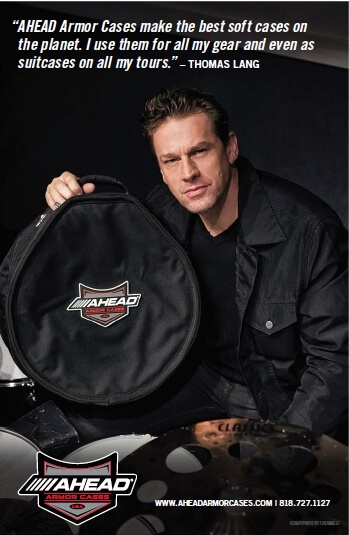 Modern Drummer Special Offers