Celebrate Your Choices for the Extraordinary Drummers of the Past Year
It's that time again for the Modern Drummer staff to thank the community for making possible our annual Readers Poll. Your enthusiasm for all things drumming, your knowledge of drum culture, and your well-considered votes are what have steered this vibrant celebration of drummers each year since 1979. A huge congrats to all the drummers MD readers have acknowledged and acclaimed in 2021. Bravo!
Hall of Fame
The Modern Drummer Hall of Fame, 1979-2021
All-Around R&B/Funk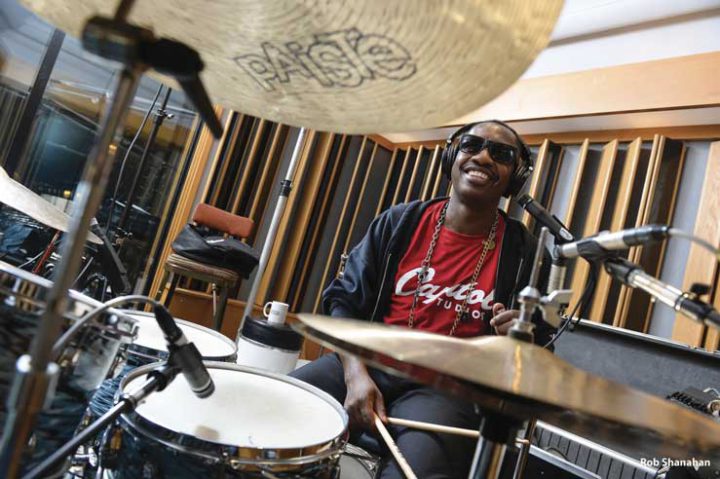 "Thank you to all the Modern Drummers who voted for me! I've said many times that I grew up listening to Tony Williams in my right ear and Ringo Starr in my left. I guess that explains everything. I appreciate and love Grady Tate, Earl Palmer, Fred Below, Philly Joe Jones, Papa Joe Jones, Max Roach, Elvin Jones, Art Blakey, Jack DeJohnette, Billy Cobham, Carlton Barrett, Sonny Payne, Billy Higgins, Mikey Roker, Lloyd Knibb, Harvey Mason, Steve Gadd, Charlie Persip, John Bonham, Gary Chester, Hal Blaine, Jim Keltner, Levon Helm, Shelly Mann, Big Sid Catlett, Earl Phillips, Ebby Hardy, Jeff Porcaro, Russ Kunkel, Buddy Rich, Louie Bellson, Gene Krupa, Lenny White, Jimmy Cobb, Kenny Clarke, Charlie Watts, Ben Riley, Jim Gordon, Paul Humphrey, Phil Rudd, and Rick and Jerry Marotta. I love the essence of all their playing, and their sense of commitment. I was fortunate enough to learn from some of them first hand. When I play, I play with all my heart and soul.
Furthermore, I have a few R&B and funk legends to thank for the inspiration to have the groove be my beacon: Clyde Stubblefield, Jabo, Starks, Al Jackson, Benny Benjamin, Zigaboo Modeliste, Roger Hawkins, Elbert 'Woody' Woodson, Morris 'Moe' Jennings, Howard Grimes, Funky George Brown, Nate Jones, Melvin Parker, Uriel Jones, 'Pistol' Allen, Ed Greene, Greg Errico, James Gadson, Freddie White, David Garibaldi, Sandy McKee, Earl Young, Ray Lucas, Bobby Ramirez, Tyrone McCullen, Steve Ferrone, Dennis Davis, Idris Muhammad, Andy Newmark, Andrew Smith, Ken 'Spider' Rice, Donald 'Duck' Bailey, and Gaylord Birch. I can go on and on, as there are so many more—especially from my neighborhood in the Bronx!"
Gear
Yamaha drums, Paiste cymbals, Vic Firth Sticks, Remo heads.
Clinician/Educator
"Thank you to all my fans and the readers of Modern Drummer for this huge honor. Congratulations also to all the other incredible artists who were also nominated in this category. Modern Drummer has always been—and will always be—the most reliable source of information and education in the global drumming scene. Receiving acknowledgement from MD and its readers makes all the hard work worth it. Thank you so much to Modern Drummer and all of my supporters. Look out for much more drumming education and entertainment coming your way." Advertisement
Gear
DW drums, Roland V-drums, Meinl Cymbals, Vic Firth sticks, Remo heads, Audix microphones, Ahead Armor cases, Queens Guard accessories, Puresound snare wires, Drumtacs mufflers, Tuner Fish lug locks.
Country/Americana
"To be recognized by peers and fans alike—and among a group of monstrous drummers no less—is a feeling like no other. Thank you, MD readers. I'm not sure we got the correct Chad here, but I am very humbled and honored to accept."
Gear
Gretsch drums, Vic Firth sticks, Zildjian cymbals.
Fusion
"It's an honor to win the Fusion category in this year's Readers Poll. The other nominees are nothing short of amazing, and they all deserved to win. I love freedom in music, so I do consider myself a fusion drummer in the sense that my playing is a result of years of listening and performing all kinds of styles and genres. Thank you all for the support—it does not go unnoticed." Advertisement
Gear
Yamaha drums, Zildjian cymbals and sticks, Remo heads.
Hip-Hop
"I'm not part of the status quo. It's risky to follow me, because I've somehow managed to make a path playing simple. I can do the gospel-chops thing, but I know a million of those gospel drummers who can't play a straight break to save their life." [From his June 2010 cover story.]
Gear
Ludwig drums, Zildjian cymbals, Vic Firth sticks.
Jazz
"Thank you, Modern Drummer—and all the readers—for your support and encouragement through the years. God bless you, and keep you, always."
Gear
Canopus drums, Gretsch drums, Ayotte drums, Sonar drums, Zildjian cymbals, Vic Firth sticks and mallets, Wincent sticks, Ludwig brushes, Regal Tip brushes, Cannon brushes, Remo and Aquarium heads.
Metal
"Modern Drummer has always been a reference point in the drumming community, and it means a lot to me that I won in the metal category. I feel like an apprentice among many amazing drummers, and I don't know if I deserve this award. It's not just about winning, but being honest with your art and getting recognized for it. I want to thank all the people who voted, as well as Modern Drummer for its ongoing and extremely important service to our music world." Advertisement
Gear
Tama drums, Paiste cymbals, Evans heads, Promark sticks.
Pop
"Thanks so much to everyone who voted. It's so cool to be included in this, and to be amongst such good company. I can't wait to get back out there and tour again very soon. Hopefully, some of you who voted will be coming to the shows, and I'll see you there."
Gear
Tama drums, Roland SPD-SX and PD-125 with BT-1 Trigger Bar, Meinl cymbals, Vater sticks, Remo heads.
Rock
"I'm not the hardest, fastest, technical, or musical player, but I do try to lead and support in every situation I'm in. I'm so honored and humbled to have the MD readers recognize me. Viva La Rock!"
Gear
DW drums, Sabian cymbals, Remo heads, Vater sticks.
Social Media
"Music has been my life, and I will always be its servant. However, the role the audience has taken in building up my work is a significant one. I humbly thank everyone, and I can promise this is only the beginning." Advertisement
Gear
Sonor drums, Zildjian cymbals, Remo heads, Vic Firth sticks.
Studio
"I want to say 'thank you' to all the readers of MD. It's such an honor to be recognized by all of you fellow drummers."
Gear
Yamaha drums, Paiste cymbals, Remo heads, Regal Tip sticks.
Up and Coming
"Peace and blessings, people. I'm grateful to be the winner of the Readers' Poll award for Up and Coming. I've been on my marathon from the beginning, and to be recognized for my art form along the journey feels good. Modern Drummer has covered some of my favorite musicians—Carlton Barrett, Billy Cobham, Tony Williams, and Ndugu Chancler, to name a few—so to be nominated means a lot. Drums are the original communication on earth, and it's important for me to tap into that energy—which has allowed me to express my voice through this instrument. I give thanks to the ancestors for the knowledge, light, and guidance. Love to all my people who voted for me."
Gear
Yamaha drums, Rototoms, Istanbul cymbals.
World/Percussion
"Thanks a million to all the readers of Modern Drummer. Your votes are like rays of light of pure encouragement. Thank you from the bottom of my heart."
Gear
Pearl drums, Istanbul cymbals, Evans heads, Promark sticks and brushes.
Recorded Performanc
Beat Odyssey 2020, Mix Master Mike

and

Steve Jordan

"Recording this album with my dear friend Mix Master Mike was a total blast! He is by far, in my opinion, the best turntablist of all time. In addition, he has a great musical vocabulary and the knowledge of someone who plays a great jazz repertoire. This album was a total exploration in improvisation. We went in, Chris Steffen got amazing sounds, we hit 'Record,' and we were off. Mike took it to his lab, and he and I mixed it at Village studios in Los Angeles with Gabe Burch. Then, it was mastered by the one and only Greg Calbi at Sterling Sound. Thank you all so much for digging what we did. You have no idea what it means to us."
— Steve Jordan
Educational Institution
Educational Institution
July 2021 Issue