Showbiz history is dotted with "triple-threat" performers who were top-flight actors, singers, and dancers, from Gene Kelly to Judy Garland to Sammy Davis Jr. to Beyoncé. Rarer still are those who can boast extraordinary performance and technical skills, bona fide icons on their instrument who also possess, say, first-rate production and engineering skills. That's exactly the kind of expertise Simon Phillips has flaunted in his résumé for decades.
Simon Phillips' career goes back to the early 1970s, when he became an in-demand session drummer in London. Finding himself playing in a production of Jesus Christ Superstar, the young Phillips soon ventured into studio work, which kept him busy and helped spread his reputation as a heavy rock player who had jazz chops. That's his hard-rock flash and solid groove on Jack Bruce's How's Tricks, Judas Priest's Sin After Sin, and David Coverdale's White Snake, all from 1977. That's also Phillips' exceptional and inventive work on Stanley Clarke's Rocks, Pebbles and Sand and Jeff Beck's There & Back, both from 1980. And perhaps most importantly, that's Phillips on Mike Oldfield's 1983 record Crises, which began the drummer's professional engineering and producing career.
Along the way, there were sessions for Mick Jagger, Gary Moore, Tears for Fears, Peter Gabriel, Michael Schenker, the Pretenders, David Gilmour, and a slew of other giants.
When the Who reunited in 1989 for a tour, it was Phillips who got the call. And when Jeff Porcaro died, it was Phillips who took his place in Toto, a relationship that lasted twenty-one years and included many tours and albums. In 2010, Japanese piano virtuoso Hiromi approached Phillips and bass legend Anthony Jackson to form the Trio Project, which to date has released several studio albums and brought its brilliant musical chemistry (and very demanding songbook) to stages across the globe.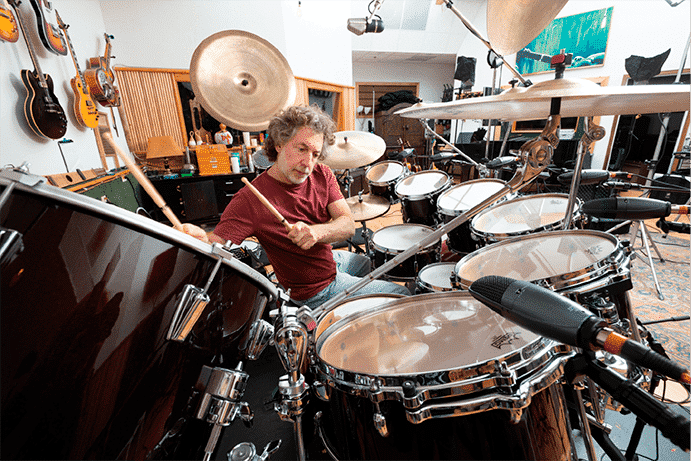 And Phillips continues to be a major threat and asset to those looking for more than drumming fireworks. His unique dual role as player and producer makes his phone ring for all kinds of projects, not only because he can play in 17/8, but because he possesses a unique perspective gained from experience on both sides of the glass. Recently he played on, co-wrote, and co-produced on The Phoenix, a new record from ex-Dream Theater keyboardist Derek Sherinian, continuing a fruitful relationship that's been going on several years.
And he continues to get calls from artists looking for that special Phillips multidisciplinary touch, as he did from guitarist DarWin for a new, expansive concept record, Origin of Species.
But it's his work as a leader that defines Phillips and his signature voice behind the drums. With his band Protocol, Phillips indulges in all the things that make music exciting for him and his admirers. There is of course that huge kit, with its open, natural, resonant toms and colorful cymbals. It's been a trademark of his for many years, and Phillips' sound is as much linked to his equipment and equalization as to his blistering, open-handed technique. Then there's the aggressive, guitar-based instrumental music Phillips writes for the group, filled with odd times and double bass and fusion-y goodness. This is technically challenging stuff that needs special players to interpret and execute properly, and on the band's latest, Protocol 4, Phillips has enlisted the talents of guitarist Greg Howe, bassist Ernest Tibbs, and keyboardist Dennis Hamm to do the music justice.
And while Phillips has had a beautiful uniformity of sound in his playing and production, like everyone, he's dealing with what the world is handing out right now in the form of the pandemic. But that's nothing compared to when his house burned down.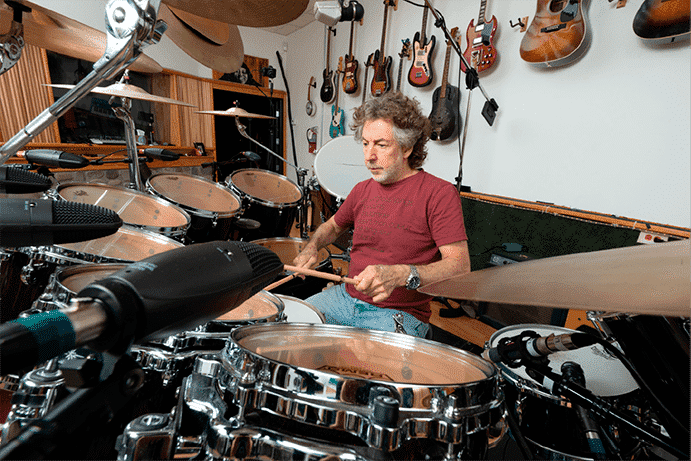 MD: Let's start with the obvious tragedy of losing your home and what can be assumed to be lots of possessions in the Los Angeles fires of 2017. How did you deal with that, and how have you recovered?
Simon: There was a lot of stuff going on at that time anyway, personally. I was playing a show with Protocol at the Iridium in New York, and my neighbor called me to tell me the house was gone, the guest house was gone, the car was gone. And I had just moved in there five months before. I was brought up by parents who lived through World War II, who were both in the military and had bombs dropped on them. Literally. My upbringing was very strict, but my dad was a musician and my mom was a huge music fan. I didn't know how to react, but I could hear my mom saying, "Well, you just bloody well get on with it." [laughs] So it was my upbringing that got me through that.
MD: Did you lose a lot of irreplaceable gear? Kits?
Simon: I don't store any of my equipment at home. I did lose my studio equipment, and the only drums I had up there were one of my old Ludwig Octaplus 22″ bass drums, a Ludwig Acrolite snare drum, a few stands, and a little set of cymbals. I'd set up that kit just to play a little bit before the tour and practice certain things. I've gotten into this thing of practicing very quietly, trying to do as much as you can without raising the level. So I lost all that. But the real problem was all the lost photographs, the letters, and all the stuff from an era where we didn't have computers or scanners. I had letters from Mick Jagger, Jimmy Page, Jack Bruce. Some of my diaries were saved, but a lot I'd lost. I still consider myself fairly lucky because being on the road, I had a suitcase full of clothes.
MD: No smooth pivot here, but let's discuss your involvement with the new Derek Sherinian recording, The Phoenix. You've recorded with Derek many times over the years. Was anything different this time around?
Simon: The one thing that was solidified was that we have a great writing relationship. We just work well together and bring the best out of each other. We always had great chemistry, but it was probably nine years ago when we wrote the last thing together. And I'm typically quite a slow writer, but with Derek it's quick. And the other thing is how he has matured as a composer and how the tunes he brought to me had more form.
MD: The record has a heavier feel overall, with lots of crunchy keys and big beats from you. Protocol 4 is also a bit heavier. Are you turning it up as you age?
Simon: Protocol 4 is the first album, apart from Protocol 1, which I call my demo, where I wrote everything and was the sole composer. So maybe that has a little bit to do with it. But also having Greg [Howe, guitarist] along, and the way he plays and his tone, did make that maybe a tougher album. It's the chemistry of all the parts.
Derek didn't want to use any digital synthesizers or virtual synths. We both use Arturia, which is a wonderful company making incredible-sounding vintage synthesizers, as a plug-in. But Derek has the real thing. And it has the real problems that come with the real thing. [laughs] But also, with Sons of Apollo and what he's been doing, that's now how he's treating [composing]. A lot of the bass lines are doubled with a Moog, or Taurus, or Nord, and as soon as you have a riff that's doubled by two or three instruments, inherently that makes it a heavier sound. I do some riff writing, but I like the organic approach, where the bass is much more contrapuntal rather than being locked into a riff. That makes the tune more jazz-rock-fusion.
MD: "Clouds of Ganymede" from The Phoenix has some nice production touches you don't normally hear on fusion/prog records, like the deeper, reverb-y snare tone on the verses. Is that to break up the "sameness" from track to track?
Simon: I always give the song what it needs. And I wanted that one to be very floaty, very airy, and I detuned the snare to be like a '70s ballad. Take out all the 1k, boost the low end, and it sounds pretty nice in a song like that.
Believe it or not, every song had a different snare drum sound. But I'll start with my snare tuned up medium high, and that's where we get all our levels. I'll record a little and listen back and say, "Sounds like a drumkit." But sometimes I might need to work on the kick drums a bit, or a couple of the toms. And then we'll do a pass on a song, and sometimes I can even tell as I'm playing, even in the phones, that this is the wrong snare sound for this track. Changing the snare can make the whole kit sound different. Or sometimes just the tuning, bringing it up or down a bit. I'm listening to the key of the song, the available space, or the lack of space tonally, whatever it is. And it's usually pretty instant.
MD: Did the lineup changes for your newest album, Protocol 4, make you compose differently?
Simon: I do always have a tone in my head when I'm writing material, especially the guitar player. After Protocol 3, I knew that Andy [Timmons, guitar] and Steve [Weingart, keys] wanted to move on, and it's very hard to find a guitar player who knows how to play rock 'n' roll but also understands jazz harmony and can play over changes. I need that blues and rock sensibility, but I also need somebody who knows what to play over those "adult chords." And I remember being really impressed with Greg when we did a short tour together with Eddie Jobson. So immediately my composing took a turn, because now I could focus on the kind of player he was. And on the first day of recording, Greg started playing those harmonics at the beginning of "Nimbus." I thought that was going to be on my sequencer, but he found all the harmonics. I thought, You've got to be kidding me. It's a very difficult part, and Greg loves the challenge.
MD: Does your playing shift with new musicians around you?
Simon: Hmm…not so much. But I'm always listening. And I'm always concerned whether everybody else is listening. When I'm onstage, even if I'm playing straight-ahead rock 'n' roll, I still have a jazz mentality, and that means you can't just put your head down and play your part. Even when I'm playing with a singer, I'm always feeding off him or her. With Mick Jagger, we had a great time. You wouldn't think that there would be room in those Stones songs for improvisation, but I found a way of doing it. I think that was something Roger Daltrey found a little strange. And he was used to Keith Moon, who was playing everything all at once. But it's the way I would phrase. It's not normal and it's not straight. He found it "too jazzy," but hey, I think Keith Moon was jazzy.
MD: On "Passage to Agra" from Protocol 4, you incorporate your trademark low-pitched Octobans into the groove. But it's slightly different in its Middle-Eastern flavor, with a heavy quarter-note pulse. How does one come up with new and fresh beats after all these years?
Simon: I've always wanted to not approach things from a "drummy" perspective. The music is all written on keyboards. I don't start with drums at all. "Passage to Agra" was programmed with tabla. The percussion was a high tabla playing the upbeat and another sequencer that was a synthesizer sound, but a percussive one. So I put on my pop production hat, because that's a song, with a lyrical melody. And I've done it on many recording sessions, where there's an opportunity to take it out of the normal kick and snare, 2 and 4. And that's also part of the reason why I like to have the whole kit, even if I'm playing kick and snare. The sound of the kick and snare, with everything resonating, makes it sound big. But if I'm playing a track and that's not the right approach, I'll just start playing one thing and slowly it builds up.


Phillips' Setup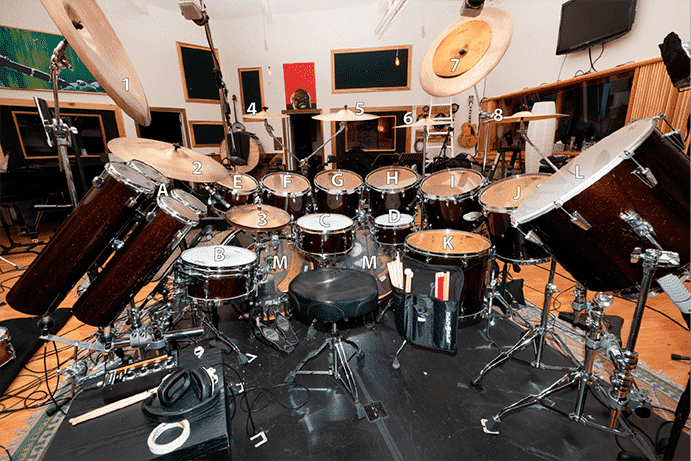 Drums: Tama Monarch Signature Starclassic Kit
A. Octobans (low-pitch)
B. 5.5×12 snare
C. 6.5×14 snare (main)
D. 5.5×10 snare
E. 7×10 tom
F. 9×12 tom
G. 10×13 tom
H. 11×14 tom
I. 12×15 tom
J. 13×16 tom
K. 14×18 floor tom
L. 14×20 gong drum
M. 15×24 bass drums (2)
Hardware: Tama, including Iron Cobra bass drum pedals, Lever Glide hi-hat stand (without legs), and Ergo-Rider Trio throne
Cymbals: Zildjian
circa 1979 24″ (or new 23.5″) Avedis Zildjian Swish Knocker
22″ Armand Zildjian ride (custom)
14″ Armand Zildjian hi-hats
12″ Armand Zildjian splash
5 17″ Armand Zildjian crash (custom)
18″ Armand Zildjian crash (custom)
22″ Oriental China Trash with 14″ FX Trashformer nested inside
19″ Armand Zildjian crash (custom)
Heads: Remo, including Ambassador Coated snare batter; Ambassador Clear tom, bass drum, and Octoban batters; and Timpani Clear gong drum batter
Live-Performance Mics: Shure, including BETA 52 (custom) for bass drums and gong drum, SM57 for snares, BETA 181 for toms, KSM137 for Octobans, SM27 for overheads, and KSM137 for hi-hat
Sticks: Promark TX707W Simon Phillips signature hickory model (occasionally model FBH550TW)
Recording Mics: Shure BETA 52 and Yamaha 7″ woofer for bass drums; Yamaha 7″ woofer and Electro-Voice RE20 for gong drum; Shure SM57 for snare drums (no bottom mic); Shure SM27 for toms; Shure KSM137 for Octobans; Beyerdynamic M 160 for hi-hats; various mics for overheads (currently AEA KU4 ribbons or AEA R84 ribbons); Royer R-121, Royer SF-12, Coles (STC) 4038, or Shure SM57 room mics ("Usually ribbon mics; depending on the room I like to use two sets, one close and one farther away.")


Electronics: small mixer for monitors to which are fed mixes or splits from either the stage monitor console, FOH console, or splitter box; Meyer UPA-1P stage monitors; Roland TM-2 for triggering samples for Protocol shows; Pro Tools running on a Macbook Pro with a MOTU Hybrid Ultralite-mk3 interface for drum clinics and some shows, depending on the situation
MD: Besides your technique and feel, your kit has been the lead character in your movie for a very long time. You've really developed that over the years, with a very personal sound synonymous with your name. But is it important for you to have that uniformity on all these projects?
Simon: In most cases, people are asking me to play on something and they do want that sound. And I treat it like a grand piano. If I took a few drums away, I might start hitting air, because I don't even look at the drums when I play. [laughs] But it's the sound of the whole kit resonating. As long as I've done my job tuning, you can put up just two overheads and mike both kick drums, put those four faders up, and you've already got that sound. For the kick, sometimes I'll put some extra dampening to make it thuddier, or sometimes I'll liven it up.
MD: And now you have to deal with everyone requesting video as well.
Simon: Everyone wants video. I hate it. It's tough, because it interferes with the recording process and creativity. I might do a track and punch my way through it, fix this or that, and always be checking the snare drum tuning. But then I'll hear a track and think I might want to try something different on the verses. But then I'll have to go back and punch in on all the verses [in the video]. I want creative options. But the cameras make that really difficult.
MD: And you have to wear the same shirt every time.
Simon: [laughs] Absolutely, yes!
MD: You've played with some incredible bassists over the years. You seem to have a special bond with Anthony Jackson in Hiromi's trio.
Simon: Anthony and I go back many years. I met him in 1980 after hearing him on a few records, and we played for the first time together in 1982 with Al Di Meola. And it's one thing to listen to a player, but it's another to play with him. When I sat down and played with him, I said, "Damn, this is truly amazing." I had already played with some amazing bass players. I spent a lot of time with Jack Bruce and Stanley Clarke. Those are two groundbreaking, incredible players. And when I played with Anthony, this was the next one, another guy. And as different as Stanley and Jack are, Anthony is different again. And all three of them adore each other's playing. When I started writing material, I was writing for Anthony, because I loved his harmonic sense. And my record Symbiosis was written [with Anthony in mind], but he had a stroke right before it and was unable to play on it. So I wanted to split the bass duties between the three people I had been playing with recently. Those were John Peña, who I played with in Los Lobotomys, Mike Porcaro from Toto, and Jimmy Johnson, because Anthony insisted I call him. All of them were just beautiful.
MD: Does anything change for you in terms of accents or placement when you're playing with great but different bassists like that? Or is everyone so on the ball that you play and great music just comes together?
Simon: You just play the music. In fact, I have this thing where I don't even need to look at the bass player. If it's Ernest, if it's Anthony, if it's Alphonso Johnson, it's like, "Come on, cats, what have you got?" That's why I love Ernest so much. I need someone to hold down the groove and not overplay. That's the rock 'n' roll side of me, no matter what kind of music I'm playing.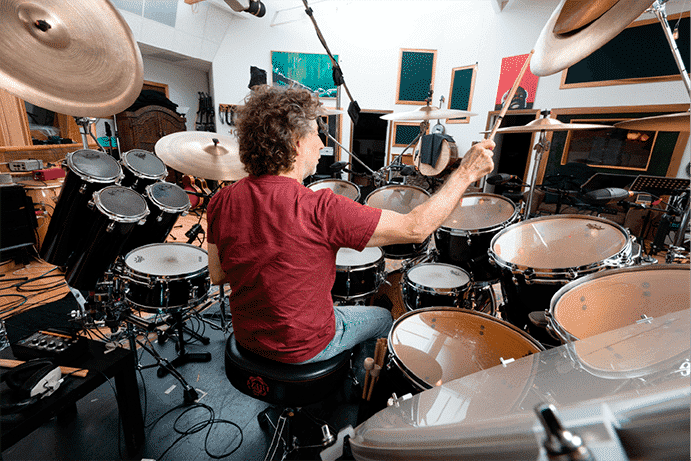 MD: The Hiromi stuff sounds like a real headache to learn and perform. I spoke with Steve Smith, who filled in for you with that trio, and he said it was some of the most complicated music he's ever dealt with.
Simon: [laughs] We had done the first record, Voice, and yes, it was really challenging, but I enjoyed it. It was a little weird not having a guitar player around. And it's amazing what happens to the tone and the sound when the guitar player is gone. I feel like the loudest drummer in the world. A piano and a bass. So the piano is a percussion instrument basically, and the bass is a monophonic instrument. So the drums suddenly are very transient and very loud and a bit annoying. It was okay in the studio, but once we played live, I thought, "God, I'm a loud drummer. I hate this." So that took a little bit of getting used to.
After the record, I couldn't do the first shows because we were going out with Toto, who I was still with. So Hiromi called Steve. I'll never forget it, but I was just coming out of the hairdresser and my phone rings and it's Steve. I answered, "Hey, Steve!" And he says, "Hey, Simon, how ya doing? So, I've been looking at this material you played on, and it's really difficult." And I replied, "M-hm." And he says, "No, I mean this is really difficult." And I said, "Yup." [laughs] I told him I made some guide charts from seven pages of PDFs that Hiromi wrote, and that I'd happily share those with him if he wished. He told me he was okay, but he just wanted to share with me that he didn't realize it was really tough. [laughs]
"Even if I'm playing straight-ahead rock 'n' roll, I still have a jazz mentality, and that means you can't just put your head down and play your part."
MD: All those Trio Project records and live releases and random clips on YouTube are just so killer. As a listener, it's difficult to choose who to listen to, with everyone playing at that level.
Simon: We had such a wonderful six years together. It took adapting to because I was used to loud and big sounds. Now I was playing in a trio. With that drumkit. I had to work really hard on my dynamics, and in some halls I was playing really quietly, changing sticks, using more brushes, sometimes even just laying out. And it was lovely musically and socially. Hiromi is Japanese, I'm British, and Anthony is American but a very quiet person. So when we traveled and got into an airport at 5 a.m., we didn't feel compelled to have to make noise or talk to each other. In Toto, you had very gregarious people. [laughs]
MD: You've enlisted lots of heavy players for the DarWin project, but there are a lot of vocals on the album Origin of Species. How'd you approach the production?
Simon: It's a very interesting and amazing project. It started with an email. DarWin is a huge fan of Dream Theater and the Derek Sherinian albums that I mixed and co-produced. He tracked me down and wanted to make a record with me, have me produce it and engineer. And he sent me some material and emails with very grandiose ideas. And I was thinking, This is a big production. So we scaled it back and I helped rearrange some songs, made a few changes, transposed some sections. But I had no idea it would turn into a seventeen-song double album with orchestra, string quartet, and all these vocals. It was really fun, and DarWin is a lovely, intelligent man and a great writer. And it gave me an opportunity to do some of the other stuff that I used to do in production way back in the 1980s. Any pop music had a lot of vocals and backing vocals. And I kind of missed that. With Toto we would do a lot of that. As a producer, I love to do all types of music, because it taps into different areas and different eras of my musical lifespan.
MD: What's your philosophy of production? In another interview, you mentioned the "Phil Ramone" method of not saying much until you have to.
Simon: Let it happen. I worked with Phil mainly on live shows and one studio album and I thought, Wow, that's a producer I'd like to work with. If you choose the right people and create the right vibe for the music and the artist, let it happen, as long as all your homework is done and you've created the atmosphere.
I've never been into the forceful producing syndrome. But when things need to be done, that's when you speak, and Phil was excellent at that. But you should always do it with respect. I've worked with some producers, especially here in the States, and I've had producers speak to me [in the cans] where I was the only person who could hear him, and he was saying detrimental things about the artist. Wrong. You never do that. That's a big lack of respect. What are you doing this album for in the first place? And I got myself fired off that particular project.
I've been doing sessions since I was thirteen years old. I had just moved to the States, and at this stage in my life, did I need that? But Phil gave me a great compliment at dinner once. He said, "You know how to play a song." And I thought, From Phil? Wow.
MD: Your production style and fingerprint seem to be on all the recent work you're involved with.
Simon: On Derek's album, we do "Them Changes." That's an early-1970s Buddy Miles recording. We have Joe Bonamassa singing and playing on it. It's a very simple track with very few overdubs, so when I mixed it, I put my early-1970s hat on. I turned down the bass drum, used more front mic, and EQ'd it a little differently, limited it a little differently, very dry.
MD: You left Toto to pursue leading your own band and to do more producing and engineering. What advice can you give to others looking to venture out on their own and leaving some level of security?
Simon: Running your own band is very difficult. We don't get paid the fees you need to in order to cover the costs, and I have a great team and we've been building up a pretty good response. But if I didn't sell CDs and merchandise on the road, we'd be in the hole.
MD: Even nowadays? Actual compact discs?
Simon: Oh, yeah, that's a huge part of it. My kind of audience wants to own and have a CD with the artwork, and we just did a beautiful new vinyl release, plus T-shirts and stuff. That is absolutely critical to the finances of the tour. But I come off the road and it's…wow…it's a labor of love, definitely.
The music business has always been precarious. In England it was always tougher, and throughout my whole career there were always ups and downs. But for some reason I always made the wrong decisions—or did I? [laughs] I turned down a huge band I was asked to play with in the late '70s/early '80s because I didn't want to play that kind of music. I also didn't want to be tied down to one thing. I tried a few different band scenarios, but it didn't really work. And that's why I became more interested in production, because the session business had really dwindled. I've been going through my old diaries, putting together information for an autobiography, and I'm looking at all the sessions from 1973 through 1976. I was stunned. Three sessions a day at three different studios.
MD: So leaving a huge band like Toto wasn't an easy choice.
Simon: No. Leaving Toto was a huge decision, at a time when there wasn't as much recording going on. But this is a risky business anyway, and I thought I would just follow my passion and my instinct. And after twenty-one years, it wasn't the same band I joined. We had lost Mike, and I just wasn't enjoying it anymore. I thought it was time to move on. And it turned out that it was a wonderful move. I've done some incredible projects since then, and I was able to start building up the solo career. It's important for booking agents around the world to know that it's a serious project. But now of course we get this [the COVID-19 pandemic]. It's really hard to advise other people. I had a chat with Mike Malinin, who left the Goo Goo Dolls shortly after I left Toto. It was the same thing, just time to move on. Yes, of course it's scary, but my whole life has been like that. When it's come to security, I've grown up in a very unsecure business.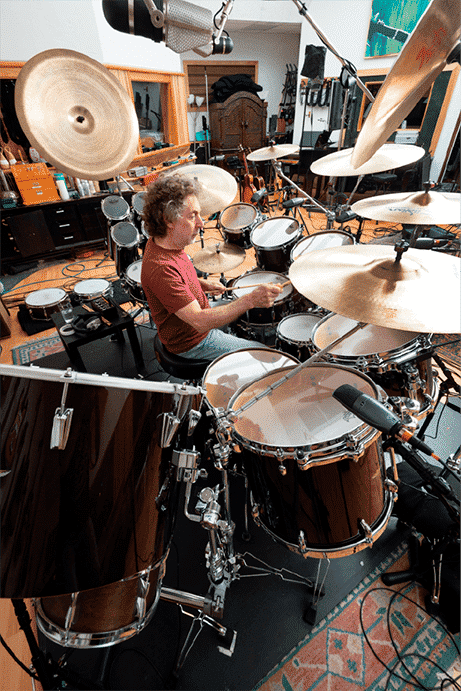 MD: The pandemic has to be turning everyone's world upside down.
Simon: It's just awful [for artists] because our work relies on a lot of people in a room. And if we don't fill that room, we don't make any money. Social distancing ain't gonna do it. It's not going to fill a room. We're going to have to charge a lot more for a ticket, and people might not want to pay that. I don't know what the answer is. Personally, I'm so lucky to have a second career. A lot of my friends and other musicians are doing more sessions now than ever. We're established and have been doing it a long time, and we're lucky that that's happening. It must be really tough for people who rely on a road gig for their livelihood.
MD: Along with some other veteran players with long careers, you're in a unique position to have gone through so many seismic changes in the music industry. When you look back on some of the significant records you've appeared on, do you hear youth? Immaturity? Freedom? Unbridled creativity?
Simon: I hear some immaturity. But I was recently sent some 1974 recordings; it was more blues/funk/soul, and I was surprised. It sounded solid, and the time was good. And I didn't have that feeling when I was playing it. So I was pretty proud of that. But most of the time it's my production instincts. Like, "Damn, I wish I had got a better sound on those sessions." I know exactly which sessions I was fighting to get a good sound. Difficult to do in those days. A lot of engineers back then were still using only three mics. We didn't have tom-tom mics. We would have overheads, kick, and snare. I remember when they started putting a hi-hat mic up. I listen to some of those Creed Taylor records with Billy Cobham playing. The hi-hat is actually distorting. It's so weird. It's just fads of recording.
Some things I listen back to and I think, Damn, I'm not sure I could play like that anymore. [laughs] But what I hear is it brings back the memory of the session. And some things I listen to I have no recollection of at all. Is that me? Yes, that's me, wow! Even in my diaries, I've got a lot of question marks. In those days we didn't often know who we were playing for. I was watching one of those Pink Panther movies and listening to it, and I said, "That's me!" It's hard because you're playing something really simple and straight-ahead, but there's a certain sound that identifies it. But in some cases I could tell you all the different microphones we used on the drumkit, what tape machine, what console, what monitors. Back then, many studios had their own custom-made equipment. Olympic had Dick Swettenham–designed consoles that became Helios, Trident had Malcolm Toft–designed consoles, which were called Trident A Range, Air had Neve consoles. But they were all heavily customized. We didn't have turnkey systems in those days.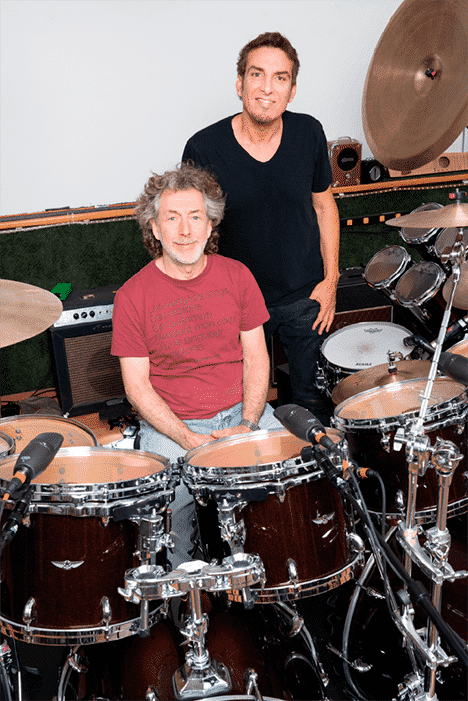 MD: After the pandemic, when you're set up for your first gig back—which will obviously be at the Super Bowl—and the audience is there, and you're making music, is every note going to count that much more?
Simon: Absolutely. And I don't care where it is. Unless it's a stupid place to play—and there have been some stupid places to play—but most of the time I'll go into a small club and ask, "Can we fit?" [laughs] And our tour manager will say, "We'll just make it fit." And I'll say "Good." We just want to play. And whenever that happens, it will be a very happy day for the world.
Story by Ilya Stemkovsky
Photos by Alex Solca