Photo by Antoine Sanfuentes
He's brought a timeless elegance to some of the heaviest recordings of the past five decades. Now, in a setting featuring just one other musical compadre, he's handed us a near-perfect sampler of his many drumming gifts.
Steve Jordan is a national treasure. Accompanied by turntablist/DJ Mix Master Mike on the album Beat Odyssey 2020 (Jay-Vee Records), the sixty-three-year-old New York native has made the album his hardcore fans have been waiting for. At first listen it's a sample-stashed, cinematic journey through sound, but it ultimately reveals its true worth: a masterclass in the many styles of American R&B drumming, delivered as only Steve Jordan can. Beat Odyssey 2020 abounds with many miraculous drumming moments: wide, deep, and fat grooves…ingenious combinations…spirit-filled rhythm missiles aimed at your heart and soul with power, accuracy, and dead-on, deep-soul profundity.
Before he was barely nineteen, Jordan was a member of the legendary '70s-era New York City session scene, where he played on hundreds of albums crisscrossing fusion, jazz, soul, R&B, rock, and dance music styles. Jordan classics across the years include the Blues Brothers' landmark Briefcase Full of Blues, John Scofield's Who's Who? and Electric Outlet, Donald Fagen's The Nightfly, Mark Colby's Serpentine Fire and One Good Turn, the Brecker Brothers' Detente, Cissy Houston's self-titled sophomore album, Spyro Gyra's Morning Dance, Passport's Lifelike, Don Grolnick's Hearts and Numbers, Neil Young's Landing on Water, Mike Stern's Upside Downside, Keith Richards' Talk Is Cheap, David Sanborn's Upfront, Booker T. and the M.G.'s' That's the Way It Should Be, the Bee Gees' Still Waters, Robert Cray's Take Your Shoes Off, Sheryl Crow's C'mon, C'mon and Threads, Eric Clapton's Live in San Diego, Mark Ronson's Uptown Special, John Mayer's The Search for Everything, Bettye LaVette's Blackbird, and too many more to count.
Throughout his forty-plus years in the music business, Jordan has piled up accolades for his drumming. As a multiple Grammy award-winning producer and Emmy-winning musical director, he's helmed albums for Keith Richards and the X-Pensive Winos, the John Mayer Trio, the Jon Spencer Blues Explosion, Los Lonely Boys, Buddy Guy, Solomon Burke, Boz Scaggs, Hubert Sumlin, Tom Jones, and Beyoncé. He garnered an Emmy for his MD work in Movies Rock, and music-directed the Kennedy Center Honors, the 2004 Democratic Convention, the Primetime Emmy Awards, and films including Lightning in a Bottle and Cadillac Records.
With his wife, Meegan Voss, Jordan founded the label Jay-Vee Records, home to the Grammy-nominated album Robert Cray & Hi Rhythm and, by their duo act, the Verbs, the LPs Cover Story and Trip. The two are also the directors of Special Events and Development at the Jazz Foundation of America and advisors to the Little Kids Rock Foundation in New York.
But at the start and end of the day, Steve Jordan's life's work is historical, and based on the drumming giants he has studied and absorbed (and known) most of his life. From Ringo Starr and Levon Helm to Al Jackson, Benny Benjamin, Fred Below, Howard Grimes, David Garibaldi, Jim Keltner, Zigaboo Modeliste, Charlie Watts, Earl Palmer, Steve Gadd, Harvey Mason, Andy Newmark, Clyde Stubblefield, Art Blakey, Tony Williams, Uriel Jones, and Greg Errico, it's a list of the select few who have changed the face of drumming and evolved it into a true art form.
Steve Jordan embodies all these drummers while bringing his own unique approach to the table. You can spot Jordan's pocket a mile away, whether it's the groove furnace of his work with the Blues Brothers, the primal stomp of his John Mayer Trio recordings, the soulful complexity of his '70s fusion work (which he now maligns), the rock 'n' roll spunk of his Keith Richards output, his Motown-meets-New York panache with the Verbs, or the Americana simplicity of his recordings with James Taylor, Bruce Springsteen, and Eric Clapton.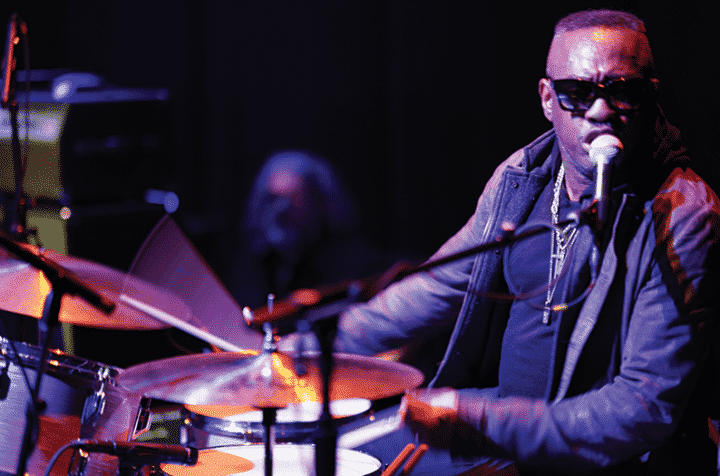 Beat Odyssey 2020 embodies all of Jordan's prior work. "Valet Intro" shuffles with tremendous air and flow, with Jordan recalling Fred Below by way of Jack DeJohnette. The drummer lays down a skull-cracking, limb-twisting groove on "Venom GT," so hard and penetrating it could split granite. On "Balco" his drums slam with ferocious, head-pinned-to-the-wall energy.
Elsewhere, Jordan's boinging Daxdad bass drum slides up against tabla on "Handles," a medium-tempo track on which the drummer brings both joy and a certain plaintiveness. "Abstraction" epitomizes Jordan's forward-motion groove genius, from tumbling toms to snare drags, slaps, pops, and jabs, a prizefighter wailing away at his nemesis. Zigaboo Modeliste gets the Jordan shout-out on the sweaty "Vortex," all sliding hi-hats and rim-slapping snare drum cracks. Jordan brings his swerving, fusion-framed, bell-riding heat to "Teleport"; a massive groove to "The Real Teamster"; a belly-rubbing, shoulders-clinched beat to "The Gospel"; and finally a true 16th-note, hi-hat powered, beat-box atmosphere to "Sly Street."
This is dangerous drumming, drumming without a click track, drumming so raw, powerful, emotive, flagrant, and butt-shaking it should make every drummer stop and take stock of themselves. Beat Odyssey 2020 is the history and future of American R&B/soul/funk drumming purveyed by one of its true masters.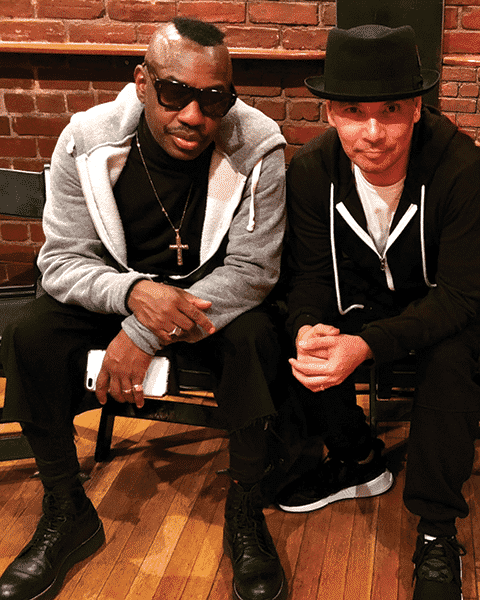 MD: How did you and Mix Master Mike get together?
Steve: I was the musical director for the Primetime Emmy Awards for six years. During my second year in, I wanted to do something different with the orchestra. With the World's Most Dangerous Band on Late Night with David Letterman, we were the first four-piece band ever to play every night on television.
MD: No band on television has ever sounded like that, before or since. That band was on fire every night.
Steve: Thanks. That became the model for every television show. Then the great television producer/director Don Mischer hired me to be the musical director for the 2004 Democratic National Convention. I had a thirteen-piece band that played R&B, repertoire taken from the civil-rights and anti-war movements. For the Kennedy Center Honors' Herbie Hancock tribute segment, Mix Master Mike played on the tune "Rockit." I'd obviously heard of Mike, because he's a legend, but I hadn't really dug into his career extensively. I didn't know the unique intangibles of his ability.
Then I hired Mike to be in the Emmy Awards Orchestra, and he blew everybody away. When Mike came into this band, his energy was so infectious, he was welcomed into the family immediately. He and I started doing stuff on the breaks and video packages, and they were some of my favorite pieces of music during the broadcast. Mike and I kept playing, and it became clear that we should do something together. It was unique. We recorded Beat Odyssey at Capitol, then Sage and Sound Recording Studios in Los Angeles, which is no longer there. We had so much fun just listening back to the music.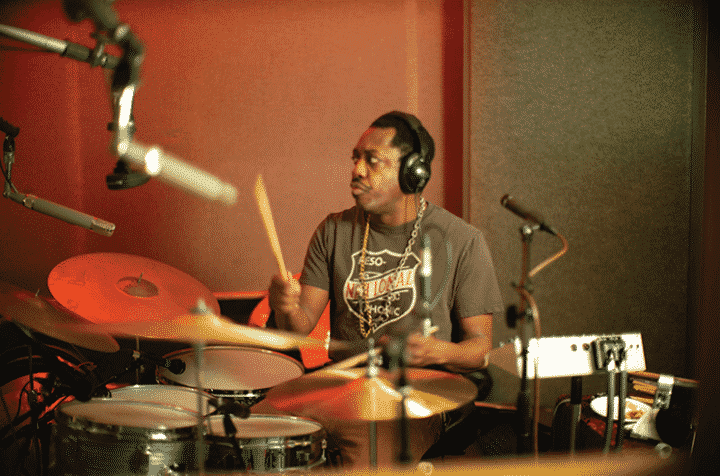 MD: Are we hearing one set with different snares or different sets?
Steve: Different sets. One of the co-owners of Sage and Sound was a drummer. There were a lot of not just good but great drums there. Vintage stuff. Anything from Ludwig to Slingerland. That's why I'm using Slingerland concert toms on a couple tracks. When I wanted a certain vibe, I'd turn around and the drum would be there. It was crazy. I'd see a drum that would spark an idea. "Oh, I should use that on this." And I brought some of my own drums, like the [24×12] Yamaha Daxdad kick drum, a Rogers Dynasonic prototype snare drum, and my Paiste Signature Traditionals cymbals. But the majority of the drums were from Sage and Sound. Anytime I needed a certain thing, I would look around and find it.
MD: Did you retune the drums?
Steve: I did a little tweaking, but not much. Of course when it comes to snare drums I would tune, and if I wanted to get a certain tom-tom thing I would tune. But the Slingerland concert toms were already tuned. I hadn't played them in so long, I was like a kid in a candy shop. Every time I'd go around the toms I'd think of Hal Blaine. A lot of the music was a rediscovery and just getting this inspiration by working with Mike.
In playing music, my mantra is "play the song." I always play what's best for the song, and in a case like this we were creating songs through rhythm. Therefore I had more freedom to play off the cuff. We would make up stuff and start playing together, playing off one another.
MD: Slingerland made concert toms?
Steve: Yes, 6″, 8″, 10″, 12″, and 14″ drums, with no bottom head. Like the Ludwig Octaplus toms. Every drum company made a version of those bottomless toms. The sound of the mid to late '70s. I played them in the beginning of the song "Shogun."
MD: Though the songs on Beat Odyssey are improvised, it sounds like arrangements were worked out for some of them.
Steve: No, we were freestyling, improvising the whole way. We'd get the tempo going and then either he or I would start and I'd think, "Okay, what kind of groove do we need?" And as we'd play and improvise off one another, we'd spark one another to do things.
It was just like jazz. The beats might be funk-based or whatever, but the headspace was jazz. The way Mike hears music as a turntablist DJ is different from any other DJ that I've heard or seen. His music is full of depth, and he's dropping like Lee Morgan and Sun Ra bombs and all kinds of deep musical knowledge many musicians don't have. He's a jazz lover, so he brings that in. He's like the Charlie Parker of DJs.
"You have to put your ego aside. Like the way Fred Below played with Muddy Waters and Chuck Berry. These players weren't afraid to play simply, and they didn't worry about somebody saying, 'Anybody can play that.'"
MD: In "Abstraction," the tom fills follow the melody, which sounds worked out, an arrangement.
Steve: That happened spontaneously. It's totally amazing. I titled "Gospel" and "Sly Street," but Mike titled every other song. After a while, we had forty pieces of music, so there will be Beat Odyssey Vols. II and III. We've recorded using Willie Mitchell music…we have a lot of stuff in the can.
MD: Today we have amazing drummers who can play every style, have incredible technique, and can all play with a click track. But there's nothing else like this. You're like the only guy left who can do this.
Steve: Certain things only come with experience. People ask me about what I played in 1978 and how much they're a fan of something I did in '79 or '80. I'm very touched, but it seems like another person, another lifetime. I was a teenager then. I'm not that person. I play much better now.
MD: You play better now, but there were different avenues for expression then. And your drumming on Beat Odyssey hearkens back to that period of the '70s and '80s. We hear Al Jackson and Zigaboo Modeliste on this record. We hear Bernard Purdie and Clyde Stubblefield, all through your filter. This is such a needed recording.
Steve: It's a real expression of freedom. That's what this record is, totally free. You're talking about free jazz. This is my version of that. Mike took all this music back to his lab and did a couple edits, just introducing a hook here and there. There are a couple of things where we repeated a phrase, or we wanted to extend a section because it felt so good. There's not a lot of it, maybe ten, fifteen percent. But the vast majority is what we actually played, and it sounds exactly as it did when we were recording the music. That was very inspirational.
MD: "Venom GT" sounds like a loop, and you're playing a hip single-stroke roll with accented variations on the snare.
Steve: I probably hadn't done anything like that since the late '70s. What I play now doesn't call for that. We started doing this: "Let's pick a tempo." Boom. We started doing some freaky stuff, and that's what was called for. I went to it naturally. I didn't overthink it. We didn't overthink anything.
My beacon while we were making this music was that the pocket had to be deep. That's what I wanted. As a musician that's what I would be listening for. If I listened to a record of just a DJ and a drummer, the pocket would have to be massive. That's the only thing that matters, not the chops or anything like that. The groove has to be a hundred percent or it's not worth anything.
MD: What's the inspiration for the beat on "Balco"? It's a classic funk pattern.
Steve: I came up with a beat back when I was a teenager, a Zigaboo/Garibaldi type of beat. As a drummer, before you start developing as a complete musician, sometimes your primary goal is to play the song and provide the right thing for the music, and you focus on beats and dexterity and technique. One of your goals is to come up with a beat that nobody's ever heard of. And I've had a couple beats that nobody's ever come up with but that I've never really broken out before, because the music didn't call for it. So that was one beat that I'd never had an opportunity to play. I started playing it, Mike jumped on his machines, and it became "Balco."
MD: The bass drum on "Handles" is more open and rings more than on the other tunes on the album. Why do you have the open bass drum, which is very unusual to hear these days?
Steve: That's the Yamaha Daxdad kick drum. It's an elongated bass drum that I play with John Mayer, and with the Verbs on a tune called "Burnt Out Star." That bass drum was developed by Russ Miller, who brought it to Yamaha years ago. I've been using it on certain things for a long time. It looks like a cocktail bass drum set on its side. It has great midrange punch. If you tune it correctly you can get five notes out of this drum, depending on the velocity. So I'm playing that on "Handles" and on the album intro. What sounds like a Roland 808 is the Daxdad kick drum.
MD: Why play a bass drum like that?
Steve: Because it's a completely unique bass drum, one of my favorite drums in the world. I played that with the John Mayer Trio. With John Mayer I use two kits. The small hip-hop kit, as I call it, which has the Daxdad bass drum, and a more conventional kit. I swivel my drum throne between the two.
MD: "Vortex" sounds like a total "Cissy Strut" inspired groove.
Steve: Well, there are some Zigaboo-inspired moments. He's one of my heroes, and also one of my good friends. I've been listening to him since I was eight years old. I used to listen to him and Ringo at the same time, going back and forth between "Cissy Strut" and "Twist and Shout," the Beatles' version. Over the years I was listening to Tony Williams and Greg Errico, Clyde Stubblefield, Al Jackson. I got Benny Benjamin on my brain all the time and Art Blakey talking to me. And Uriel Jones.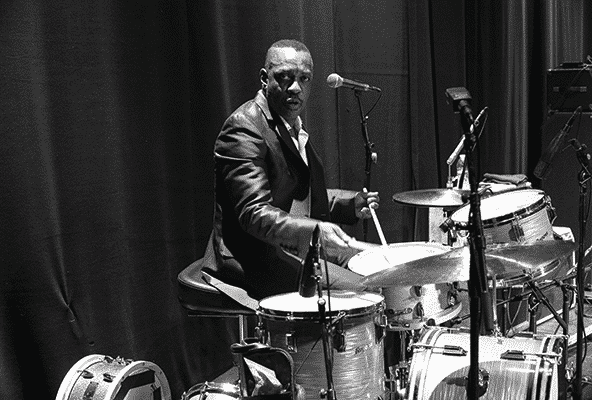 MD: You practically embody the history of the instrument.
Steve: All these people feed my thing, and it's all one big wash now. It's not even like I'm channeling anymore. Now it's just in there, and it's definitely what I'm hearing. I can play what I hear, which is a good thing to get to. I can't play everything I hear. I wish sometimes I played more like Jack DeJohnette or Jabali [Billy Hart]. In my work with the Jazz Foundation of America, I get a chance to be around them a little bit more because we're the artistic directors. So we put together events with all-star rhythm sections. It's an opportunity for me to call Jack and Al Foster and Billy Hart and have them play with these other incredible musicians.
MD: "Teleport" is the ultimate "funky drummer" tribute.
Steve: You have a Sun Ra sample going there. This record is like a film score. That's why when I assembled the record in mastering, it's one song going right into the next. It's a complete work. It's a journey. That's why it's called Beat Odyssey. It's kind of like 2001: A Space Odyssey. That film is a journey of not only visual wonders, but psychological wonders and a futuristic kind of thing. They weren't too far off.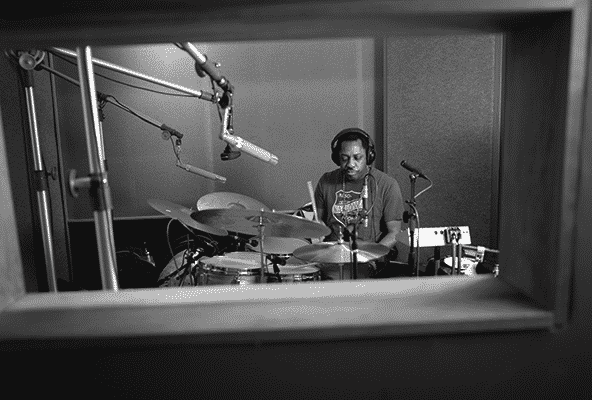 MD: Speaking of soundtracks, "Shogun" sounds like a soundtrack piece. What were the two of you thinking? It's got that funny, rambling opening played on the Slingerland concert toms, then a big, slow groove.
Steve: Mike had a Japanese koto drum going, and that inspired me. Again, that is totally improvised. He's doing the tabla thing in "Handles." That inspired me. And likewise, it inspired him when I was playing certain things. I got something to go with that, and that's how the whole record was. He'd give me juice. I'd give him juice. We explored a lot of spontaneous combustion on the record.
MD: It's great to hear you play a 16th-note hi-hat pocket on "Sly Street."
Steve: The rhythm box I used there reminded me of the rhythm box that Sly Stone used on Fresh and There's a Riot Goin' On [a Maestro Rhythm King MRK-2]. The studio had one. I was like, "Oh, God, they got this—we've got to use it!" I broke out that beat that Sly used to use, just a steady groove, and chose not to improvise around the thing. Since we didn't really have songs, I just wanted to establish the Al Jackson 16th-note groove, which later turned into the James Gadson 16th-note groove and the Ed Greene 16th-note thing. Those guys are the trifecta of that beat. I just wanted to do it within my style.
MD: How do you tune your drums differently for different artists?
Steve: The music is in total control of the tuning, at all times. When I do a Verbs record, that's different—I might retune from song to song, though when we play live I won't do as much snare drum switching like I do with John Mayer. With John Mayer and Eric Clapton, I do a lot of switching because that helps me get the song across and creates the sound for the band. With the Verbs I do very little switching because Ringo didn't do any switching with the Beatles when he played live; it was that Ludwig kit. I might use a Trixon snare or a piccolo or a Brady. On the Verbs' "Burnt Out Star," for instance, I use a small Brady snare drum. It's a deep, small drum; it's the sound of that record. It almost sounds like it could be a big cross-stick, but it's not.
MD: What snare drums are you using between John Mayer and Eric Clapton?
Steve: I can use up to fifteen snares a show, from a Ludwig piccolo to an Eames to a Rogers to a Yamaha. I take a lot of Yamaha drums out on the road because I have a big selection of them and they can duplicate some of the other drums I have. I can get a good sound out of a big Yamaha Elvin Jones drum, which I use on John Mayer's "Vultures." I do a lot with the Yamaha Steve Jordan signature drum, which I really love for obvious reasons. You can get two drums for the price of one because when you have the metal hoops on it, it sounds different from when you put wood hoops on it. It's worth the investment because it's a unique sound.
MD: What is funk? What is that thing that makes funk move and gives it that itch, that tightness but looseness, that behind-the-beat but still pushing-the-beat thing?
Steve: What is that feeling? That's goosebumps. I get the same goosebumps when I listen to "Twist and Shout" by the Beatles as I get when I listen to "I Heard It Through the Grapevine" by Gladys Knight and the Pips or "Honky Tonk Women" and "Brown Sugar" by the Rolling Stones. The same feeling I get when I hear "Basin Street Blues" or Miles Davis. Or when I hear Barrett Strong's "Money," it's the same feeling I get from the Contours' "Do You Love Me." The same feeling I get when I hear Al Jackson playing on the original "Soul Man." You can tell where I'm going. It's not a certain group of musicians; it's the kind of groove when I hear "You Can't Do That" by the Beatles—or "Doctor Robert," that's funky.
Earl Palmer told me he came up with the term "funk." They were making these records in New Orleans that were taking the nation by storm. Some New York producers started coming down to New Orleans to get these guys to play on their records. These musicians were very comfortable in their own environment and with their own group of musicians. Now they have these highfalutin New York producers coming down, and some of the New Orleans musicians got uptight, nervous, a little inhibited about what they were doing. Earl said, "Man, just loosen up. Sit down in the gutter in the street, and let's just play how we play, funky."
MD: Can anyone learn and absorb this music and be funky?
Steve: You have to be totally committed. You have to put your ego aside and be willing to make a mistake. Do what it takes to get to the essence of the groove, like the way Fred Below played with Muddy Waters and Chuck Berry. All these players weren't afraid to play simply, and they didn't worry about somebody saying, "Well, anybody can play that."
When I made the commitment to do what I do, a lot of drummers who were playing a lot of notes and exhibiting a lot of chops didn't understand what was unique about what I like to do. They think anybody can do it—until they try to do it. This is why I always say, "Simplicity is not stupidity." You make a commitment to play simply to serve the music, to get to the hypnotic mantra of the song to the point that you can't do something else. It's the idea that you don't want to do anything else but serve the song and touch that heartbeat, touch the soul of everybody listening. I want to touch everybody's soul.
MD: And that's hard to do.
Steve: When I do a clinic, I challenge a drummer to come up and play a beat that I show them. This is the simplest beat on the planet. I ask them to play the beat without fills. You know how hard it is for people to not play a fill? They can't do it. Because people's attention spans are very short in society today. Nobody's reading or listening to one another, and nobody's getting the right information. They'd rather be fed false information and misinformation. The groove is the truth. You want to get to the truth. Do you believe in the truth, and do you want to hear the truth?
MD: Music changed, so you couldn't keep playing the way you did in the '70s. But you also seem to disown some of your work, such as the albums with Mark Colby, the Brecker Brothers, Michael Urbaniak, Blue Mantra, Spyro Gyra, Kazumi Watanabe…. You play a lot of notes on those records, but the grooves are deep. Why do you disown these records?
Steve: Because I hear a certain rigidity in that playing, because of the environment that I was in. You see, coming up in New York, you're looking at the people that you see on the albums. You emulate your favorite players. And when they're the people you're trying to get into the same ballpark with, as far as being a professional musician, they're your yardstick. So there's Steve Gadd and Harvey Mason. Those were the two for me. As far as being a professional studio musician, I would channel them. I subbed for Steve. I had the opportunity to sit behind Steve in the studio. He was very kind to me, very generous with his time. Same with Harvey Mason. I could channel Harvey. I was the Harvey Mason stand-in on the George Benson Weekend in L.A. record. I did the rehearsals in New York. Then they flew out to L.A. and Harvey played on the record. That was like going to Actors Workshop. I was in training; I wasn't fully developed.
MD: But there's your great drumming on Mark Colby's "Skat Talk" and the Brecker Brothers' "Squish," for example. You can't disown those!
Steve: I was very proud of "Squish." You can hear a little bit of the Gadd influence there, a little bit of David Garibaldi. I was very proud of that work at the time, just as I was incredibly proud of the Blues Brothers' Briefcase Full of Blues. I can't tell you how excited and proud I was.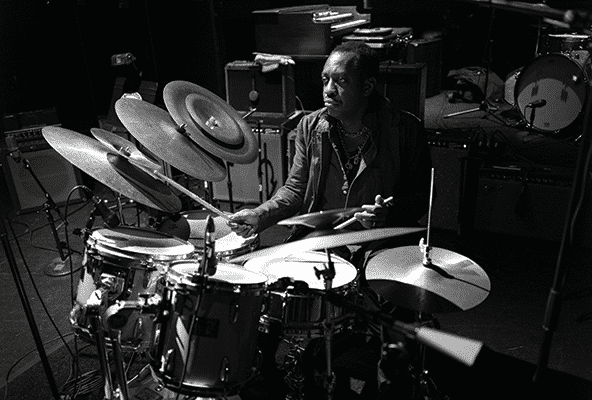 MD: You could never play that record any better than you did.
Steve: But there are certain things that I would never, ever do again, like some of those fills. I'm playing fusion fills in blues tunes.
MD: Aw, man…
Steve: But here's the thing: It wasn't a traditional blues recording. That's why John Belushi wanted me to be in the band. I was bringing new energy to this very historic music. And he felt the energy that I brought as a teenager in that band. He wanted to call me "The Kid," and to have the song "Messin' with the Kid" be about me. I was nineteen on that record.
MD: The groove on that record, it's like you sucked all the air out of the room into your drums.
Steve: There was so much energy going down. The record went to number one in seven weeks. It was an incredible period of time. Timing is everything. When you get to a certain musical level, things happen. You need the right circumstances, and that record hit all of those markers. It was a perfect storm for the success of that record. I played with bassist Duck Dunn and guitarist Steve Cropper, who I'd listened to as a kid on all these Stax records. Now I'm playing with them? And they were excited, they said I was the new Al Jackson. For these guys, Al Jackson was their leader.
They didn't play with Al Jackson—he led them. They learned from Al Jackson. To have them say, "You're the closest thing we have to Al Jackson," that was a mind-blowing experience for me.
MD: Your drumming on the record is mind-blowing.
Steve: But I wasn't as schooled in Fred Below or Earl Palmer's drumming as I am now. When I did Hail! Hail! Rock 'n' Roll, with Chuck Berry, I was totally schooled in Fred Below and playing more the way Fred Below would have played. I'm very proud of that. The only thing that I don't like about Hail! Hail! Rock 'n' Roll was my cymbal choice. I was into that small cymbal thing at the time, which I got from Steve Gadd. We were collecting small A Zildjian cymbals from Frank Ippolito. I wish I had used a bigger and lighter ride because that's what Fred Below was using. Besides the authenticity thing, it would have been a better sound.
MD: You've played on so many landmark recordings. How do you feel now about your work with Steve Kahn, David Sanborn, and the Letterman band?
Steve: I will always love the song "Snakes" with David Sanborn on the Upfront record. That's the one that sticks out. With Steve Kahn, I like all the stuff. We had open sections. And that's why you hear bassist Anthony Jackson playing those great lines. None of that stuff was written out. And when we began playing with percussionist Manolo Badrena, I realized what he brought to Weather Report. It was this unique combination of rhythm and sound. A lot of people don't know his contributions to Heavy Weather, and the combination of Manolo and Alex Acuña was ridiculous! Alex is one of my favorite musicians and an incredibly sweet human being.
Steve provided that opportunity for us to play as a band. And we used to rehearse in my apartment, the same as we did with the David Letterman band. When we worked up the composition of the Letterman theme song, I demoed that at my place with Paul Shaffer and David Sanborn. I recorded it and helped with the composition of it, even though I didn't get any credit. For me, the biggest and best thing on the Letterman show was our performance in July of 1982 with James Brown. It was all downhill for me after that.
MD: Today there are many great drummers in every style. Drummers who can groove, who play with tons of technique, and across all different idioms. It seems that the state of our drumming is strong.
Steve: There are impressive players out there, no doubt about it. You see a solo thing on Instagram and you hear people doing certain things, they might be impressive on their own merit. But what about back in the day, like in the '40s, '50s, and '60s? In New York alone, everybody was so smoking, and they were playing with ensembles, not by themselves. To me it's how you play with other people, not how you play by yourself. I see a lot of people playing alone, doing stuff that might be remarkable, but what does that mean? It doesn't mean anything.
MD: It goes back to the idea of short attention span. Jim Keltner said I should ask for your opinion on streaming services.
Steve: Oh, Jim, he's my brother. You're talking about a legend, somebody who was really one of my heroes, as far as when I realized what was important about playing the drums. He and Levon Helm are two of the best examples of what's important about playing drums and being a complete musician, because they serve the song. I've played double drums with both of them, and it was a dream come true.
Streaming services: If you're not a composer or a producer, then you don't feel the diabolical impact of them.
MD: So where do drummers go to learn their craft today? The old circuit of live clubs is largely gone.
Steve: Things mutate. We're mutating into a new form, not necessarily a better form. It's just survival. And that's why you have a lot of people playing by themselves and posting what they do to social media. That's the new forum. And especially with a pandemic, when you can't get together with people to play, it makes it even more isolated. And so it's accelerating something that was already in the making.
MD: What's left undone for you, and what's coming next?
Steve: We have a new Verbs recording in the offing. Meegan Voss and I have a record label, Jay Vee records, and we're very proud of it. In our catalog we have the Verbs' titles Trip and Cover Story. In 2021 we will release Garage Sale. We have Tony Joe White's album coming out, which I'm very proud of. It's the last batch of songs that he wrote. He suddenly died, so he left the material behind for us. We had his vocals and guitars, and I built the tracks around what he left. And Beat Odyssey! We're also very proud of the Robert Cray & Hi Rhythm record that came out last year and was Grammy-nominated.
MD: Are you drumming on that as well?
Steve: Yes. I wanted Howard Grimes to play on it, but he was sick so I had to play on the whole record. A lot of people mistake what Howard and Al Jackson played. That's one of the messages I want to get out to the world. Howard played on Al Green's "Take Me to the River," "Love and Happiness," and "I'm a Ram," not Al Jackson.
MD: You've worked with seemingly everybody in your career, which spans decades. You were so young when you started. Is there anybody you missed working with?
Steve: I would love to have worked with John Lennon and George Harrison. Those are two things you don't get back. I had an opportunity to work with Miles Davis, but I didn't. It didn't come to fruition. But we did talk.
MD: You told me in our last interview that you recorded jamming with Stevie Wonder during the Songs in the Key of Life period. Where are those recordings?
Steve: Stevie has a lot of stuff in the can, and then there was some stuff that wasn't recorded. The first time I played with Stevie was in a rehearsal at Phil's Music on 52nd Street in Manhattan. I was too young to audition for him, but I was working at Phil's, maintaining the percussion cage. That was when I was in high school. Stevie was auditioning a bunch of people for a couple of weeks in New York. He decided to keep his drummer, Raymond Pounds, who was a great drummer. Then Stevie said, "Let the kid play." And I played with Stevie.
We were both into Chick Corea's Hymn of the Seventh Galaxy. He broke into the title track, which I knew like the back of my hand, and we started playing it. Nobody knew what the hell we were playing. It was just the two of us playing it, and he was excited about that. They let me hang out. I became like a mascot. He was so into that because he was listening to Chick at the time.
When Stevie was in that car accident, he almost lost his life. He had a brain contusion when he came to. One of the people that he heard from when he came to consciousness was Chick Corea. And that's why he wrote that song "Contusion" on Songs in the Key of Life. So I got to tell Chick that Stevie and I played "Hymn of the Seventh Galaxy" when he and Stevie and I all met backstage at a Super Bowl half-time show.
MD: It's always educational and inspiring to speak with you. Stay safe, mate.
Jordan: All right, brother. Thank you.
Steve Jordan plays Yamaha drums and Paiste cymbals and uses Vic Firth Sticks and Remo heads.
by Ken Micallef