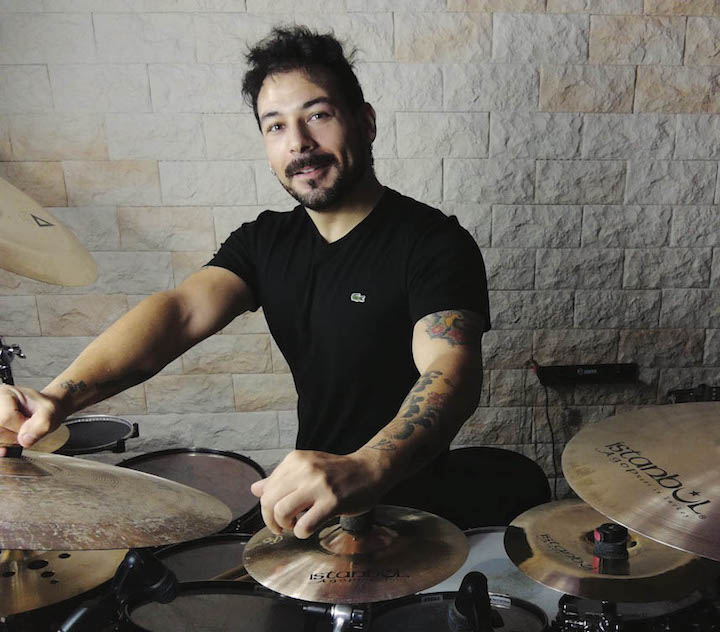 The Flower Kings—the name alone conjures images of prog-rock luminaries like Genesis and Yes, who in the late '60s planted the seeds for all the fantasy-laden symphonic rock to come in the following decades.
Swedish prog ensemble the Flower Kings formed in 1994, and have since morphed several times, with their latest reincarnation coming in the past year or two. Wielding an arsenal of chops, Italian drummer Mirkko DeMaio was recruited by TFK founder, composer, guitarist, and vocalist Roine Stolt in time to record the band's 2019 release, Waiting for Miracles, a melodic collection with sociopolitical lyrical content and extended musical passages that give DeMaio room to groove and stretch.
DeMaio had been in touch with the Flower Kings' leader since 2010, and finally, in 2018, Stolt offered the drummer the opportunity to join the band on tour in South America and Europe—with no audition. "It was weird to not be auditioned," DeMaio recalls. "I asked Roine, 'Is it okay if I send you a video of me playing some of the tracks from the set list, so you'll know what my playing will be like?' He accepted, and after watching the video, he said something like, 'Okay, now I'm a hundred and one percent sure.'" [laughs]
DeMaio tells MD that he'd been a Flower Kings fan for years, and had admired Stolt's contributions to the prog-rock supergroup Transatlantic. "Playing TFK's music is a pure artistic experience," says DeMaio. "It's something I've been missing in my musical journey. Too often, we're too focused on the commercial side of music, which is important, but we tend to forget about the joy of playing creatively, from the heart."
For the recording of Waiting for Miracles, DeMaio added a few elements to his drumkit, such as bells, chimes, stacks, small China cymbals, a gong drum, Octobans, blocks, a tambourine, and timbales, but he's quick to point out that the sound that's most crucial to him is the ride cymbal. "I spend a lot of time playing the ride cymbal in TFK," he says, "so it has to feel good and sound right to my ears. It has to be dark and dry, medium weight, and not too washy, characteristics that I've found in the Istanbul Agop Special Edition Jazz ride and Signature Medium ride, both 22"."
DeMaio also singles out his custom Oriollo snare drum. "It's a 4.5×14 hammered, spun-brass shell with die-cast hoops," he says, "and it gives me whip-like attack without sacrificing any body or warmth. I also ask for Remo drumheads on my kits. They sound perfect to my ears and always give me that classic, punchy tone that I love.
"I also keep different-sized drumsticks in my bag," DeMaio adds. "I often start with a Vic Firth 5B, then move to a 55B, and end up playing a 2B or larger. It's not a great feeling when you are playing a 55B and it starts to feel like a 7A in your hands.
"I have my Tama Multi Tool with me wherever I go as well," DeMaio continues. "It's very helpful on tour, in the studio—everywhere." Also both on the road and in the studio, DiMaio says he habitually plays rudiments on a pad for twenty minutes to warm up. "Eventually I start to hit the drums to gain more confidence," he explains. "On tour I also stretch my arms, legs, and back, and do the same twenty minutes of rudiments on the practice pad or a pillow, then I try to keep my hands and body warm. That happens mostly in the beginning of the tour. Then, concert after concert, as I feel more loose, I spend less time practicing on the pad and focus more on my inner calm, maybe tracking in my mind a map of the performance.
"Nutrition-wise, I avoid any kind of meal within two hours of the performance, as the digestion process would make me feel hazy. If I get hungry, I just eat some fresh vegetables or low-carb fruits.
"Finally, I bring my gym clothes [on the road]," DeMaio adds, "and when I have an hour or more, I'll work out in a gym near the venue. I also bring extra Vic Firth drumsticks, because fans always want some memorabilia, and I hate to disappoint them. And it's always good to have some psychedelic shirts to wear for the shows!" [laughs]
---
Indispensables
22″ Istanbul Agop Special Edition Jazz ride or Signature Medium ride
custom 4.5×14 Oriollo brass-shell snare drum
Remo heads
Vic Firth drumsticks
Tama Multi Tool
gym clothes
---
ADVERTISEMENT
Modern Drummer Special Offers