Philip "Fish" Fisher recently returned to legendary ska/funk/punk band Fishbone after a sixteen-year hiatus, during which time the drummer played with Justin Timberlake, House of Pain, Lady Antebellum, and Christina Aguilera. Fish stepped back into the band for a tour to commemorate the twentieth anniversary of the 1996 release Chim Chim's Badass Revenge.
Fishbone is a large band that's known for putting on high-energy shows, and Fish often sets up sideways. "Nobody was doing that [at the time], and it worked better sonically," he says. "The mics didn't catch as much cymbal bleed in the smaller rooms we were playing. It started at Madam Wong's in L.A., where Fishbone did its first gig. I looked at the stage and said, I'm going to set up sideways, and it stuck."
When asked why he plays large cymbals, Fish replies, "The bigger the cymbal, the wider the tonal range. I don't like the sound of fast, short, small cymbals. I like to use various techniques to get all kinds of sounds out of them.
"I choose my snare based upon the environment," Fish continues. "If I'm playing outside, I'm probably going to use a wood drum. If the gig is inside, I'm most likely going to use metal." The snare Fish used on the night this interview was conducted has a brass shell. "It has the right amount of clang, cut, and body," he says.
Fishbone is a powerful band, but Fish chooses to kick it with a smaller bass drum. "The 20″ is my favorite size," he says. "My first recording was on a 20″ drum, and everybody was surprised at the tone I got out of it. Most drummers were using bigger drums, which gave them a bigger click but less tone. I've always loved to have some tone in my kick."
The entire setup, including the timbale and bell, is an exact replica of what Fish used in 1996 during the original Chim Chim's Badass Revenge tour. "Truth be told," says Fish, "that's the same head on the timbale from the record date."
---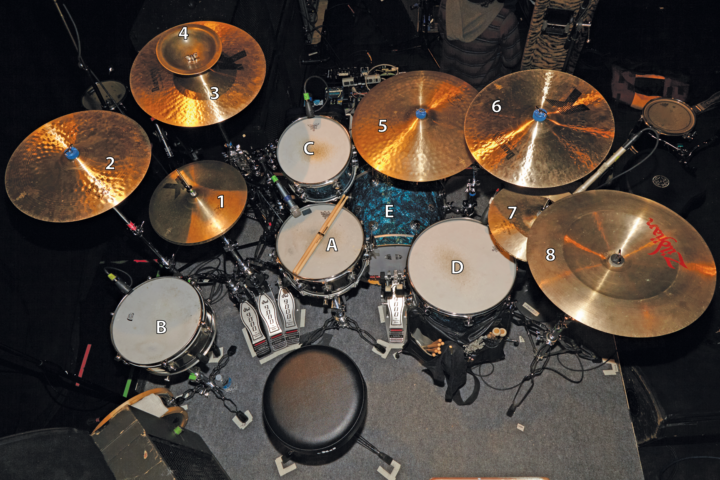 Drums: DW Collectors Series with maple shells in Classic Teal Marine wrap
A. 5×14 black-nickel brass snare
B. 14″ LP Tito Puente timbale
C. 9×12 tom
D. 16×16 floor tom
E. 18×20 bass drum
Sticks: Promark 747 Hickory "Fishstick"
Hardware: DW 9000 series pedals, stands, throne, and remote hi-hat
Cymbals: Zildjian
1. 15″ K Light hi-hats
2. 19″ Constantinople crash
3. 19″ K Custom Dark Thin crash
4. 12″ Zil-Bel
5. 22″ Constantinople Medium ride
6. 18″ K Custom Dark crash
7. 13″ K Custom Hybrid hi-hats
8. 20″ Oriental China Trash
Heads: Remo Vintage Coated Ambassador batters on all drums, Clear Ambassador tom resonants, DW vented on front of kick