Introducing…
the 2017 Modern Drummer Readers Poll Winners
Hall of Fame
Peter Erskine
It's tough to imagine a more thoughtful player than Peter Erskine. In his introduction to Erskine's June 2016 MD cover story, Rick Mattingly compared Peter's career to a highway constantly under construction, and it's an apt metaphor. Long ago the drummer fully embraced the idea that a true artist is never "complete," and as such he is forever in a state of searching, discovering, sharing, refining, adding, subtracting…evolving. Drummers have instinctively picked up on this, and for forty-plus years—since his early forays with Stan Kenton's big band through his classic recordings with the legendary fusion band Weather Report, right on up to his remarkably prolific solo output—they've looked up to Erskine as an example of the sorts of careers they imagine for themselves. And yes, that's exactly the sort of stuff the Hall of Fame was invented for.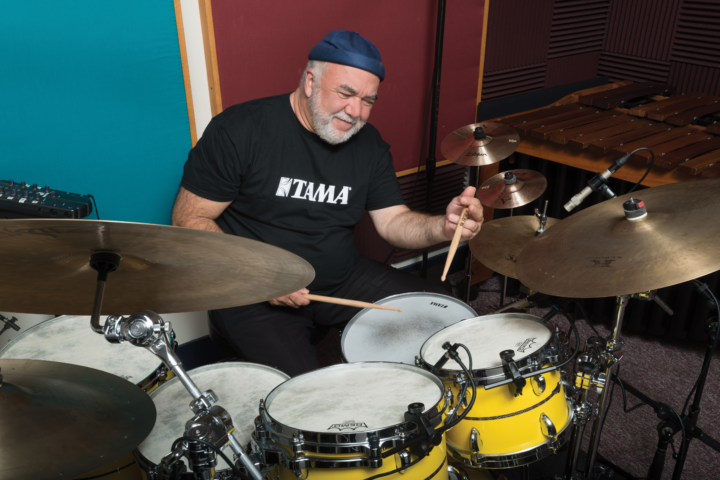 Past Hall of Fame Winners
2016: Vic Firth
2015: Ian Paice
2014: Carmine Appice
2013: Bernard Purdie
2012: Phil Collins
2011: Jim Chapin
2010: Hal Blaine
2009: Mitch Mitchell
2008: Ginger Baker
2007: Jack DeJohnette
2006: Charlie Watts
2005: Stewart Copeland
2004: Mike Portnoy
2003: Simon Phillips
2002: Steve Smith
2001: Dennis Chambers
2000: Dave Weckl
1999: Roy Haynes
1998: Ringo Starr
1997: Terry Bozzio
1996: Vinnie Colaiuta
1995: Elvin Jones
1994: Larrie Londin
1993: Jeff Porcaro
1992: Max Roach
1991: Art Blakey
1990: Bill Bruford
1989: Carl Palmer
1988: Joe Morello
1987: Billy Cobham
1986: Tony Williams
1985: Louie Bellson
1984: Steve Gadd
1983: Neil Peart
1982: Keith Moon
1981: John Bonham
1980: Buddy Rich
1979: Gene Krupa
---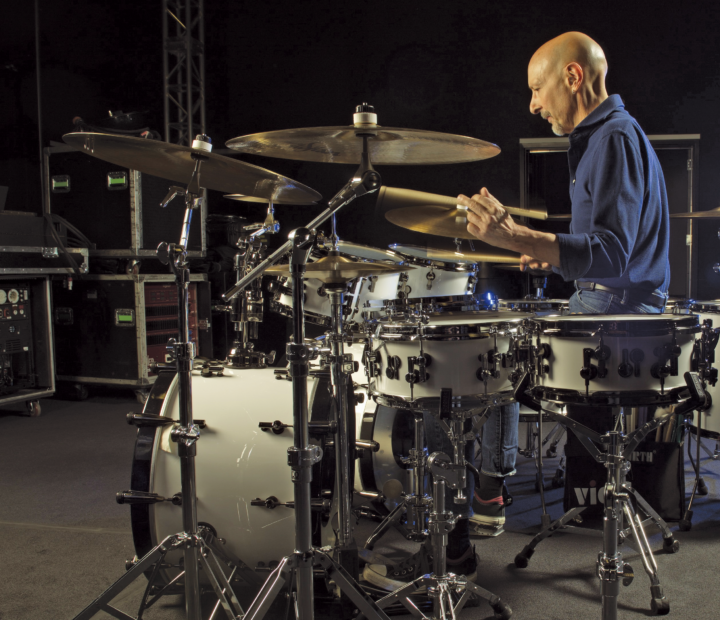 MVP/Rock/Educational Product
Steve Smith
His return to the stage with 2016 Rock and Roll Hall of Fame inductees Journey had many a drummer scooping up tickets at a furious pace, subsequently pushing him to the top of the Rock category in this year's poll. But Steve Smith has never been one to let a "mere" international arena tour get in the way of his copious other projects, and last year he somehow had time to put together the multimedia book/vinyl project The Fabric of Rhythm, perform with the WDR Big Band, and release an album with Steps Ahead, making him a shoo-in for the MVP category. Oh, and he put out Pathways of Motion, a method book/DVD package that was received so well by MD readers that it too landed at the top of its respective category this year.
MVP
2. Mark Guiliana
3. Will Calhoun
4. Robert "Sput" Searight
5. Shannon Forrest
Rock
2. Tommy Aldridge
3. Will Calhoun
4. Sarah Tomek
5. Barry Kerch
Educational Product
2. Jim Riley, Survival Guide for the Modern Drummer (book/CD)
3. Mark Guiliana, Exploring Your Creativity on the Drumset (book/DVD)
4. Aaron Sterling, Sound of Sterloid (web video series)
5. Dafnis Prieto, A World of Rhythmic Possibilities (book/online audio and video)
---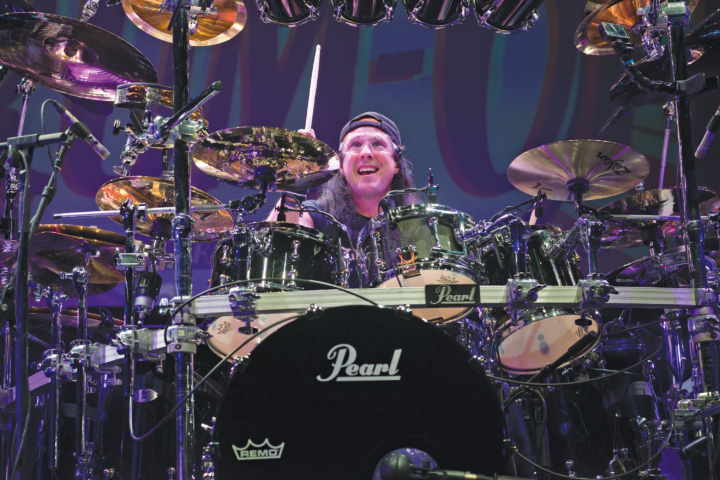 Prog
Mike Mangini
He was already a favorite among progressive metal fans before joining the genre giants Dream Theater in 2010, due to his astonishing playing with shred-guitar legend Steve Vai, thrash heroes Annihilator, and many others. But as a result of the nearly nonstop live and studio work he's done with Dream Theater since then, Mike Mangini is at a whole other level now. In 2016 DT fans witnessed exactly how far Mangini has elevated his drumming—heck, how far he's raised the art of progressive drumming itself—during the group's year-long tour supporting its two-plus-hour thirteenth studio album, The Astonishing. It's a title Mangini fans are only too happy to apply to the drummer himself.
2. Craig Blundell
3. Aric Improta
4. Jimmy Keegan
5. Navene Koperweis
---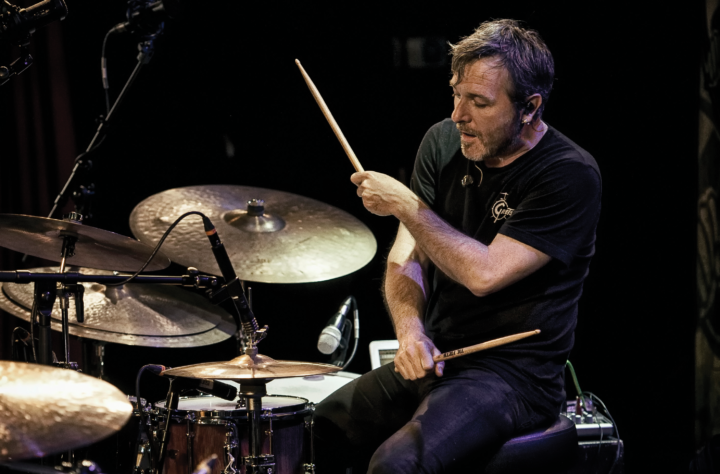 Studio
Ash Soan
The first U.K. artist to win this category since Simon Phillips did so in 1987, Ash Soan has been a top session drummer for over two decades. His impeccable touch and effortlessly deep pocket can be heard on fifty-plus top-twenty albums and more than twenty top-ten singles, including hits by Adele, James Morrison, Rumer, and Cher. Soan also played on fusion keyboardist Jeff Lorber's Step It Up and the Kung Fu Panda 3 soundtrack, and he's the house drummer for the BBC One series The Voice: UK.
2. Shannon Forrest
3. Steven Wolf
4. Aaron Sterling
5. Nir Z
---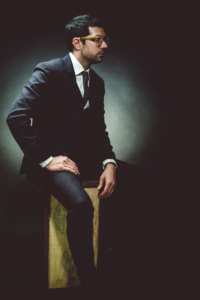 Jazz/Recorded Performance, Audio
Mark Guiliana
The year 2016 was a landmark for jazz/electronica drummer Mark Guiliana, who toured extensively in support of the first acoustic jazz album under his leadership (Family First) and experimental electroacoustic recordings by trumpeter Dave Douglas (Dark Territory) and saxophonist Donny McCaslin (Beyond Now). Guiliana continued breaking ground in the duo Mehliana with keyboardist Brad Mehldau, touring as a trio with renowned guitarist John Scofield. And Mark and his cohorts in McCaslin's group also served as the backing band on the legendary David Bowie's twenty-fifth and final release, Blackstar, an album so forward looking and well rendered that MD readers put it at the top of the audio portion of this year's Recorded Performance category.
Jazz
2. Ralph Peterson
3. Scott Amendola
4. Carl Allen
5. McClenty Hunter
Recorded Performance, Audio
2. Robert "Sput" Searight, Larnell Lewis, and Jason "JT" Thomas, Culcha Vulcha (Snarky Puppy)
3. Joshua Wells, IV (Black Mountain)
4. Matt Wilson, Beginning of a Memory (Matt Wilson's Big Happy Family)
5. Deantoni Parks, Technoself (Deantoni Parks)
---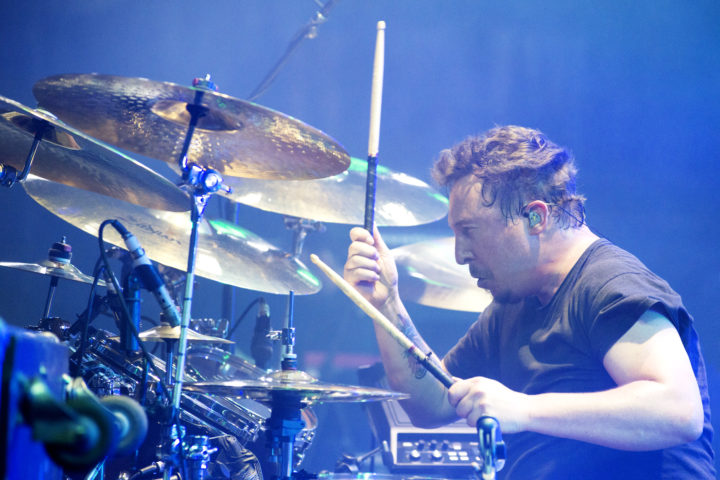 Alternative
Abe Cunningham
It's been more than twenty years since the Sacramento-based band Deftones redefined alternative music with its unique brand of dark, experimental post-hardcore metal on its debut album, Adrenaline. Abe Cunningham has been at the helm the entire time, delivering hard-hitting, groovy tracks that blend the snappy snare and nuanced hi-hat work of Stewart Copeland with the reckless abandon of Mitch Mitchell and the powerful pocket of John Bonham. Deftones released its eighth studio album, Gore, last year, which landed at number two on the Billboard 200 chart.
2. Ira Elliot
3. David Sandström
4. Josh Block
5. Nate Lotz
---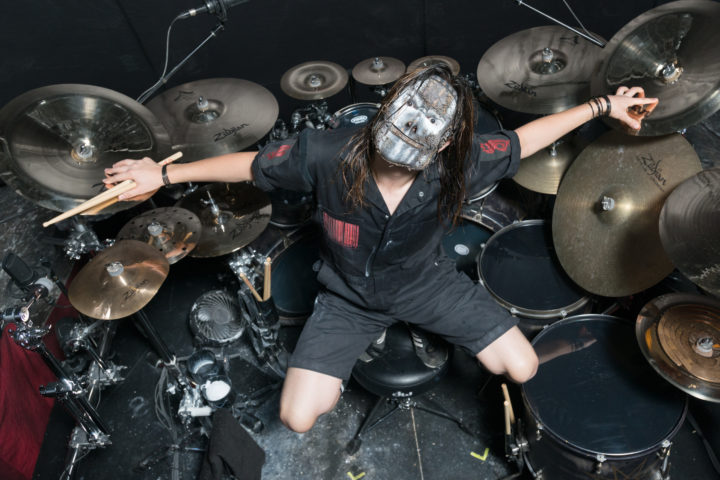 Metal
Jay Weinberg
It's not much of a surprise why MD readers put Jay Weinberg in the top spot of this year's Metal category. Playing with Slipknot is the gig Weinberg has been preparing for all his life. Adding his personal touch to the band has paid off big time, not only for Jay's stature in the metal world but also for the band, whose future many observers wondered about following the departure of founding drummer Joey Jordison. No one needed to be concerned, though; Weinberg has taken the mantle like a champ, slaying listeners with his debut Slipknot recording, .5: The Gray Chapter, pounding it out during the group's famously brutal live shows, and inspiring legions with his August 2016 Modern Drummer cover story.
2. Alex Rüdinger
3. Eloy Casagrande
4. Gil Sharone
5. Brann Dailor
---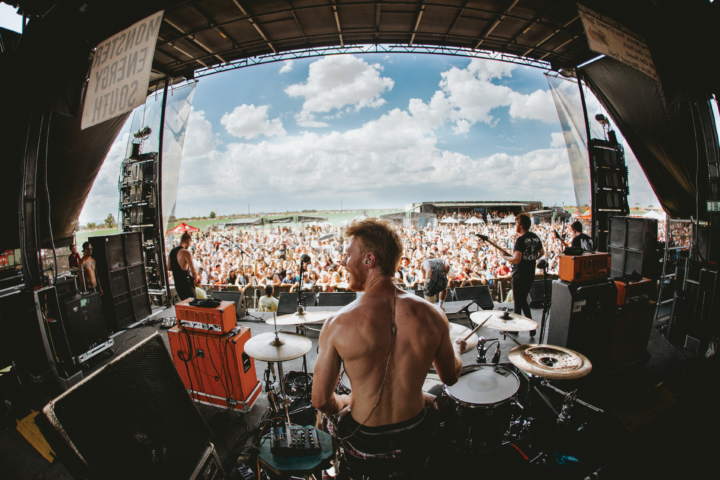 Up & Coming
Chris Turner
With its 2015 release, Lost Isles, the rising U.K. technical metalcore group Oceans Ate Alaska tore through the modern hardcore scene with jagged time signatures, blazing riffs, and breakneck drumming. The band's primary composer and chops-blurring drummer, Chris Turner, has been powering the band on international tours throughout much of the past two years. With a new OAA record in the works, there's much more to look forward to from the fiery sticksman.
2. Loniel Robinson
3. Louise Bartle
4. Chris Woollison
5. Jonathan Pinson
---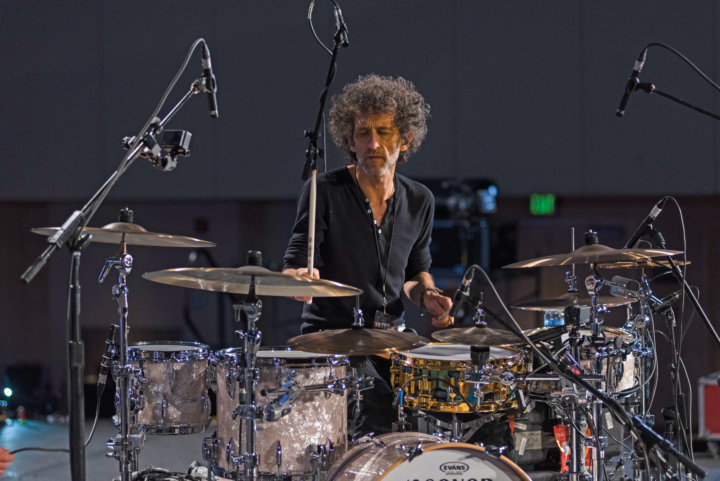 Fusion
Jojo Mayer
As one of the most innovative pioneers of drum 'n' bass and fusion for more than twenty years, it's no surprise Jojo Mayer has nailed a top spot once again in the MD Readers Poll. Whether he's touring with his band, Nerve, or releasing his highly acclaimed educational DVDs, Mayer continues to stay at the top of his game. MD last featured him on the cover of our May 2015 issue.
2. Anika Nilles
3. Robert "Sput" Searight
4. Adam Deitch
5. Cliff Almond
---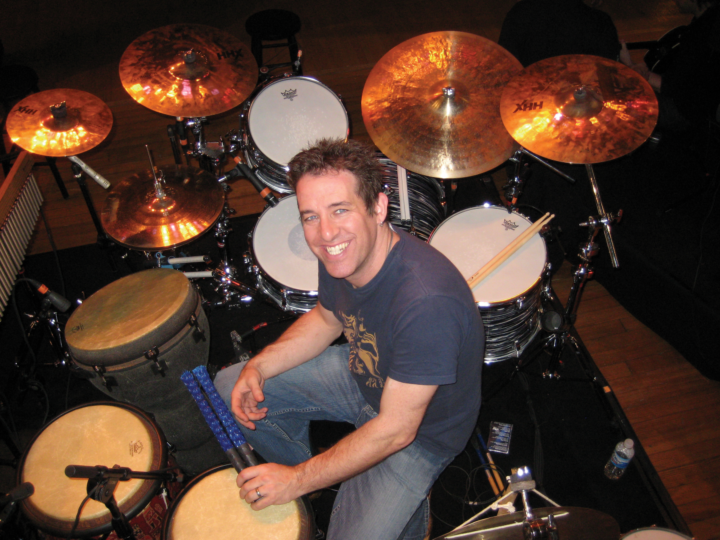 Country
Jim Riley
When he's not out teaching or at home writing educational drum books, Jim Riley is the drummer and bandleader for the multiplatinum country group Rascal Flatts. Riley is no stranger to the MD Readers Poll; in 2009 he was voted top clinician, and he led the Country category five times in a row between 2011 and 2015. He's back at the top again this year, proving that he's lost none of his influence on today's country scene.
2. Rich Redmond
3. Ben Sesar
4. Pat McDonald
5. Garrett Goodwin
---
Pop/R&B
Josh Dun
Josh Dun has been touring the world virtually nonstop for the better part of the past two years with the genre-melding, chart-topping duo Twenty One Pilots, in support of the smash 2015 record Blurryface. On hits such as "Stressed Out," "Ride," and "Heathens," Dun blurs lines between pop, punk, rock, reggae, and electronica, while tastily garnishing vocalist Tyler Joseph's infectious hooks with deep grooves. In 2017, Dun's reign continues, with current Twenty One Pilots dates booked through April.
2. Rashid Williams
3. Carter McLean
4. Terence Higgins
5. Andrés Forero
---
Recorded Performance, Video
Neil Peart
R40 Live (Rush)
2. Daniel Platzman, Smoke + Mirrors Live (Imagine Dragons)
3. Chester Thompson and Ralph Humphrey,  Roxy: The Movie (Frank Zappa)
4. Mikkey Dee, Clean Your Clock (Motörhead)
5. Rat Scabies and Andrew "Pinch" Pinching,  Don't You Wish That We Were Dead (the Damned)
---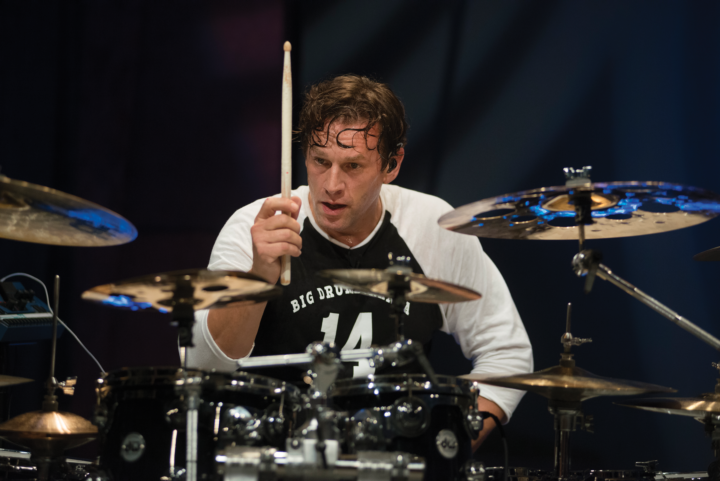 Clinician/Educator
Thomas Lang
International clinician, educator, author, and monster technician Thomas Lang spent much of the past year juggling tours with rock/metal guitarist Paul Gilbert, teaching, and organizing educational events such as his Big Drum Bonanza and Drumming Boot Camp. And along with appearances on the 2016 releases The Great Unknown by Eric Gillette and Gilbert's I Can Destroy, the drummer recently launched an online school, Thomas Lang's Drum Universe, further deepening his continued commitment to music education.
2. Benny Greb
3. Mike Johnston
4. Jost Nickel
5. Claus Hessler