The Sublime Power of Supporting Music with "Special Sauce"
What inspires the human spirit to pursue and achieve greatness? In the case of six-time Modern Drummer cover artist and MD Hall of Famer Dave Weckl, there are many levels of achievement to explore in the evolution of one of drumming's most accomplished ambassadors. From Weckl's youthful aspirations to his hard-earned success in the highly competitive New York studio scene, his dedication to following his passion led him to opportunities beyond his wildest expectations. In fact, what embodies the drumming industry in terms of sound, technique, style, and product innovation was partially influenced by Weckl's unique vision to develop new sonic possibilities, pursue unexplored rhythms, and conceive products that advance the art of drumming.
As a teen growing up in St. Louis, Weckl realized drumming was his passion. At 17, he was already playing six nights a week. At 18, he moved to Connecticut to attend University of Bridgeport with aspirations of becoming a New York City session player. As fate would have it, the bassist in the university's jazz band invited Weckl to join the group that would become Nite Sprite (named for the classic Chick Corea tune)—a mostly jazz-fusion band performing original music, along with contemporary material from Weather Report and Corea. Eventually, Weckl recruited his long-time St. Louis friend, keyboardist Jay Oliver, who had been touring with Maynard Ferguson, and the two roomed together in Westport, Connecticut.
Eventually, Nite Sprite debuted in New York at the Brecker Brothers club, Seventh Avenue South. It was lots of heavy lifting of gear to the upstairs venue for $20 a player. During this time, Weckl had been sending tapes and letters to Peter Erskine, who was drumming with Stan Kenton. While Erskine was hanging out in New York with jazz guitarist Steve Khan, the two went to see Nite Sprite. Erskine was so impressed with Weckl's playing, he recommended him for a gig with a group called French Toast, featuring Santo Domingo pianist Michel Camilo and New York session bassist Anthony Jackson. Ironically, Jackson was the bassist who played on Corea's "Nite Sprite" along with studio-drumming giant Steve Gadd—who Weckl had studied intently in his youth.
And so began Weckl's entry into the big leagues.
"I had finally achieved the level I had always dreamed of reaching," he remembers. "The moral of this story is that it's all about supporting the music, making it feel good, and putting your own special sauce on it so you're not sounding too generic."
MD: Who were the drummers that most inspired you to make drumming a career?
Weckl: My "A List" of drumming influences includes Buddy Rich, Steve Gadd, Vinnie Colaiuta, David Garibaldi, and Billy Cobham. The thing that attracted me to these players was their emotional input. There can be an awesome technical display, but the emotion is what grabs you.
MD: Your style seems to be an amalgam of the funky, linear approach of Garibaldi, the melodic orchestrations of Gadd, the technical prowess of Colaiuta, and the fluent, effortless facility of Rich.
Weckl: Thank you for those kind words. David Garibaldi's drumming with Tower of Power was in heavy rotation in my auto cassette player. David was a heavy influence on me from the late 1970s when I was a teen, and on into college. And, of course, Steve Gadd. Honestly, there was a time when I had to stop studying Gadd, because I was obsessed with sounding like him. I was heavily into transcribing him, and tuning my drums like his, because Nite Sprite was performing a lot of the music he was playing on. Looking back, it actually got me a lot of gigs. For instance, when I started playing with Anthony Jackson—who had worked a lot with Gadd—we hit it off immediately, because I played a lot like the drummers he liked to play with. Anthony told me Gadd was responsible for teaching him a lot about rhythmic precision. Anthony was also in Buddy Rich's band, so we had that musical connection, as well.
MD: What attracted you most to Gadd's rhythmic concepts?
Weckl: A lot of it had to do with the duration of the notes he played, along with his touch and sound. I don't feel that a lot of drummers—especially younger players—think about the duration of the notes they're playing. Do many drummers think of cymbals, for example, in terms of short and long notes? Also, consider which voices on your kit best serve the music based on the duration of notes the other instruments are playing. It's about creating the proper tonality, vibrations, and accents with the appropriate sound sources. That seems to be often forgotten or overlooked. Gadd is such a master at beautifully articulating his musical orchestrations around the kit with the perfect sound, touch, and feel.
MD: When did your influences start to morph into your own sound?
Weckl: It was in the early to mid '80s. My good friend, bassist Tom Kennedy, and I wrote and recorded with guitarist Bill Connors, and that's when I really started coming into my own sound and style. Chick Corea heard me play at The Bottom Line in New York City with that band.
MD: What did you do to create your sound?
Weckl: I started thinking a lot about what I could physically change on the kit to do things differently. I put a closed hi-hat on the right side of my kit, and I added a floor tom on the left side. About that time, I also started studying with Gary Chester—well before his The New Breed instructional book. Gary really turned my head around.
MD: How so?
Weckl: Gary was already utilizing several hi-hats around the kit, as well as experimenting with unique voices to create musical and rhythmic ideas—all based off independent exercises. It was his concepts that really started taking my style and thought process into new directions—away from my original Gadd and Garibaldi influences, and into my own style and sound.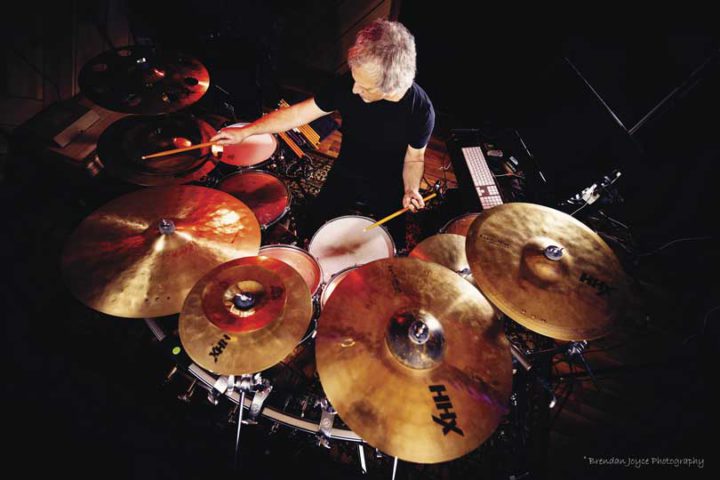 MD: What other teachers had a significant impact on your style?
Weckl: Freddie Gruber made me aware of incorporating mind, body, heart, and soul into my playing, as well as creating a comfortable relationship with the sticks, then the instrument, and how it can all work in harmony. He also got me focused on developing the Moeller technique, which motivated me to change my setup for a more fluent and ergonomic approach. [Editor's Note: Developed by Sanford A. Moeller (1878–1960), the Moeller method combines a variety of strokes and wrist-whipping techniques to improve hand speed, power, and control.] I've studied with some amazing teachers my entire life. All of these influences have helped shape my playing, and they continue to shape my playing. I'm a perpetual student, and I'm still learning.
MD: How did you end up playing with Simon and Garfunkel?
Weckl: After Nite Sprite, I was in another band, Called, with some great players about the same time I was playing in French Toast with Michel Camilo and Anthony Jackson. Anthony and I really hit it off, and he started recommending me for lots of sessions in New York. This was also at a time when Gadd took a break from the scene for a short period, and Simon and Garfunkel were doing a lot of reunion shows. Anthony recommended me to replace Gadd on their tour. Meanwhile, I was working a lot at Seventh Avenue South doing jazz gigs. One night, I was playing there with a fusion-jazz group, and in walks a small posse. They sit this guy down and walk away. I look up and it's Paul Simon. He had come to the gig to check me out, and he left before we were finished. The next day, I got the call to do the Simon and Garfunkel tour.
MD: What led to your meeting with Chick Corea?
Weckl: The 1983 Simon and Garfunkel tour lasted about eight weeks. It was a real awakening going from playing weddings and small clubs to stadiums and giant arenas. After that tour, I went back to New York and started doing a lot of sessions. That was when Chick was putting together a more modern-sounding electric-jazz group—a departure from the Return to Forever music of the 1970s. I was still playing with Michel and Anthony, and I was also working with Who It Is, which was an R&B project with the Stuff guys—Richard Tee, Will Lee, and Cornell Dupree. It was a busy time. I believe I did 60 or 70 records between 1983–1985.
Anyway, I was gigging with Bill Connors at The Bottom Line, and the stage was set up so you could see all the people. We're in the middle of the set, and I look up and here comes Chick Corea and his wife Gayle walking down the aisle. He had already found [bassist] John Patitucci, and he was looking for a drummer for his new band. He had spoken with Michael Brecker, and Michael had recommended me. Earlier that day, he was hanging with Brazilian pianist Tania Maria, and she played him the Michel Camilo recording. He immediately asked about the drummer. All the stars had aligned for our meeting that night when Gayle saw I was playing at The Bottom Line. We met after the show, and he asked if I'd like to come out to Los Angeles and play with him and John—whom I hadn't met yet. This was in late 1984, so spring 1985 is when we really started our longtime relationship.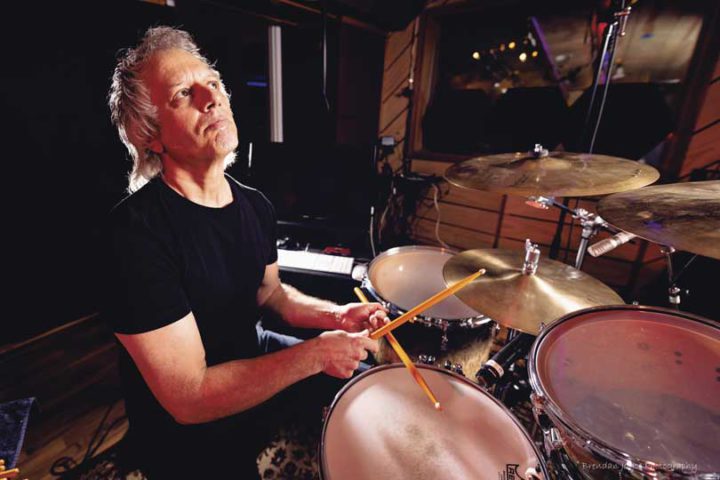 MD: What's your first recollection of working with Chick?
Weckl: We rehearsed for maybe a week, and then did our first gig as a trio—which was recorded at Elario's in La Jolla, California. You can hear my playing was a bit timid, and the drums sounded very muffled. But the band was gelling. I had spent so much time playing to Chick's records that I knew his style, comping, and phrasing. But it was still a pinch-me moment to be playing with someone I had grown up listening to as a fan.
John and I would record ourselves, and analyze what we needed to do to better support Chick. I recall playing the Queen Mary Jazz Festival, and I got a board recording right after the show. When I put it in my car's cassette player, John and I both felt Chick was burning, but we were dragging. At that moment, we realized we were approaching the gig more like an R&B rhythm section, allowing the soloist to burn while we held down the groove. We knew we couldn't play that way any longer. We had to push the tempo and support Chick and the music. I was partially to blame, because I didn't understand how to "own it" enough yet, and still give Chick what he was looking for. But he was cool enough to let us do our thing until we figured it out.
MD: When did you introduce your electronics, and how did the Elektric Band evolve?
Weckl: We only did one tour as an acoustic trio, and I was adding electronic triggering along the way. We recorded The Chick Corea Elektric Band [GRP] in 1986 with Carlos Rios and Scott Henderson on guitars. We toured with Scott for a few dates, and then we decided to expand the group. We hired guitarist Frank Gambale, and added Eric Marienthal on sax. By the time we released Light Years [GRP] in 1987, we had realized our direction. It was a struggle to be a fusion band and get on the radio, because smooth jazz was big at the time. Chick wanted to reach more people but stay true to his compositional spirit. He wasn't happy with the overall results from Light Years, so he returned to writing in a way that was more comfortable to him. For Eye of the Beholder [GRP] in 1988, we went back to a more acoustic production, instead of the heavy triggering of Light Years. At that point, I went back to white, single-ply heads, and a more open, acoustic sound.
MD: Do you feel Chick helped you find your voice on the instrument?
Weckl: Indirectly. A lot of it had to do with Chick, because I had been listening to Gadd on Chick's earlier records as a teenager, and I studied the mix and the drum sounds on those recordings. As a professional, I had the opportunity to do a lot of experimentation with sound—developing the ability to mix and record drums using various tunings, heads, microphones, mic placement, and so on. My love for mixing and engineering grew along with my playing skills. By the time I started recording my own music in the early 1990s, I had a clear vision of my sound. Jay Oliver was also a big part of how I created my sound and style.
MD: Can you describe your sound in the 1980s?
Weckl: There was way too much compression and reverb on the drums. I was always trying to make up for the lack of spatial elements in dead-sounding drums. The natural tendency was to add reverb to make it bigger. Now, I accomplish sonic aspects with my touch and feel on the kit—as well as drum and cymbal choices—to capture the sound I want, instead of manipulating elements with something electronically artificial.
MD: How did the Chick Corea Akoustic Band emerge from the Elektric Band?
Weckl: The E-Band was touring to promote Eye of the Beholder, and a new record was due. But we had no time to record because we were touring so heavily. Chick was just going to go in and record a trio record with, I think, drummer Roy Haynes and bassist Miroslav Vitouš. But then he said to John and me, "Hey, would you guys be interested in doing an acoustic jazz record?" We went right into the studio and rehearsed and recorded it all at the same time. We finished Akoustic Band in a day or two. We didn't put much thought into it. Surprisingly enough, the record won the 1990 Grammy for Best Jazz Instrumental Performance, Group. Then, everyone wanted the Akoustic Band to tour. All of a sudden, we had two bands on tour, and it got pretty crazy.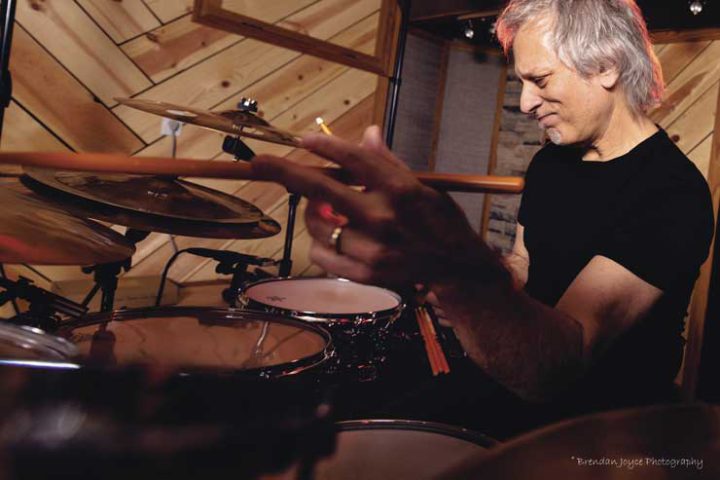 MD: How crazy?
Weckl: Honestly, I was at a point in my career where I was getting pretty burnt out. Between all of the touring and recording with Chick, and doing my own records, I wasn't happy with myself. I had no time to practice and keep growing as a player. I also wanted to do other projects that I was getting called for, but I had to turn them down because of my hectic schedule. I felt that I needed a break. We did a couple of more E-Band records—Inside Out [1990] and Beneath the Mask [1991]—and then Chick and I came to a friendly and mutual agreement that it was time to go our separate ways. That's when the first generation of the Elektric Band ceased to exist.
MD: What motivated you to develop the Contemporary Drummer + One instructional package in 1987?
Weckl: GRP offered the entire Elektric Band individual record deals. Initially, I refused because I didn't feel I was ready to release a solo project. But I always had a goal to release an instructional drumming package that I hadn't seen anyone else do yet. So I asked GRP to let me do the educational project first—in order to reach as many drummers as possible, and recreate an audience for the solo album.
Contemporary Drummer + One was a childhood dream come true. As I was listening to Gadd, Buddy Rich, and all the great players, I kept wondering where were their instructional products? When I was about 13, I loved Big, Bad & Beautiful by Roy Burns with the Dick Grove Big Band. It was a vinyl LP with charts, and it was responsible for me learning to read big band music. But I thought, "Wouldn't it be great if there was a version without drums?" So the idea to create a top-notch recording, transcriptions, and charts had been on my mind since I was a kid. Jay and I produced Contemporary Drummer + One, and I transcribed every single note I played, which I vowed to never do again [laughs]. My concept was to create a package that prepared a drummer to become a studio player—which is why I recorded a variety of musical styles.
I continued my instructional endeavors with Back to Basics in 1988 and The Next Step in 1989. From there, I released several books and some Latin instructional videos with Walfredo Reyes, Sr. Now, I have my own online school, and I continue to share my discoveries and experiences with my students.
MD: How does the "Spur of the Moment" flexi disc you and Jay Oliver produced for the Sound Supplement in the October 1987 issue of Modern Drummer factor into your drum-sound evolution?
Weckl: The MD disc was the first recording that introduced drummers to "my" sound. It was the punchy, tight sound that Jay and I had been striving for. I learned all of my engineering skills from Jay, as well as from watching the recording engineers in New York. I was studying all the signal paths—EQ, compression, input level, and so on—that create a great drum sound.
MD: Then, your first solo album, Master Plan, was finally released in 1990.
Weckl: That was a special moment in my career. I was pulling in all of my musical friends, such as Tom Kennedy, Jay Oliver, Anthony Jackson, Eric Marienthal, and my all-time favorite sax player, Michael Brecker. Chick played on a track, as well.
MD: What was your approach to recording the drum sounds for Master Plan?
Weckl: Steve Gadd was the first drummer I had ever heard with such clarity of drum sounds, and a precision and cleanliness of playing that really came across in the recordings. When I listened to the records he played on in the late 1970s and early 1980s, I had assumed he was hitting really hard to get those big, thick sounds. If you watch live videos from that era, he was hitting pretty hard. But, in the studio, it was much different. He was actually playing with beautiful control. His kit was close-miked, and he knew not to play over a certain volume level to allow the mics to capture the richness of the drums. I wanted to discover how to create that sound in the studio. Jay and I experimented with drum sounds, using smaller drum sizes and thicker heads. When we tuned the heavier heads down, they didn't sound that great acoustically, but when you put a good mic on them in the studio, the tone was amazing—punchy, thick, and rich. We used a little duct tape on the edge of the heads to help reduce harmonic ringing and add to the punch.
MD: Talk about the title track, which features your incredible drum duet with Steve Gadd.
Weckl: I wanted to recreate Chick's The Leprechaun [1976] and The Mad Hatter [1978] recordings—with Chick and Steve—and then insert myself in the middle of it all. So I asked Chick to compose a drum duet for Steve and me.
MD: How did you approach Gadd to do the track?
Weckl: I met Steve during the Buddy Rich Memorial Concert in 1989, and I asked him about doing the track with me. He was into it. We put together the chart and knocked it out. It was a one-day event. We rehearsed it, and then we tracked it. There were no fixes or overdubs. Overall, it was a really beautiful experience. We were checking out each other's kits and talking shop like drummers do. I also remember being sick as a dog with a bad cold. But it was one of the best days of my life.
MD: There was also a historic drum-trio performance at the Buddy Rich Memorial with you, Vinnie Colaiuta, and Gadd.
Weckl: Buddy was a huge influence on my drumming from a very early age. I even have what is believed to be one of his drumkits with signed heads and all. I'll never forget the day he passed on April 2, 1987. It was devastating. Buddy and I were scheduled to perform later that year at PASIC, so his daughter Cathy asked me to be part of the memorial show. There were actually two shows—one in New York, and the other in Los Angeles. We briefly rehearsed the show in New York, but we didn't really talk about what we were going to play for the trio thing. We just discussed the form—each of us would start individually, Steve would establish the groove, then we'd all come back in and trade eights, and end with the clave thing. Boom. That was it!
MD: What was it like being the freshman of the trio, and starting off the performance by yourself?
Weckl: Playing with two guys you highly admire is humbling. With Steve being the elder statesman, we asked him to set the groove and the tempo. The whole event was very special, because it was all about remembering Buddy. For me, it was all about the joy of sharing the stage with these great players. It certainly was not about trying to outdo the other guys—which would be ridiculous anyway. We all had the same level of respect for each other to do our thing in a musical exchange of spontaneous drumming ideas. By starting it off, I had a blank slate to build a musical theme. When I solo, I think from a musical place—not about pulling off licks. If you think musically, it becomes a composition, and you draw from the emotions in the moment.
MD: What are you thinking when you're composing a solo?
Weckl: I'm pulling from the entire history of what I've listened to, how it makes me react when I hear certain melodies in my head, and how I can convey them emotionally onto the drumkit. I'm composing a musical statement based on everything I've studied, learned, and absorbed from pop music, Dixieland jazz, big bands, Latin, fusion, and beyond. It's not about creating a solo from rudimental drum chops. I never think about strokes or rudiments. I may interject some techniques I've developed, but they aren't the basis of my performance—they're tools to execute musical ideas. My soloing concept has always been spontaneous, and the Buddy Rich Memorial performance was no different.
MD: When did you start to incorporate mixing technology into your live performances?
Weckl: In the early 1980s, I would set up a mixer and mix the band from behind my kit. This progressed into creating my own portable system that I could carry around, which was a major hassle, but well worth it. When I showed up to play live with French Toast, I had mics, a mixer, and a rack with noise gates, reverb, and an 18″ monitor cabinet. The band looked at me like I was nuts [laughs]. But I had the best live drum sound in New York at the time. Anthony was an audiophile, and he was blown away by the sound quality!
MD: How did triggering electronic sounds become such a major part of your early sound?
Weckl: When I started in the New York session scene in the 1980s, electronics—especially the LinnDrum drum machine—were all the rage with producers, because the drum sounds were clean, punchy, and in perfect time. Back then, in order to get studio work for TV, movies, and even recordings, you had to be as close to a machine as possible. Otherwise, the machine got the gig. That forced me to emulate that sound and rhythmic precision. In fact, the LinnDrum was one of the first machines I triggered in the Elektric Band—for "Rumble," with all the hand claps, tambourines, and bass-drum sounds. So it started there, and eventually evolved into the more advanced sampler stuff.
---
Autumn Hill Records
Always in Season for Instrumental Music
By Michael Molenda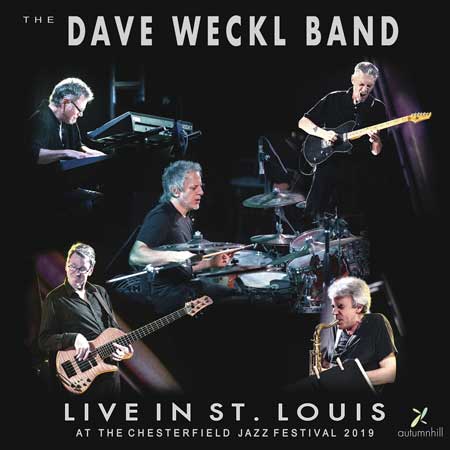 Autumn Hill Records recently released Dave Weckl's Live in St. Louis at the Chesterfield Jazz Festival 2019. You can deploy the much-overused term "a labor of love" for the project, as the concert was a hometown celebration of a hometown boy by a hometown label. The album also marks Weckl's first release with his band—featuring original members Jay Oliver (keyboards), Buzz Feiten (guitar), and Tom Kennedy (bass), along with sax player Gary Meek—in 16 years.
The Silvermans are active, ambitious, and supportive players and composers—Michael is a keyboardist and Rob plays drums—which makes Autumn Hill a "musician's label" at its very core, and a very successful one at that. In a decade of operation, Autumn Hill has logged 14 number-one albums on Apple Music, more than six billion streams, and a catalog of music that has been heard on television (HBO, NBC, CBS, etc.), in films by directors such as Martin Scorese and Ken Burns, and on tracks by label artists that include John Patitucci, Jeff Lorber, Jennifer Batten, Gregg Bissonette, Vinnie Colaiuta, Dweezil Zappa, and the brothers themselves.
"It has been an amazing ride," says Rob. "And we have big hopes for 2021. We plan to release a bunch of albums this year, as well as try to kick off a national tour for the classical/jazz fusion group that Michael and I have, Bach to the Future. Overall, it has been wonderful having the opportunity to work with so many great musicians through the label. It's really true—thanks to the internet, everyone can pursue their dreams."
MD: What prompted you to start a label focusing on instrumental music?
Rob: We grew up in a household with classical-musician parents. Our mother was a cellist and pianist, and our father played cello in the St. Louis Symphony for 42 years. As we got older, we became big fans of the instrumental music on the Windham Hill label and the cutting-edge jazz/fusion artists on GRP Records. All of those jazz, world music, and new-age artists influenced us, and it has been a dream come true to start this label and get to work with many of the musicians we've admired all these years.
MD: What entices you to sign an artist? What creative elements make you go, "Wow, this musician has got to be on Autumn Hill"?
Michael: We have been lucky that so many great artists have a St. Louis connection, and the relationships have grown organically over time. We organize a number of music festivals in and around the St. Louis area, and this has allowed us to meet—and often perform with—many of our heroes. This year, we are releasing music with Dave Weckl, Eric Marienthal, Tom Kennedy, and Gary Meek, among others. Recent releases with John Patitucci and Jeff Lorber have been very rewarding, as well.
MD: In general, what are the major challenges to running a record label these days, and what additional challenges may have been dumped onto the pile during the pandemic?
Rob: As we are an almost entirely digital label, the changes in the industry have actually been very positive for our business model. Distribution is obviously much easier than it was 20 years ago, and we also do all of our marketing online, as well. The streaming age is a huge benefit for instrumental music, because instrumental albums are often played all the way through, as opposed to pop singles. So the small payouts per song add up quite a bit better for instrumental artists.
MD: That said, the streaming revenue share for artists remains controversial. How can artists and labels derive acceptable returns for digital distribution?
Michael: We really like the new model. While a new album doesn't generate much in the first year from sales, we continue to see revenue from the same listeners over time, because we get paid for every listen. The key is to have a great catalog and a solid following.
MD: What was it about Dave Weckl and his Live in St. Louis at the Chesterfield Jazz Festival 2019 project that attracted you to taking it on?
Michael: Rob asked Dave to play the concert, as Dave has been his primary inspiration for decades. Also, keyboardist Jay Oliver moved back to St. Louis a few years ago, and we all became good friends. Jay and Dave have been musical partners for a long time, but both of them became very busy with a variety of separate projects. Music at the level they deliver requires a lot of effort to put together for a performance, and we wanted to help facilitate the rehearsal process for the homecoming concert that would help the guys orchestrate this large undertaking. We all knew this would be an important concert for the band, and Dave had the idea to film and record the show. He even recorded the audio himself with two mixers and some hard drives while he was onstage. Strangely, we didn't have an album in mind. But the concert went so well, and the recording was magical. It was obvious this should be Dave's next live album.
MD: What are the highlights of Live in St. Louis at the Chesterfield Jazz Festival 2019?
Rob: Self-servingly, we have to mention the concert's encore with both Silvermans and saxophonist Eric Marienthal joining the band to cover "The Chicken." That was a true highlight of our careers. Dave and I did a spontaneous drum battle between his acoustic playing and my electronic Zendrum. What a blast! This is included as a bonus track at the end of the album.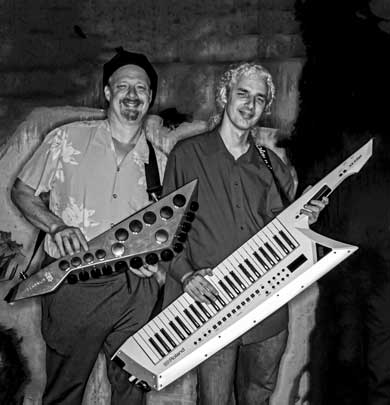 MD: What is it like running a label as brothers? Do you have specific duties, or do you jump into everything together?
Michael: We feel very fortunate to work on all of our ventures together. It's very helpful to push each other to get things done. We each maintain lists of priorities, and we divide up the work to get things done faster. Our friend [Michael Jackson and Jeff Beck guitarist] Jennifer Batten taught us a valuable trick to achieving our goals. She said, "If you had a list of things to do, and eating a frog was on that list, eat the frog before you do anything else." So, every day, we begin by eating a frog, so to speak. After the hard work is done, the rest is usually a lot of musical fun.
MD: What are some misconceptions musicians may have about creating instrumental music that is commercial enough to find audiences?
Michael: Our catalog contains a wide variety of instrumental styles. Some are more appropriate for really focused listening, such as Rob's Drumology albums. It's highly virtuosic music, with many great guest musicians playing their hearts out. But not all music is for focused listening. We love music for film, television, and relaxation that requires space and often slower tempos. John Patitucci and I recently recorded an album called Film Music in Search of a Film, which is a perfect example of very open and tranquil playing that could be used as a movie underscore. We both have done a number of pieces featuring piano or ethnic drums that have been placed in TV shows and films, and I think the most spacious recordings tend to get the most licensing opportunities. It's also important to have an agent or agency to shop and negotiate deals for you. Don't just wait for someone to call. Be proactive with your music!
---
MD: When did you move away from triggering electronic sounds?
Weckl: In the mid 1990s, I ditched the two refrigerators full of electronic gear, and I moved to larger toms, thinner heads, and a more open tone. All of this culminated at the same time, which was after I left the Elektric Band and started to mix, produce, and tour my own music. The quest was how to get the most natural acoustic sounds, and part of the transition was switching from heavier Remo Emperor heads to single-ply Ambassadors. That made a huge difference in tone and feel.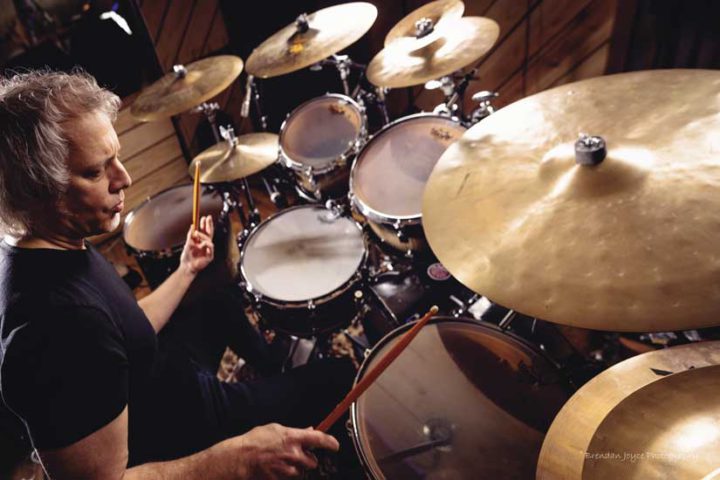 MD: How did your partnerships with drum-gear manufacturers to develop signature products begin?
Weckl: I was fortunate enough to work with several high-profile artists, which allowed me to develop relationships with several drumming manufacturers. Everything started with my Vic Firth signature drumsticks in the late '80s. Vic saw me play with Michel in New York, and he invited me to join the family. My original signature stick was red to match my cherrywood Yamaha Recording series kit. It was basically a 5A, but longer and with a different bead. It was designed for my playing style at the time, because I held the sticks back farther and played harder than I do now.
Several years later, Freddie Gruber helped me discover a more balanced way to hold the stick for an equal and easier action/reaction rebound. So I developed a new stick in the late 1990s, that took three years to perfect. I had Vic send me every stick the company made so I could feel the weight, length, bead, and diameter. I always returned to a 5A, but the front end was a little light, and I didn't like the tip. Eventually, we developed a standard 5A with a more balanced weight and a different bead, and that became the Evolution stick. I was playing a Yamaha natural-finish maple kit at the time, so we made the new stick the same stain as the kit. I can't even play the red stick now. The new stick is lighter, and it allows me to play with more dynamics without fatiguing my hands.
My hand technique involves a five-finger grip on the stick at all times, so the varnished finish had to be thick enough to maintain a loose grip without dropping the stick. Ergonomics and natural body movement play a huge role in playing comfortably. Never having to stress your body in order to hit a drum or cymbal is the basis of what I learned from Freddie Gruber, and it has become a big part of what I teach in my online course.
By the way, creating signature products is not about the money. It's about creating something I truly believe in—something I want to use for developing my own sound. I aspire to design products for the drumming community that don't already exist and that may expand the sonic possibilities and opportunities for drummers and drumming.
MD: Your current setup brings the cymbals in close to the toms.
Weckl: I'm hypersensitive to the positioning of my kit, because I don't want to reach too far for anything. The positioning of the ride cymbal does create some issues at times. When I use a 22″ ride, in order to reach the bell, the body of the cymbal does extend over the toms a bit more than I would like. Even the splash cymbal may get in the way if my stick slides back too far in my hands.
MD: Could you talk about the invention of your Sabian Evolution and Legacy series cymbals?
Weckl: First, I'd like to mention a new Sabian flat ride that's coming out soon. It's called the Serenity ride, and it was conceived from some of the quieter, more recent Akoustic Band gigs I did with Chick. I was never a fan of flat rides, because I thought they were too high-pitched with not enough meat. But we've created a flat ride that's really dark with a super-cool vibe. It's great for lighter playing situations.
I created the Sabian Evolution crash cymbals, because I couldn't find a crash cymbal I liked. I wanted a high-fidelity sound that feels like butter when you hit it, and really invites you into the tonality of the cymbal composition. For example, the Evolution ride needed a big bell with a body that was dry, but it also needed a lot of wash with solid stick definition. I also wanted to ensure every Evolution cymbal of each particular size sounded the same, so that a drummer who bought one got the exact same sound I was getting. We also created the O-Zone series cymbals with holes in the body.
MD: Where did the O-Zone idea come from?
Weckl: When I saw Steve Gadd play in the early '80s, he almost always had a few cracked cymbals on his kit. They were so much a part of his sound that I thought, "If only a cymbal company could design a cymbal that sounded like this." Sabian was very open to trying new ideas, so when I was at the Sabian Vault, they had a tree of splashes that had little holes in them. I hit one, and it had the same dry sound and decay that reminded me of Gadd's cracked cymbals. I asked if they had ever tried doing these holes in a crash cymbal. They had not. So I asked them to take an Evolution crash, drill holes all over the cymbal, and, overnight, the O-Zone crash cymbal was created.
MD: How did the Legacy cymbals develop?
Weckl: I got stuck at the Sabian plant over 9/11, so we worked on creating a trashy, dirty sound with lots of wash. The Legacy rides have become very popular as crash cymbals with some of the rock guys, but the line works well in most musical situations.
MD: Another of your innovations was the Remo Active Snare Dampening System.
Weckl: Yes. We couldn't design exactly what I was after, because it cost too much to manufacture, but we ended up with a great alternative. The idea was to create a physical noise gate—a small, felt-covered plunger that would rest on the snare head with a tension adjustment. When you strike the drum, the plunger releases from the head, allowing the drum to ring. Then, it drops back down to mute the decay and overtones. What I never liked about duct tape or Moongel on a snare is that the sound never changes, and they also drastically change the feel. The system allows the drum to speak, breathe, and rest between strokes. We also created two bass drum muffling devices—one internal, the other external—to create the bass-drum sound I was looking for.
MD: What was the concept for your Yamaha signature snare drum?
Weckl: When Yamaha asked me to create a signature snare drum in the early 1990s, I had to think about what I wanted to help define my sound. What I never liked about a snare was the inconsistency of the strainer. So I designed a drum with two strainers to give me the precision and definition for tight staccato playing, and then quickly give me the loose, fat sound I liked. The first snare was a 5×13 designed after an old Slingerland Radio King I absolutely loved, which had six lugs instead of eight. When we designed the 14″ version, I used eight lugs instead of ten. I still feel an eight-lug snare feels better and resonates better than a ten-lug snare.
MD: How did you develop your style of Latin-jazz drumming?
Weckl: My love for Latin music happened when I was exposed to the great Latin players in New York. The music is very folkloric and steeped in cultural tradition. The beauty of playing fusion music is that you are fusing various styles together without really mastering any particular style. Instead, you are creating your own hybrid of styles to explore in the hopes of inventing something new and hopefully original.
I didn't know much about Latin drumming until I got the gig with French Toast. Michel sat me down and explained the basic concept of each rhythm, what each percussion part focused on, and how it all fit together to create the rhythms. He would sing the rhythms, and I'd write them down. Then, I'd practice incorporating the rhythms onto the drumset in a contemporary way that fused groove and jazz, while maintaining the foundation of the authentic rhythms.
MD: What is it like to start your own band?
Weckl: There's a lot of risk and responsibility in leading your own band. You control the tour schedule, collect the performance fees, pay travel expenses, and make sure the fine details of each show are handled correctly. The positive side is that you have the opportunity to play the music you love, with players you enjoy, and with control over the musical presentation you want to share with your audience. I also allow the players the same creative freedom and spontaneity that I experienced with Chick. He really taught me how important that was, and I make it a priority on my gigs.
MD: What advice would you give to those who aspire to make drumming a career?
Weckl: I teach my students that you have to practice a lot and really learn your instrument. Listen to the history. You have to advance your playing to a very high level and serve the music. Be humble. Let your talent do the talking. Just shut up and play. I've seen more guys not get gigs and ruin their reputation by talking too much about how good they are, or how bad someone else is. Be excited, be passionate, and be willing to put in the work. Show up on time, and put your heart and soul into your playing.
You also need to make sure you love what you're doing. If you don't absolutely love playing, don't do it. There's a lot of hard work involved when your passion becomes your business. Another important thing that Chick taught me about the business is to do what you can to create something to make money while you sleep. You don't want to be trapped in trading time for money as your only means of income. For example, write music, invent a product, and create educational materials so that when you're not playing, you're still making money. Today, you can do this all by yourself. You can monetize YouTube videos of your own material, for example.
Finally, if you want to write, record, create, and perform, do not keep your passions and aspirations to yourself. Share them with like-minded people, and boldly create your vision until it becomes a reality.
"My drum solos are not created from rudimental drum chops. I'm composing a musical statement based on everything i've studied, learned, and absorbed"
MD: How has the past year of no live performances affected your livelihood? Have you been able to generate income during the pandemic?
Weckl: At this point, my residual income is pretty steady, and that helps. But as almost half of my income was from touring, I had to figure something out quickly. I've had my Dave Weckl Online School for a while now, and I have been promoting the school a lot over the past few years. But I really ramped up my online private teaching last year, and that saved me financially. I had to get established quickly, of course, so I reached out to Dom Famularo, who put me in touch with Jim Toscano. Jim really helped me figure out my gear for teaching online. I started advertising on my social-media platforms, and Steve Orkin, my business partner, helps me organize a lot of this stuff, as well. I really enjoy teaching through my online school, because I get to share everything my teachers shared with me that helped me find my voice.
MD: Why did you move back to St. Louis?
Weckl: The biggest reason was financial. The move to St. Louis was to have a bigger house and more space for my studio, which was financially impossible in Los Angeles. With more work coming from my home studio, I won't be touring as often as I have in the past. I'll be picking and choosing tour dates very carefully with limited travel. Also, Jay Oliver is here and my record label is here. I didn't have much of a reason to stay in L.A. other than my soon-to-be 24-year-old daughter, who was the toughest part of leaving.
MD: Do you have a favorite Dave Weckl recording?
Weckl: I don't like the term "favorite," because everything I've done has its own merits in one way or another. Each recording I've done is a special moment in time for me, and each reveals a snapshot of my musical influences and drumming styles. I will say that I like the live recordings, because they are a bit more spontaneous. Live (And Very Plugged In) [2003] and Live in St. Louis at the Chesterfield Jazz Festival 2019 [2021] are examples.
MD: Can you discuss the importance of musicality, listening, improvisation, and communication?
Weckl: One of the biggest lessons I learned from Chick was about communication. This was something that made our time with Chick so special. He really wanted us to look at him when we played, so we could establish a musical dialogue. He was adamant about seeing each other all the time. But it's amazing what can happen when you reach that level of communication. It makes the performance more meaningful, and it allows a deeper connection to the players and the performance.
I've always had a tendency to close my eyes when I play in order to concentrate deeper into the music. But that also becomes a more introverted way of playing. I would catch myself doing it all the time, because we spend so much time in the practice room alone. We get accustomed to focusing on the inner self to develop time, feel, and sound. But in a live performance, you're onstage with other human beings, and it's important to look at each other's expressions and body language. Chick, John, and I reached a super-high level of visual communication, and the goal was to be present in the moment with the physical, mental, and spiritual aspects of complementing those around us to create something special.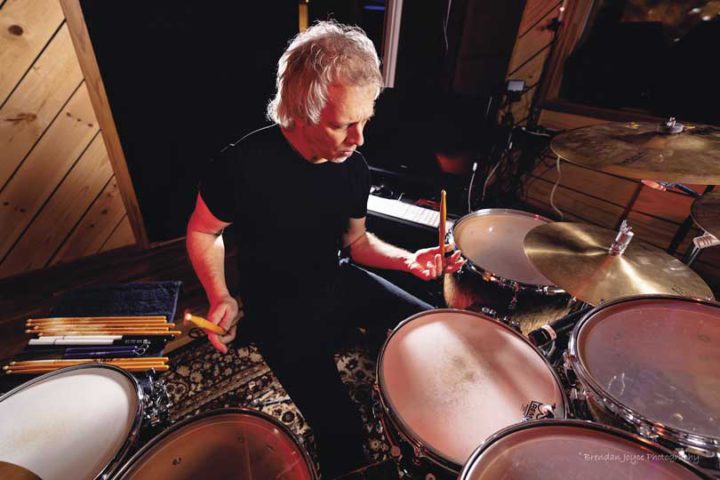 MD: Were you aware of Chick's health issues prior to his passing?
Weckl: None of us knew. They kept it private until the very end. The whole thing has been so sad, heavy, and devastating for me, because I was speaking with Chick almost every other day in November to choose songs and help mix a new, live Elektric Band recording. He was so excited, and he was looking forward to taking the Elektric Band back out for another tour.
MD: What's the status of that project?
Weckl: We were about three quarters of the way done. We were also recording a new song, which was a little jazzier than a typical E-Band tune. Chick had basically put me in charge of the project, with everyone recording their parts remotely, and then sending me the tracks to mix. We recorded videos, as well, because we were going to use a video to promote the new tour. Chick played his part on a demo, but he never got to record the video. We don't know exactly what's going to happen with that music. I'm guessing it will come out as a bonus track on the live recording. It's the last piece of music we wrote and recorded together with Chick.
MD: What is your daily routine for health, nutrition, and exercise to stay in shape for drumming?
Weckl: Staying healthy is such an important aspect of playing drums, because it's a physical instrument. But, as I get older, it gets harder to stay as healthy as I would like. I try and get out for a brisk 30- to 40-minute walk each day. Anything you can do to push the cardio is good for your drumming. I used to do weightlifting when I was younger, but it doesn't really help the body as far as drumming is concerned. So I started doing more CrossFit training to keep my core strong and maintain leg strength. On the days that I can't work out, I get on the drums and do calisthenic-type exercises on the kit for about 30 minutes with the feet and hands. My Apple Watch tells me I'm getting a great workout [laughs].
I stopped eating red meat or any meat protein—except for fish—about seven years ago. I eat lots of green veggies and fruit. I try and maintain a certain weight and body fat content with less food intake and a balanced diet. I love Beyond Burgers, which is a meat-type product made from plants. That satisfies my Italian sausage, meatballs, and hamburger cravings. Sugar is hard to avoid, because it's in everything, but I never add sugar to anything. I take a lot of plant-based supplements from Italy, where my wife and I see a doctor who deals in a plant-based dietetic approach. We use a lot of essential oils and creams where body aches are concerned—including extra vitamin D and plant-based cholesterol supplements. I'm not a big fan of Western medicine.
Then, I try to touch the drumset every day to keep the physical and mental faculties in shape. I also do a livestream every week to keep the chops up and force myself to practice on a regular basis while we're all stuck at home.
MD: What does the future hold for you as a player?
Weckl: With the passing of our dear friend, Chick Corea, I realize we're not here forever. John Patitucci and I are talking about doing some stuff together to keep moving forward from the music Chick helped us create as younger players. We are now the elder statesmen, and it's up to us to keep that music alive and move it forward for the younger generation—or anyone who is willing to listen. We're not so interested in lighting up the world with something new. My goal is to inspire someone to pick up the drumsticks and create something special of their own.
MD: Do you ever think about retirement?
Weckl: It's not something I'm looking to do anytime soon, or something I'm looking forward to. I'll definitely ratchet back the touring a bit over the next few years, but I don't plan on stepping off the drum throne anytime soon. I'm having fun, but this is no joke. I want to perform to the best of my abilities every time I play. I want to give 150 percent. I feel like I'm 20 years old when I sit at the kit, but I recently told my wife and daughter, "If I ever get to the point where I think I'm burning, and I'm really not, then yank my butt off the drum chair." I'm going to continue to play music for as long as my body will allow, and this is what was so devastating about losing Chick—he always had such amazing energy. We all thought we'd be playing gigs with the Elektric Band when Chick was 90, and we'd be hoping we could still keep up with him.