MD Mag Articles
MD Web News
MD Podcasts
Note: Some MD articles are only available in pdf format. Those articles do not appear in this list. Subscribers to
Digital
and
All-Access
can view every Modern Drummer issue in their available formats. Browse all MD issues from our archive
here
.
2021 Readers Poll Results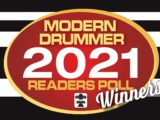 Celebrate Your Choices for the Extraordinary Drummers of the Past Year It's that time again for the Modern Drummer staff to thank the community for making possible our annual Readers Poll. Your enthusiasm for all things drumming, your knowledge of drum culture, and your well-considered votes are what have steered …
Questlove's latest book and more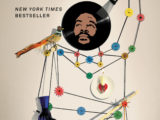 RECORDINGS Skyharbor Sunshine Dust Indian progressive metal titans release a gripping new album on the heels of successful tours with Babymetal, the Contortionist, and Deftones. Equal parts ethereal atmospherics, thick and chugging grooves, and soaring vocals, Skyharbor offer some of their finest work to date on their third full-length release. Expertly …
George "Spanky" McCurdy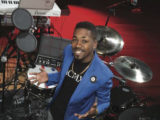 His infamous "off time" approach has been the source of many a drummer's woodshed frustrations. An eye-opening DVD now offers insight. But, as with so many players who live on the front lines of innovation, true understanding becomes clear only when you trace the origins of his art.
Posted: June 24, 2021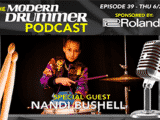 Category: The Modern Drummer Podcast
The Modern Drummer Podcast Episode 39: David Frangioni with Nandi Bushell
Episode 39: David Frangioni interviews Nandi Bushell + Dawson's Shop Talk review on the Roland – VAD306 Compact Electronic Drumset. In this episode MD CEO David Frangioni interviews 11-year-old UK social media sensation, drummer and multi-instrumentalist Nandi Bushell, sponsored by Roland. Nandi and her father John walks David thru how …
Posted: January 19, 2018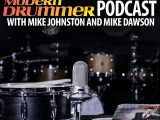 –