Guitar Center Celebrates New Times Square Store With The Roots Live In Concert
Guitar Center has announced the grand opening of the retailer's brand new store location in world-renowned Times Square.
The new store is located at 218 W. 44th St. and opens its doors at 7 p.m. on Thursday, August 7, 2014. 
This opening coincides with another milestone for Guitar Center as the retailer celebrates its 50th anniversary year.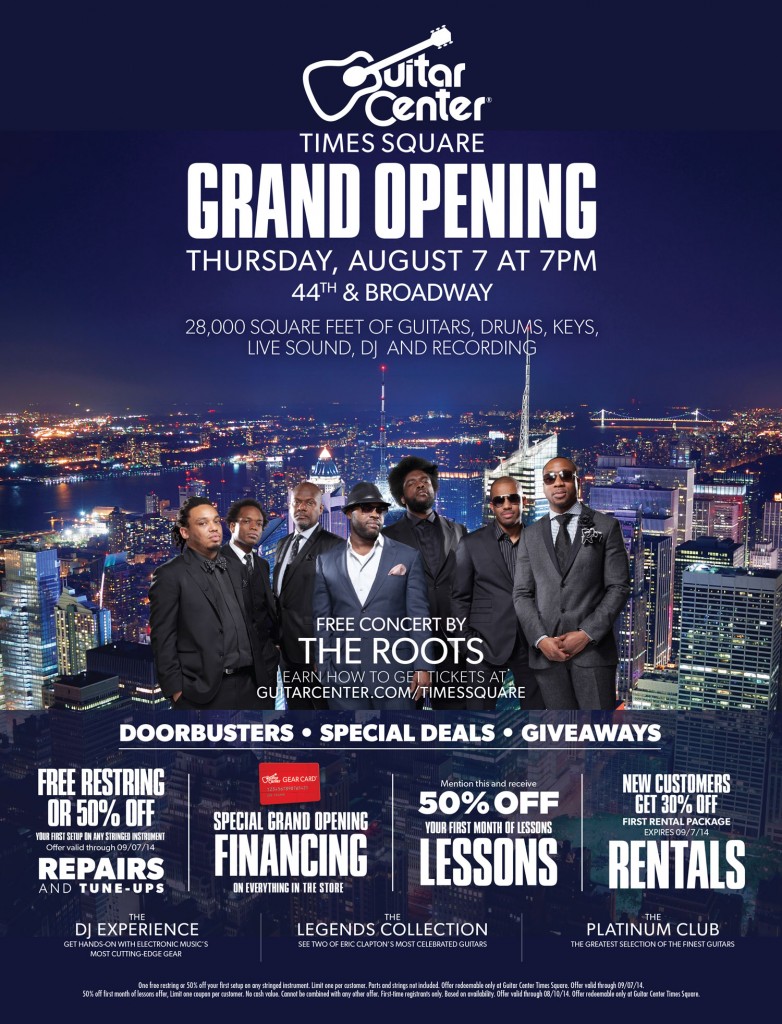 This is their 262nd store nationwide, Guitar Center Times Square location is housed in what was the original New York Times building, updated with a modern look by award-winning design firm Eight Inc. (Apple, Nike). True to all Guitar Center stores, the Times Square location will foster a hands-on environment in which customers are encouraged to interact with the wide selection of instruments and a dedicated staff of unparalleled experts.
To commemorate such a momentous occasion, Guitar Center will host a Grand Opening Weekend, kicking off on Thursday night with a performance by hip-hop icons and current Tonight Show house band The Roots, across the street from the new store at the Best Buy Theater. Tickets will be given away at New York-based Guitar Center locations in the days leading up to the event. Locations and times can be found at guitarcenter.com/timessquare. Advertisement
Guitar Center Times Square will feature a number of programs such as in-house lesson facility Guitar Center Studios, free Recording Made Easy classes, in-house rental department, a hands-on electronic music department, and onsite guitar repair service GC Garage. Innovative features unique to this location include a Fender custom shop where craftsmen tailor guitars to unique specifications, a boutique pedal selection in a stunning 360-degree display, and The Platinum Club, which showcases top-of-the-line, high-end luxury guitars.
Additionally, throughout the weekend the Times Square store will feature exclusive savings, gear giveaways and free events. Eric Clapton's "Blackie" Fender Stratocaster, purchased by Guitar Center for $959,500 at a Christie's Auction to raise funds for Crossroads Centre Antigua, will be on display all weekend, and Dream Theater's John Petrucci will be greeting customers in the store on Saturday at 2 p.m.
The new store is located at 218 W. 44th Street, New York, NY.
For more information visit: www.guitarcenter.com/timessquare.