Questlove and Bobby McFerrin to Perform Together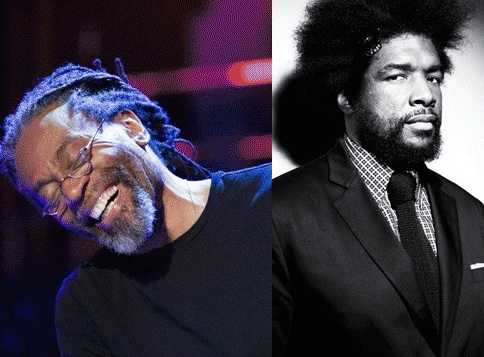 Roots drummer and Late Night with Jimmy Fallon bandleader Questlove will be performing with legendary vocalist Bobby McFerrin on Friday, June 13, at Town Hall in New York City. Showtime is 8:30 p.m. The performance, titled Mumbo Jumbo: Bobby McFerrin & Questlove in Musical Dialogue, marks their first official collaboration. Tickets are available via ticketmaster.com and through the Town Hall box office at 212-840-2824.
Over the past three years, McFerrin and Questlove have crossed paths on several occasions, though they've never performed a full concert together. In December 2011, McFerrin joined Questlove as a guest for his program at Blue Note Jazz Club, ?uestlove Eats…In Concert: A Night of Food & Music. About a year later, Questlove made a surprise appearance with McFerrin for one song as the finale of New York–area jazz radio station WBGO's annual benefit gala concert. A year ago, McFerrin appeared on Fallon to promote Spirityouall, performing a selection from the album with Questlove and the Roots. And this past March, McFerrin and Questlove performed the McFerrin staple "Drive" on Fallon.
Mumbo Jumbo: Bobby McFerrin & Questlove in Musical Dialogue is part of the fourth annual Blue Note Jazz Festival, which will take place June 1-30 at more than fifteen venues throughout New York City. This year's edition of the festival puts a focus on unique and distinctive collaborations, including André Previn with Christian McBride and Ramsey Lewis with Philip Bailey of Earth, Wind & Fire. Town Hall is located at 123 W. 43rd St., New York, NY 10036. For more information, visit bluenotejazzfestival.com. Advertisement