MD Mag Articles
MD Web News
MD Podcasts
Note: Some MD articles are only available in pdf format. Those articles do not appear in this list. Subscribers to
Digital
and
All-Access
can view every Modern Drummer issue in their available formats. Browse all MD issues from our archive
here
.
Simple Minds' Mel Gaynor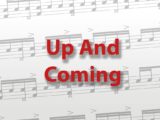 Mel Gaynor may be a modest, unassuming guy off stage, but behind his intimidating black drumkit, he speaks with a loud, dominant voice. Gaynor's percussive contributions have helped Scotland's Simple Minds develop their distinctively rich, but nevertheless, visceral, sound. Before joining the band in 1982 during the recording of their …
Great '80s Drum Performances, Part 1
The era known as the '80s, roughly the period between the dawn of punk and rap in the late '70s and the rise of indie rock and hair metal in the middle of the next decade, was a time of great change in pop culture.
Category: Drummers, On the Beat
Franco De Vita's Javier "Javo??? Barrera
I'm currently in Los Angeles producing and recording drums from my home studio for GRA Records, on which my new jazz-fusion album, Behind the Tree, is coming soon.
–