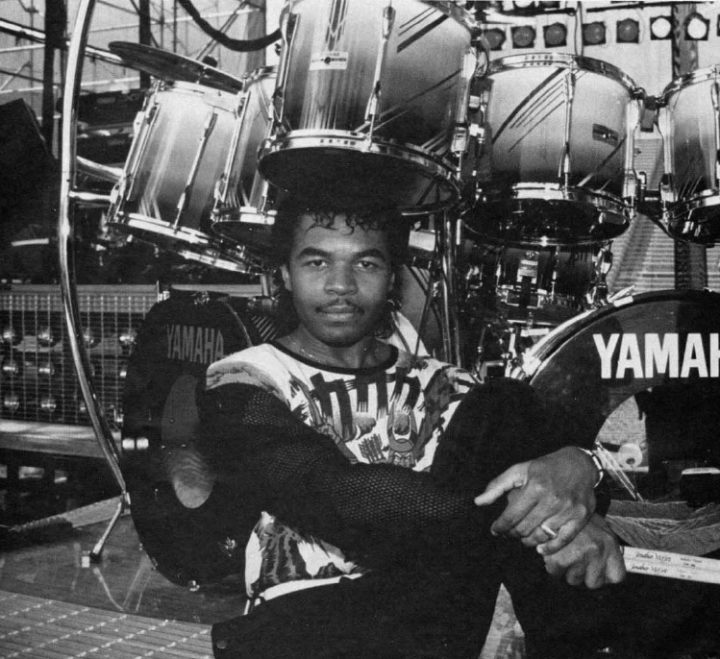 There is a calm aura around Jonathan Moffett. This fact may not seem to be very extraordinary, but in light of the fact that he is with the Jacksons— the biggest tour since the Beatles—that is a most remarkable feat.
You would have to be stranded on a desert island without media leakage not to know the hubbub that has been accompanying the Jacksons and this tour. And yet, Jonathan remains Jonathan: warm, sincere, kind and soft-spoken. That's not to say he's not excited, though, about the way his career has surpassed the dreams of the youngster who practiced alone in his bedroom for hours upon hours.
Growing up in New Orleans, Jonathan chose to play the drums when his father asked if he and his two older brothers would like to play instruments. When one of his brothers chose the guitar (Jonathan's first choice) and the other picked the saxophone (later changing to bass), by process of elimination, Jonathan opted for the drums.
In elementary school, he studied the snare drum and then taught himself each subsequent piece of the kit until he had acquired a full set by age nine. The following year, he began gigging with his brothers who managed to sneak him into nightclubs.
His list of early drum influences is extensive: Joseph "Zig-A-Boo" Modeleste (The Meters), John Bonham, Don Brewer (Grand Funk Railroad), Stix Hooper, Bobby Colomby, Danny Seraphine, Buddy Miles, Sandy McKee (Cold Blood), Andre Fischer, Joe Carrero, Alex Acuna, Diamond (Ohio Players), Buddy Rich, Lenny White, Louie Bellson, Harvey Mason, Billy Cobham, Tony Smith and James Brown's drummers. As time went on, Freddie White (playing with Danny Hathaway at the time) became a model, and presently Jonathan includes Steve Ferone, Steve Smith, Yogi Horton, Steve Gadd, Narada Michael Walden, Terry Bozzio, Larry Blackmon, Rayford Griffen, and Gerry Brown as inspirations.
How Jonathan hooked up with the Jacksons in 1979 is an inspirational story in itself. Since then, he has played with Cameo, Patti Austin, Lionel Richie and Richard Pryor, and recently he has begun to expand his list of recording sessions. An innovative, dynamic player, Jonathan is known as "Sugarfoot, "and if you see him play, it's not difficult to figure out why.
RF: How did you get the name "Sugarfoot"?
JM: That goes way back. When I was about 13, I was with a local group in New Orleans called the Spectrum. I had just joined the group and they heard some of the bass drum techniques I had explored in my bedroom practice sessions. Everybody in the band had a nickname, and being the new guy in town, they decided I had to have one, too. We were coming home from a gig one night and they were really impressed with some of the things I was doing. I was expecting some sort of a nickname like Duke—something real powerful. All of a sudden, the keyboard player said, "I know, let's call him Sugarfoot. You've got that sweet foot." It sounded corny to me, but the guys jumped on it and it stuck. I told them I wouldn't answer to it, but everywhere we'd go, I'd see people I'd never met before and they would call out, "Hey, Sugarfoot." I just ignored it, but it caught on. People didn't know my real name, but they'd know me as that. As the years went by, I realized that most people didn't know who I was unless I used the name Sugarfoot. It ended up being very helpful in my career and I'm really proud of it now.
RF: There's always an added mystique about a New Orleans drummer. Were you very much into the second-line stuff?
JM: I was really into that. Those types of rhythm patterns set New Orleans, drummers apart from most other drummers. It's a feeling and an expression, more than a technique. You're playing from deep within. There's just something real cultural about being from New Orleans. It's hard to explain. You can play the patterns, but if you don't have that New Orleans feel on the patterns, it doesn't mean as much. That's why "Zig-A-Boo" was such an influence. In fact, they used to call me "Little Zig" because they could tell my playing from learning his licks and feels in my bedroom. He had such an expression with rhythm and timing.
RF: The bass drum is very predominant in that kind of music.
JM: Yes. The bass drum plays a big part in New Orleans drumming. As far as I'm concerned, my bass drum technique is due to the fact that my brother played bass, so I always heard a lot of bass as I was learning drums. Growing up, I wound up playing bass guitar patterns on the bass drum to fill in the music, as opposed to most drummers growing up with more top-end, hand- oriented type things. I went for patterns that would fill in the gaps of the music. I like a real full sound.
RF: What were some of the gigs you had back then?
JM: Mostly local things. First off, there was my brothers' group, the Cavalieres. From there it went to Spectrum and then to a group by the name of Stop, Inc. That group did mostly top-40 things, Motown things and blues. As it went on, it progressed to more rock-oriented material; we did Grand Funk, Chicago, and Blood, Sweat & Tears. When I was with Stop, Inc., we did some work in the French Quarter for about a year with two brothers called the Aubry Twins. We would work six nights a week, 9:00 to 3:00 in the morning, 45 minutes on, 15 off. I had worked on that in my training period, practicing six hours a day. I always ended the practice with at least an hour straight of nonstop playing to build up endurance, I was with that band for six years and then I hit a very frustrating period. The group just wasn't interested in evolving into their own identity and making original music, and I wasn't going anywhere, except being a celebrity around town. I had envisioned so much more.
So I took some time off and from there I did a short stint with a group called the Money Band. I was with the group, but I wasn't actually a member. They had approached me while I was frustrated, and I got tired of running my mother out of the house with the drums, so I needed to get out and play in front of an audience again, I didn't want to get caught in that same situation, so I told them I would work with them until they found another drummer, but the magic was so great that time just went by and I ended up being with them for a year and a half. I never did look for another job. It was sort of an early Earth, Wind & Fire that never came to be and that was one of the best bands I've ever been in because of that magic element. The other bands had elements of magic in them, but not like this. There was a strong sense of playing together. We would interpret each other's moves before we would actually do them, and we'd wind up doing things together in the song. We hardly took time to arrange different things. It just came naturally to us. We'd learn the basics of a song, get on stage and perform it spontaneously. We wound up doing some demos for a deal and a short trip to L.A., but it didn't work out. When that group folded, it was one of the heartbreaks of my career, because there was such a strong vibe and sense of magic in that group.
I felt that I would never find another group like that to play with and that I would just do things on my own from then on, without being a group member. With that band and other bands, I just got sick and tired of all the conflicts and everybody ego tripping. Certain groups would want to vote cats out of the group and I'm a sensitive person who gets attached to people very easily. I get more into the friendship thing and I would be the only one out of nine or ten people saying, "Don't put him out of the group" all the time. But majority ruled. So I just got fed up with those head trips and began to see that possibly I'd get further if I just went off and worked on my own as a free-lance drummer. My dream had been to make it with an entire band from New Orleans and I thought Money Band was it. It could have been it, but some things happen for a reason,
From that group, I went on to the James Rivers jazz thing, did that for a couple of years and recorded an album with them, Mainly I did that for the jazz experience, but he got more commercial as I was trying to get some jazz under my belt. At that point, I got a call from one of the vocalists from the Money Band, who also was heart broken about the group and had since moved to L.A. He told me he had been working with Undisputed Truth and New Birth. He had been in touch with Jermaine Jackson, who had heard me on a live tape of the Money Band. He presented me with the opportunity to come to L.A., and I told him I needed some time to think about it. I was a newlywed, and it was a big undertaking. I had done some traveling, but I had never actually moved away from home. I did feel, though, that I had to do that. I was finding myself really burned out in New Orleans. I talked to my friend in August and I threw it around for a few months. Each week I would change my mind. One week I thought, "There could be great opportunities out there if I give myself the chance." The next week I thought, "I don't know—being out there by myself. I'm not sure." But then I got to thinking, "If I don't go, I'll never know whether or not I could make it. Then, all that I've done and worked for my whole life would be wasted. I'll just be rocking in the rocking chair when I get old, dreaming and wondering if I could have made it." That thought right there did it.
By that time it was December. So I called this guy, Alfred Gillard, and told him I was coming. I made plans for early January departure, and by that time, I had no second thoughts. A force was just compelling me. I cannot explain it. I tried to explain it to my parents because, of course, I got a lecture. My father talked to me and said, "You don't have to do this. Why are you going to take this chance and go out there?" His friends' sons would come out here, get stranded and wind up on the streets, so out of concern he would talk to me. He was always behind me and my music, though. He understood and said, "If you feel you have to do it, I'm behind you, but always know you can come home." It was the same thing with my mother. Something positive was driving me and it washed away all the fears I had. In early January, I packed my belongings into my car, and I told my wife I would go for six months, try it out and come home if it didn't work out. I drove out to L.A. and I stayed with my buddy whose house happened to be on the hill in Encino where the Jacksons live. We'd always go up the hill, and he'd point out the Jacksons' house. One time we were driving by and Tito was driving out of the yard in his white Rolls Royce. I'd pass the gates and think, "If I just had a chance . . . " In about a month, we moved to Woodland Hills. I had spoken to some of the guys in New Birth who, in the midst of contract negotiations, were in limbo. Then I heard about auditions for Undisputed Truth. We got halfway through one song when the producer of the group stopped everything and said, "This is the guy." But it just didn't feel like the right situation for me. There wasn't that comfort I wanted. So I had two groups to consider and I was still trying to talk to Jermaine. With his busy schedule, we just couldn't get together. I never did find out what situation he was thinking of me for.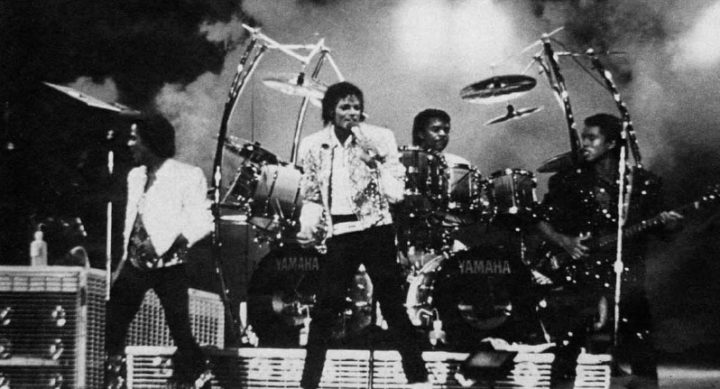 RF: How did the actual Jacksons gig come about?
JM: Actually, it's a miracle the way it turned out. I knew James McField, their musical director, from my hometown, New Orleans. He had been with the Jacksons for a few years. When he came home on vacation, he would mention that he had been telling the Jacksons about me. He said that, if I were to come out to L.A., I could possibly find a really good gig. He gave me the information as to how to get hold of him when I got to L.A., but when I got there, I misplaced the information and couldn't find him. While all this was going on with New Birth and Undisputed Truth, I went to the airport one night to pick up a friend from New Orleans and I got lost. The street the musical director lived on was Normandy Avenue. While I was lost and panicking on the freeway, I looked up and saw a sign for Normandy Avenue. I had been looking for that street for about a month. As soon as I saw the sign, I cut across four lanes very quickly and got right off the freeway. I didn't know which way to go or what his address was, so I took a wild guess and turned right. We hit the first red light, looked on the street corner, and there he was at a pay phone. It was incredible.
We went to his house, he told us how exciting everything was working with the guys, and he showed us pictures. In passing, I mentioned, "This will probably never happen because their drummer is their cousin, but if he would ever leave the group, let the guys know I'm very interested." He jumped up, started screaming and yelling, and said they had let Johnny go and were auditioning drummers right then. The only problem was that that day was the last day for auditions. He called that night and the audition was set for the next day. I was familiar with their songs because I had grown up with their music, yet I didn't know everything about the music. I just went for it. I played a few songs for them. They looked like they enjoyed it, and would give me a nod every now and then. They talked amongst themselves, but in the back of my mind, I was thinking, "Oh, I can tell that I've blown it by the way they're talking to each other." After we finished a few songs, they pulled me aside and said they'd let me know something soon. That evening, I got the call and they said they wanted me to join the group. It was just a miracle. It was meant to be. Every time I tell the story I get chills.
RF: You had only been out here for a month and a half. What did your wife do when you told her?
JM: She didn't believe me. But she's been wonderful. She's always been in my corner. We met and fell in love in junior high school, and went together for six years before we got married. We've been married for eight years. She and her family always believed in what I was doing and encouraged me. She was a major force in my getting to where I am now. So the audition was on Friday and rehearsal began on Monday at the Jacksons' house. For one thing, I couldn't believe I was at the Jacksons' house auditioning. But I wasn't that nervous for some reason. It wasn't really strange territory.
RF: Was playing with them magical?
JM: Oh yes. It meant a great deal to be playing with musical legends, which they were to me even at that time. I went in there and my mind was just on doing good so I could get this gig. I had no time to think about being nervous or to worry about anything. I thought, "I have to put together all the experience of everything I've been through right now, and utilize every bit of professionalism I have learned to pull this thing off." So that Monday, we rehearsed and we had three days to learn the show before leaving town to do the tour. Since they had done it for SQ long, they were very confident of themselves, and they found people they could have the same kind of confidence in. I felt fortunate to be accepted as one of those people.
We left on Thursday, and my most chilling experience was when I climbed on that tour bus leaving their house. That's when I really realized what was happening to me. I looked around and said to myself, "I'm going on a major tour right now. It's the first major thing I've ever done in my life where it really, really counts," and another chill hit. I was looking out and watching Michael running around the yard getting all his things out of the house, while Kate and Joseph fed everybody. I was just waiting to wake up from this dream. It seemed so unreal.
I did that first tour which departed late February and returned in April or May. I made enough money to get an apartment and send for my wife. When I got out here, I talked to so many musicians who had been out here for 10 or 20 years and still hadn't had that big break. That's what really made me feel special, like I had been touched by that unseen force. Two months later I did another tour with the Jacksons and I started getting into the studio a little, doing demos.
RF: While rehearsing for a Jacksons' tour, how much input are you allowed?
JM: I play mainly what's there, but I can also be a little self-expressive, as long as I don't stray too far from the main thing. They point out such things as accents to their choreography. If they feel strongly about a certain move that they make and want it to have that accent, they'll tell me. At other times, I can be creative because I'm always watching them do the choreography on the show. I like to help them get that impact. That's one of the things that really works out well with us and that we have in common. I feel their movements. We lock in rhythmically and dance-wise. I kind of sense what they want to get across when they do certain things.
RF: How true to the record is the group performing the material?
JM: They like to reproduce the record as closely as possible. It just has a different energy level. It is more intense live.
RF: Which tunes do you find the most challenging and/or enjoyable to play?
JM: One of the most challenging is "Shake Your Body (Down To The Ground)," because when it was originally cut for the Destiny album, it was recorded as a three part overdub. They had recorded the basic beat, then overdubbed an open and closing hi-hat all the way through, and then they overdubbed tom parts. It just so happens that I learned that beat before I joined the group, and the guys were surprised to find out it could be played at one time. When you're home practicing and you can't see how it's done, you have to make up a picture in your mind of how it's being done and work it out. I worked out which hand had to go where at what time to make the beat happen. By the time I played it for them, I was adjusted to all the cross-overs, because you have to cross your hands while you're playing and keep the constant beat going at the same time. After I played it for them, I couldn't believe it when they told me it was a three-part overdub. That's one of the most challenging tunes, and we always finish the show with that one. After playing the entire show and finishing up with that one, which involves a constant changing of the arms, switching over and back and forth, it kind of burns you out. If we did it first, it wouldn't be so bad. For challenges, I like to play "Don't Stop 'Til You Get Enough," because in the choruses of that song, there's the same kind of thing where they overdubbed some toms over the constant beat. I love those kinds of things. I like "Things I Do For You" a great deal. It has a lot of energy. I also like "Working Day And Night," because it has a really intricate bass drum part. "Heartbreak Hotel" has a tom thing I like. I like those multiple points. I don't like to get up there and play a straight beat all the way through the show. I like to sweat it out and get tired. I also like playing the medley of the old songs that we do, which consists of "I Want You Back," "I'll Be There," "ABC" and all that stuff. "Wanna Be Startin' Something" off the Thriller album is one I like too because the drum machine played a very intricate bass drum pattern, plus the hi-hat was overdubbed, and it's a real syncopated song. There's a lot of movement in the beat and it's real rhythmic; it reminds me of New Orleans. I like all the songs, actually. I just happen to be into the new stuff that they're doing, so I enjoy playing it all.
RF: Do you warm up before you go on stage?
JM: At a live concert, we usually do a soundcheck, but right before we go on stage, I don't really get a chance to warm up. What warms me up is when the lights go down and I hear that gigantic roar of the crowd. That acceptance from the audience builds me up enough so that I can get on the drums and go for it.
RF: Do you practice at home?
JM: I try to. It's very, very hard in L.A. not only for me, but for so many musicians who have expressed the same thing. I do it as often as I can, though.
RF: What kinds of things do you practice?
JM: I've been practicing the same way since I practiced in my bedroom as a kid. First, I do a little warm-up thing—a few little fills, just to get the feel of the sticks in my hand—and then I put on some records and play with them for a while. I let the records play out until the end, and without stopping, I just keep going and play for an hour or so, nonstop. My energy is going and my creativity is going real strong. I just go for it. I create on the spot and try different things. Sometimes if I hear something interesting on a record, I will stop and practice it. Then I always take it a step further. I'm not just going to duplicate something somebody else does. You always have to add that element of yourself and your own interpretation to make it really special. I was always into creating my own style. I never practiced one particular technique. Everybody asks me how I practiced the technique, but it was never that. I always just went for it, felt it and played it.
RF: Did you ever do anything to work on your time?
JM: No, I really didn't. I took it from more of a natural sense of learning time, getting in there and playing with the records. Then there are a lot of early records that I listen to now where the timing isn't as good as it sounded at that age. When I got into the studio out here, work ing with the drum machine and the click track was a new experience. I had done a little recording in New Orleans at Alan Toussaint's place, where they didn't use the click track. I really taught myself to keep time, and I realized how important it was early on when I got into Freddie White with Donny Hathaway on the live album. That was an important album for me because Freddie was right in the pocket. From then on I started really concentrating on time, not with a metronome, but just consciously working on it and counting to myself.
RF: How did you orient yourself to a click track when you first encountered it?
JM: First you're nervous and go into shock. It was really a scary experience, but I had to pull myself together and say, "It's either now or never. I have to get my feet wet, and find out just where I stand and how much improvement I have to make." I was thrust into it, but that was the time for me to start. I wasn't used to that harsh sound in my ear, and it affected the flow of my playing. But in time, I got used to it, although I have found that I work better now with a click, a drum machine or just the hi-hat from the drum machine. I had no problems with that right off because it wasn't such a harsh, piercing sound. I can do either now, though. I enjoy it, because in the time I've been working, I feel that I've improved a great deal.
RF: What do you think has improved?
JM: My timing. I can lock in much better with the click track and the drum machine. Also, it's another thing to play with the click track and not sound sterile. That just comes from doing it over and over, and having the opportunity. The hardest part is getting the opportunity to be in the studio and gain that experience. If nobody trusts you or believes in you and you don't get any calls, how can you learn how to play in a studio situation?
RF: That's why a lot of people buy drum machines now to work out with at home.
JM: But even working with just the drum machine and yourself, one on one in a room, is not the same as in the studio, because you have to apply the beat with a feel to a certain song and each song has its own feel. You have to interpret that feel and be conscious of the time with that click track. It's as though you have to divide your senses up, and learning to do that is a job in itself.
RF: You do a lot of studio work now. Do you have a preference between studio and live work?
JM: I like to have a balance of both. I don't think I will ever get playing on stage out of my system. That's very important to me. I'm not one who likes to be on the road all year around, though. I do like to be home for some time, but every year I would like to get out, do maybe a couple of months and get my musical fix. I love being in front of that audience. I let them drive me and I drive them right back, which starts that cycle of energy. That's the greatest experience.
RF: What is your main musical love?
JM: It's hard to say. I like rock music a great deal and I was influenced a great deal by rock drummers, as well as R&B drummers. I like the power, energy and aggressiveness of rock. I think that's another strong attribute of my style. I take the energy and power of rock, and apply it to the R&B sound and feel. I've also gotten into some fusion at times. Michael's music is a mixture of R&B, rock and pop, all put together in a commercial sense, which is great. It's not a situation where I can really play myself. Playing with the Jacksons is beautiful, but I've yet to land a gig out here where I can take all those things I learned in New Orleans, apply them the way I want to apply them, and interpret the song the way I want to.
RF: Do you have a concept in your mind of what that would be?
JM: I would like to play in a George Benson situation—not the more commercial side of Benson, but the other side—or Yellowjackets-type music and really be expressive with it. It would be like it was in New Orleans, where you could play what you felt at the time. All the chops I built up in New Orleans have really been in the closet since I've been out here.
RF: Would you start your own group?
JM: When I'm not on the road, I'm trying to concentrate on the studio a little more. To have my own group would take a great deal of time. It would take time away from doing other projects, but I am getting that kind of surge and feel. I'm still enjoying learning, and the five years I've been out here have been a great learning experience—learning how to channel all the energy and playing experience I built up in New Orleans in a productive way. I'm enjoying learning the discipline of that. Discipline is something I've learned a great deal from the Jacksons. When I joined the band, I could not have come in there playing the way I played in New Orleans—the feel-it-and-play-it type of thing. I had to put the chops on the side and only play what was necessary to entertain as a unit. The studio is even a more disciplined situation. You really have to be disciplined and play only what's necessary, what is colorful and what can complement the arrangement—nothing extra and not too much flash. Most of the parts in the studio require very simple playing.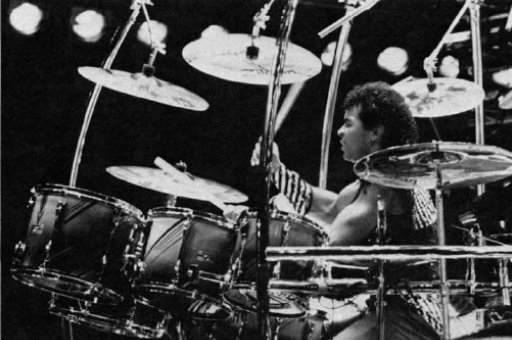 RF: What about your equipment?
JM: I am endorsing Yamaha. I had tried to get with Yamaha for about two years, and for whatever reason, it just didn't come off. I had requested Yamaha gear on overseas tours like with Patti Austin, because I had played on a friend's set and liked it. I also did that with Lionel Richie in Japan. It's a really comfortable feel and the sound is really great. They sing. I also used them on two Richard Pryor tours.
I'm using 8″, 10 x 10, 10 x 12, 11 x 13, 12 x 14, and 13 x 15 rack toms. The floor toms are 16 x 16 and 16 x 18. The bass drums are 16 x 24. There are three Simmons pads, and I also have the Simmons triggered by the snare and both kicks. I'm using the May EA miking system, and the mic's built in the drums are the Shure SM 57's. Those are in the snare and all the toms. In the bass drums, I'm using dual mic' combinations—two mic's in each bass drum—an AKG D12 and an SM57 in each bass drum. The D12 carries the bottom end and the SM 57 carries the top end—the attack end—and they work really well together. I'm also using the RIMS system. It eliminates any extra holes in the shell. All the holes have been plugged in all the drums. The RIMS support the drums by the lugs, like a rubber shock mount on the lugs. It also gives you more resonance, and it enhances the tone quality a great deal. The way I have it mounted, the whole rack system is a sculpture. The only stands on stage are the snare drum stand and the hi-hat stand. It's in the shape of a sphere. There are four overhead mic's. There is bent tubing that makes up a ball holding up the cymbal stands. There is a center bar that goes through the center of the sphere on which the toms are mounted on the outside of the bar. You don't see any of the bar, so the toms look suspended in air. Four of the cymbals are supported at the top of the sphere and the rest of them are clamped onto the bar that holds the toms. Some are lower and some are higher.
RF: What about your live cymbal setup?
JM: For the past four years, I've been endorsing Zildjian. They supply me with a great array of sounds. As of now, I'm using a 16″ paper-thin crash, a 17″ thin crash, two 10″ splashes—one thin, one medium thin—an 18″ K. crash/ride, a 16″ China Boy, a 16″ Amir crash, a 20″ Earth ride and two 14″ crashes—one thin, one paper thin—behind me. I have 14″ Quick Beat hi-hats, 15″ Quick Beats, and a little pair of 10″ hi-hats. The 14″ hi-hats on the left side are the regular hi-hats, which I use for most playing. The 15″ hi-hats on the right side are always closed for when I use the double bass drums, so I can always have a hi-hat sound. The 10″ hi-hats alongside the 14″ hi-hats are for accents and different little sections, like a brighter type of sound. All the cymbals are in brilliant finish.
RF: How did you come to develop your "cymbal-catch" technique?
JM: It was really an accident. I was just at home practicing. I went to do a fill, hit a crash and changed my mind in the middle of it. I hit the cymbal, caught it and stopped it. I t sounded great and I thought, "Hey, I might have something here." So I started working on it with one hand. Then I thought, "How would it sound with two cymbals doing it, one after another?" since each cymbal has its own sound. So I hit one cymbal and then with the other hand, I hit the snare, then hit the other cymbal and caught it. It sounded really great.
From there on, I played around with it and the extent of time I would catch it in. I could catch it quickly and make it stop short, or I could hit it, let it linger a little, and then catch it. The length of time I would let the cymbal ring made a difference, and through time I developed a few different ways I could do it and a few different patterns I could work it into. Once you get the basic pattern, it's up to your imagination as to how far it can be taken. It's just a matter of hitting the cymbal and catching it with the same hand. The traditional way is to hit the cymbal with one hand and catch it with the other hand, but then it stops the action pretty much. I always wondered why you couldn't keep everything going. If you can get that down without cutting your hands off, you've got it. Not only does it sound really good, but when you get the crossing, from left to right and right to left, you can really make it look artistic. People tell me it looks like martial arts. I also incorporate stick twirls into the cymbal-catch thing, and it is very visual. It's very dramatic in a solo, but I also use it coming from a chorus into a verse. Usually a band has to have dynamics and, for the most part, drummers will bring it down on the snare drum. In my opinion, in some songs that doesn't work as effectively. It's too drastic with a big snare crash, so sometimes I'll use the cymbal- catch thing to more subtly bring the band down, and it works out pretty well.
RF: The look of your drums is quite extravagant.
JM: The paint job is incredible. It came up in conjunction with Pat Foley. The concept is a dual effect. The main colors of the drums are white at the top to a gradual fade through four shades of gray, down to black at the bottom of the drum. Under that, we went with real vivid colors which fade in opposite order, from light at the bottom to dark at the top: yellow to orange to red to magenta to purple to blue to a very dark purple. You really have to see them to get the full effect. We taped off stripes and those make up patterns. There's a five-tom configuration. The middle drum sticks out more than the others. Then, with every drum on the left, the line slants towards the left, and with every drum on the right, the line slants towards the right making a V, which signifies the Victory tour. Each drum is a piece of artwork in itself. When you put them together, they work as a puzzle and make a totally different statement. I told him I wanted something where each drum could work individually or together. Pat did an excellent job. I couldn't be happier. I'm also excited because Pro-Mark is now making a personalized stick, which is a 2B hickory stick.
RF: What about snare drums?
JM: I have five—the 7″ metal, the 7″ wood, a 5 1/2″ wood, an 8″ wood and a 6 1/2″ wood.
RF: What heads do you use?
JM: The white coated Remo heads on all toms on the top and black heads on the bottom. On the batter side of the bass drum, I'm using the clear Emperors.
RF: Do you have any tuning tips?
JM: I tune to my ear. There is no real tuning technique for me. I listen for resonance and tone. Although it's around the same note, my drums are never tuned in the exact same way every time, because every time I get on the drums, I hear something different. It's like New Orleans playing: It's spontaneous. In the studio it's a little more critical, but even at that point, I think the drums should be tuned to fit the track. Like I said, it's no special technique. I'm not so much on the technical side. I do not read music, except for snare drum music which I learned in high school. I don't read set music.
RF: Do you find that a problem in the studio situation?
JM: Yes. I wish now that I had learned how to read, but at the same time, I believe that it can inhibit one's feel. Worrying about the reading, the click track and the playing can be inhibiting, I would think. But I would like to in the future, and I plan on learning to read.
RF: When did you get into double bass?
JM: The second Jacksons tour. I had never played it before, but when I first tried it, it was almost a natural thing. It didn't take long to develop it. It was something I wanted to do for a while. I worked out with it for about two or three months before going on tour, not in an everyday playing situation because I was living in an apartment, although the people below me were very nice about it.
RF: What did you actually do to approach and learn how to use them?
JM: With the Jacksons situation, I really didn't get the chance to use the double bass. I always used one and the double bass was mainly for the visual effect. But I use them in Cameo.
RF: When did Cameo come about?
JM: My first tour with Cameo was in '82. I got a call from the management, totally out of the blue. I never did even find out how they got the number. Larry Black mon, the leader and founder of Cameo, heard me in Atlanta, their home base, at a Jacksons' show. At that point, he decided to get from behind the drums and go up front, so I got this unexpected phone call one morning telling me Larry would be interested in my touring with the group. I had admired Larry's playing through the music and was into their music. At that time, the Jacksons had been idle for about a year, but I had already committed to Patti Austin to go to the Philippines and Japan for a tour, not knowing how long it would be. I did the Patti Austin tour, but Cameo had already been out with another drummer. I got another phone call when I got home, though. They were already out on the road and they flew me to Chicago. I had two days to get it together, so I got out there and watched them for about a week. We rehearsed in Atlanta for three days and then went back out. It always seems to be that I'm thrust into situations where the pressure is on, but I somehow pull through.
That was when I started really using the double bass. I was using Larry Blackmon's drums and I had a solo in the show. That was my first opportunity to play double bass drums in a live show. I hadn't played them in a while, but it worked out fine. I would do a solo every night, and as the tour went on, I got better and better. The tour lasted for three months.
When that tour was over, I got a call to do a New York date to tape Saturday Night Live with Lionel Richie. We came back and did the Tonight Show, and from there we did a week in Japan for the Tokyo Musical Fest. I was going to do Lionel's tour, but he was behind schedule, which pushed the tour back, and by then, it was Cameo time again. They tour every year and they gave me another call. That was the '83 tour. Right from the Lionel gig, I went back on the road with Cameo for three months. They also asked me to join the group. Even though I would love to accept the offer, I'm being guided up another path. Since then I've been in the studio doing sessions and writing things of my own.
RF: When did you start writing?
JM: I started writing about seven or eight years ago, before I left New Orleans. I would hear the music in my head, because while I don't play any other instruments, I have been surrounded by other instruments. I don't technically know notes, but I can distinguish the notes in my head and, fortunately, I have a few friends who don't mind working it out with me. The music is in my head and I've developed lyrics in time. It's basically pop- and R&B-oriented material, and a few rock tunes. I plan to concentrate my effort on recording my own material, and either place songs with other artists or compile material for a group I put together real soon.
RF: Have you placed any tunes?
JM: LaToya Jackson cut a song on her second album, My Special Love, called "Love Song." That song was collaborated on with Tito Jackson. Jermaine has been interested in some of my material, so I feel very strongly that I have something to offer. The next step is producing. I'm learning in the background now. I'm a student around all these giants. I'll always love playing, but at some point in life, the body can't keep going on. Buddy Rich simply amazes me as to his age and how he keeps going. He's a special guy. I saw him before I left New Orleans, and I could not believe the amount of energy he was unleashing on that set of drums. But I'm trying to safeguard myself by giving myself another avenue.
RF: What's your ultimate musical dream?
JM: To bring home a Grammy or an American Music Award for writing or playing—something I can hold in my hand that shows achievement for something I've generated.
RF: Do you have any advice for young drummers?
JM: Never feel as though you have to drink beer or liquor, smoke grass, do cocaine or any drugs to fit into the music business. Don't feel like you won't fit in if you say, "No thanks, that's not for me." Your playing abilities determine that. Be your own kind of person. You have your own mind, so use it. Don't let anyone entice you into that scene. I am a 29-year-old musician whose whole life has been dedicated to music, and I can honestly say, without any reservations, that I have never done any drugs of any kind in my entire career. Being a drummer, I've always felt that my body must be in its purest state to achieve my best abilities. My body is my first instrument, even before the drums. What I am trying to convey is that you can be yourself, clean-cut, straight or whatever you choose to call it, and be successful in this business. I have a saying that I mad up and take great pride in being able to truthfully say. It goes:
I don't drink
I don't smoke
And I don't mess around with dope.
I'm totally in control
to rock 'n' roll.
The music business is a vast industry that revolves around a small circle of entertainers. Like the variable beam of a spotlight, its spray of light covers a great many within the area, but its focus is centered upon only a chosen few. A great many excellent musicians and vocalists around the country get left out and go unnoticed forever because they lack that go-get-it instinct or are not in the position to do so. My advice to them would be that, if you want it and want it badly enough, you've got to go out, find it and go after it. Make them know you're there. Be heard and be seen in a positive way. Show them that you've got the means to get to the top, and that all you need is the way. But you have to be as close to the focus of the beam in the industry as possible to make the difference—Los Angeles, New York, Nashville or wherever the focus may be. If you believe and believe strongly enough in yourself, then you can achieve. But it all starts with the dream. I am a firm believer of that. For I am living my dream right now in this interview—in these pages of Modern Drummer Magazine. If I hadn't left New Orleans to pursue my dream, then you wouldn't be reading this particular article.