PRODUCT CLOSE-UP
KUMU
by Michael Dawson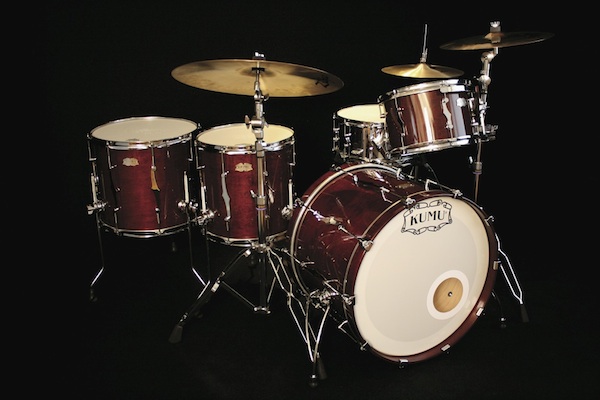 Limited Series All Maple and All Mahogany Drumsets
Precisely made, professional-grade kits from Finland's top craftsman.
Founded in 1984 by Finnish builder Pekka Helanen, Kumu started out making acoustic and electric guitars and basses in addition to drums. A decade later, Helanen refocused the business to just drums. The company has its own molds and makes its own shells for its All Birch Custom and Original series drums. Limited series drums, which we have for review, have shells made overseas to Kumu's specs, but Helanen's team is responsible for drilling the holes, cleaning up the bearing edges, and assembling the final drums.
Limited series toms are available in 10″–16″ sizes, bass drums are available in 18″–22″, and snares come in 5×14 and 6.5×14. We received two kits: All Maple in rock/studio sizes and All Mahogany in jazz/fusion sizes. Let's dig in!
All Maple Limited Kit
This kit came with a 16×22 bass drum, an 8×12 rack tom, and a 14×16 floor tom with legs. The shells are 5.6 mm thick and are made from 6-ply North American maple. The bearing edges are slightly rounded double-45-degree, and the deep reddish high-gloss finish is what Kumu calls royal brown. The unique-looking F-lugs make minimal contact with the shell. They are made from chromed solid steel, and they have a connecting piece that floats between them that's shaped to resemble the F hole found on classical stringed instruments. The toms have 2.3 mm steel rims, and the bass drum has matching maple hoops. The rack tom comes with Kumu's own Kumurim suspension mount. The toms were fitted with Remo Smooth White Emperor batters and Clear Ambassador bottoms. The bass drum came with a Clear Powerstoke 3 batter and a Smooth White PS3 front with a small port. List price is $2,160.
These maple drums tuned up very easily and produced clean, pure tones at all tunings, from high and tight to low and loose. The bass drum only required a little bit of muffling (a rolled towel touching the batter head) to bring out the maximum punch and low end. The toms have the big, open sound you'd expect from high-quality maple shells, but they also have the extra articulation and responsiveness of a denser timber like birch. This clear, punchy attack helped the toms speak quickly and with plenty of projection. The bass drum had the perfect combo of clean beater snap and tight, chesty thump. This All Maple Limited would be a great all-around workhorse kit, both live and in the studio.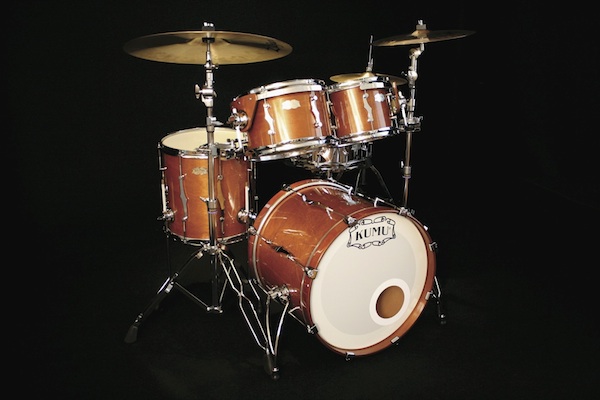 All Mahogany Limited Kit
This kit came in smaller sizes, with a 16×20 bass drum, 8×10 and 8×12 rack toms, and a 14×14 floor tom with legs. The shells are made with six plies of African mahogany. The toms are 5.6 mm thick, and the bass drum is 7.2 mm. The bearing edges are fully rounded, and the drums are finished in high-gloss natural lacquer. The hoops and lugs are the same as on the maple kit, but this kit features a double tom holder on the bass drum (not shown). The toms came with Remo Coated Ambassador batters. List price is $2,685.
Mahogany is a naturally darker sounding timber than maple, but it can also sound fuzzy and out of focus at times, especially at lower tunings. Not so with the Kumu Limited All Mahogany kit. These drums have the same clear, crisp attack and wide dynamic range as the All Maple, while also favoring the beefier low-end frequencies. The toms sound just as strong and full at tight tunings as they do with barely any tension on the heads, and they have great tone and controlled resonance that translated very well in the recording studio. The kick drum sounds fat and punchy tuned low and has a nice round "thump" when tuned slightly higher.
Like the maple setup, the All Mahogany Limited Kumu kit, in these slightly smaller sizes, would be an excellent all-purpose option for drummers playing at more controlled dynamics. But they can stand on their own at upper levels as well.
TECH SPECS
Shells: 6-ply North American maple and African mahogany
Sizes: 8×12, 14×16, and 16×22 (maple), 8×10, 8×12, 14×14, and 16×20 (mahogany)
Edges: slightly rounded double-45 degrees (maple), fully rounded (mahogany)
Prices: $2,160 (maple) and $2,685 (mahogany)