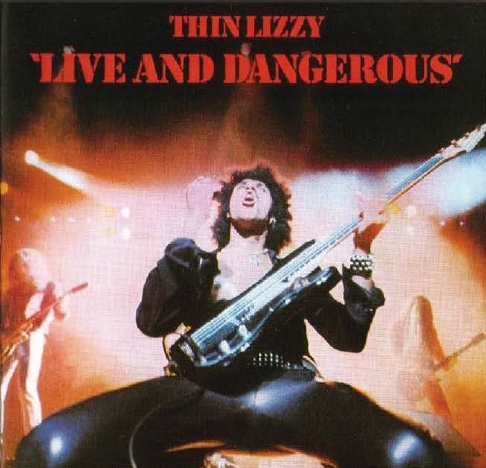 An apt title for one of rock's most fierce and formidable concert albums.
With Live and Dangerous, the crushing aggregate of drummer Brian Downey, singer/ bassist Phil Lynott, and lead guitarist/ vocalists Brian Robertson and Scott Gorham delivered one of the great albums in rock 'n' roll history. The double live record, which U2, Metallica, and a host of other major artists have cited as influential, captures a band that's hungry, relentlessly musical, and tighter than a snare drum from constant touring.
Though the album includes performances from the Johnny the Fox and Bad Reputation tours of 1977 and '78, the majority of the material was recorded during one show at the Rainbow Theatre in Finsbury Park, London, that was also filmed for later release. Throughout, Downey is powerful, dynamic, technical, and tasteful, seamlessly switching from sensitively supporting ballads to shuffling, soloing, and grooving on the hardest of Lizzy's rock songs.
The version here of the oft-covered "Boys Are Back in Town," the group's biggest stateside hit, swings and snaps with a lilt that's never been duplicated. No disrespect to the many artists who've covered the tune, but most versions sound stiff, choppy, and stilted, lacking the innate ability of the Lizzy lineup to shuffle as one.
Another popular track, the title song to the group's Jailbreak album, is a wee bit quicker here than the studio version. Downey propels the song with subtle triplet figures and punches on the hi-hats that drive the performance into second and then third gear. A lesson in meter, feel, and grace.
"Sha La La" is the drummer's solo feature. Featuring a locomotive bass drum pattern, the concise, multipart solo is completely within the context of the tune and features fine single- and double-stroke snare work and melodic bass/tom/snare triplets and quadruplets. It's the quintessential Downey showcase and a bona fide tune within a tune.
Other highlights include the wrenching ballad "Still in Love With You," on which Downey perfectly defines "laying back" and single stroke elegance; "Johnny the Fox Meets Jimmy the Weed," a slinky tune that shows Downey's R&B and funk roots, as well as his versatility; "Emerald," a 6/8 workout with a killer 32nd-note hi-hat and bass drum intro; "Massacre," whose complex and surprising arrangement would give Metallica or Dream Theater a run for its money; and the deceptively easy, unique shuffles "Don't Believe a Word," "Suicide," "Baby Drives Me Crazy," and "Dancing in the Moonlight," on which difficult drum parts abound—but man, do they swing.
In opposition to the typical '70s drum sound of single-headed toms, bass drums stuffed with pillows, and wallets taped to snare drums, Downey's beautifully tuned Rogers wood drums (chrome wrapped for lighting effects) sing with wide-open, double-headed warmth and are topped by pristine A Zildjian cymbal sounds.
Ironically, Live and Dangerous, which is regularly hailed as one of history's great in-concert rock albums, has long been dogged by accusations of studio overdubbing, calling into question the recording's authenticity and, by extension, the band's live prowess. Downey maintains that the drum tracks are completely unaltered, and he, Scott Gorham, and former Thin Lizzy manager Chris O'Donnell have all suggested that the album is roughly 80 percent live. The entire issue, however, has been made fairly moot by subsequent unadulterated live releases and, perhaps more important, by the DVD release of the Rainbow Theatre concert, which prove that whatever fixes were originally made to the Live and Dangerous mix, the band had absolutely no peers in the performance arena.