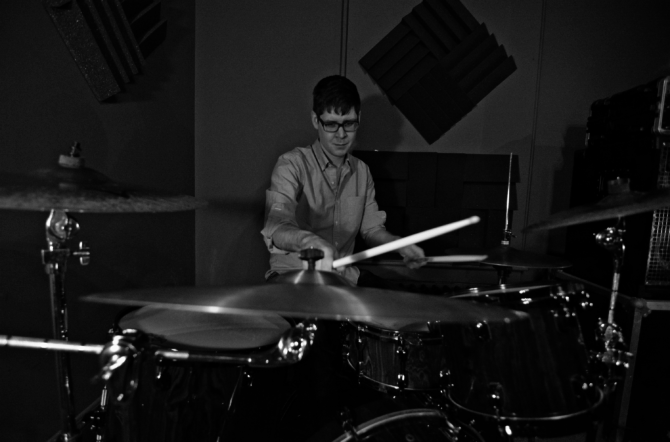 An Editor's Overview
While I worked on a piece in this month's News section about the latest Radian record, On Dark Silent Off, MD editorial director Adam Budofsky dropped one of the band's earlier CDs, 2004's Juxtaposition, on my desk. Checking it out was somewhat surprising. Normally tons of albums come into the office, and there's no shortage of music waiting in our emails from around the industry.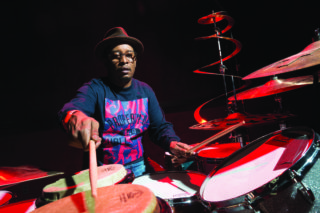 The iconoclastic rhythm auteur is readying his hotly anticipated new album. MD contributor Ken Micallef got an early listen, and, transfixed by its contents, presses its creator for explanations and looks for clues to his self-expression.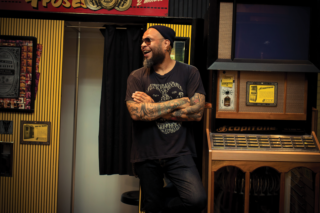 It's 98 degrees at Music City's Titan Stadium, and Modern Drummer has been invited on stage to sit behind the kit of the world's most dangerous band, the reunited, unrepentant group of misfits known officially as Guns n' Roses.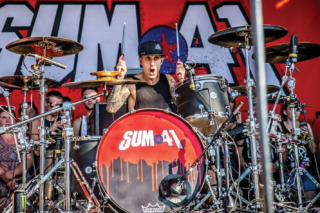 Frank Zummo has always been a team player—whether performing with his drum brothers in Street Drum Corps, filling in for an injured Tommy Lee in Mötley Crüe, or joining existing lineups with Dhani Harrison's thenewno2, Gary Numan, the late Scott Weiland, or Krewella. It's easy to see why Sum 41 singer, rhythm guitarist, and leader Deryck Whibley reached out to the drummer to tour, record, and become a band member on the occasion of the group's latest album, 13 Voices, which even finds Zummo cowriting one song.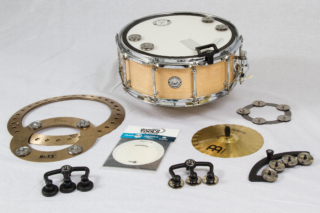 The snare drum could be viewed as a drummer's most important voice and has helped define some of the drumming community's most revered performances. Consider John Bonham's deep, throaty snare on Led Zeppelin's IV, which dominates tracks such as "When the Levee Breaks." Or Steve Gadd's dry tone pulsating throughout Paul Simon's "50 Ways to Leave Your Lover." Or the monstrous crack from Elvin Jones that prods and stabs its way through Wayne Shorter's Speak No Evil.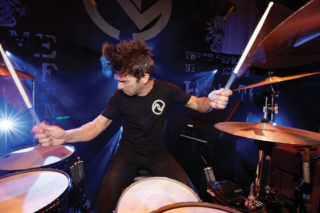 After spending a few years building his résumé as a film composer, Tony Hajjar is back at home with the post-hardcore favorites At the Drive-In.
The El Paso, Texas, band released three full-length albums and several EPs before calling it quits in 2001. But its influence would be felt long and wide, not least via outfits that were subsequently begun by its former members.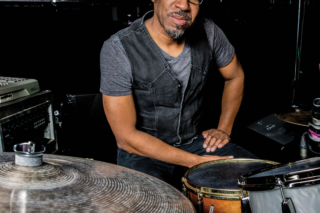 Times have changed, and so has his address. For the longtime member of one of America's most beloved left-of-center rock bands—reunited after several years apart—it's all for the better.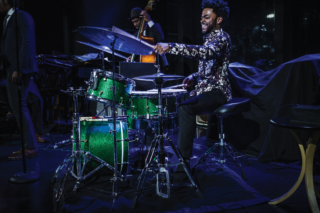 "In New York you always have to bring your 'A' game," says the rising jazz star. So far, his report cards would make the elders proud.
Contest
Win This Ddrum Dios Drumkit and Set of Zildjian Cymbals!
The prize includes a Ddrum Dios six-piece kit (7x10 and 8x12 rack toms, 14x14 and 14x16 floor toms, 20x22 bass drum, and a 6.5x14 snare) in Satin Gold finish. The Mercury hardware pack includes three straight/booms stands, a hi-hat stand, a single bass drum pedal, a snare stand, and a throne. The Zildjian cymbal setup consists of a pair of 14" K hi-hats, a 16" K Dark Thin crash, an 18" K Dark crash, and a 20" K ride. Also included are twelve pairs of Promark Firegrain drumsticks in the winner's preferred size. The kit features Evans UV1 batter heads and Reso 7 bottoms.
From the Shop: Featured Products

New Digital & Archive Subscription Options!
"Digital Only" Subscription is only $4.95/month!
"Digital Only + Archives" Subscription is only $9.95/month!