2023 Readers Poll: Jay Weinberg Wins "Metal" Category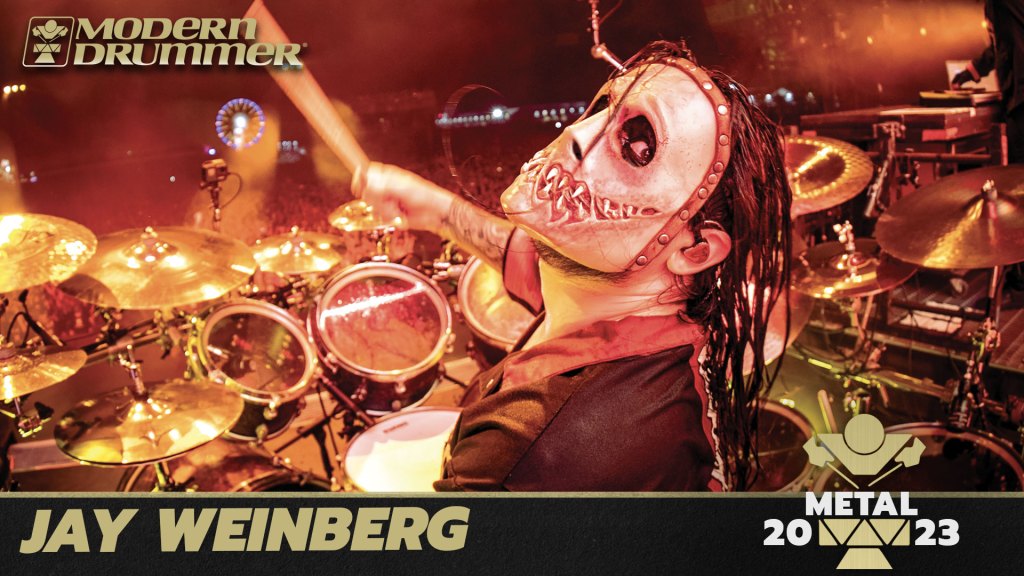 The winner of the "Rock" category in Modern Drummer's 2023 Readers Poll is… Jay Weinberg!
The Slipknot drummer, who also graces the cover of Modern Drummer's September 2023 issue alongside his father, Max Weinberg of the E-Street Band, has had another outstanding year behind the kit. Since joining the band in 2014, Weinberg has imbued his unique and restless playing style into each subsequent Slipknot release, culminating in last year's The End, So Far. As the band has continued to develop a more experimental presentation of their classic sound, Weinberg has proven instrumental in their later-career evolution.
In addition to the new album, Weinberg and Slipknot have been busy on the road supporting the record throughout the last year. Headlining hard rock festivals left and right across the globe, Weinberg himself told Modern Drummer this year that such an extensive tour requires intense mental and physical preparation. "I have a sort of mental checklist of everything I need to do before I hit stage," said Weinberg of his pre-show warmup routine, in which he plays a great deal of the show in the jam room before hitting the stage. "It could be equated to an athlete's game-day mentality, having a routine and a process of the things that I need to do throughout my day that leads me to having my best possible performance… Besides the actual performance, that is my most intense period of my day."
In addition to Jay Weinberg's recent Modern Drummer cover story, he first appeared with his father Max on the cover of the December 2009 issue. He subsequently appeared in issues of Modern Drummer from 2010, 2017, 2020, and 2022, won the "Metal" category in the 2017 and 2022 Readers Polls, and won the "Rock" category in the 2020 Readers Poll. Revisit some of Jay Weinberg's Modern Drummer interviews and highlights here. Advertisement
For more on this year's Readers Poll winners, click here.