Drum Lessons
Drum Videos
Gear
MD Mag Articles
MD Web News
MD Podcasts
Note: Some MD articles are only available in pdf format. Those articles do not appear in this list. Subscribers to
Digital
and
All-Access
can view every Modern Drummer issue in their available formats. Browse all MD issues from our archive
here
.
No items found
Posted: June 14, 2021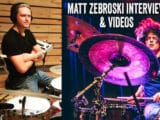 Category: News
Matt Zebroski – Alex Skolnick Trio Drummer – Interview 6/14/21
  Matt Zebroski is the Drummer of the Alex Skolnick Trio, MD caught up with him recently for an interview. MD: What inspired you to start playing drums at 12? MZ: I started out playing clarinet but honestly didn't have the patience at the time to improve.  I wanted to …
Category: Drummers, On the Beat
Drummer Blog: Matt Zebroski
Okay! So it's about time to start promoting The Flail: Live At Smalls, our second live recording and third record overall.
–