MD Mag Articles
MD Web News
MD Podcasts
Note: Some MD articles are only available in pdf format. Those articles do not appear in this list. Subscribers to
Digital
and
All-Access
can view every Modern Drummer issue in their available formats. Browse all MD issues from our archive
here
.
Industry Insights: Armand Zildjian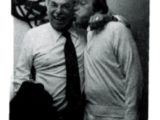 Armand Zildjian starts a lot of his sentences the same way: "I've got a cymbal that . . . ," after which he describes the attributes of a particular cymbal in his private collection. His enthusiasm is evident as he expounds on whatever it is that makes the cymbal special …
Reflections on Gene Krupa
In 1939, I first met Gene. I started at the Hickory House in 1938. So Gene and I had been friends for over 30 years. I guess that everything that has been said about the man has been said before me.
Category: Drummers, Feature Stories, In Memoriam, News, News and Events
Lennie DiMuzio Passes
Modern Drummer is saddened to learn of the passing of Lennie Di Muzio, longtime artist relations manager for the Avedis Zildjian company. Later in life Di Muzio worked for Sabian Ltd., which, on its Facebook page, described Di Muzio as "a one-of-a-kind and a true legend who helped shape the …
–