MD Mag Articles
MD Web News
MD Podcasts
Note: Some MD articles are only available in pdf format. Those articles do not appear in this list. Subscribers to
Digital
and
All-Access
can view every Modern Drummer issue in their available formats. Browse all MD issues from our archive
here
.
May 2002 – Volume 26 • Number 5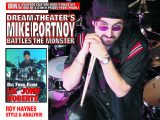 Mike Portnoy, Lil' John Roberts, Roy Hanes, Dave Lombardo, Bobby Rondinelli, Brendan Buckley, Chad Gracey, Paul Wertico, Alan White, Andy Kubiszewski, Fabrizio Moretti, Jimmy Chamberlin, Charlie Benante, Russ Miller
June 1997 – Volume 21 • Number 6
Chad Gracey, Lenny White, Adrian Young, Steve Gadd, Ahmir-Khalib Thompson, Leroy Clouden, Billy Martin, Joey Waronker, Buddy Williams, Oliver Charles, Jonathan Mover, Doug "Cosmo" Clifford
September 1996 – Volume 20 • Number 9
In this Issue: Stephen Perkins, Shane Evans, Zach Danziger, Jason Finn, Chad Gracey, Milton Cardona, Butch Vig, Willie Ornelas, Billy Exiner, Dave Mattacks, Rick Allen, Charlie Watts, Adrian Young, Herman Matthews, Tim "Herb" Alexander, Steve Smith,
Posted: February 29, 2016
Category: Drummers, On the Beat
On the Beat With Dave Krusen of Candlebox: Talks Recording and Touring
Hello, I'm Dave Krusen, drummer for Candlebox. I'm originally from the Seattle area and I've been playing drums for a living since the mid-eighties. I was the original Pearl Jam drummer and recorded Pearl Jam's debut studio album Ten before heading out to get my life together. Since then I …
Category: Drummers, Feature Stories
Kevin Franks of Silvertide
Drummer Kevin Frank, singer Walt Lafty, bassist Brian Weaver, and guitarists Nick Perri and Mark Melchiorre of Silvertide created quite a buzz in their hometown of Philadelphia. In fact, the band was so hot, it led to an all-out label bidding war that veteran music mogul Clive Davis won. That's …
Category: Drummers
Chad Gracey Update
"The thing I'm most particular about is the snare drum," Live's Chad Gracey says during a recent interview, answering a question about his drum sounds.
–