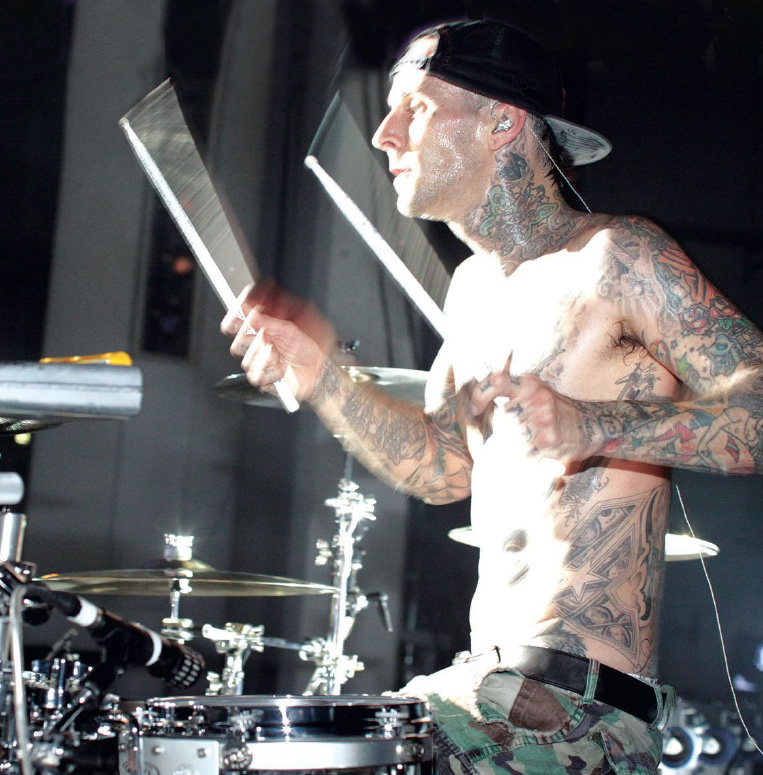 Battles mythical and all too real have defined much of his life since MD last sat with him for a good long chat. With a recent solo debut, reams of one-off collaborations, new Transplants and Blink-182 activity, and a constant refinement of his craft, Travis can honestly say that he's at the top of his game twenty years in.
Much has happened in the eight years since Travis Barker last appeared on the cover of Modern Drummer. In 2005, Blink-182, the multiplatinum band that launched the drummer into superstardom, announced that it was taking an indefinite hiatus. Later that year, the Transplants, Barker's group with Rancid's Tim Armstrong, released its second album, Haunted Cities, but soon announced its dissolution. Barker was already focusing on +44, another project with Blink bassist/singer Mark Hoppus, which released the 2006 album When Your Heart Stops Beating. Travis also began attracting a lot of attention—and inspiring legions of imitators—with his YouTube "drum remixes" of hip-hop tracks like Soulja Boy's "Crank That" and Flo Rida's "Low." Despite the fact that Blink-182 remained quiet, life was going well for Barker professionally.
In 2008, however, a string of tragic events forever changed things. In August of that year, Jerry Finn, who'd produced every Blink album since the 1999 breakthrough Enema of the State, passed away at age thirty-nine, after suffering a cerebral hemorrhage. The following month, shortly after Barker played a set with his good friend DJ AM (Adam Goldstein) at Five Points in Columbia, South Carolina, the charter flight they boarded to return to Van Nuys, California, crashed during takeoff. Barker and Goldstein were the only survivors; both pilots, as well as Barker's assistant, Chris Baker, and security guard, Charles "Che" Still, perished. Less than a year later, Goldstein died from an accidental overdose.
The events of that remarkably difficult year inspired Travis to make some significant lifestyle changes, and his growing list of high-profile musical collaborations with artists like P. Diddy, Rihanna, the Game, Avril Lavigne, Yelawolf, and Drake kept him busy, creative, and in the public eye. The tragedies also provided needed motivation for Blink-182's reformation. The band's symbolic rebirth was at the 2009 Grammy Awards ceremony, when Barker, Hoppus, and guitarist/ singer Tom DeLonge appeared on stage together for the first time in more than four years. The group soon set off on tour, and early last year released a much anticipated comeback album, Neighborhoods. In 2011 Barker also issued his first solo album, Give the Drummer Some, teamed up with Guitar Center on an unsigned artist discovery program, and continued to tour with Blink. And around the time this issue hits the streets, he'll be in Europe performing with the Transplants, who reconvened in 2010 and have a new album due out soon.
Perhaps no other event of the past several years more perfectly captures the healthy place that Barker's in these days than his March 21, 2012, appearance on Jimmy Kimmel Live with the Muppet band Dr. Teeth and the Electric Mayhem, on the song "Can You Picture That?" Mid-performance, Animal calls out Barker with a scream—"Drum war!"—and the two trade fours until the infamously furry and furious Muppet, jaw agape and visibly winded, hurls a drum at Travis before counting the band back in, thus ending the epic battle. The next day, Barker tweeted, "Blessed to play drums with my childhood hero." This event proved historic: The only other drummer who'd ever dare battle Animal was none other than Buddy Rich.
The totality of these experiences, positive and negative, has affected Barker's perspective on life, music, family, health, and everything in between. Speaking with the drummer recently about these topics led us down unexpected paths, such as how his early life shaped his drive and personality, and how tattoos played an integral role on his road to success. Throughout our conversation, Travis was enthusiastic and open, unafraid, for instance, to talk about one of the less pleasant by-products of being a star—haters!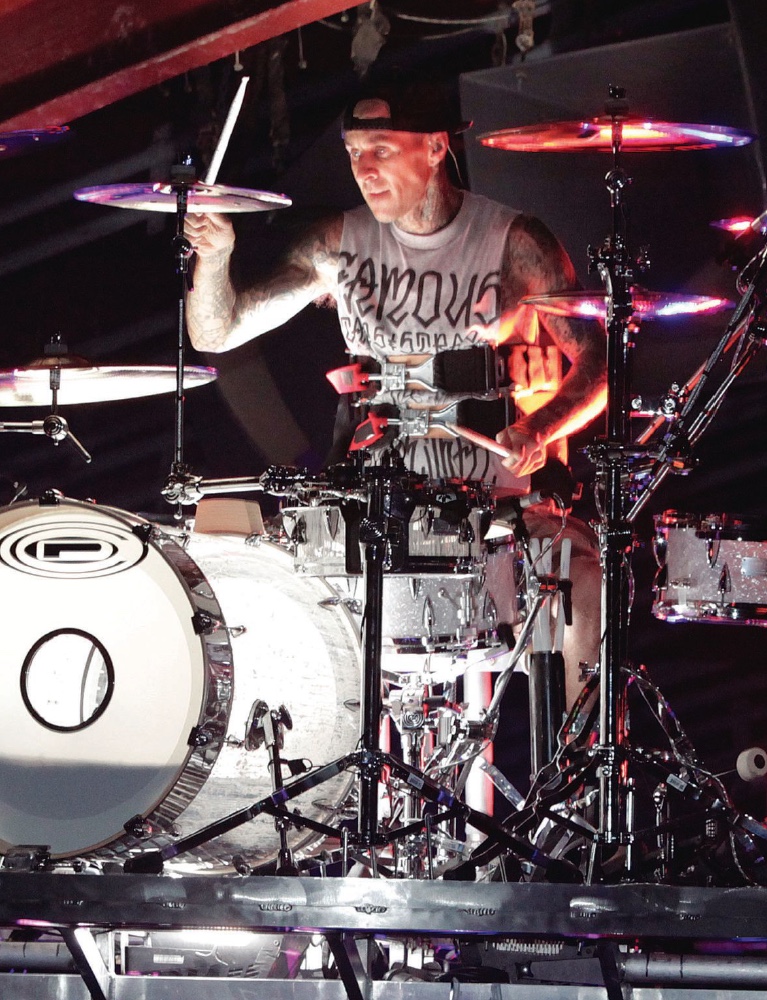 HATERS = MOTIVATORS
MD: While watching your Muppets performance on YouTube, we came across a clip of Buddy Rich, and while scanning the comments we noticed that your name was mentioned. To paraphrase, the person likened your drumming skills, in comparison to those of Buddy, to excrement. There seems to be no logical reason why anyone would make such a pointed criticism about someone who had nothing to do with the video.
Travis: Man, that's funny. I know what you mean. It's like, "What did I do or say that made someone feel the need to bash me in a comment on a Buddy Rich thread?" The thing is, though, just because you're a popular drummer, it doesn't mean you've ever claimed to be the best drummer in the world. You'll never hear the words come out of my mouth that I think I'm the best drummer in the world. I just do what I do and try to be the best me that I can be. That's the only thing I can be.
Someone said a long time ago that haters are just jealous admirers. I can relate to that. I've caught myself doing it too, where I'll be hating on someone because I like something about what they're doing—whether it's a band, an artist, or whatever. I guess having it happen to me is a sign that I've made it. Plus I know that I'm not the only one it happens to.
MD: Are you able to take comfort in that?
Travis: Sure. Crazy as it seems, there's someone out there hating on Neil Peart right now because he's doing what he loves to do, and on a huge level. It comes with the territory. You see it in everything. Look up videos of Lil Wayne or Eminem, and some hater will be going on about how they can't rap. It's crazy!
I remember that happening in my high school drum line. Some of my best friends were in that drum line, and they would hate on me. It was always confusing, because they were good friends, but they sure had a weird way of showing it at times.
I can see why drummers might hate on me now, because I tend to jump genres. They may not like to see someone they dig as a punk drummer playing hip-hop or another style they're not into. But it's not like I'm taking jobs away from anyone. I just love every genre of music. I grew up on punk, rap, metal, and thrash, so of course I want to play all those styles and be a part of as many projects as I can. I like to break the rules and knock down barriers between genres. And why shouldn't I play it all? Why wouldn't I want to take advantage of the opportunity to play all the styles I love? It helps me grow as a drummer and as a musician.
GOING SOLO
MD: When drummers put out solo albums, it's often approached as a free pass to overplay. But Give the Drummer Some, although featuring different collaborators on each track, is all about the groove being the foundation.
Travis: For me it was more of a production album than a drum album. I'd be on the tour bus making beats, and then I'd listen back and start thinking, This beat would be great for this guy. So I collected them and sent them out to the people I thought would complement the tracks. It was a chance to collaborate and feature all of my favorite rappers and musicians that I was homies with, and make an album that was different from anything else I'd done. I wanted to do something way different from a Blink or Transplants record, get away from what I'm "known for." It was amazingto work with the artists I idolized growing up that weren't necessarily guitarists or drummers, but also have someone like Slash be involved. I'm blessed to have been able to get that out of my system.
MD: The album ends with a hidden track that you recorded with your kids.
Travis: It was really fun to do that track with them. My kids bring out the best in me. They both love music, and I'm very involved in everything they do. We did that at my home studio, and out of all the amazing collaborations that made up my solo album, being with the kids at home and knocking out that track was the most fun.
MD: Some of the songs on Give the Drummer Some feature several artists. Were those tracks hashed out in the studio as a collaborative effort, or did people just come in and inject their style into each tune?
Travis: It varied. With some songs I had the beats done and gave the tracks to different people to get on. Other tracks were more collaborative. For example, on "Carry It" [featuring RZA, Raekwon, and Tom Morello] I had the beat, and RZA worked with me on it and laid down the guitar parts. RZA is a great producer, but people may not know that he plays guitar and other instruments too. Tom Morello came in later and did his thing.
The track with Corey Taylor from Slipknot, "On My Own" [available only on the album's deluxe version], was written from scratch. We had about an hour and a half to write and record the song, so we just jammed out and put that together.
MD: The track with Pharrell and Lupe Fiasco, "If You Want To," has a Motown vibe going on, and you play some super-slick fills that really complement the vocal cadence.
Travis: Yeah, you nailed the vibe on the nose—it's like some upbeat futuristic Motown shit. [laughs] That one was fun. Pharrell just came with it, and we collaborated on the beat. He did all the horns and keyboards, and I did all the drums and the bulk of the programming. It was also great to hear Lupe rap like that, because he doesn't normally rap over beats like that.

MD: How are you executing those kinds of fills?
Travis: Over the past couple of years I've been concentrating on being able to play quick 32nd-note singles between my hands and right foot. I used that technique a lot for the fills on that track.
MD: To get those fills to be a smooth flow of notes, is there any sound replacement or triggering going on in postproduction?
Travis: There are no triggered sounds on my album. I tracked everything with my OCDPs at my studio in North Hollywood. I was conscious of what songs had those hand/foot fills, and I told whoever was mixing the track to make sure that when those fills came around, the kick and toms were mixed at the same level.
MD: A new Transplants record will be out soon. Why does "Saturday Night," which features Tim Armstrong and Rob Aston from the Transplants, appear on your album as opposed to that one?
Travis: The new Transplants record is a hardcore album—like a swift kick to the face—and "Saturday Night" has a mellow vibe that didn't fit the album. I recorded that beat in my bus, and when Tim heard it he wrote that hook. Twenty minutes later, the song was done.
MD: With Give the Drummer Some being such a collaborative album, getting everyone in one place to do a full live show would seem nearly impossible to coordinate. How have you been bringing this material to audiences?
Travis: I toured it with [Beastie Boys DJ] Mix Master Mike. We opened for Lil Wayne, Nicki Minaj, and Rick Ross in the spring of 2011.
MD: You mentioned before that you recorded your album at your studio. What are you like in the studio? Do you obsess over the production?
Travis: To be honest, I'm very impatient. I've been blessed to work with some amazing engineers. I'm spontaneous; I like to just go in and record. I don't like to spend a whole lot of time getting sounds. As long as I can hear everything and everything is being picked up, we just go for it. Chris Holmes and James Ingram, who engineered the majority of this album, are absolute ninjas in the studio.
MD: Do you typically record to a click?
Travis: I'll record to a click if the drums are the first thing being recorded. If I program a beat and put down bass and synths, then I'll play along to that instead.
MD: Is that to keep the feel consistent?
Travis: Yeah. If people are recording to a programmed beat, they may feel certain parts either behind or ahead of the beat, and so if I then try to record to a click on top of that, it may throw off the feel. I find it easier to play over what's already been recorded.
FALLING IN LOVE AGAIN
MD: Your recent recording projects cover a lot of stylistic ground. Has your impatience fed into that type of approach?
Travis: It's more fun to be spontaneous in the studio. That's something I learned from Tim Armstrong while recording the first Transplants records. We had such a blast. Everything was spontaneous, and we wouldn't waste time messing about with sounds. When I got my studio, I said, "I want this to be like Tim's place—a constant workshop."
Over the years I've realized that I love being in the studio, and as I get older I just want to be even more about that. Most of the projects I get to do are a departure from what I do musically with Blink. I have an EP coming out with [rapper] Asher Roth that was produced by Nottz, who is a genius. He's such a good programmer and producer, and he had me playing all these weird drum patterns that were so cool. There's also an EP I did with Yelawolf that will drop soon.
In 2008 I fell in love with the drums all over again. Back in the day when Blink was riding its biggest high, I would come home from tour and not touch my drums for like six months. Now when I'm not on tour I like to soak up my time doing music that's different from what I've been doing. That way it doesn't get repetitive; it keeps things fresh.
MD: So then you probably would have no desire to be in Guns n' Roses, where it takes a decade to release an album?
Travis: Ha! No!
MD: You're scheduled to have an emergency tonsillectomy tomorrow, and you're heading to Europe with Blink in a few weeks. What else does the near future have in store?
Travis: The Blink tour starts in a week and a half, and as long as my tonsil situation is all good, it's a twelve-week run. I get back at the end of July. [The band would in fact have to cancel some North American shows as Travis recovered.] The Transplants album should drop around then, and I'll tour in support of that, and while doing that tour I'll start working on my second solo record. There was also some talk about doing some more stuff with Animal! I'll probably continue to work with Mix Master Mike as well. At the top of 2013, I might be doing some clinics, which is something I've never done before.
MD: You taught privately before joining Blink, right?
Travis: Yup. I was teaching a lot while I was in the band the Aquabats and at the beginning of my time with Blink, before that took off. I had some awesome students. Ilan Rubin, who plays in Angels & Airwaves now with Tom DeLonge, is a former student.
MD: When we spoke last summer for your Gearing Up segment [December 2011 MD], you said that you wouldn't fly anymore. What travel arrangements did you make for getting to Europe?
Travis: I'll go over to Europe on the Queen Mary 2. It's like a six-and-ahalf- day trip, and I have to drive out to New York first. My kids will be with me, so it's going to be a great trip.
MD: Have you mapped out any ideas or concepts for your next solo record?
Travis: I want to avoid making a "drum" album that only speaks to a drum audience. I want it to connect with people that aren't drummers or even musicians, but I also don't want to do another album rooted in hiphop. I'm probably going to mix it up a little more.
MD: You've influenced a generation of young drummers, who emulate your setup and tuning and post videos of themselves covering your drum remixes. And playing duets with DJs has become something of a trend. Are you comfortable with drummers copying your style and approach?
Travis: It's very flattering, and it's awesome to be considered an influence. It all comes from a very positive place for me. I think it's important, though, to get inspiration from more than one source. You develop your own style by putting a bunch of influences together. That was a goal of mine from when I was very young— to have my own style, so that when people heard me they'd be like, "That's Travis!" whether they loved it or hated it. I think that's one thing I've accomplished.
MD: What do you feel are the qualities of a great drummer?
Travis: Seeing someone who looks like they're having fun is a big thing for me. I'll walk away if I'm watching a band and the drummer looks miserable. I like to see someone who's having a good time and looks like they mean what they're playing. Obviously they should be solid players, nailing their fills without losing steam, not losing impact when playing at faster tempos, and if it's slower music, making sure they're playing in the pocket and making the music feel good.
MD: At a Blink production runthrough last July, your intensity was notable. Even when you had to run your solo five times in a row while the techs worked out the bugs with the mechanical arm, you never held back.
Travis: Practice hard so you can play hard. You can't practice at 80 percent and expect to play a show and give 120 percent. You're gonna get drained. I go hard all the time. I do cardio for an hour or two every day, just so I know I can put everything into a show and not run out of steam. I never want to feel winded or that my muscles aren't conditioned enough for what I need to play.
MD: It's refreshing to see someone at your level not taking the performance aspect for granted. It definitely comes across as something you're doing for yourself because you love it, but the fans are obviously feeling the power, which is why…
Travis: …I have so many haters. [laughs] There are a bunch of great drummers out there. I don't know their daily routine, and it's not a comparison, but what I do know is that there's no such thing as a day off for me.
MD: What is your current practice routine?
Travis: I play for about an hour a day. Right now I'm working on some openhanded stuff, teaching myself to lead confidently with my left hand. It's hard to get it to where the feel is even. It's tough to get a shuffle to feel right when leading with my left hand.
I'm constantly working on my bass drum too. I've never played double bass. I always wanted to be a singlebass player and to take my single kicks to new levels. I've been jamming with people like Aaron Spears, Eric Moore, and George McCurdy when they're in town, and learning a lot.

FIGHTING THE FIGHT
MD: How did the events of 2008 and the loss of DJ AM in 2009 affect your overall outlook on life?
Travis: I know tomorrow is never a given. Nothing is promised. From my perspective—to lose four people, to have 65 percent of my body burned, my leg almost amputated, and my left hand numb—it was like, "Man, if I can ever play the drums again, I promise to love them like I never have." Everything was like that. The opportunity to run again—since I got out of the hospital I've been running seven miles a day, every day. I really, really soaked up all my blessings. I appreciated all I had: my drums, my music, my family, my success. Not a day goes by now when I don't take time to appreciate it all.
MD: It's common in the wake of tragedy to experience a positive turnaround, though often the changes are temporary and old patterns slowly resurface. Your ability to make lasting changes is admirable.
Travis: Even with my little distractions, like skin graphs that basically cover both of my feet, and having to put a pad on my right foot every time I play, I never wanted that stuff to be an excuse for me not getting back to the way I played before the accident. In fact, my right foot is better than ever, and I'm able to do things now that I wasn't able to achieve before. Mental motivation! That's why I don't care about any negative comments made about me, because it's not important after everything I've been through. Drumming has always been therapeutic for me, and more so now than ever. It's who I am, and it's what I do.
Right around the time it happened, AM and I were taking things to new places with the drummer/DJ thing. I wasn't really in a band at the time, so it was cool to kick down new doors as a drummer, and it made for meaningful success. Yet at the same time, I was going through the motions. I'm obviously not saying that I'm glad about what happened—but it woke me up! I would never be thinking and living the way I am today if it wasn't for that. It was a life lesson. I'm a fighter, and I don't think God would have put me through all that if He didn't think I could handle it.
TATTOOED FATE
MD: It seems as though your new perspective has served to amplify your inherent intensity and drive. In past interviews, you made mention of how you purposely got tattoos as a means of pushing yourself down an unconventional career path.
Travis: Yeah, the "job stoppers"! [laughs]
MD: Your first tattoo, though, was in tribute to your mother?
Travis: Yeah, she basically told me on her deathbed to keep playing drums. I already felt I wanted to be a drummer, but I was only twelve, and I was thinking, Oh shit, how do I do what my mom told me to do? I've always felt that my life has been filled with situations where something bad had to happen in order for me to make breakthroughs. I've had to overcome a lot.
MD: So that initially sparked your drive?
Travis: Yeah. I just played every day. A job, a flash car, crazy clothes—those types of things weren't important to me. All I wanted was to have enough money to eat, to have a place to sleep, and to play drums.
At that time my pops was saying, "I don't know if this drum thing is going to work out; you should probably get a real job," and I was given an ultimatum: Move out, or start paying rent. So I moved to Laguna Beach, got a job as a trash man, and basically became a drum escort. I played with whoever hired me. Even if there wasn't pay, I took the gig just to have an outlet to play.
Around that time I started getting more tattoos and putting them in places that would kill my chances to find a "normal" job. I didn't want a plan B. I wanted to force plan B out of my life. I wanted plan A, and the "job stoppers" helped ensure that plan B was not an option. Thank God it worked!
Growing up, I remember thinking, Why is my dad being so hard on me? But tough love was what he knew. My dad is a tough-as-nails military guy and a workaholic. I got my work ethic from him; I just applied it to drumming and music. Everything he taught me rubbed off in a good way, even if I didn't understand it back then or thought it was negative. I understand that now—that he didn't want me to become some punk slacker. Now we're tight. He has a tattoo of my Famous Stars and Straps company logo on him as a badge of honor, and I have one that says "Pal," which is what I called him as a kid. He came around—that was really a big thing for me.
MD: What's your take on passion versus technique?
Travis: With drums, it's not always a chops thing. You could be a chops monster, but if you don't have passion and a unique style, the chops don't matter. To me, a band that has something that translates to an audience because they're doing it out of their love of music will always outshine bands that might play "better." I honestly believe that the people who would do it for free are the ones that go places—and if love and fun are the main reasons you play, good things will come!