Features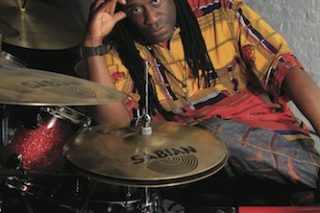 For decades Living Colour's connoisseur of all things rhythmic has journeyed to the far corners of the globe to perform, search for rare instruments, and jam with local musicians. Now he's released a highly personal tribute to the most adventurous time traveler in drumming history, the U.S.-born and raised jazz musician Elvin Jones.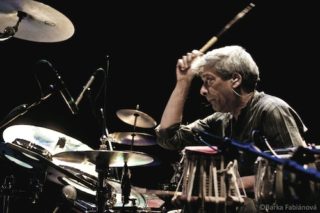 Trilok Gurtu will always be unique. His mixture of traditional Indian rhythms and jazz played on a customized hybrid kit looks and sounds singular, from the tabla to those amazing toms that sound like kick drums. But if you've seen Gurtu play recently, you might be surprised to see an actual bass drum in his setup.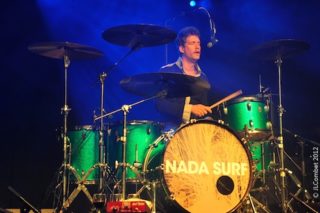 Nada Surf has accomplished that rarest of feats in pop music: surviving the massive out-of-left-field success of an early single—a song titled, indeed, "Popular"—and the all-too-typical insult of then being dropped by the record company that released it.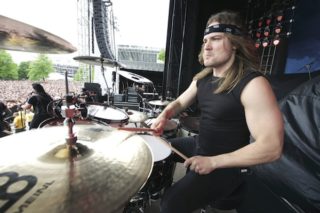 Career highlights like playing with the alt-goth band Kill Hannah, a traveling production of Rock of Ages, and a Nirvana tribute act—in which he's singing and playing guitar—might not seem typical for a lead-up to joining an established metal group. But looking back on it, they sure seem to have done the trick.
Coming out just as the era of prog rock gave way to the tidal wave of punk rock, England's This Heat was largely drowned out by the overpowering sounds of the sonic revolution.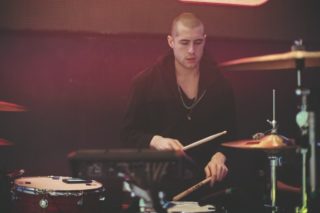 Nate Lotz isn't interested in showing you how fast his doubles are. As the drummer for the electro-pop starlet Halsey, Lotz works an electronic/acoustic hybrid kit with precision, but he's much more focused on that magic that happens when the imaginative stuff comes out.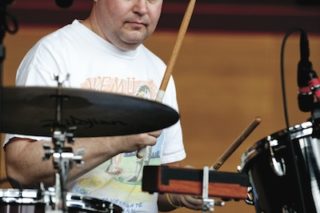 Few groups enjoy as loyal a fan base as the Feelies, whose handful of '80s albums had a profound influence on many a guitar-oriented alt-rock band. The days of bottomless major-label budgets are long past, though, and since the group has always been staunchly independent, working only when and where the members want to, its longtime drummer has learned to balance performing with more traditional work opportunities.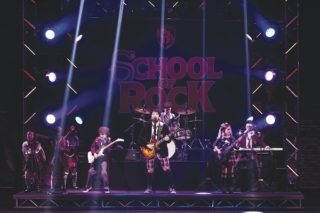 In 2003, Jack Black played down-on-his luck guitarist Dewey Finn in the feature film School of Rock. The comedian was surrounded by a talented cast of child actors playing fourth-graders attempting to win a battle of the bands to help pay Dewey's overdue rent. The plot was particularly well suited for the Broadway stage, and the legendary composer Andrew Lloyd Webber (Jesus Christ Superstar, Cats, Evita) created an adaptation that many have hailed as his best show in years.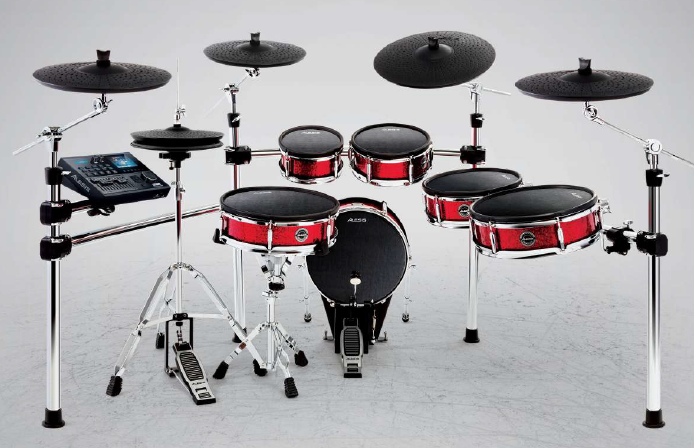 Contest
Win This Alesis Strike Pro Electronic Drumkit!
The prize features an eleven-piece state-of-the-art electronic drumkit with a 14″ dual-zone snare, four dual-zone toms (8″, 10″, 12″, and 14″), a 14″ kick, a 16″ three-zone ride, three dual-zone 14″ crashes (with choke feature) and a 12″ moveable hi-hat. All of the cymbals have a hammered look. The Strike Performance module has a 4.3″ color screen and comes with 110 drumkits, 1,600 multi-layer instruments, and more than 14,000 individual samples. The module has onboard sampling capability, an SD card port, and USB/MIDI connectivity for use in conjunction with any DAW as well as the Strike Software Editor. The module has individual outputs and faders for real-time mixing. A four-post chrome rack, a double-braced snare stand, a cable snake, cable wraps, a drumkey, and drumsticks are included.
From the Shop: Featured Products

New Digital & Archive Subscription Options!
"Digital Only" Subscription is only $4.95/month!
"Digital Only + Archives" Subscription is only $9.95/month!