Modern Drummer's 2023 Hall of Fame Inductee: Alex Van Halen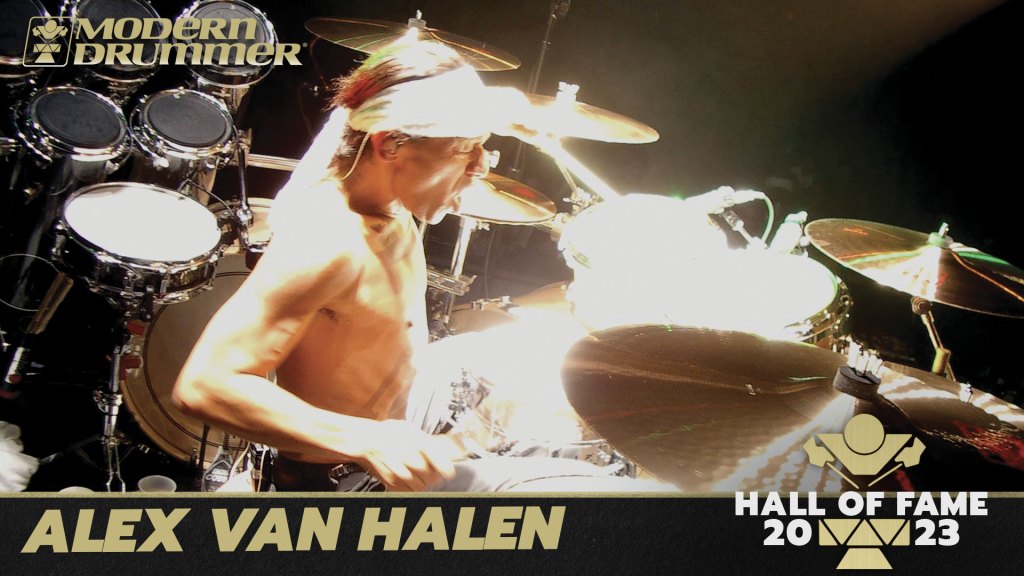 The latest induction into the Modern Drummer Hall of Fame is… Alex Van Halen!
The original drummer and co-founder of Van Halen has left his mark on entire eras of rock music, from his scrappy early days in Mammoth to the glam metal juggernaut we know him as today. Alex Van Halen joins an esteemed group of Modern Drummer Hall of Famers, including John Bonham, Buddy Rich, Max Roach, Ringo Starr, and 2022's Hall of Fame inductee, Taylor Hawkins.
After forming several bands with his brother, Eddie, Alex Van Halen began his long tenure with Van Halen in 1977 and never looked back. He became instrumental to the band's electrifying, dramatic sound, leading the rhythm section on standout Van Halen hits like "Ain't Talkin' 'bout Love," "Unchained," and "Panama." His double bass pedal work throughout "Hot For Teacher" was deeply influential, combining technical prowess with a restless, thoroughly original drum composition. Despite their lineup changes throughout the late '80s and 1990s, Alex Van Halen and his brother remained the heart and soul of the band, and his legacy both behind the kit and in the music world is inspiring and noteworthy.
Alex Van Halen has appeared on the cover of Modern Drummer four times: 1983, 1993, 2008, and most recently in March of 2021. He's appeared various other times in Modern Drummer issues throughout the last five decades. Revisit some of Alex Van Halen's career highlights and extensive interviews with Modern Drummer here. Advertisement
Alex Van Halen's 2023 Modern Drummer Hall of Fame induction arrives with the release of our 2023 Reader's Poll, found in our September issue.
See below for the complete list of Modern Drummer Hall of Fame inductees.
The Modern Drummer Hall Of Fame, 1979-2022
2023 Alex Van Halen
2022 Taylor Hawkins
2021 Sheila E.
2020 Nicko McBrain
2019 Dave Grohl
2018 Clyde Stubblefield
2017 Peter Erskine
2016 Vic Firth
2015 Ian Paice
2014 Carmine Appice
2013 Bernard Purdie
2012 Phil Collins
2011 Jim Chapin
2010 Hal Blaine
2009 Mitch Mitchell
2008 Ginger Baker
2007 Jack DeJohnette
2006 Charlie Watts
2005 Stewart Copeland
2004 Mike Portnoy
2003 Simon Phillips
2002 Steve Smith
2001 Dennis Chambers
2000 Dave Weckl
1999 Roy Haynes
1998 Ringo Starr
1997 Terry Bozzio
1996 Vinnie Colaiuta
1995 Elvin Jones
1994 Larrie Londin
1993 Jeff Porcaro
1992 Max Roach
1991 Art Blakey
1990 Bill Bruford
1989 Carl Palmer
1988 Joe Morello
1987 Billy Cobham
1986 Tony Williams
1985 Louie Bellson
1984 Steve Gadd
1983 Neil Peart
1982 Keith Moon
1981 John Bonham
1980 Buddy Rich
1979 Gene Krupa