2023 Readers Poll: Giovanni Hidalgo Wins "World / Percussion"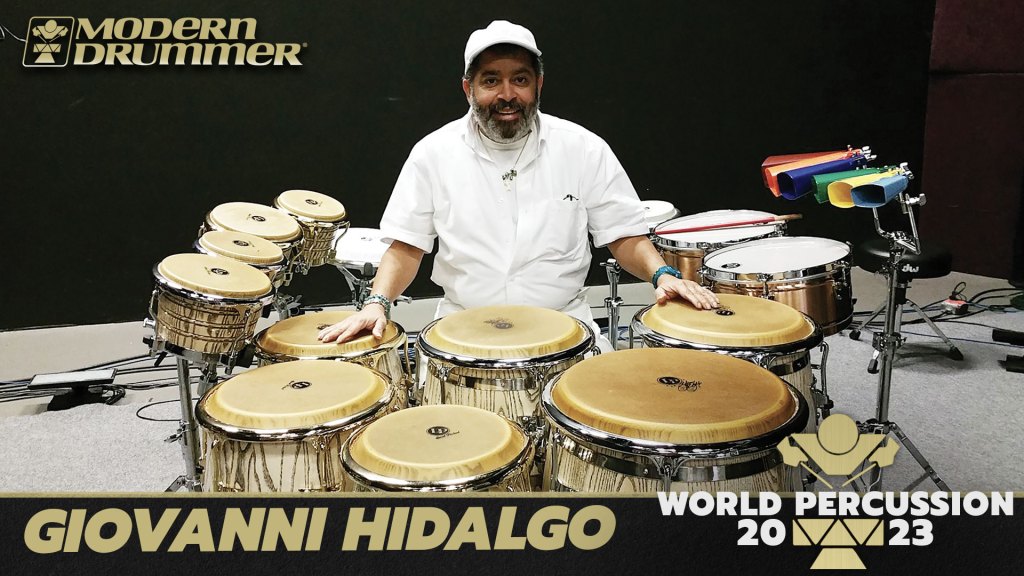 The winner of the "World/Percussion" category in Modern Drummer's 2023 Readers Poll is… Giovanni Hidalgo!
Giovanni Hidalgo has been one of the reigning kings of Latin jazz percussion for a reason. He continued to elevate percussion world throughout the last year by playing dozens of high-energy shows, putting together workshops and lessons, and recording and collaborating with similarly prolific jazz musicians.
Hidalgo's skill and personality rings out with each hit, as shown in his noteworthy 2023 tribute to the great Tito Puente. He also has remained active online, offering private lessons and sharing dazzling videos showing off his prowess behind the congas. He regularly posts updates on his Instagram and YouTube channels, and even at the age of 59, Hidalgo shows no signs of slowing down.
Though he's never appeared on the cover of Modern Drummer, Giovanni Hidalgo has been featured in multiple issues over the last four decades. In addition to a major feature in the November 1998 issue, he most recently appeared as a featured artist in the 2021 Modern Drummer Festival. You can read Giovanni Hidalgo's Modern Drummer highlights here. Advertisement
For more on this year's Readers Poll winners, click here.