This Week in Drumming: August 18th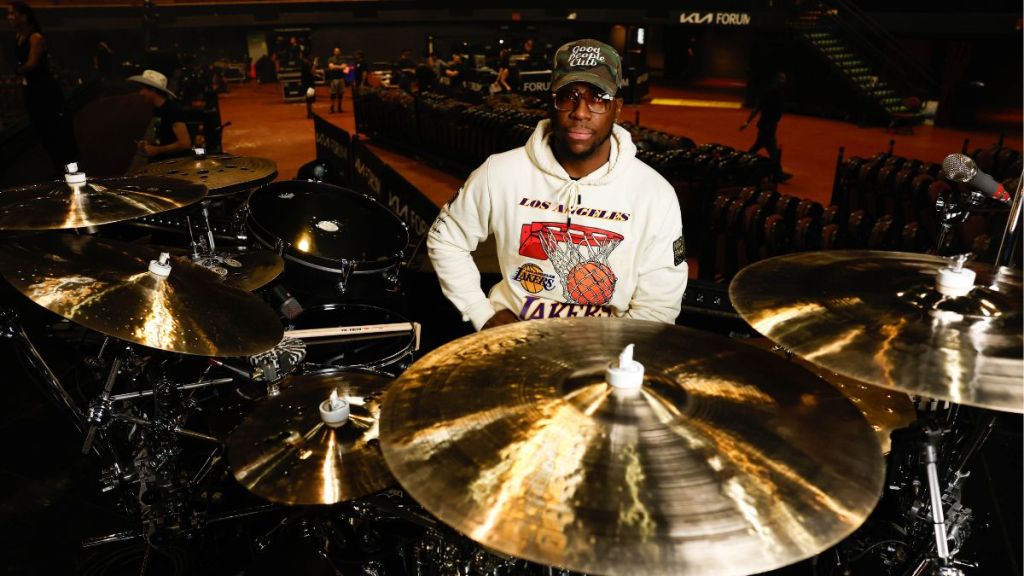 By Paolo Ragusa
Though there were great shows, new music, and more drumming news this week, it's been a relatively somber week in the drum world: longtime educator and prolific drummer Pete Magadini, as well as Pavement's original drummer Gary Smith, passed away this week, and their contributions will be missed.
Here's what went down for Modern Drummer this week.
New Q&A with Garrison Brown, drummer for Alicia Keys, Post Malone, SZA, and more
Modern Drummer caught up with Garrison Brown ahead of the final date of Alicia Keys' "Keys to the Summer" tour in Los Angeles, California. Brown has been busy playing with dozens of high profile acts, and is gearing up to release a sample pack this fall. In our Q&A, the Ohio drummer discusses his influences, playing with Boy George and Culture Club, and his gear set up for this Alicia Keys tour (it's pretty comprehensive, as you can see above).
Read the Q&A with Garrison Brown, and see photos from Alicia Keys' August 2nd show here.
From the Archives: Tommy Lee Joins the Modern Drummer Podcast
Check out Tommy Lee's full podcast with host David Frangioni. Hear him play some of your favorite beats, tell the stories of his space-age live-performance kits, and much more! Advertisement
Listen here.
Drumming News
R.I.P. Pete Magadini. One of the great polyrhythm educators in the drumming world, Pete Magadini, has died at the age of 81. In addition to a widespread body of work in the drum education field, Magadini played with Diana Ross, Al Jarreau, George Duke, and many more esteemed musicians. Read his wife Hélène's heartfelt dedication here.
R.I.P. Gary Young, Original Drummer of Pavement. The influential and enigmatic drummer has died at 70. He played on Pavement's earliest records, including the band's seminal 1992 debut album, Slanted and Enchanted. Read more here.
Talking Heads to Reunite For Stop Making Sense Q&A. David Byrne, Tina Weymouth, Chris Frantz, and Jerry Harrison will reunite for a live Q&A celebrating the 40th anniversary of their legendary concert film, Stop Making Sense. It marks their first public appearance together in more than 20 years. Read more here.
New Music (From Great Drummers)
California rockers Rival Sons have announced their second new album of 2023, LIGHTBRINGER, and shared a brand new song, "Sweet Life." Drummer Michael Miley begins the track with a sharp fill and proceeds to add his flair to each verse and chorus, giving the song a healthy amount of chaos and intrigue. Listen here.
Dolly Parton has joined forces with Paul McCartney and Ringo Starr for a cover of their Beatles classic, "Let It Be." In addition to the surviving members of The Beatles, Parton's cover features two other classic rock legends: Peter Frampton and Mick Fleetwood. Listen here.
Dirty Honey has returned with a barnstorming new song, "Can't Find the Brakes," the title track for their upcoming album. It's the first release with new drummer Jaydon Bean, whose fingerprints are all over the track. According to lead singer Marc LaBelle, "Jaydon's got a great approach to songwriting, and he's willing to take the ride with a song without judgment." Listen here.
New Tours Announced
Dirty Honey are heading back on tour with new drummer Jaydon Bean in tow. They're also set to open for several dates of Guns N' Roses in September. Check out the dates here, and get tickets here.
Philly punks Poison Ruin have announced new tour dates in support of their excellent April release, Harvest. See tour dates here, and get tickets here.