Alicia Keys' "Keys to the Summer" Tour: See Photos and Read Q&A with Drummer Garrison Brown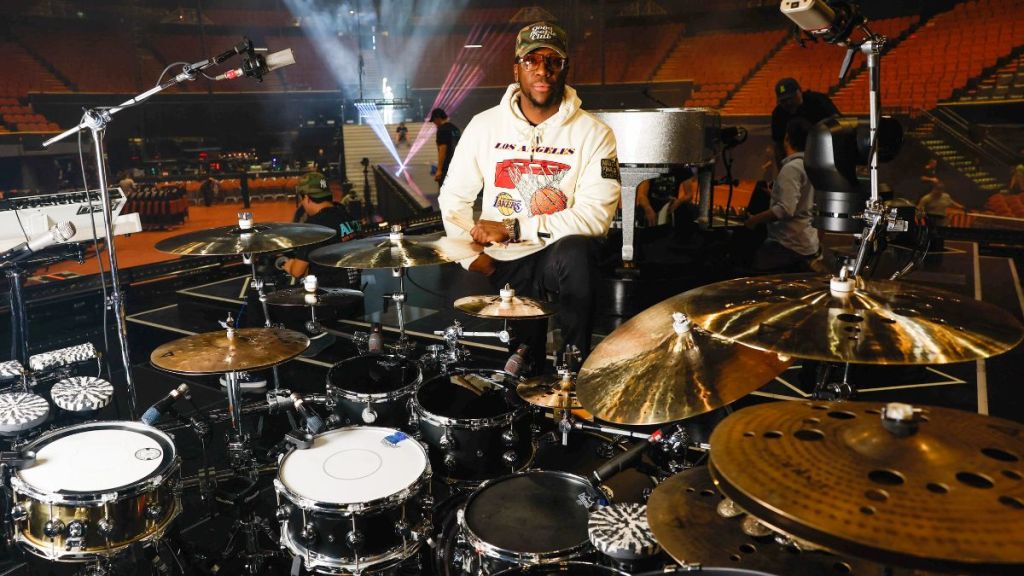 by Alex Kluft
Alicia Keys played the final night of her "Keys to the Summer" tour at the Kia Forum in Los Angeles on August 2nd. On drums was none other than Garrison Brown (Post Malone, Tyga, The Jacksons, Jason Derulo).
The show lasted two hours and included a staggering 30 songs, beginning with one of her biggest hits, "Fallin.'" The set also included major hits like "Girl On Fire," "Empire State of Mind," and " No One." Keys has been covering Eurythmics "Sweet Dreams (Are Made of These) on this tour and for the final show, Annie Lennox herself joined in to perform it as a duet with Keys. The closing song was "If I Ain't Got You."
Before the show, Modern Drummer caught up with Garrison Brown, who has been making his rounds as a touring and session drummer for various high-profile acts. Brown, an Ohio native, grew up playing in the church, and his key attributes include a solid grounding in technique with stylistic versatility, along with power, precision and placement that gives his playing a very distinct and unique sound. Advertisement
Read the Q&A with Garrison Brown below, and scroll down for photos of Alicia Keys' final night of the "Keys to the Summer" tour in Los Angeles on August 2nd.
Modern Drummer: Tell us who you were with leading up to the "Keys to the Summer" tour with Alicia Keys.
Garrison Brown: More recently, I've worked with Bryson Tiller, Post Malone, SZA, Boy George & Culture Club, and last year I was touring with Iann Dior.
MD: When did you do Culture Club?
GB: 2018/2019. I think Jon Moss had been dealing with some back problems, that's what I was told. They were getting ready to go out on the "Life Tour" and they reached out to my brother in law Jonathan 'Ginger' Hamilton (Sam Smith). He called me and I had about three, maybe four days to learn the show by the time I got the music. The first time they heard me play was in soundcheck at the first show with them in Toronto, Canada. It was a very cool tour with The B-52s and Thompson Twins.
MD: Sterling Campbell!
GB: What a great drummer, incredible drummer. He was killing that show every night. And he was with Bowie for 20 years, I believe. Learned a lot from him.
MD: What is your setup this tour?
GB: I'm playing a DW Kit. 22" kick. 10×7 and 12×7 rack toms with a 16"x16" floor tomm and 20"x4" short gong.
I have 3 snares in the set-up, The main is a 14"x6.5" Edge, side snare is a Brass 14×6.5 and I have a 12×5.5 maple snare to the right. I have 3 sets of hats on the kit. The mains are Istanbul 17" Dry Dark Brilliant Hats. A pair of 10" Istanbul Xist ION Hi-Hats and a Pair 18" Dry Dark Hats. I'm using a Roland TD-50X for snare and kick triggering along wirh a Roland KT-10. I also use Dauz pads for triggering as well. The cymbals are Istanbul.. 22" Power Crash, 22" Traditional Medium Crash, 22" Idris Muhammad Ride, 22" Xist Ion Crash and 2 12" Xist Ion Splashes.
MD: Who are some influences of yours?
GB: I grew up in Youngstown, Ohio. Growing up in a small town, I was influenced by what was around me. Outside of my parents and family members, I was mentored by a guy named Charles Robinson and he kind of evolved me musically in a way and introduced me to people like Carvel Austin and Kevin Howard, my local legends. I tried to morph into a trilogy of those guys as I grew up. Then Charles introduced me to the greatest drummer ever, Dennis Chambers in '94 or '95, and then I got hip to Dave Weckl, and then Chris Dave, and then the floodgates opened to Vinnie [Colaiuta] to Tony Williams and Steve Gadd, etc. It was like, this is drumming for real! Not that the guys I was around weren't good, it was just these guys are doing this at this high level. Advertisement
Those drummers were actual artists. They are drumming artists. As I grew older and begin to meet and hear new people, drummers like Nisan Stewart, Trevor Lawrence, Rex Hardy, Aaron Spears, & Chris Johnson, to name a few, became guys I gleaned from and have a lot of respect for. Guys I know personally that have earned and built respectable careers as well. It's a blend of a few people I know and a few from afar. I'm a drummer, then there's a drummer's drummer like the Dennis's and Steve Gadds of the world. They're your drummer's favorite drummer. Those guys are incredible, legendary musicians. I'm glad to see Dennis back strong, looking good, and back to being Dennis.
MD: What's next when this tour ends?
GB: When this tour wraps up for me, I'm working on my own projects. There's a sample pack I'm releasing this fall along with some album projects. I'd like to maybe even roll out some programs for some workshops or clinics.
Photo Gallery: