Ringo Starr's 83rd Birthday Celebration: Photos + Recap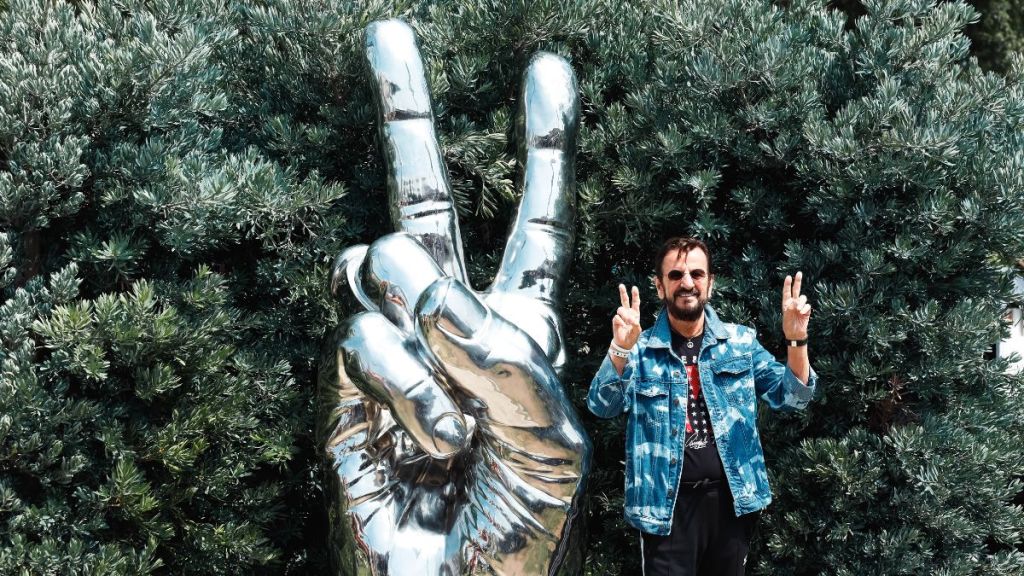 Ringo Starr celebrated his 83rd birthday at his Peace & Love Statue in Beverly Hills, California on Friday, July 7th. This marks the third year the celebration has taken place there — prior to 2020, a public celebration took place annually at Capitol Records in Hollywood, where The Beatles each have their own star located. Over the years there have been many music legends and celebrities in attendance as well as performances.
The event began just after 11 A.M. with Starr, his brother-in-law Joe Walsh of The Eagles, and their wives Barbara and Marjorie taking photos in front of the statue, which is shaped in Starr's hand giving the peace sign. Starr and Walsh then gave a few interviews before the first performance from garage rock artist King Tuff began. The emcee was none other than Ringo's All Starr Band drummer since 2006, Gregg Bissonette — who was also David Lee Roth's first drummer after Van Halen. Guitarist Blake Mills and Silversun Pickups performed as well.
REO Speedwagon guitarist Dave Amato joined Bissonette briefly, before Jim Keltner — one of the two original All Starr Band drummers — took over. A few Beatles classics were performed, and of course "Birthday." Noon is always the time that Starr officially celebrates his birthday, so his long time publicist Elizabeth Freund brought out a cake as well as everyone onstage to wish peace and love to all around the world watching and attending. This time the cake topper was a miniature version of Starr's statue, and the cake itself was shaped like his Ludwig snare in a Blue Oyster finish. Advertisement
This year's attendees also included The Heartbreakers' Benmont Tench and Mike Campbell, Sheila E., Portlandia's Fred Armisen, actor Ed Begley Jr., songwriter Diane Warren, Wings' Denny Seiwell, current All Starr member Edgar Winter, Roy Orbison Jr., Breakfast With The Beatles host Chris Carter, and photographer Henry Diltz. Lyle Lovett, Russ Kunkel, and Leland Sklar attended as well after playing the Saban Theater in Beverly Hills the night before and left for their show in Ojai, CA after the event.
For over 60 years, Starr has been influencing generations of drummers and will continue his tour September 15th with his All Starr band consisting of Bissonette, Winter, Colin Hay, Hamish Stuart, Steve Lukather, and Warren Ham.
See below for photos of Ringo Starr's 83rd birthday celebration in California.