Tony "Thunder??? Smith: Lou Reed's Sensitive Powerhouse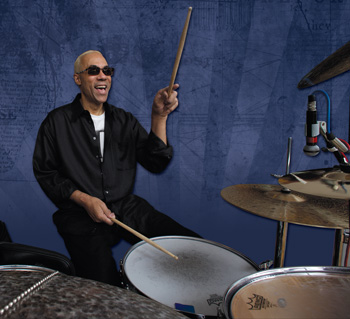 by Rich Mangicaro
Tony "Thunder" Smith is one happy guy. Ever since I first met him over twenty years ago, I've found that joy and excitement just emanate from him when he's talking about music. He couldn't hide it, even if he wanted to. Such is the reason why so many great artists want to work with him, and why he's held the drum chair for rock icon Lou Reed longer than any other drummer has. Being positive in this line of work is key, and Smith is the ultimate archetype of optimism. He's also got amazing chops, a scrumptious groove, and keen ears. These ingredients make for one busy drummer. I recently sat down with Tony at a tiny French café in New York City. Three hours, four cappuccinos, and five MP3s later, I managed to slow him down enough to recall how it all started.
MD: You're originally from San Francisco, right?
Tony: Yep. I played in garage bands, like we all did, and when I was around fourteen I met Freddie Stewart, Sly Stone's brother. He had a red Porsche, and I remember thinking that I wanted to be a successful musician too! I played around town in different bands and eventually joined a group called Malo, which was led by Jorge Santana [Carlos's brother]. They had already gone through something like forty drummers and still hadn't found the right guy, so I was called to come out. It was down to three guys, and I got the gig. They had already scored a top-twenty hit in the States and were huge in Central and South America. So I played with them for a while.
MD: Isn't that the band that brought you to New York?
Tony: Yes, and New York scared the hell out of me the first time! I never wanted to go back, but of course I got over that. The first gig we did there was at Shea Stadium, some huge Latin festival. It was this big televised thing, and it was raining like crazy. The crowd ended up rushing the stage, the cops shut the whole thing down, and we had to be escorted out of there! Just crazy. What a first impression of New York. Advertisement
MD: You also played with Azteca, the band that featured Pete Escovedo and Sheila E. Was that before or after Malo?
Tony: That was before. Azteca was a great experience too, playing with the Escovedos and all the great players in that band. Paul Jackson [Headhunters] and Neil Schon [Santana, Journey] were also in Azteca.
MD: Tell us about your first recording experience.
Tony: Carlos Santana's bassist Doug Rauch, who I'd played with in the Loading Zone, asked me to come down to the studio one day. It was the first time I'd been in a recording studio, and he asked me to sit down and play. Well, it was [original Santana drummer] Michael Shrieve's kit and I felt funny, but he said go ahead. Then in came Carlos's keyboard player Richard Kermode, and Chepito on timbales. So we jammed a bit, and I noticed that the red light was on but didn't think anything of it.
Afterwards, I heard a voice come over the phones, telling us to do it a few more times. So we did and then we heard, "Okay, I think I got it." I looked around, and, in my naiveté, got up and left. Two weeks later, Doug called and said, "Come pick up your check." I said, "For what"? He said, "For the session—what do you think you were doing here"? I didn't even know I was recording! That track was "Samba De Sausalito," which eventually appeared on Carlos's Welcome album. I thought I was just coming in to jam. [laughs] But that ended up as the launching pad for my recording career. Right after that, Malo happened, and while I was committed to them, I had an opportunity to join Journey, when Aynsley Dunbar left. Believe it or not, I didn't go for it, due to my Malo obligation. Just the way I am, but had I seen into the future—oops! Malo dissolved shortly after that, and Journey had already found a drummer. Advertisement
MD: Was that when Steve Smith joined?
Tony: No, it was Prairie Prince. But as luck would have it, right then, Dougie got a call that the Mahavishnu Orchestra was breaking up. [Mahavishnu keyboardist and violinist] Jan Hammer and Jerry Goodman were putting a band together, and he was going to play bass. He asked if I would like to be the drummer. We put together a demo jam, sent it to Jan, he liked it, and that's how I got to New York. After a few personnel changes including Dougie and Jerry moving on, I ended up staying with Jan, and then we added Fernando Saunders on bass and Steve Kindler on violin.
MD: I saw that group! I was at Syracuse University at the time, studying music…I'll never forget that show.
Tony: It was a great band, and right around that time Jeff Beck saw us. At first he wanted us to open for him, but then he decided to join forces, and it became the Jeff Beck/Jan Hammer Group. We ended up releasing a live record from that period.
MD: Was that the band that got you so well versed in playing odd-time stuff? And did it come easy to you?
Tony: Yes, that band got me into playing odd meters. Having grown up in San Francisco, there was a groove used in the Bay Area that I was used to playing, which keeps a consistent 16th-note thing going. So, when switching to other time signatures, the way the quarter note is divided, you're just adding or subtracting. This keeps the time changes fluid, which made sense to me, and it was what Jan wanted. This also made it easier to solo in an odd time, having that connection between the notes. Advertisement
MD: Tell us about some of the other artists you were playing with during your early days in New York.
Tony: Right around the time of recording with Jan, the Brecker Brothers approached me to play with them. We jammed, and it was really great…what a treat to be in the same room with Randy and Michael Brecker, David Sanborn, Don Grolnick, Will Lee, Steve Khan, and David Spinoza. I couldn't tour with them, though, because of what was happening with Jan at the time. As fate would have it, years later, while recording with John McLaughlin, John ask David Sanborn to come down to the studio to record a track. A couple of years later, I was touring with David Sanborn. And between touring, I was writing and playing on jingles, which helped to pay the bills. That eventually led to my writing music for a few documentary films.
MD: How did you make the transition from the fusion world to rock and eventually Lou Reed?
Tony: T.M. Stevens and I had a studio together, around the same time I was playing with David Sanborn. After David Sanborn, in 1981, T.M. and I got a gig with Stacy Lattisaw, who had the hit "Love On A Two-Way Street." We opened up for the Jacksons' Triumph tour, which Rolling Stone hailed as the highest-grossing tour to date. It was one of the Jacksons' most successful tours. Thriller was released soon afterwards, and the rest is history.
T.M. then got the gig to play bass for a French artist. I heard the music one day and loved it. One week later, T.M. called and told me to come down to audition for this gig, and I got it. It turned out the French artist was the enormously famous Serge Gainsbourg. This lasted for four years. During that time, I did all his records and tours. After Serge I worked with Nina Hagen, who was the queen of punk at the time. When I got back to New York, I got a call from Steve Rosenthal, owner of the Magic Shop, a studio in New York. He wanted me to come in and record some electronic drums on a track. So I put a rig together and began experimenting with building sounds. He liked it a lot. Advertisement
Jump ahead years later, I get a call from Steve: "Hey, Tony, I'm working on something and we need a little help with electronics…hang on a second." Then a voice came on the phone: "Is this Tony? This is Lou Reed. Steve tells me you're good with electronics, so I need you to come down right now to work on this." I was in Boston at the time, and of course I told him I'd take the next train. He said no and told me to take a cab to the airport now—they had already booked me on a flight to New York!
For much more with Tony "Thunder" Smith, check out the March 2011 issue of Modern Drummer magazine.