Samantha Maloney: Hole In One For The Crue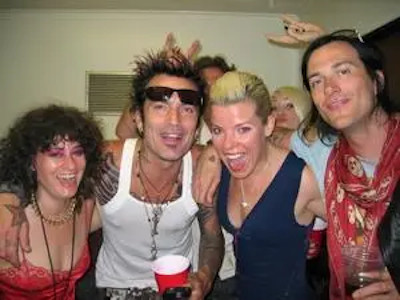 Samantha Maloney learned to play drums by practicing along to records like Shout At The Devil and Theater Of Pain by her favorite band, metal's tattooed bad boys, Motley Crue. It's no surprise, then, that Maloney describes her current situation as "very surreal," as she tours the country with Motley Crue's Maximum Rock tour. Maloney is filling in for Randy Castillo (who replaced Tommy Lee on drums last year) while he recovers from stomach surgery.
Maloney, twenty-four, landed the position as drummer for Hole almost two years ago. While attending a Motley Crue performance for VH1's Hard Rock Live, Samantha met the band for the first time and got an unexpectedly enthusiastic reception from Castillo. "Randy comes up to me and says, 'Oh my god, you're amazing! I saw you at the LA Forum when Hole were on the Manson tour.' He said to the band, 'This girl rocks!'" Those words of praise apparently stayed with bassist Nikki Sixx: Maloney was the first drummer he called when it was time to look for someone to fill in for Castillo.
Maloney says she also finds that the Crue's longtime fans welcome her. "Once the crowd sees me playing with these guys, they love it. Another drummer told me that my being here gave the Crue a shot in the ass. They realize this is a cool thing." Advertisement
Gail Worley