MD Mag Articles
MD Web News
MD Podcasts
Note: Some MD articles are only available in pdf format. Those articles do not appear in this list. Subscribers to
Digital
and
All-Access
can view every Modern Drummer issue in their available formats. Browse all MD issues from our archive
here
.
What Song Are You Working on Now?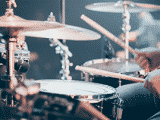 "Metropolis—Part I" by Dream Theater [Mike Portnoy].@ptrlcc "Chemical Warfare" by Slayer [Dave Lombardo].@nickkcuevas "Hemispheres" by Rush [Neil Peart]. The first section is so tough on the hi-hat.@mconrad332 "Around the World" by the Red Hot Chili Peppers [Chad Smith].@_rywill22 "Just like Heaven" by the Cure [Boris Williams].Eric Heumann "Rosas del Amor" …
What Was Your First Favorite Drum Record?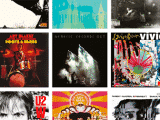 Vivid by Living Colour. Will Calhoun plays masterfully and with tons of power. It was perfect: playable but loaded with nuance.Scott Sparks Manu Katché on Peter Gabriel's Secret World Live. I was around five, and it just blew my mind. That's when I realized drumming was what I wanted to …
Sounds and Setups
1967 was a year when wild was in. And of the rock bands commanding the world's attention that year, it didn't get much wilder than the Who, Cream, and the Jimi Hendrix Experience. The same could be said for the drummers who made them go—and the kits on which they …
Posted: December 25, 2020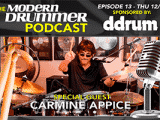 Category: News, The Modern Drummer Podcast
The Modern Drummer Podcast Episode 13: Narada Michael Walden & Carmine Appice.
The Modern Drummer Podcast – Narada Michael Walden's UPBEAT interview with Carmine Appice + Interview with Gary Ingraffia from ddrum. In this episode, Narada Michael Walden interviews drumming icon and author Carmine Appice. Carmine discusses the early days of Vanilla Fudge, piers that influenced him including Dino Danelli from the …
Posted: June 8, 2018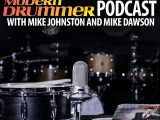 –