MD Mag Articles
MD Web News
MD Podcasts
Note: Some MD articles are only available in pdf format. Those articles do not appear in this list. Subscribers to
Digital
and
All-Access
can view every Modern Drummer issue in their available formats. Browse all MD issues from our archive
here
.
John Stacey — Nashville Time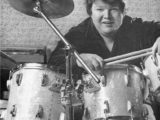 John's bread and butter comes from backing country artists in the Nashville studios.
Posted: September 19, 2012
Category: Drummers, On the Beat
L.A. Drummer John Montgomery
Hello, MD readers! My name is John Montgomery, I'm a drummer living in Los Angeles…and I love it.
Category: Drummers, On the Beat
Steve Riley of L.A. Guns
Hey, everyone, hope all is well. This is my first time writing a blog for Modern Drummer, and I'm truly excited. As usual, L.A. Guns is out on the road. We've been touring the world and putting out a consistent, hard-rocking experience…
Category: Drummers, On the Beat
Jason Ganberg of Purple Melon
I'm Jason Ganberg of the British rock band Purple Melon. Just dropping you guys a few lines about what I've been up to out in L.A. and how everything has developed for me since I started drumming back in England fifteen years ago!…
–