MD Mag Articles
MD Web News
MD Podcasts
Note: Some MD articles are only available in pdf format. Those articles do not appear in this list. Subscribers to
Digital
and
All-Access
can view every Modern Drummer issue in their available formats. Browse all MD issues from our archive
here
.
Posted: November 12, 2021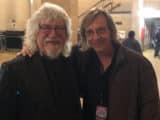 Category: News
Moody Blues Drummer & Co-Founder Graeme Edge Passes November 11, 2021
Hello to our loyal readers and supporters, I'm Billy Ashbaugh. Yesterday, the world was saddened by the lose of yet another iconic musician, the Moody Blues Graeme Edge. Graeme was the co-founder and last remaining original member of the legendary group.  I had the esteemed honor of sharing the stage …
Category: Drummers, Feature Stories, Update
Billy Ashbaugh
'N Sync, a pop band backed by live musicians, have gained a reputation of spectacle and not-to-be-missed precision. MD Online recently caught up with rising drum star Billy Ashbaugh, the man who keeps it all together….
–