MD Mag Articles
MD Web News
MD Podcasts
Note: Some MD articles are only available in pdf format. Those articles do not appear in this list. Subscribers to
Digital
and
All-Access
can view every Modern Drummer issue in their available formats. Browse all MD issues from our archive
here
.
Posted: November 10, 2022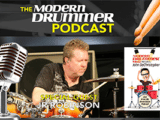 Category: The Modern Drummer Podcast
John DeChristopher Live From My Drum Room With JR Robinson
John's guest this week is legendary studio drummer John JR Robinson. In this episode, JR talks about attending Berklee College in Boston in the early/mid 1970s where his classmates included Vinnie Colaiuta, Steve Smith, Casey Scheuerell and Kenwood Dennard, and studying with Alan Dawson and Gary Chaffee. Going on the …
Posted: December 6, 2019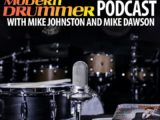 Category: Mike and Mike Podcast, Multimedia, Podcasts
Episode 76: Ergonomics, Blair Sinta, Paiste Rides, and More
In this episode, Mike and Mike discuss February 2017 featured artist Blair Sinta, who recently toured with renowned singer Josh Groban and has been a staple on the LA studio scene for twenty-plus years.
–