A Celebration and Tribute to the Life and Legacy of Neil Peart
Modern Drummer had been planning to bring back the world-renowned MD festival in 2020, and we were ready to put the plan into action. Then the world stopped due to COVID-19. After many discussions, we decided that instead of canceling the festival, we would change formats and produce a pay-per-view show. That would allow anyone to watch it on their TV, computer, or mobile device.
The date we chose was September 12th, which is the late/great Neil Peart's birthday. We also decided to combine the show with a tribute to the Professor, who left us much too soon on January 7.Reaching out to drummers to appear was the next step. With everyone being such a huge fan of Neil, the lineup for our special tribute festival filled up almost instantly. We collaborated with Neil's wife, Carrie, to donate the proceeds from the show to brain cancer research at Cedars-Sinai Medical Center.
Reaching out to drummers to appear was the next step. With everyone being such a huge fan of Neil, the lineup for our special tribute festival filled up almost instantly. We collaborated with Neil's wife, Carrie, to donate the proceeds from the show to brain cancer research at Cedars-Sinai Medical Center.
We had only six weeks to produce the show. But we ended up raising a nice amount for Neil's charity. We had an amazing range of talented drummers perform, and we believe we succeeded in bringing a bit of light to the drumming community in an overall rather dark world. Thank you to everyone who was involved in making the Modern Drummer Festival 2020 a success. What follows is a collection of thoughts from many of the drummers who performed.
DOANE PERRY

(Jethro Tull)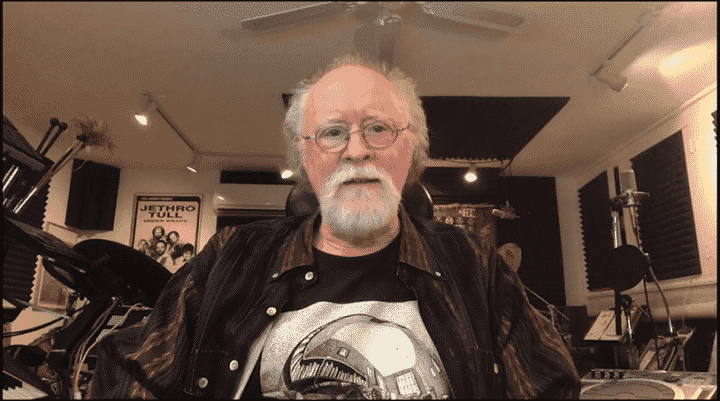 Thank you, MD, for the invitation to participate in not only the festival and tribute to Neil Peart but for your invitation to participate in this feature recapping the festival. The event was so well done, and I can just imagine the mechanics of organization required to make it run smoothly in such a short time period, which had to be even more daunting because of it having to be a remote "socially distanced" event. What a success!
Several months before Neil passed, he invited me over to the house for Sunday lunch and a talk. After lunch, we went upstairs to his office and sat on the balcony because he wanted to discuss something with me. He was completely cogent and "there." After a bit, he asked me if I would do the eulogy for him. I said I would be honored to do that, but first I had two questions. The first question I asked was if there was anything in particular that he would like me to say. He replied simply, "Say whatever you want." The second question was how long I should speak for. Again, he simply replied, "Speak as long as you want." There was a pause, and then I burst out laughing and so did he! I said, "You do know who you're talking to, don't you?" He nodded, smiled, and said, "Of course I do."
Neil and I would have these wonderful, long, rambling conversations over extended lunches and the occasional dinner, both of us barely breathing between trying to chase the multiple streams of conversation. Anyway, we talked a little longer that afternoon, but he was growing tired, so we got up, hugged, and he went and laid down for a nap. I saw him several times after that, and there was always conversation, interaction, and complete awareness about him.
We finally had the private celebration in March of 2020. Even in a bit over thirty minutes, I found myself struggling to condense all of my thoughts about Neil into such a relatively short space of time. I had a lot to say, and besides, how can you encapsulate such an epic life in only half an hour? Thank you to MD for this tribute and for asking me to participate.
KENNY ARONOFF

(session great)
The solo I played was one full take with no edits. A drum solo is a special moment in a song or concert that features the drummer.
It's like the icing on a cake. Icing doesn't exist without the cake, and the cake isn't special without the icing. Since I didn't play with a band or with prerecorded music, my drum solo was both the cake and the icing.
Neil Peart's drum style and Rush's music was the backdrop and inspiration for me when I started creating my solo. The opening rhythmic theme I played in 5/4 was inspired by one of Rush's most popular songs "YYZ." I started my solo by playing four measures of the "YYZ" theme on kick, snare, and hi-hat, then four measures of a 7/8 groove on kick, snare, and ride, then back to "YYZ," and then back to the 7/8 theme.
Then I played the 7/8 groove in a half-time feel on kick, snare, and crash cymbal, and then a four-measure groove in 5/4 on kick, snare, and hi-hat that's inspired by a theme from a Tool song. After that, it was four more measures of that same 5/4 groove on kick, snare, and crash into combinations of four- and six-note figures between snare, toms, and kick (4, 4, 6, 4, 4 6 etc.).
After a stop, I shifted into a 6/8 Afro-Cuban groove on ride, snare, and kick, followed by a 6/8 groove on toms, kick, and snare, a half-time 6/8 groove on hi-hat, snare, and kick, a 4/4 groove on hi-hat, snare, and kick, and then back to a 6/8 half-time groove on hi-hat, kick, and snare into a shuffle in 6/8 on crash, kick, and snare.
After that, I played a swing groove with 4/4 figures on kick and toms (Gene Krupa–style) followed by a rhythmic figure on kick, snare, and toms (Louie Bellson–style). I added this jazz section to honor Neil's love for jazz.
For the finale, I went for an exciting ending comprising 16th notes on kick while I brought back the "YYZ" theme. The end goal was to make my solo groove, have steady time, be melodic, and be creative.
STEWART COPELAND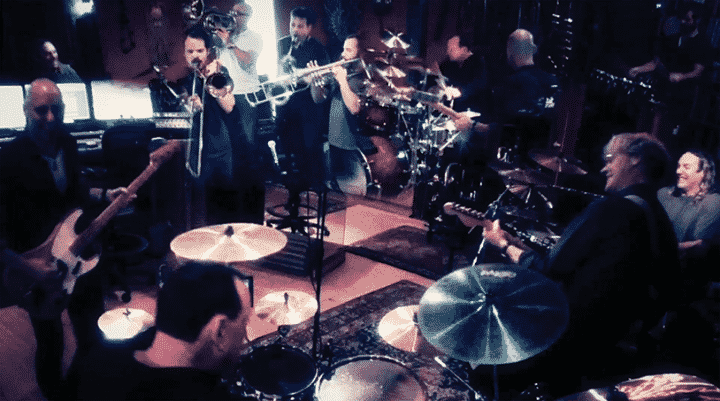 Around closing time at many hotel bars across the land, there are touring bands crossing paths, trading war stories, and wishing there was some place to hang and jam. That's what my Sacred Grove space is for. It's set up for musos to party and play any darned thing on all of the instruments here. Neil always went straight for the drums—because that's where the boss goes.
This time there was another set, so [Tool drummer] Danny Carey came over to lay heavy hands upon them. Matt Scannell grabbed the 1970 Telecaster bass, and I played guitar while Matt Stone chimed on the gongs set.
A couple days later, four more drummers dropped by: Mike Dolbear, Thomas Lang, Dave Elitch, and Aaron Sterling. Since the drums were already on, the young bucks took up the horns to blast praises, with Lang blowing one heck of a bari sax solo. Who knew any of them could play horns? That's what happens here at the Sacred Grove. Miss you, Neil.
NARADA MICHAEL WALDEN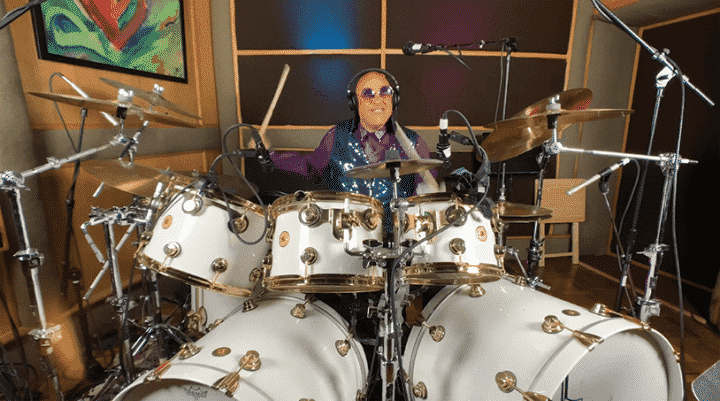 I must say that my involvement with the MD festival/Neil Peart tribute was all because of Billy Amendola's invite and enthusiasm for me to be involved. To prepare my involvement, I looked back to when I listened to Neil and re-realized his command of the instrument. Then I read a few of his quotes about his philosophy about music, drumming, and life.
The idea hit me to include his drumming on the intro and say Neil's quotes throughout my tribute to him. This became fun for me in my Tarpan studios, with Jimmy Jam engineering and Jamil Wallace filming. Long live the message, life, and music of Neil Peart!
TODD SUCHERMAN

(Styx)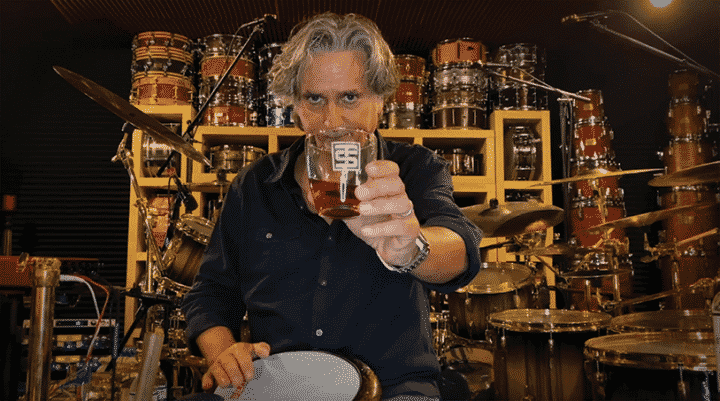 When Modern Drummer asked me to be involved in the tribute to Neil Peart, I immediately thought of composing some sort of piece. Neil composed all his parts within Rush's music. I also immediately thought of playing in an odd-time signature, as Rush was often a gateway band to more complex time signatures for younger drummers.
I settled on 13/8 for my piece, which I called "13 for N.P." As with any odd-time signature, it can be learned by breaking it down in groups of 2s and 3s. So, it was basically played 2-2-3-3-3 and 2-2-3-2-2-2. The samba section is 4-4-5 or 2-2-2-2-2-3.
My long-time engineer, JR Taylor, recorded everything from his house while controlling the gear in my studio remotely (and safely) using Audiomover's ListenTo software. I sent my iPhone 11 video footage to Eric Dorris for editing. Eric was my partner in the Methods & Mechanics DVD series. I owe much to JR and Eric for the quality of the audio/video for "13 for N.P."
I had a big pour of Macallan standing by all day behind the drums. (Macallan is a Scotch Neil had a penchant for.) When the last overdub was played, I slugged it as a toast to Neil. It was an honor to take part in this tribute along with such a wide array of tremendous drummers.
I remember being in 5th and 6th grade learning every note to Permanent Waves and Moving Pictures, so this event meant a lot to me. It's my hope that we all gave a fitting tribute to Neil and that we raised plenty of money for brain cancer research.
DOM FAMULARO

(international educator/clinician)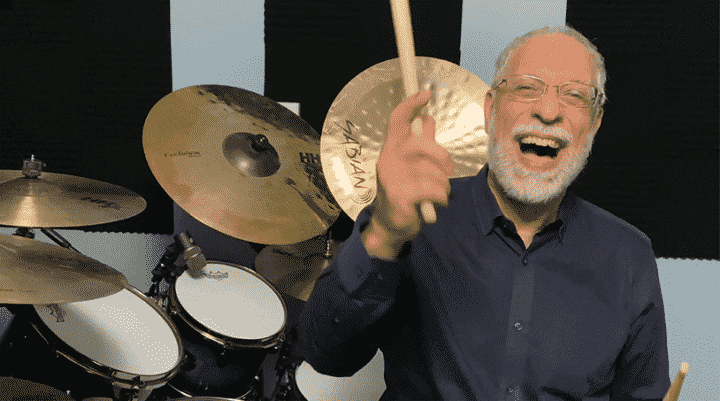 Neil Peart set many new standards in his career. First, his arena performances at each show were a work of art to be remembered forever. He brought people to their feet and lifted everyone's spirit! Second, his lyrics were deep and thoughtful to make us think and step further into understanding life.
Being asked to perform at the festival was an honor and an unforgettable experience that Modern Drummer delivered. For my segment, I wanted to use an arena solo I performed in China. The solo was inspired after I met Neil on Long Island performing with Rush. Joe Bergamini, who had edited Neil's drum books and videos, introduced me. Neil was so interested in talking about drums and improvisation, and he gave me a tour of his drumset. His drums were always an extension of his artistic expression.
My solo was inspired by Neil's conversation. He knew how to bring the best out of people. It was my small way of saying thanks. He raised the bar, and now it is up to all of us to continue to be inspired and push our talents to new heights. All the artists involved helped to make this a very special one-time event. It is nothing short of spectacular and a lifelong memory.
Having Neil end the show was emotional and the perfect way for Neil to remain in our hearts and minds. His playing will be studied for generations to come.
STEVE SMITH

(Vital Information)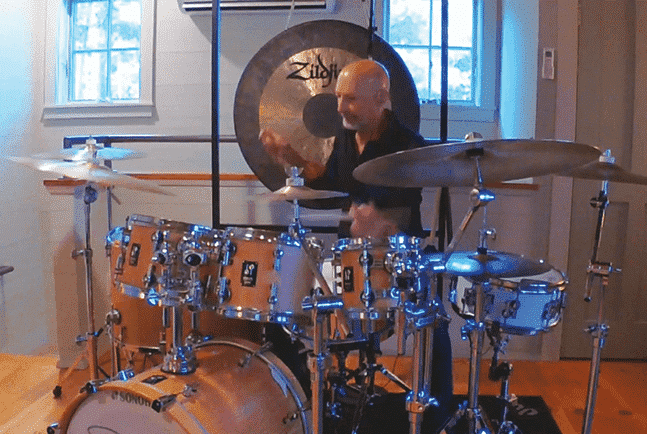 It's always an honor to be part of the Modern Drummer Festival, and I've been fortunate to play quite a few throughout the years. Though playing from home is a far cry from the backstage camaraderie and the thrill of being onstage in front of an appreciative and enthusiastic audience, nevertheless, to video a solo for the fest was inspiring.
Each week I post at least one solo on my social media using the name "From the Practice Room." First I come up with a concept; then I experiment and settle on a form. At that point I go for a take, so it's very much like learning a song and going for a performance that flows from beginning to end.
I film myself with three cameras and send the files to my video editor, Christian Grassart. The entire process can take anywhere from two to four days. Inspired by Neil Peart's legacy, I decided on an odd-time solo in 15/8. The solo incorporates about 40-percent fixed composition and 60-percent improvisation. Because of the complex mix of composition and improvisation, plus the 4-plus-minute length, the piece took me four days to compose, practice, refine, and perform.
The title is "Seven and a Half" based on the South Indian counting system that uses the vocal phrase "seven-and-a-half" to substitute for 1, 2, and 3. "Seven and a Half" is counted "1&2&3&4&5&6&7&-a-half," which turns out to be much easier than counting fifteen 8th notes. Try it sometime.
Fifteen has a lot of rhythmic potential because it's divisible by both 3 and 5. I start with a drum-theme, or hook, then play a 3-over-15 groove that acts as a bridge. Then I go back to the theme before shifting into the improvised solo section.
I conclude the solo by returning to the theme. Improvising in 15 feels natural to me, as I've played that time signature often. The phrases might sound like they go over the bar line, but they stay inside the 15. Toward the end of the solo, I play phrases of 3 with the feet and 5 with the hands.
Another element that I've been working on is incorporating my gong as part of time playing and soloing. That concept makes its public debut in this solo. I offer this solo to the memory and spirit of a man I knew and have deep respect for: Neil Peart.
GREGG BISSONETTE

(Ringo Starr & His All-Star Band)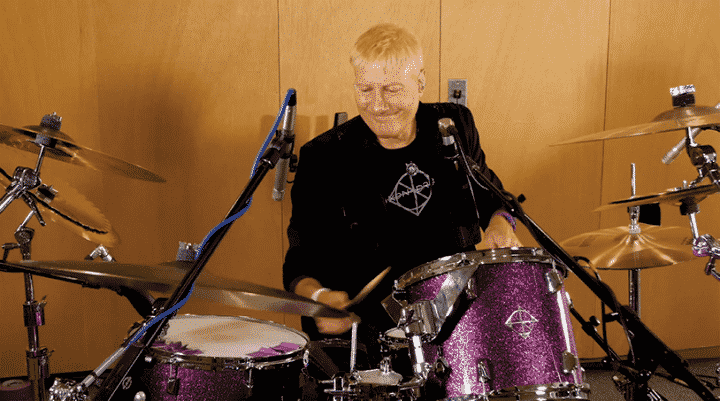 Neil and I were great friends. One day we were double drumming at my house (after we grabbed sandwiches for lunch and went for a boat ride on nearby Westlake Lake near my home). I asked Neil what style he felt like playing. He replied, "Can we just play in 3/4 all day?" I thought that was so great! He really wanted to focus on his 3/4 playing and come up with new 3/4 vocabularies.
We played in a lot of different styles, and we had a blast. I decided to play my entire Neil tribute segment solo in 3/4 in memory of that great day. I sang two 3/4 songs in my head the entire time: "Lum Lum" by my brother Matt and Jimi Hendrix's "Manic Depression." I love soloing over songs. To top it all, Billy Amendola, my longtime pal at MD, asked our great friend, drumming hero, and my All-Starr bandmate Ringo Starr to introduce my segment as a surprise. I was so honored! Thank you!
ALEX GONZÁLEZ

(Maná)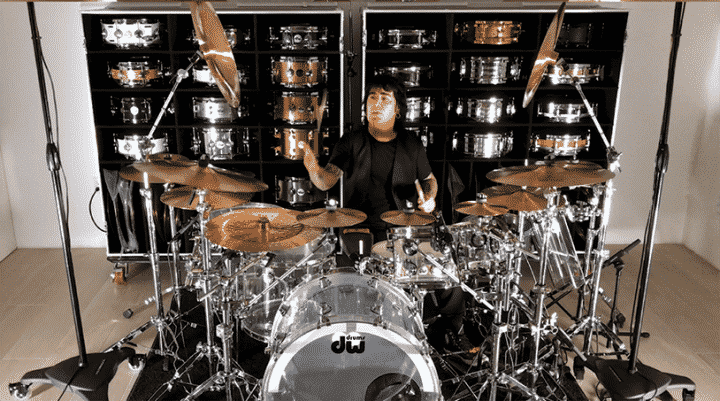 It was an honor to have participated in the Modern Drummer Festival 2020/Tribute to Neil Peart alongside so many awesome and talented drummers. The whole process in doing this was something I had never done before, and it was a lot of hard work. I was the cameraman (with two iPhones), the lighting technician, and the sound engineer, and this was only the second time I had ever recorded in my home studio at my house in Mexico.
It was a challenge, but once I got the take that I liked, I sent it to my friend and awesome sound engineer Stanley Soares in Miami so he could mix it. The video editing was done in Guadalajara, Mexico with my friends Emmanuel Perez and Daniel Robles Madrigal.
I was eleven years old when I heard "Tom Sawyer" on the radio. This band sounded awesome! Then this mini drum break happens near the end of the song. I was like, "This drummer is amazing!" Fortunately, when the song finished, they mentioned the band Rush and the name of the song. So the next day I went to my nearest record store and bought Moving Pictures.
That's when I found out the drummer was Neil Peart and automatically became a fan. Then came Exit…Stage Left, and that record blew me away. Not only was I getting familiar with other Rush songs, but it was the drum solo on "YYZ" that took it to another level. I couldn't believe what I was hearing!
That is such an awesome drum solo, and I would listen to it over and over again and try to imagine what he was playing. When I turned fifteen and started to play professionally with my first band, Sombrero Verde (which is now Maná), I wanted to do a drum solo, and the band supported me in doing one.
Growing up, I had a lot of influences (Neil Peart being one of them) and was trying to develop my own style in the process. But I remember that when it came down to structuring a drum solo, "YYZ" was my main source of influence and inspiration. That solo taught me you can be technical and musical at the same time and how to fully use all of your drumkit. It is so inspiring!
I had the opportunity to see and meet Neil at the Buddy Rich Memorial Concert in 2008 in New York City. I was able to tell him what a huge inspiration he was to me. My solo for the Modern Drummer Festival was a "thank you/muchas gracias" to Neil Peart for being such a huge inspiration to me and the millions of drummers and fans around the world.
BRIAN TICHY

(hard-rock journeyman)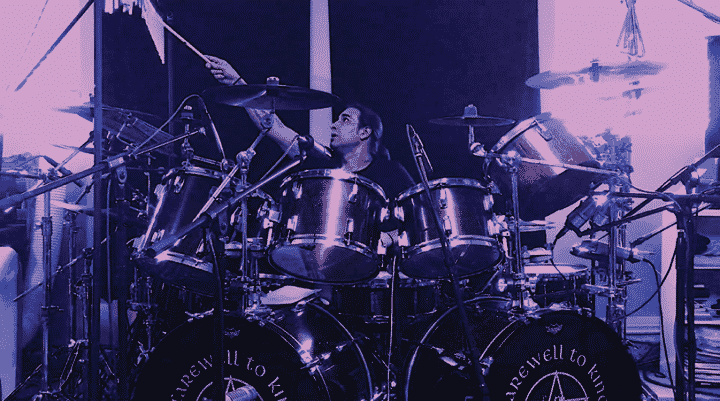 As a subscriber of Modern Drummer magazine since 1983, I was honored to be invited to be part of the MD 2020 festival with a tribute to one of my all-time drum heroes, Neil Peart. Neil left us too soon, and it was a shock to the entire drum and music community. So much of my playing style is owed to Neil's massive influence.
I have a couple of Peart-style kits and really wanted to honor him with a performance on one of them. RIP to "The Professor."
CARMINE APPICE

(Vanilla Fudge)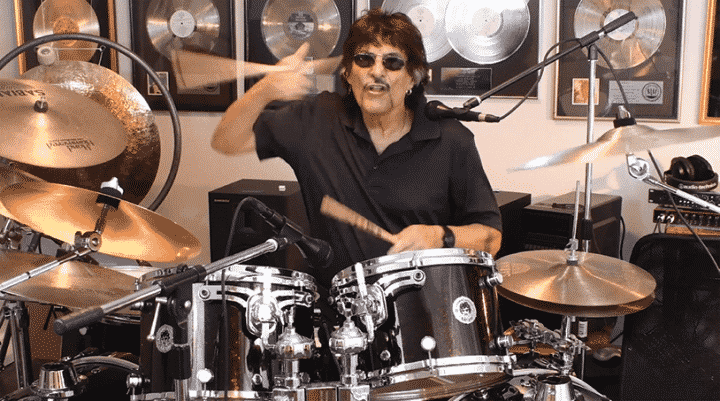 My story starts the first time I met Neil. After greeting each other, we started talking. Neil told me he really liked the Beck, Bogert & Appice song "Lady." I thanked him for that, and he continued talking about the sticking I used on the song (RLLR LRRL). I then told him that I really loved what he did on "Tom Sawyer." The quarter-note feel against the 7/8, the fills, the feel…all of it. So that's the story I told in my segment.
Preparing my performance was interesting because I had just put together a studio to record my drums in our new house in Florida. I was totally into working on getting my drum sounds together and learning how to engineer my drum recordings. Felipe from MD lives nearby, and he came over with his video camera to film the segment. I had to learn how to engineer the session myself, and that was a challenge.
My thoughts were to tell the story and then demonstrate the groove and feel of the song "Lady." Then I played a drum break similar to what is actually on the record. I was pleased when my good friend Steve Smith texted me saying he really liked my segment.
Doing this for the Neil tribute was a great honor for me. He was a great drummer, one of the nicest people, and left us much too soon. God bless, and RIP, brother.
KEITH CARLOCK

(Steely Dan)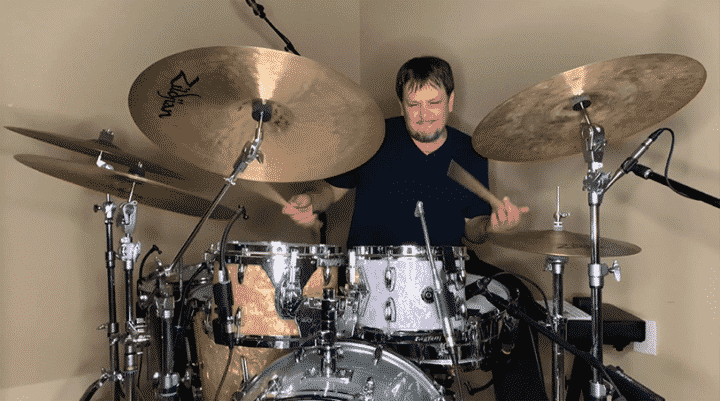 Being invited to play at the MD Festival 2020 virtually was an honor. And being a huge Neil Peart fan also made it even more special. My idea was to play a solo and try to capture something inspired and in the moment. It's a very different vibe without an audience, the energy of a big room, and being around my peers. The drumming community came together and made the best of the situation we are all in. I'm very proud to have been a part of this camaraderie, and it was an incredible night of drumming. Thank you, MD, and all the fans that supported this event and helped raise money for a great cause!
CHARLIE BENANTE

(Anthrax)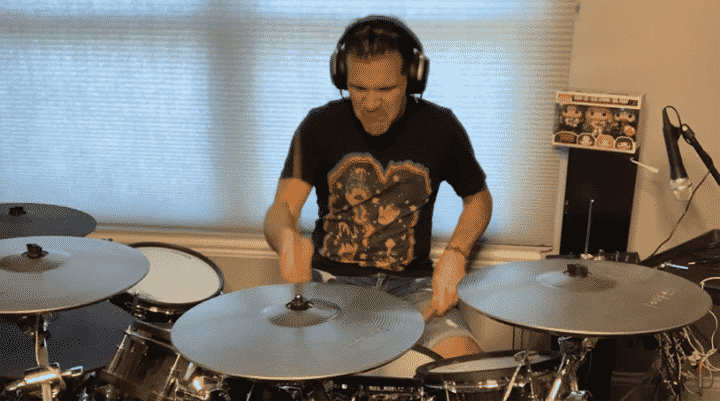 I was really excited to be asked to be a part of the Modern Drummer salute to my inspiration. For my segment, I chose to do a variety of Neil Peart–inspired motifs, licks, and tricks, alongside some of my signature Charlie licks.
I put in acoustic drums and the same electronic Roland kit Neil would play live. I wanted to have a little fun with this, and of course, express my love and thanks for Neil. He was my favorite drummer, but then again, Neil was everyone's favorite drummer!
When I was a kid, I would daydream about Rush songs while I was supposed to be paying attention in school. Then I'd race home to tackle them on my kit. I was obsessed with playing those songs note for note. The first time I saw Rush was on the Permanent Waves tour, and I've seen them on every tour since. Going to a Rush show was unlike seeing any other band. I would always leave completely inspired and wanting to be a better musician.
Every time I saw Rush, my kit would grow bigger because of Neil, and my rolls across the toms would also grow bigger because of Neil. He truly left a lasting impression on me and helped to make me the drummer I am today.
I had a brief encounter with Neil when I was young. I was very nervous and ended up asking what he thought was a stupid question (it was about a drum pedal). Fast-forward many years later, I found myself attending a Golden Gods award show, where Neil was accepting a lifetime achievement award. I was hanging with Mike Portnoy who said, "Hey, I heard Neil is here. Let's go say hello." I was just as nervous as I was the first time I met him. We walked in and there he was! Neil stood up, excited, and said, "Hey guys," shook our hands, and immediately started talking. We (Anthrax) had just put out an EP called Anthems, and the first song on it was a cover of the Rush song "Anthem." Neil said he had heard it and thought it was great. I enjoyed the time spent with him and wished it had been longer.
TAYLOR HAWKINS

(Foo Fighters)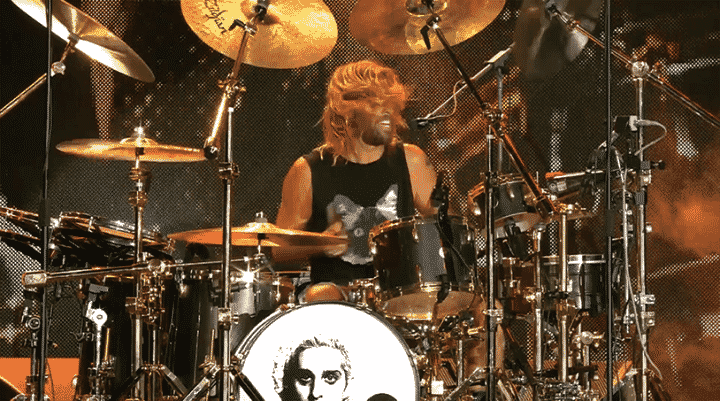 Doing the Modern Drummer Festival and tribute to Neil Peart was essential for me because Neil was the master of the arena-rock drum solo, and I've been ripping him off for years. Most of the technical things I know on the drums, I have picked up directly from Neil and a few others. He took his craft seriously. He was a master. And I'm going to miss going to see him perform every time Rush came through town. I've said it before and I'll say it again: Rush is one of the few bands where people don't run to the beer stand or the merch table during the drum solo. Love you, Neil, and thanks for all the great lessons!
RICK ALLEN

(Def Leppard) and

LAUREN MONROE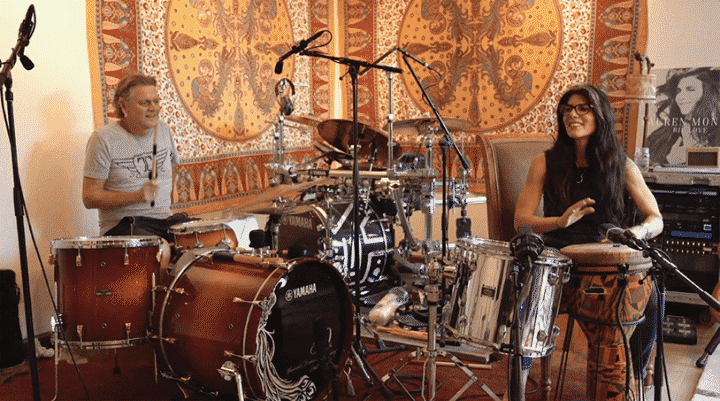 Lauren and I were honored to participate in the Modern Drummer Festival. Playing drums with Lauren is always easy because she has a fantastic groove. I wanted what we played to be a bit different, and it came quite spontaneously and seemed to be the right choice. The only challenge was that we would have enjoyed playing in person. But under the circumstances, we felt MD and all the drummers involved pulled off a very unique event. It was a great experience, and we can't wait to do it again!
RAY LUZIER

(Korn)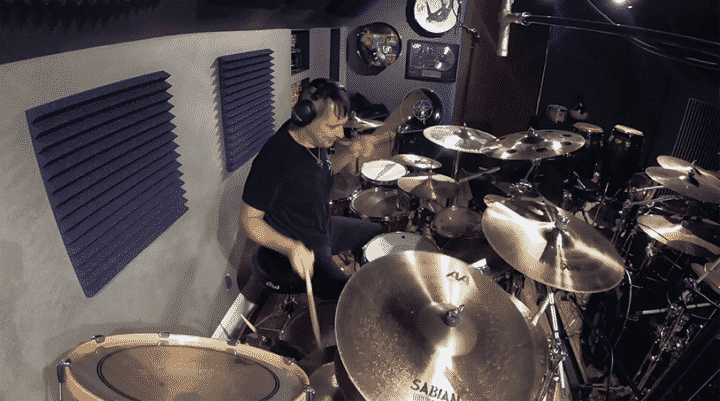 The MD PPV event was a very special one indeed, especially since it was a tribute to Neil Peart, who is one of the greatest and most creative drummers of our time. I was quite honored to be a part of it!
It was quite different having this show online and not live due to the circumstances of 2020. For my segment, instead of a solo, I chose to do a short medley of my two bands, Korn and KXM, with some slight solo pieces added in around the tunes. Although I do love tasteful, creative solos, I felt it was better for me to perform songs for this. A lot of us drummers have home studios now, which helps a lot for these situations.
It was challenging for me because I recorded myself, set up cameras, and edited it all myself. That was a first! I'm used to having engineers and post-production people around. Thanks to MD and everyone that made this event one to remember!
Les DeMerle

(revered jazz drummer/band leader)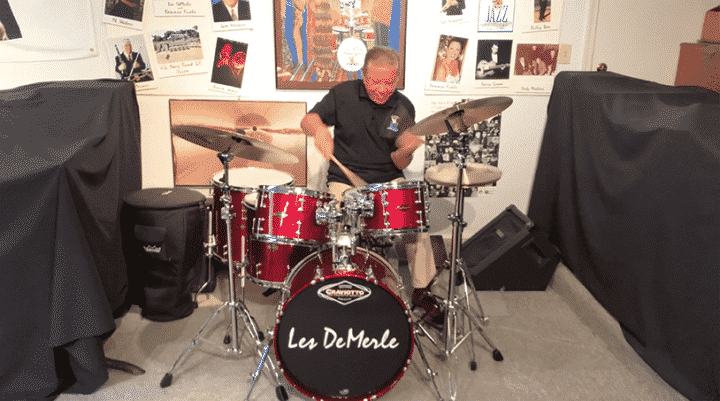 It was a true honor to play on the Modern Drummer Festival: Tribute to Neil Peart. I have always been a big fan of Neil and was fortunate to have had the opportunity to meet him. As a jazz drummer, I approached my solo on the tribute with a concept of what I would play if Neil were right there in my studio with me jamming.
My wife, vocalist Bonnie Eisele, was helping by recording my solo on her cell phone. When we went to record, we decided to focus on the bass drum with my logo and then zoom out to widescreen as my solo developed into a story. The vibe was intense, as I felt Neil's energy in the room, so I came right out of the gate with a fast samba groove that I superimposed with some of my favorite Neil Peart 6/8 grooves.
Having been in the biz for over fifty years, I am known for two kinds of showy moves that I had also incorporated into Neil's tribute solo. Following the samba, and many intense left-hand punctuations, I then changed my dynamics down to a pianissimo buzz roll that I slowly opened wide to a high double-stroke roll where my sticks are wailing about a foot above my head. This is followed by me standing up and grabbing my 16″ crash cymbal under my left arm and bending it before I choke it for the last note of the solo.
Neil Peart was a force and a creative genius. He gave us all the inspiration to continue his legacy because he gave us so much great music and incredible drumming. The love that everyone shared for him at the 2020 Modern Drummer Festival was truly beautiful and heartfelt. Again, I am deeply honored to play on this tribute, and I thank Modern Drummer for this opportunity to share the love for Neil.
CHAD SMITH

(Red Hot Chili Peppers)
First of all, let me express my sincere gratitude to all the people at MD and the Peart family for allowing me to be part of such a beautiful tribute. The love coming from all the musicians participating was palpable. I'm hoping wherever Neil is, he could feel, see, and hear what a difference he has made in so many lives.
As a teenager, my playing changed considerably from aspiring to play like him. I'm sure I'm in a large club of drummers that went down that route. Neil was always growing and challenging himself to keep moving forward, musically and personally. We will not see another like him. His influence will be felt for a long, long time. Neil was a true giant among men. Ride on, Ghost Rider, ride on. Love and respect, always.
DANNY SERAPHINE

(California Transit Authority)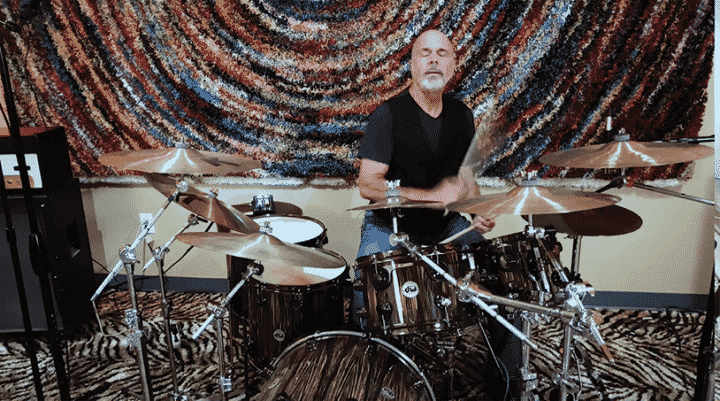 First and foremost, I was honored to be included in the tribute to Neil Peart, one of the greatest drummers of all time and a man with whom I had a very special relationship.
There's always a process I go through when deciding what to perform and what I want to convey to the audience. This one was particularly unusual considering the size and scope of the event and the time frame. I wanted to do something special that related to the mutual respect Neil and I had for one another: Neil's respect for the swing element in my playing, and my respect for Neil's ability to make odd times and very complicated passages in Rush's music sound easy.
After looking over the lineup, I thought a solo from me would get lost amongst all these amazing drummers, so I chose something more groove-oriented that had a strong swing element in it. The track is from my band CTA's first record, Full Circle, called "Antonio's Love Jungle." I hope it provided a contrast from all the amazing drum solos through the course of the show. Most of all I hope Neil enjoyed it from the heavens above. RIP, Neil. Much love to you, always!
BOBBY RONDINELLI

(hard-rock great)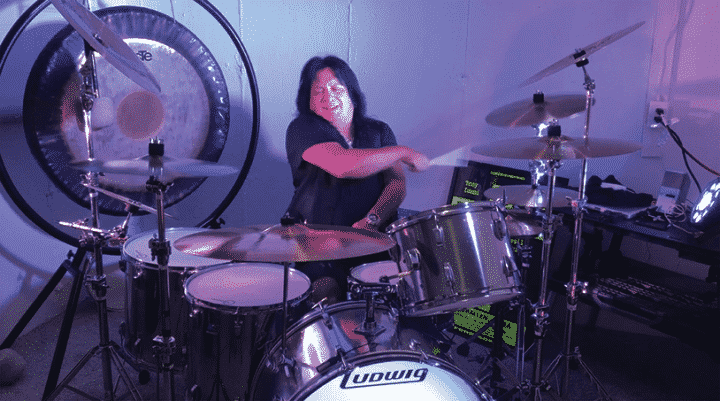 One bright light of 2020 was the Modern Drummer Festival: Tribute to Neil Peart. Drummers from all over got together to perform and pay tribute to the multitalented Rush drummer and lyricist. When I was asked to speak and play on the festival, I was honored. Sharing the stage (virtually) with so many great drummers is humbling.
Neil's style was so recognizable that within one or two bars of a song, you knew it was him. Not many guys have that, but Neil had it.
When I'm not on the road, I teach quite a bit, and to many of my students Neil is their number-one guy. When I was filming the talking part of the tribute video for the festival, my student and friend Matt Ver Straten helped me with recording the video. At the end, I went to pay him something, but he said, "No way, this was for Neil." The next time I saw Matt, he told me that when he left my house and turned on his car radio "Tom Sawyer" was playing. He said he got chills and his eyes started to tear.
As far as my performance, I'm really not set up to record at home, so I kept it simple and recorded the playing segment using an iPhone. I knew I wasn't going to play a Neil kind of solo, and I knew I wasn't going to do a long solo. So we recorded about ten short solos and picked one.
The show was filled with great drummers, fascinating Neil stories, and being on the same show that Ringo was on was awesome! Neil was loved by millions of fans, and his passing hit hard. Neil Peart's life and work will remain as one of the blueprints for progressive-rock drumming and composing forever.
JASON BITTNER

(Overkill)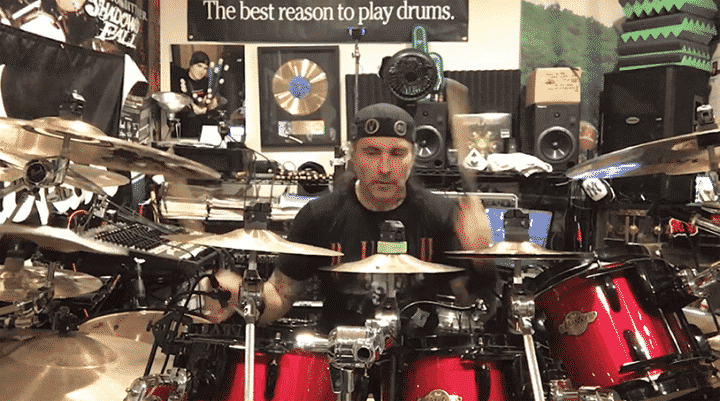 Neil Ellwood Peart was and still is my favorite drummer of all time, my mentor, and lastly a friend. I can't begin to express how much he meant to me from the time I was thirteen years old until now. He made me the drummer I am today, and I miss him tremendously.
Preparing for an MD fest is a challenge in and of itself, because the drumming community is watching your every move. Even though this time it wasn't a "live" performance, I still had to play at the top of my game in order to honor my hero. Normally I would have let this drive me crazy, but luckily this time I took a breath and just let the spirit of the Professor help guide me.
When preparing for my solo, I framed some of my sections based on Neil-like motifs and added different types of feels, as Neil did all the time.
ARI GOLD

(Adventures of Power)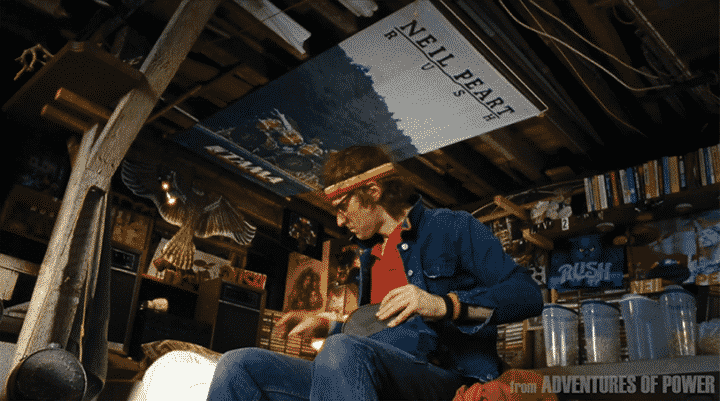 When I was air-drumming to Rush in fourth grade, I'd never have expected that years later I'd make a movie with Neil Peart himself, air-drum alongside him, and end up with a Guinness world record for air-drumming. Such is the life of a somewhat unhinged Rush-loving filmmaker.
The main character of my movie Adventures of Power was born when I punked an air-guitar competition by whipping out air-drumsticks. Based on the crowd's reaction, I realized that there was magical meaning in ridiculousness: the air-drummer represented power to the powerless. I wrote a movie, knowing Neil had to be in it, but how?
Neil had been reclusive for a while, in the aftermath of double tragedies. I wrote a nice letter, and sent it into the ether. Maybe Pegi Cecconi at Anthem thought Neil needed a laugh, who knows, but she passed him the letter. His reply: "In a word, yeah. In two words, fuck yeah!"
Neil arrived at our scrappy indie movie set with a gentle smile to put us at ease. We shared a burrito and talked about music and writing. It turned out we had a lot in common and shared interest in the workings of the human mind and the healing power of music. That's why I'm so honored to be part of this festival celebrating Neil.
Billy Amendola and Modern Drummer was the first magazine to support the film when we self-released Adventures of Power without any ad dollars. At the time, Don Lombardi at Drum Channel suggested we give back, so we arranged a charity auction to rebuild a music program for disadvantaged kids. Neil was the first to donate a drum, starting an avalanche that included Ringo Starr and many others. Soon Neil and I were filming a drums-versus-air promo at Drum Channel while trying to keep a straight face.
Later Neil invited me to air-drum the Canada hockey theme with him and to learn to drive a motorcycle. These stories remain forever painfully incomplete.
The world needs a laugh, every day. And every day the world needs music. Thank you for being one of the good ones, Neil. Now that Adventures of Power is being re-released, we'll support music again, this time raising money for MusiCares, in online screenings in association with Modern Drummer.
MAX SILVERSTEIN

(No1Cares)
For my drum solo, I really just wanted to play something that was very much "me." I knew I'd be featured amongst many other truly incredible players, so I figured the best thing for me to do was to rely on my strengths and not try to be anyone I'm not.
Funny enough, for my first take I did the exact opposite of that. I gave it absolutely everything I had, and by the end of the three minutes I was out of breath, sweating, and without "the take." I did a couple more takes, but it just wasn't happening. So I took a break.
Then I came back inside, sat down at my kit, and did another take while doing my best to think as little as possible. My brother Dillon helped out by filming the piece with his iPhone. My dad and my brother also gave me hand signals, so I would know when I had about twenty seconds left. It was very much a family project. I was happy to be on the show, and I loved the way my dad's intro came out.
I'm proud and thankful to be part of the Modern Drummer family. We've all been living in such crazy times, so to be part of something that puts some good out there and excites people was a really great thing. Thank you!
CARL PALMER

(Emerson, Lake & Palmer, Asia)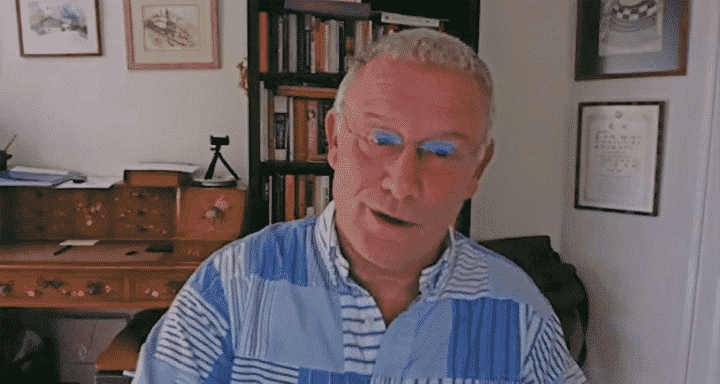 This was a marvelous tribute for Neil, and I think he would have been "over the moon," as we say here in England. I did not have many meetings with Neil, but every time we did talk it was meaningful. I do regret that we did not spend more time together.
I think for Neil's family, this is something they will treasure for a long time, with all of these drummers coming together to play and talk about him. Neil was a humble guy, always ready to listen and learn, and that was the biggest thing I picked up from him.
I did try to get him to change a Slingerland snare drum for various reasons in the '80s, mainly because I had just picked up the new Noble & Cooley Zildjian snare at the time, which was an unbelievable drum. This was our first meeting, so maybe I was a little overpowering for him. Nevertheless, Neil was a gentleman all the way, and he did like talking one-to-one. He was extremely entertaining. He will be missed, never forgotten, and always remembered as one of the great prog drummers of our time.
ROB WALLIS

(Hudson Music)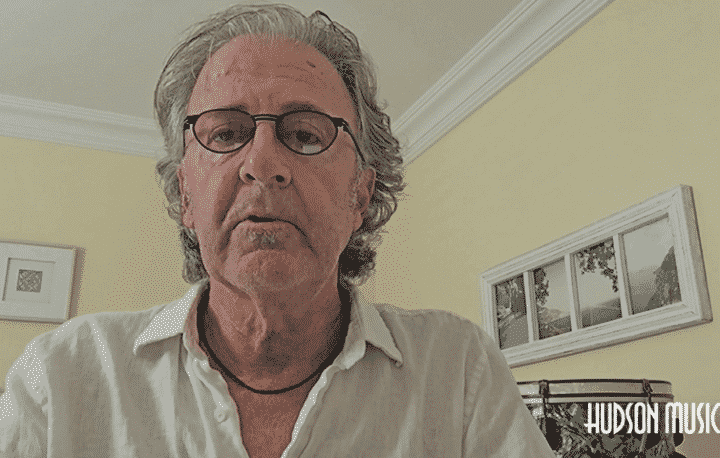 Thank you to the folks at Modern Drummer for producing the festival and raising money in Neil Peart's name for cancer research. I want to share a bit of what went into my contribution to Neil's tribute. It started with getting an eight-terabyte hard drive out of our storage facility. The drive, weighing about thirty pounds and the size of two cinder blocks, contained over a thousand files and somewhere north of a hundred hours of video footage.
I was determined to scan through as much as possible to pull clips, some as short as five seconds, that had never been seen before. Needless to say, it was both a fun task to remember what I had witnessed ten years earlier and an exhausting task. It was something I had wanted to do for a long time, well before Neil's illness set in, so I realized it was now or never.
Watching Neil speak put me in a trance. He was so intelligent and so articulate in take after take during the four days of filming in Death Valley, as well as during the three days we filmed the drumming parts at Drum Channel. Rarely did he ever say anything that needed to be redone. Anyone that's ever filmed themselves knows how difficult talking on camera is, and Neil was literally perfect.
He fielded questions from co-producer Joe Bergamini, giving each answer his full thought and attention. It once again became so clear to me, after having done several other programs with Neil, that he thought about and made conscious decisions about every note he played.
Sometimes he viewed his drum parts as filling out a part of the story or lifting the songs to express what he intended in the lyrics he wrote. He sometimes looked at the trio as an orchestra and figured out how to best make the most music they could as a three-piece unit.
Once the outtakes were selected and put into the MD PPV show format, Al Giordano went about assembling and editing the footage. At this stage, it was a question of moving things around to tell a story and share as much footage as possible to show the Neil most people never got to see. I hoped to show the fun-loving, considerate, generous man that I came to know.
After about ten different edits, we finally nailed what I felt was a powerful presentation. I was honored that Neil sometimes referred to me as a "collaborator" in interviews he'd do, and I am thankful he allowed me into a small corner of his world.
ANDREW DICE CLAY

(legendary comedian/drummer)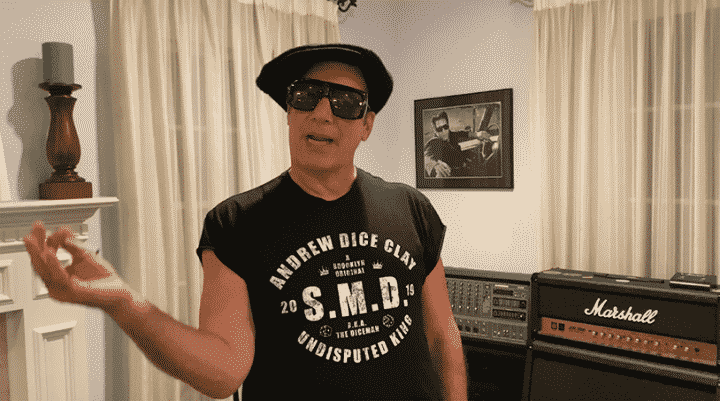 Anytime I get to do something with one or both of my sons, musically, it's always fun. Drums have been in all our lives for all our lives. My son Dillon directed, I announced, and Max got into what I would call an old-school rhythmatic solo. He played the kind of groove that, whether you're a drummer or not, can be appreciated and easy on the ears. It was fun to do and to be part of the Modern Drummer Festival!
JOHN GOOD

(DW)
There are so many memories of Neil that are interesting. Neil and I would talk on the phone, and we would exchange videotapes. We'd talk, and he was fascinated with the timber and shells I was using. And after time went by, I sent him a drumkit. I would hear from him from time to time, and he said, "I've got to come out to DW."
I was happy he was coming, and he rode his motorcycle out to our place. Prior to him coming here, because I knew he was a very private and shy person, I told everyone not to come running up to him with a drumhead to sign or ask for a photo. Let him get comfortable in this, his new home, so to speak. He was living in California now, and I wanted to give him a detailed tour of every little thing we do.
Neil was like a sponge. He was a very smart man who remembered everything. So we went through a couple of hours of a detailed tour, and when we got back to my office, he says, "John, I've got a question for you. Do people here not like me?"
I was like "What? Why?" He replied, "No one made eye contact with me." And I said, "No, I told everyone to be cool and not bother you." And we laughed and laughed. Anyway, he got so comfortable with coming out to us that he began to refer to it as his home away from home. Neil was a guy who liked to rehearse before the band was going to start rehearsals, so he would come to the Drum Channel studios with his big rig and his tech, Lorne Wheaton, and he would play for three weeks at a time.
He got so comfortable being at DW, he even had his own parking spot. We would go to lunch sometimes, and then one day he asked if he could bring his dad. I was like "Of course!"
So he brought his dad, and we all went to the Olive Garden. His dad, Glenn, was so excited to see the factory. As I'm leading them through the tour, I stopped to do something, and the next thing I see is Neil and his dad walking ahead of me while Neil is introducing him to people and telling him what they do. I just walked behind them, watching this father and son in a beautiful bonding moment. He was so proud to show his dad the factory, which he knew inside out.
After Neil passed, Glenn emailed me to recap and to thank me over and over for what he got from that day together. It was such a special, heartwarming moment. Neil was such a private man. It's not that he didn't like people—he just didn't like attention
DON LOMBARDI

(DW/Drum Channel)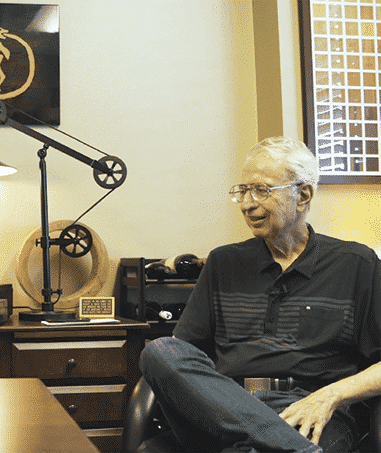 I am always honored to share a few words about my friendship with Neil Peart. I have so many memories of Neil about designing his drumsets and his passion for education. Neil was a consummate teacher and student all at the same time. When Neil said he wanted to do a course on Drum Channel, I asked what he thought the title might be. He said, "Frontiers of Composition and Articulation." I honestly wasn't exactly sure what that meant, but in typical Neil fashion he had it perfectly organized.
very time he visited, he loved getting the opportunity to learn from drummers like Terry Bozzio, Alex Acuña, and others. While he was a drumming icon, in a way he was always a curious eleven-year-old student. He was truly a special person with a unique life that will live forever.
CHRIS STANKEE

(Sabian)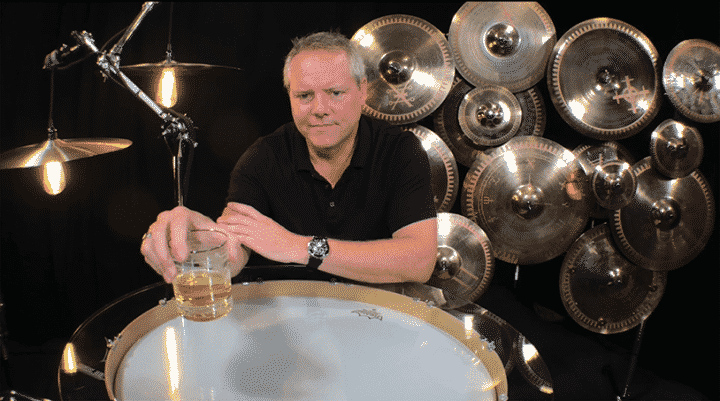 As an industry vet and lover of all things drums, I am so happy to see the Modern Drummer Festival revived for a new generation to enjoy. It was a highlight in what I think we can all agree was a pretty dark 2020. I was honored to share some of my experiences and pay tribute to my friend Neil Peart.
It was heartwarming to hear the tributes offered by so many of the world's greatest drummers. I think Neil would be proud to know that Modern Drummer are helping to develop young drummers through the scholarships offered in his name and grateful to the audience for the donation to Cedars-Sinai cancer center, who most certainly extended Neil's life. Someday there will be a cure.
ERIC LEIDERMAN

(producer for Late Night with Seth Meyers)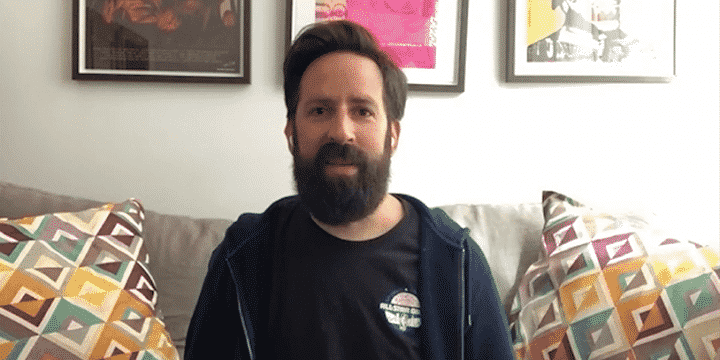 First and foremost, I send a big appreciation and thanks to MD for asking me to be a part of the MD Festival. It was an honor to participate under the banner of two iconic institutions: Modern Drummer and the drumming legend and musician extraordinaire Neil Peart.
It's been a weird pandemic time for everyone, and over at Late Night with Seth Meyers, our rotating drummer program wasn't spared. We scrambled to quickly get the 8G Band working remotely, though it took a few months to get everyone comfortable enough to implement guest players back behind the kit.
One of my favorite people and players, the beast that is Thomas Lang, was one of our first to resume drumming duties. His MD cover story tied in seamlessly with promotion of the festival, making his weeklong stint the kind of promotional timing you wish for. To have all that coincide with the celebration of the gift to the music world that is Neil Peart was a small miracle in these odd times. It was joyous to see both of these worlds combine and flourish, and I'm incredibly grateful to have been a part of Neil's tribute and the festival.
THOMAS LANG

(international educator/clinician)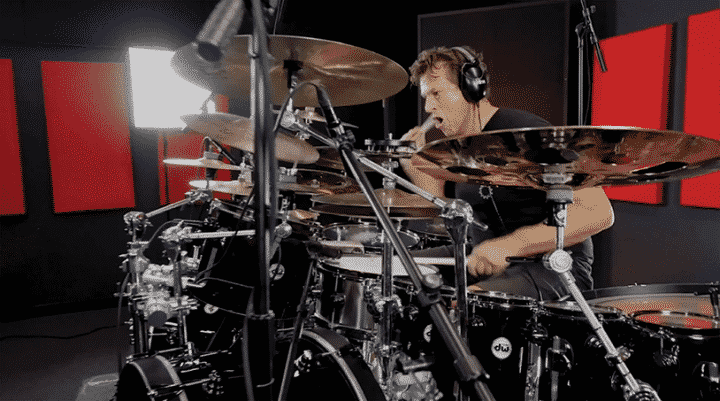 Since this was a MD fest with a special tribute to Neil Peart, I wanted to play something progressive yet classic. Neil was a fan of swing, shuffle, and big band music, so I took his interest in swing feel as inspiration for my solo performance.
I didn't want to use any musical/rhythmic quotes by Rush, so I settled for something more obscure and not commonly associated with Neil. I started my performance with a left-foot shuffle and built a solo around that basic idea, starting on just the snare drum with a march vibe and then expanding to the rest of the kit. I explored various ideas based on that shuffle feel. I didn't prepare anything specific other that. I went on a little percussive journey and played things that I imagined Neil would have found interesting.
JIM RILEY

(Rascal Flatts)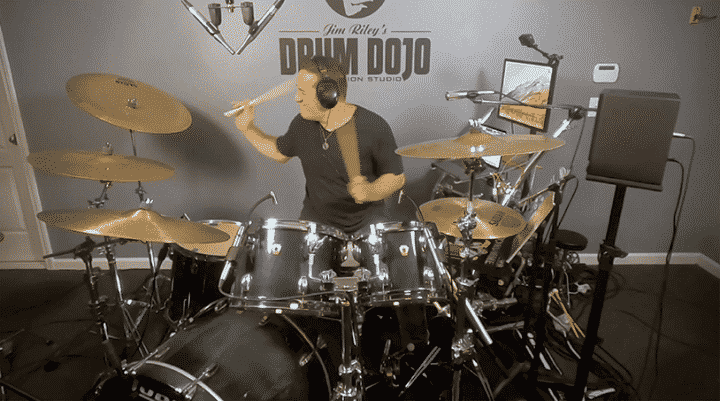 Neil was a huge influence on me at a very crucial time in my development as a musician. He is the only drummer I ever felt I needed to copy note-for-note for this reason: every note he played mattered, and every note he didn't play mattered.
I will be honest and tell you when I went to bed the night before I was recording, I had no idea what I was going to be playing. I was kind of worried, but that morning I woke up with a clear vision. I needed to pull my inspiration directly from the music of Neil's that inspired me. The first section of the piece was inspired by "Tom Sawyer." The tempo, the grooves, and the hits I played were all derived from that song.
The second section was inspired by the melody section in 4/4 of "YYZ." The ride bell pattern that I threw in was a suggestion by a fan on Facebook, and I finished the solo with the classic "YYZ" ending.
It took me a few times to get it, but I got what I felt was a great take just as the batteries on my GoPro cameras started to run low! It was a huge honor to be a part of this historic event, and I can't thank MD enough for the privilege to appear at my second Modern Drummer Festival.
ERIC SINGER

(Kiss)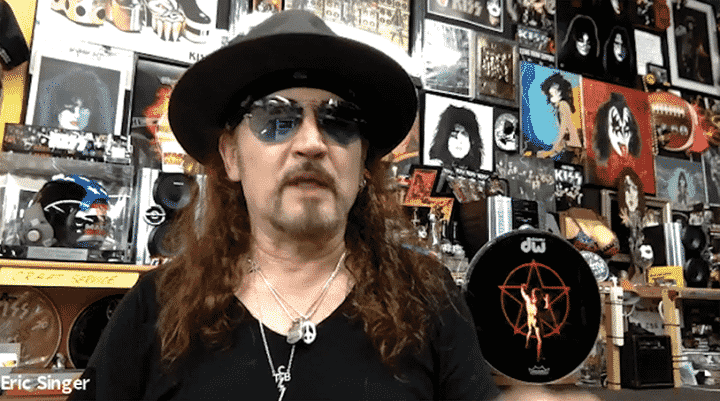 The 2020 Modern Drummer Festival was a fantastic way to celebrate one of our heroes and all things drumming. The three-hour show flew by, as we enjoyed all the drummers who played or shared their stories about Neil. I feel honored that I was able to see him perform front-row twice in his formative beginning years with Rush. He entered the drum scene like a hurricane and never looked back on his way to becoming one of the most iconic drummers our lifetime. My only regret is that I never met him in person.
JOE FRANCO

(Double Bass Drumming)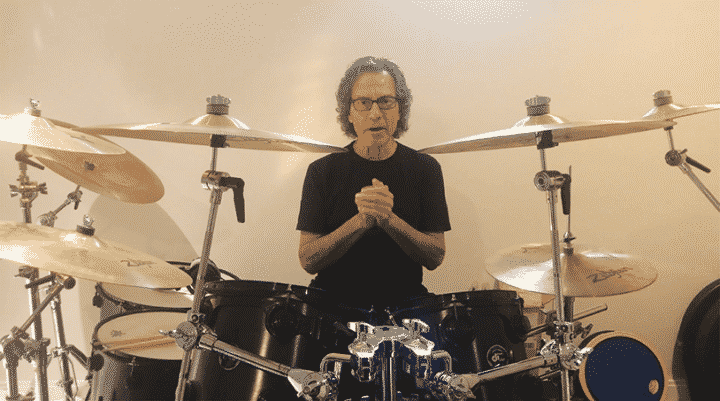 It was an honor to speak at this year's festival. Unfortunately, I was recovering from surgery and unable to play, but I'll tell a story about meeting Neil.
In 1979 my band Good Rats opened a few shows for Rush on their Hemispheres tour. The very first show was at Nassau Coliseum, which was on our home turf in Long Island. We were pretty stoked! As we're finishing up our soundcheck, I looked over to my left and saw Neil checking us out. He came over with a big smile and warmly introduced himself. He asked if he could check out my kit and if I'd like to check out his.
We were just a couple of twenty-something-year-old kids talking shop, and he was full of good vibes. We had a blast playing our show that night and ran a bit overtime. The crowd loved it, but Rush's stage manager Lurch put his arms out like a linebacker and told us we weren't allowed to play an encore because our set was too long. This led to a blowup between our lead singer and Geddy that kind of killed the good vibe between Neil and me.
Sadly, I didn't stay in touch with Neil but followed his career and admired every step of it. The few albums that followed Hemispheres were all amazing in every way: the musicianship, the arrangements, and the production. After Neil's passing, I revisited his vast body of work and also read his Ghost Rider book. What an accomplished man. It's so sad that he left us too soon.
66SAMUS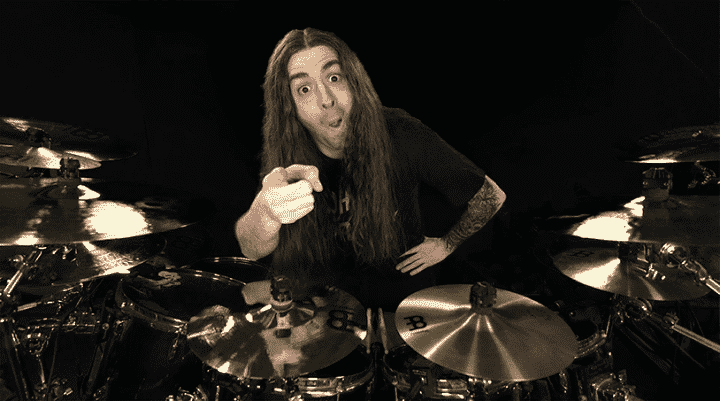 WYATT STAV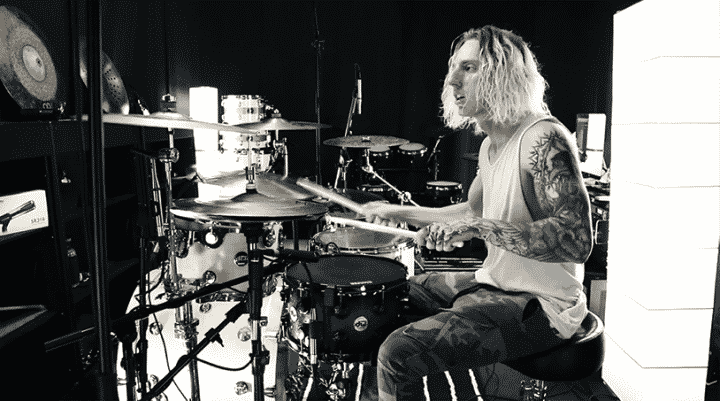 KRISTINA SCHIANO
JACKSON DAW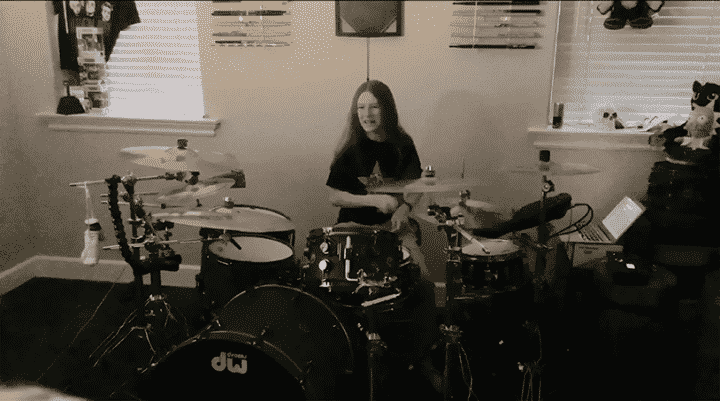 GAVIN HARRISON

(King Crimson)
My drum solo was a tribute to Neil, and I decided to base it off a rhythm of a Rush tune called "YYZ" (the airport code of Toronto, the home airport of Rush, played in Morse code). The pattern fits in a 5/4 time signature. My hope for drum solos is that they are musical, interesting, have some kind of theme to them, and have a flowing narrative.
CINDY BLACKMAN-SANTANA

(Santana)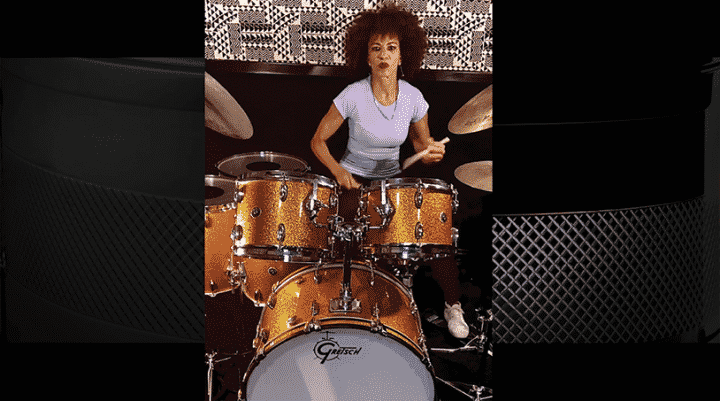 This virtual experience, playing for Neil, was wonderful because he's such a great musician. He gave the music so much passion, and he knew when to play and when not to play. He covered a lot of bases. He was also a great lyricist and a great storyteller. He provided a lot of vibe for the music of Rush.
In terms of playing what I played, I just wanted to offer something from the heart and be real and true for how I felt at that moment. So that's what I did. I didn't want to play too long. I wanted it to be short and sweet, something that I felt was right for the situation. It was an honor to give tribute to Neil and to say thank you to Billy Amendola and everyone at Modern Drummer for always loving and celebrating drummers. It's such an incredible chair. I think drummers are amazing people.
MIKE PORTNOY

(prog-rock great)

I am thrilled that Modern Drummer resurrected the festival in the form of a virtual event. I played the festival twice: once in '95 and then again in '03. The years I did not play, I went.

I was honored to be part of the tribute to Neil Peart. I remember seeing Rush for the first time at the Nassau Coliseum on Long Island in 1992. It was a religious experience for me and the beginning of my Neil fandom.

In 2006, I actually got to meet my hero. After that, he would invite me to soundcheck. And he would send me his books as they came out. It was such an honor to be a part of his life, and—like all the other amazing drummers on the show—my segment was to thank him in some small way with my performance.
---
Special thanks to: Carrie Nuttall-Peart and the entire Peart family, David Steinberg, Craig M. Renwick, Peter Criss, Eddie Trunk, Louise King, Rick Van Horn, Ilya Stemkovsky, Jonathan Moffett, Michael Chiklis, Lorne Wheaton, Mark Love, Hudson Music, Ari Gould/MusicCares, Sweetwater, teachers and students at School of Rock, performers 66Samus, Kristina Schiano, Wyatt Stav, and Jackson Daw, DW, Sabian, Promark, Drum Channel, RTOM, LiveXLive, Thom Mozloom and the M Network, and everyone who performed, spoke, and tuned in.
by Billy Amendola