Los Angeles: Out Now – A Futuristic Drumming Collaboration by Lol Tolhurst, Budgie, and Jacknife Lee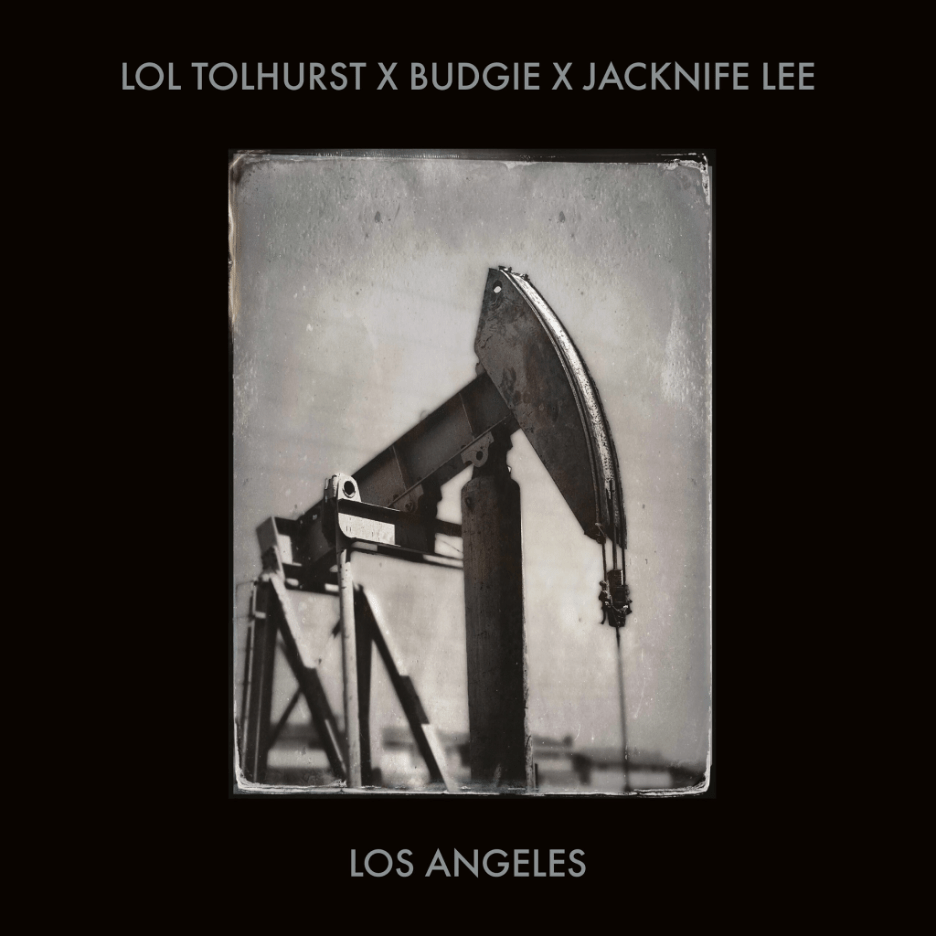 An album that's been in the works for over three years, finally sees the light of day today, and we here at Modern Drummer couldn't be more excited that it's finally out.  It's not often two iconic post punk drumming pioneers  join forces with a producing superpower and make an album that not only hints at their past successes, but sounds uniquely futuristic and full of rhythmic and melodic surprises. Such is the case with this new release, Los Angeles out today on PIAS Recordings.
Who would've known, that a chance meeting between The Cure's co founder, Lol Tolhurst and Siouxsie and the Banshees / The Creatures Budgie while he was on tour with John Grant, back in 2018 would have been the spark that got these two percussive powerhouses to start exchanging ideas, and then soon after  to begin the recording of their debut album, Los Angeles?  Bring in another accidental connection with the producer extraordinaire Jacknife Lee (REM, U2, Radiohead, etc) and they were off to the races, now under the moniker, LolTolhurst x Budgie x Jacknife Lee.
One would think Los Angeles would be "drum-centric" first and it definitely has moments where the rhythms and drums on certain tracks are the most prevailing part of the song, but overall it's more well defined and melodically futuristic sounding at times with guest vocalists and instrumentalists ranging from Modest Mouse's Isaac Brock, Primal Scream's Bobby Gillespie, and none other than the otherworldly guitar sounds from their post punk peer, U2's The Edge.  Full tracklisting is below with the complete list of guest artists who contributed to the album. Advertisement
After listening repeatedly to this album, it's apparent that all three of these artists have put their unique rhythmic and melodic stamps all over it, but in doing so they aren't paying too much homage to the past. Los Angeles sounds like an album from the future, but with very deep roots. I hear echoes of Siouxsie and The Banshees' "Happy House" on a few hi hat snatches puzzle pieced in with certain drum patterns, or dreamlike keyboards that are slightly reminiscent of sounds from The Cure's Japenese Whispers album.  Again, nothing here is being regurgitated, it just seems like an expression of who they are as artists and players and it's definitely not looking backwards but going full steam ahead. My hopes are that not only will new listeners be turned on by this album but they will then hopefully go back to the sources of these inspirations and check out those records as well.
We had the pleasure of speaking to both Lol and Budgie about their amazing musical legacy within their respective bands and the making of Los Angeles with Jacknife Lee, so look for that article soon in an upcoming issue of MD.
Los Angeles is out today on PIAS Recordings on all streaming platforms and available on CD and Vinyl
Los Angeles Tracklist:
This Is What It Is (To Be Free) (with Bobby Gillespie)
Los Angeles (with James Murphy)
Uh Oh (with Arrow de Wilde and Mark Bowen)
Ghosted At Home with Bobby Gillespie)
Train With No Station (with The Edge)
Bodies (with Lonnie Holley and Mary Lattimore)
Everything And Nothing
Travel Channel (with Pam Amsterdam)
Country of the Blind (with Bobby Gillespie)
The Past (Being Eaten)
We Got To Move (with Isaac Brock)
Noche Oscura (with The Edge)
Skins (with James Murphy)
Advertisement