When We Were Young Festival Pre-Show Extravaganza: Rocking Las Vegas!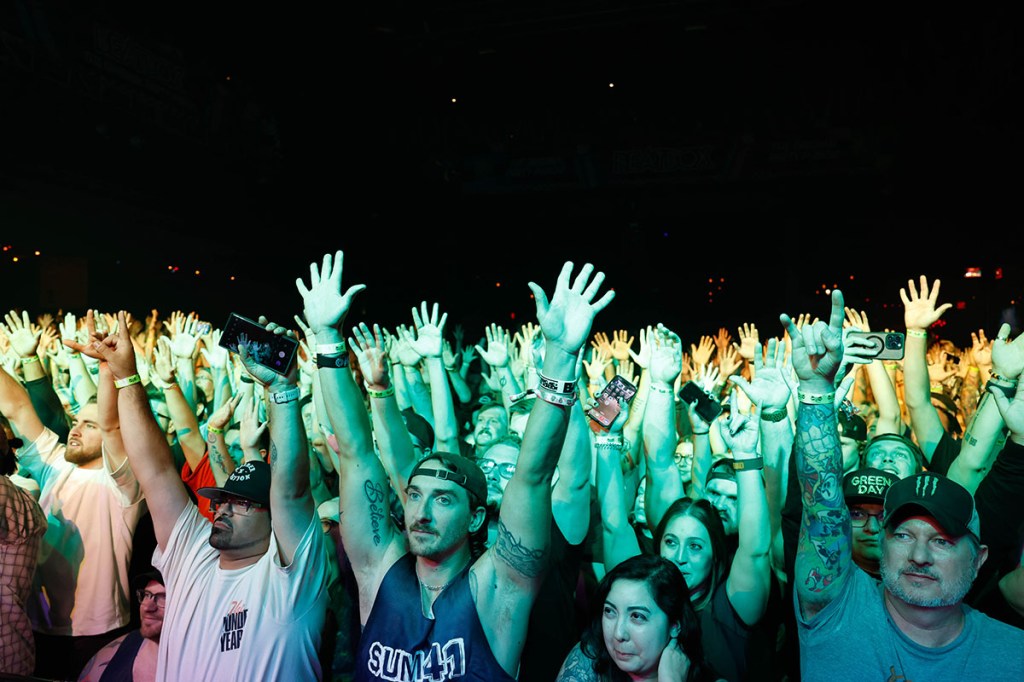 Before and after the When We Were Young Festival in Las Vegas, NV, a series of pre- and after-shows added to the excitement. One of the standout events occurred at the Brooklyn Bowl on the evening prior to the festival's kick-off, featuring a star-studded lineup including Sum 41, Bowling for Soup, Plain White T's, Your Broken Hero, and the ever-evolving ensemble of artists that make up Strange 80's. This event was presented by Charity Bomb and the Unite the United Foundation, creating a night to remember.
Notably, members of Bowling for Soup and Plain White T's could be spotted enjoying some downtime on the bowling lanes, adding a unique touch to the evening. Your Broken Hero started the show, setting the stage for an unforgettable night that lasted around five hours.
Following Your Broken Hero, Plain White T's took the stage. The band, formed in 1997, has maintained its core lineup for the past two decades. This includes lead vocalist/guitarist Tom Higgenson, lead guitarist Tim G. Lopez, bassist Mike Retondo, and drummer De'Mar Randell Hamilton. This same group has consistently delivered musical excellence on their last seven albums, starting with All That We Needed and their self-titled album released this year. Their setlist included hits like "Our Time Now," "1,2,3,4," and, of course, their iconic "Hey There Delilah," which turned into a heartwarming sing-along with the audience. Advertisement
Bowling for Soup, the perfect addition to this event, took the stage next. Next year marks the band's 30th anniversary since their debut album. With co-founders Jarett Reddick and Chris Burney leading the charge, along with drummer Gary Wiseman (who joined in 1998), and bassist Rob Felicetti (the newest member, joining last year), Bowling for Soup is currently on their "Getting Old Sucks" tour. Their setlist kicked off with "Almost" and concluded with their crowd-favorite "1985." Their trademark humor and crowd engagement, including a rendition of the arm-waving motion from "Team America: World Police," added an extra layer of fun to the show.
Sum 41, fresh off a tour with The Offspring and Simple Plan, took the stage following a swift changeover. Boasting 3/4 of their classic lineup, including vocalist/guitarist Deryck Whibley, lead guitarist Dave Baksh, and bassist Jason McCaslin, the band has been rejuvenated by Baksh's return in 2015. Frank Zummo, known for his work with bands like Motley Crue, Julien-K, and Street Drum Corps, joined the group following the departure of original drummer Steve Jocz a year earlier. Zummo has played on their last two releases and will be featured on their upcoming album Heaven and Hell. Sum 41's setlist drew from their first four albums, with hits like "Motivation," "In Too Deep," "Fat Lip," "The Hell Song," "Over My Head (Better off Dead)," and "Still Waiting," delighting fans.
After these four remarkable sets by Your Broken Hero, Plain White T's, Bowling for Soup, and Sum 41, it was time for Strange 80's. The evening kicked off with "Games We Play," a tribute to iconic artists like Madonna, Pat Benatar, Bon Jovi, Stevie Nicks, Bon Jovi, David Bowie, The Cars, and Beastie Boys. The show featured special guests, including The Offspring's Noodle and Todd Morse, Less Than Jake's Chris Demakes, Roger Lima, and Peter "JR" Wasilewski, Save Ferris's Monique Powell, and Lilith Czar. Advertisement
Over the following two days, The Offspring, Sum 41, Bowling for Soup, Plain White T's, Less Than Jake, and Games We Play all graced the stage at the When We Were Young Festival, making it an unforgettable weekend of music and memories.