When We Were Young Festival: A Nostalgic Journey with Pop-Punk Legends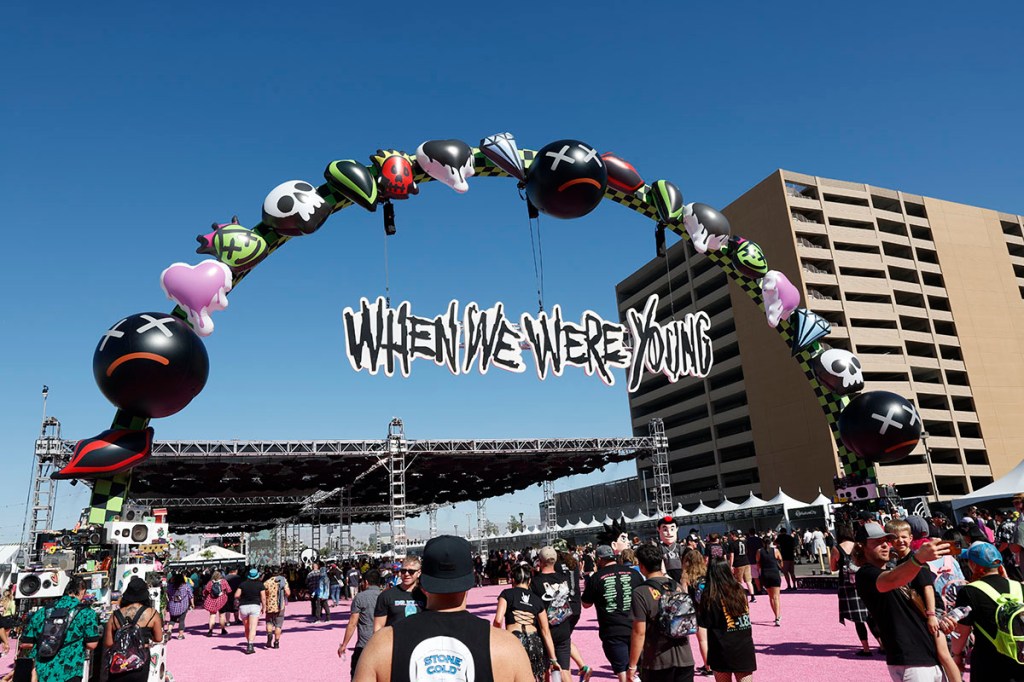 What happens when you bring together over 50+ bands, featuring some of the biggest and most influential Pop-Punk & Punk-Rock artists from the '90s and early '00s, alongside today's emerging acts? You get the When We Were Young Festival, a two-day musical extravaganza at the Las Vegas Festival Grounds. Organized by the team behind renowned events like Lollapalooza, Austin City Limits, and Sick New World, When We Were Young couldn't have been given a more fitting name. The festival featured bands that resonated with fans in their 20s, 30s, and 40s who grew up on their music, as well as artists whose timeless appeal knows no age.
The grand finale featured none other than Green Day's Tre Cool and Blink-182's Travis Barker. The festival encompassed four stages, with two main stages playing back-to-back (Green and Pink), and two additional stages (Stripes and Ghost) placed nearby. Upon entering the festival, attendees were greeted with a nostalgic display of vintage TVs, speakers, and VHS tapes, setting the tone for a trip down memory lane. With Halloween around the corner, there was even a spooky graveyard to add to the atmosphere. Blink-182 fans could also commemorate the release of their new album, "One More Time…," by taking photos in front of the band's mural outside the restroom area.
The day kicked off at 11:10 A.M. with Fenix TX on the Pink Stage, followed by Games We Play, who warmed up the crowd on the Stripes stage at 11:15. The Ghost Stage got underway at 11:35 with Magnolia Park, while the Green Stage hosted The Ataris at 11:45. The day continued with sets from New Found Glory, Yellowcard, Michelle Branch, Pierce The Veil, MxPx, Finch, Gym Class Heroes, and Rise Against. Advertisement
Throughout the day, iconic songs filled the air, including "Ocean Ave." by Yellowcard, "Hey There Delilah" by Plain White T's, "1985" by Bowling for Soup, "My Life Story" by MxPx, "Superman" by Goldfinger, "Cupid's Chokehold/ Breakfast in America" by Gym Class Heroes, "Youngblood" by Five Seconds of Summer, "Savior" by Rise Against, "Dear Maria, Count Me In" by All Time Low, "Everywhere" by Michelle Branch, "King for a Day" by Pierce the Veil, and "Addicted" by Simple Plan.
Sum 41, masters of early 2000s Pop-Punk, took the stage with their unforgettable albums like "Does This Look Infected?" and "All Killer No Filler." The band consists of frontman/guitarist Deryck Whibley, lead guitarist Dave Baksh, bassist Jason McCaslin, rhythm guitarist Tom Thacker, and Frank Zummo, who joined the group in 2015, replacing original drummer Steve Jocz. Their set was filled with fiery performances of iconic '00s songs like "The Hell Song," "Over My Head (Better Off Dead)," "In Too Deep," and "Fat Lip." Sum 41 is preparing for a final tour and album next year, making it a bittersweet moment for fans.
As night fell, fans eagerly awaited the return of Good Charlotte on the Green Stage. The band's second-to-last concert in 2019 took place in Las Vegas, and this highly anticipated performance didn't disappoint. Good Charlotte, with Benji and Joel Madden, Paul Thomas, Billy Martin, and Dean Butterworth, delighted the crowd with hits like "The Anthem," "Girls & Boys," and "Lifestyles of the Rich & Famous." Advertisement
Thirty Seconds to Mars followed with an electrifying set, featuring special effects and a surprise appearance by Tim Mcllrath of Rise Against for "This Is War." The set ended with photographers and guests joining the band onstage for "The Kill (Bury Me)." The second night saw Steve Aoki joining in for "Stuck" and Kennyhooplah for "The Kill (Bury Me)."
The Offspring, fresh from their tour with Sum 41 and Simple Plan, delivered an explosive 10-song set, opening with "The Kids Aren't All Right" and including major hits like "Come Out and Play," "Why Don't You Get a Job?," "Pretty Fly (For a White Guy)," "You're Gonna Far Kid," and "Self Esteem." The Offspring, featuring Dexter Holland, Noodles, Todd Morse, and Brandon Pertzborn, played tracks from their 1989 debut album, marking one of the earliest releases among the festival's lineup.
Blink-182 closed out the Pink Stage, starting at 8:25 PM following The Offspring. Blink-182's lineup underwent changes over the years, with founders Tom DeLonge and Mark Hoppus joined by drummer Travis Barker. The band took a hiatus, then Tom DeLonge left in 2015, replaced by Alkaline Trio's Matt Skiba. After DeLonge's return in 2022, Blink-182 embarked on a major summer tour. Their setlist featured crowd-pleasers like "The Rock Show," "Feeling This," "Stay Together for the Kids," "I Miss You," and "All the Small Things." They released their first album as the classic trio in 20 years, titled "One More Time…," the day before the festival. After the festival, Blink-182 announced a major arena/stadium tour for 2024 with Pierce the Veil. Advertisement
To close out the night, Green Day took the stage after an intro featuring Queen's "Bohemian Rhapsody" and The Ramones' "Blitzkrieg Bop." Their energetic set included classics like "American Idiot," "Jesus of Suburbia," "Holiday," "Boulevard of Broken Dreams," "Know Your Enemy," "Basket Case," "When I Come Around," and "Wake Me Up When September Ends." After an electrifying performance, Green Day concluded with their timeless hit, "Good Riddance (Time of Your Life)," accompanied by a spectacular fireworks display.
Green Day, consisting of Billie Joe Armstrong, Mike Dirnt, and Tre Cool, delivered a set that captivated the audience. The band recently announced a major tour for the following year with The Smashing Pumpkins, Rancid, and the Linda Lindas. Since 1990, Green Day has been a musical force, releasing iconic albums like "Dookie," "Nimrod," and "American Idiot."
The festival also featured surprise collaborations, including Vic Fuentes and Tony Perry of Pierce the Veil joining Yellowcard for the live debut of "Three Minutes More," Avril Lavigne teaming up with All Time Low for "Fake as Hell" and "Sk8r Boi," Tim Mcllrath of Rise Against performing "This Is War" with Thirty Seconds to Mars, Ryan Key of Yellowcard joining Rise Against for "Swing Life Away," Mike Herrera of MxPx and Jaret Reddick of Bowling for Soup collaborating with Simple Plan for "I'm Just a Kid," and Tony Hawk making a special appearance during Goldfinger's performance of "Superman," a song featured in his first Pro-Skater video Advertisement