Red Hot Chili Peppers' Unforgettable Night at the Silverlake Conservatory of Music Benefit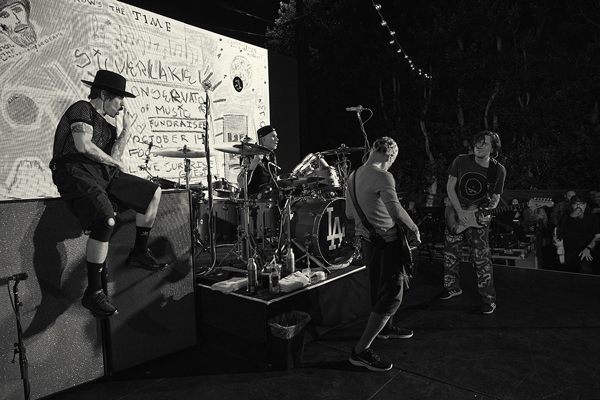 For 40 years, the Red Hot Chili Peppers have been a significant part of the Los Angeles music scene. With the return of guitarist John Frusciante, the band released their first number one album, Unlimited Love, since 2006's Stadium Arcadium and embarked on their Global Stadium Tour, which included a stop at SoFi Stadium in Inglewood, CA, along with several major festival performances. The RHCP played their second and final L.A. show of the year at a benefit for bassist and co-founder Flea's Silverlake Conservatory of Music, which they also performed at last year. This intimate show had an audience of around 300, and actor/comedian JB Smoove served as the evening's host. King Princess, who has been opening for the group, also performed.
RHCP's drummer of 35 years, Chad Smith, who is also the recipient of Modern Drummer's 2023 Readers Poll award for Rock, is no stranger to intimate gigs outside of the group. He recently played at Aviator Nation in Malibu, CA, and has performed numerous times at the Baked Potato with his own group, the Bombastic Meatbats. Whether it's a stadium show or an intimate gathering, Smith always gives it his all. For this show, he used his most recent tour kit.
The setlist consisted of eight songs, beginning with The Ramones' "Havana Affair," a track that hadn't been played since 2007. For these shows, the band revisits rare songs, as they did with "Out In L.A.," which was performed for the first time since 2004. This particular song dates back to their first album, released in 1984 when their original drummer was Jack Irons (also of Pearl Jam). They also played "Eddie" from their latest album, "Return of the Dream Canteen," as well as classics like "Californication," "Tell Me Baby," and "By The Way." Additionally, they performed "Snow ((Hey Oh))," a major hit from Stadium Arcadium, and "Watchu Thinkin'" from Unlimited Love. Advertisement
The benefit took place at the school's outdoor venue. The Silverlake Conservatory of Music was founded back in 2001 by Flea, Keith "Tree" Berry, and Peter Wise to fill the void left by schools cutting arts programs. Initially offering private lessons, the school expanded to include summer classes, ensemble classes, and workshops. Housed in a brick building from the 1930s since 2016, the school now boasts over 40 instructors and a board of directors that includes Flea and Anthony Kiedis.