Coldplay's Two-Night Takeover at Snapdragon Stadium: See Photos And Read Our Coverage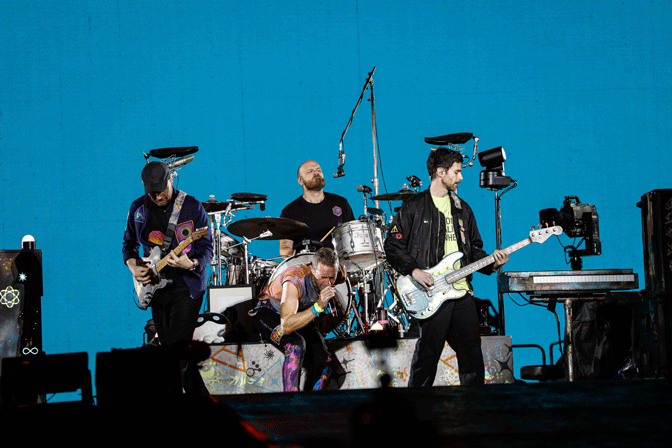 Since the release of Parachutes in 2000, Coldplay has become one of the biggest bands globally and in 2015 had the 3rd highest-grossing tour of all time with A Head Full of Dreams. After five years off the road and figuring out a more eco-friendly way to tour, Coldplay began their Music of the Spheres World Tour in 2022 supporting their 2021 release of that name. It became one of the fastest selling tours in history and all upcoming shows have sold out. This massive stadium tour began on March 18th in Costa Rica last year and hit the U.S. beginning May 7th through June 14th then continued overseas until coming to the U.S. again a week ago (also included two dates in Canada). This short run of North American dates only includes seven shows and their last time playing around the L.A. area was part of iHeart's AlterEgo at the KIA Forum in January last year. This tour includes hits from their incredible catalog which includes four number-one albums in the U.S. (All 9 releases hit number 1 in the UK) and albums that achieved ARIA certified platinum albums ranging from platinum to 7x platinum. On tour with Coldplay are H.E.R. and 070 Shake. On September 27th and 28th, the band stopped at the new Snapdragon Stadium in San Diego, CA, home of the San Diego Aztecs (NCAA).
A Coldplay show features everything you could ever want from an epic stadium show with fire, fireworks, three stages, confetti, and wristbands that create some incredible effects. Coldplay formed with lead vocalist/keyboardist/guitarist Chris Martin, lead guitarist Johnny Buckland, and bassist Guy Berryman in 1997, within a year Will Champion would become the drummer and this has been their lineup to this very day which includes nine highly successful albums and tours. Rewind 23 years, Coldplay was playing at the Mayan Theater in Los Angeles, CA for two nights and fast forward to 2023 with two sold-out nights at the Rose Bowl in Pasadena, CA (also in 2016 and one night in 2017).
The show is broken into four acts which are Planets, Moons, Stars, and Home (encore). Starting with their performance of "Paradise" at the Grammys in 2011, wristbands were distributed at Coldplay shows to attendees which lit up in several different colors in synchronization. The bracelets were also able to form hearts and split colors across the audience. Coldplay is the type of band that starts and ends big with a major firework finale after "Biutyful." Coldplay performed a set that began with "Higher Power," and played hits over the last 2.5 decades such as "Clocks," "Viva La Vida," and "Something Just Like This." Before Coldplay walked out their intro songs were Jon Hopkins's "Light Through the Veins" and "John Williams's "Flying Theme" to E.T. Advertisement
The show began with the band walking down the pit before going up to the catwalk. Berryman, Buckland, and Champion walked to the main stage, and Martin started the show off on the B-stage (end of catwalk) with "Higher Power" followed by "Adventure of a Lifetime" and "Paradise." In that time there was confetti and giant balloons tossed out. Martin made his way back and forth and at one point came behind Champion and also sat down between Berryman and Buckman. In the last song of Act III "A Sky Full of Stars," Martin asked fans to put their phones away and there was quite a light show coming from the wristbands. Each night Martin brings up 1-2 fans from the audience to the B-stage while he's at the piano and comes up with an improvised song on the spot. The final act of the show was performed on a C-stage which was on the back of the floor with Champion on cajon. Also in the last act of the show, the eight planets that revolve around the sun were represented with large spheres replicating each one. On "Viva La Vida," Champion's performance on the B Stage primarily features two floor toms and a church bell-like instrument, mirroring the recording. In contrast, "Clocks" called for an all-out, high-energy approach due to its fast pace. The band concluded the show on the main stage.
Following the two Rose Bowl shows in Pasadena that took place after Snapdragon, CA, Coldplay will head to Japan and the tour will continue across the globe ending September 2nd, 2024 in Dublin, Ireland.