2023 Readers Poll: Chad Smith Wins "Rock" Category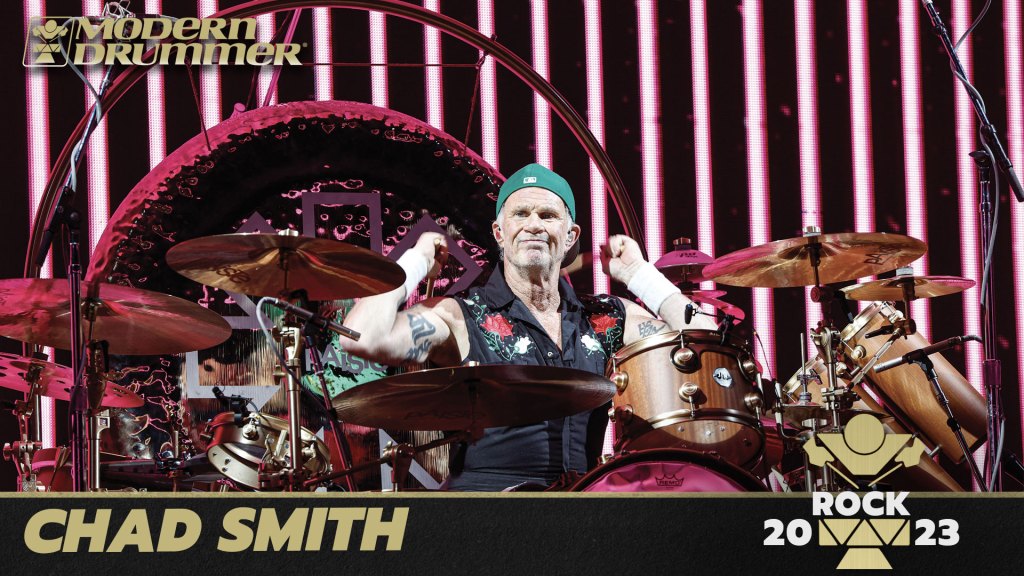 The winner of the "Rock" category in Modern Drummer's 2023 Readers Poll is… Chad Smith!
The longtime Red Hot Chili Peppers drummer made yet another outstanding impact throughout the last year, complete with two Chili Peppers albums: Unlimited Love and Return of the Dream Canteen. On both albums, Smith's technical abilities behind the kit, as well as his compositional approach, are inseparable from the band's overall sound, and he's a huge factor in why Red Hot Chili Peppers have continued their dominance as a rock band. With John Frusciante back on guitar, Smith and bassist Flea return as a refreshingly funky rhythm section, and the songs feel lifted straight from jam sessions.
Not only were his recording contributions celebrated, Smith and his band embarked on an extensive world tour throughout the last year, playing hundreds of stadium shows, headlining festivals, and acing the occasional underplay (this writer attended Red Hot Chili Peppers' special show at The Apollo Theater in New York City for SiriusXM last fall, and Smith — who happened to be celebrating his anniversary that night — was at an all-time high).
Chad Smith has had an extensive history with Modern Drummer. He first appeared on the cover of the 1994 issue, and had subsequent cover stories in 1999, 2006, 2011, and 2020, and 2022. Smith has appeared in dozens of MD features over the years, including multiple previous Readers Poll wins, lessons for drummers looking to build their skillsets, transcriptions of his most iconic grooves, and several more interviews about the art of drumming. Chad Smith, the legend that he is, is also featured on Volume 3 of Modern Drummer's Legends series. Advertisement
Read more about Chad Smith's extensive drumming history through the Modern Drummer archive here, and pick up our exclusive Modern Drummer Legends Vol. 3 — Chad Smith book bundle here.
For more on this year's Readers Poll winners, click here.