2023 Readers Poll: Sarah Jones Wins "Pop"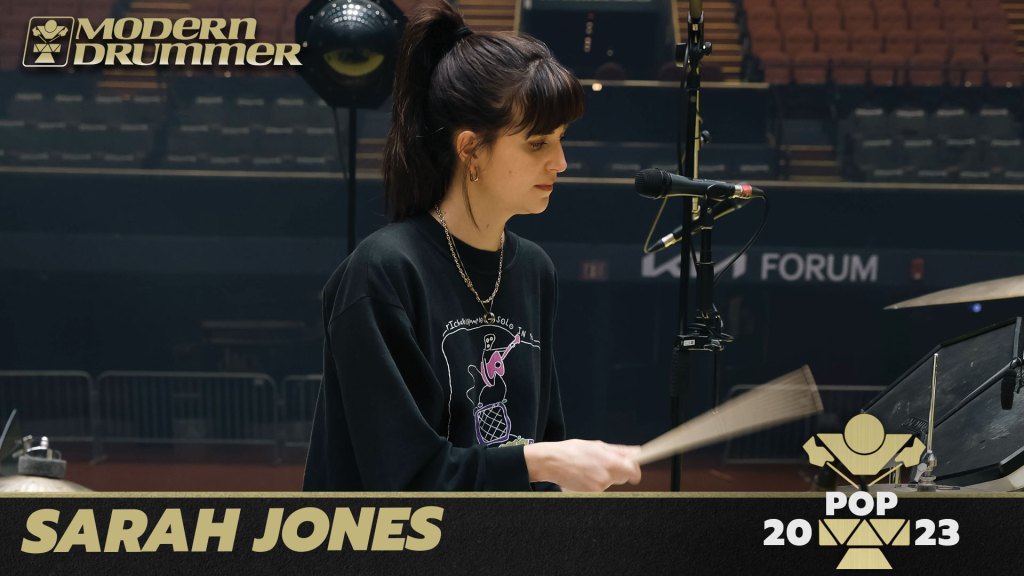 The winner of the "Pop" category in Modern Drummer's 2023 Readers Poll is… Sarah Jones!
Sarah Jones landed the coveted gig of Harry Styles' live drummer for his first solo tour in 2017, and has remained a fixture of Styles' live shows ever since. Over the last year, Jones completed dozens of shows with Styles, and played a significant role in representing the more rhythm-focused tracks on Styles' 2022 album, Harry's House.
Speaking to Modern Drummer for her June 2023 cover story, Jones opened up about her experience in Styles' band, frequently singing backup vocals on track, coordinating specific electronic elements, and often playing in the round. She also discussed her love for vintage drums, and went in depth on the process of finding the perfect kit. When asked about her process and how she learned all of Styles' songs, she said: "My approach is to listen, listen, listen, to the song to figure out what I'm going to play. It takes a while for music to 'sit.' You can listen to or hear a famous song and you think you know it, and then you go to play it and find out you don't know it at all… to learn a song, you listen in a completely different way. I kind of listen to the music as a whole and then I listen to what the drums and the percussion are doing."
In addition to appearing on the June 2023 cover, Jones previously featured in a January 2021 issue and won the "Pop" category in the 2021 Modern Drummer Readers Poll. See more of Sarah Jones' Modern Drummer highlights here. Advertisement
For more on this year's Readers Poll winners, click here.