Danny Elfman Brings Career-Spanning Show Back to SoCal: See Photos and Read a Q&A with Drummer Ilan Rubin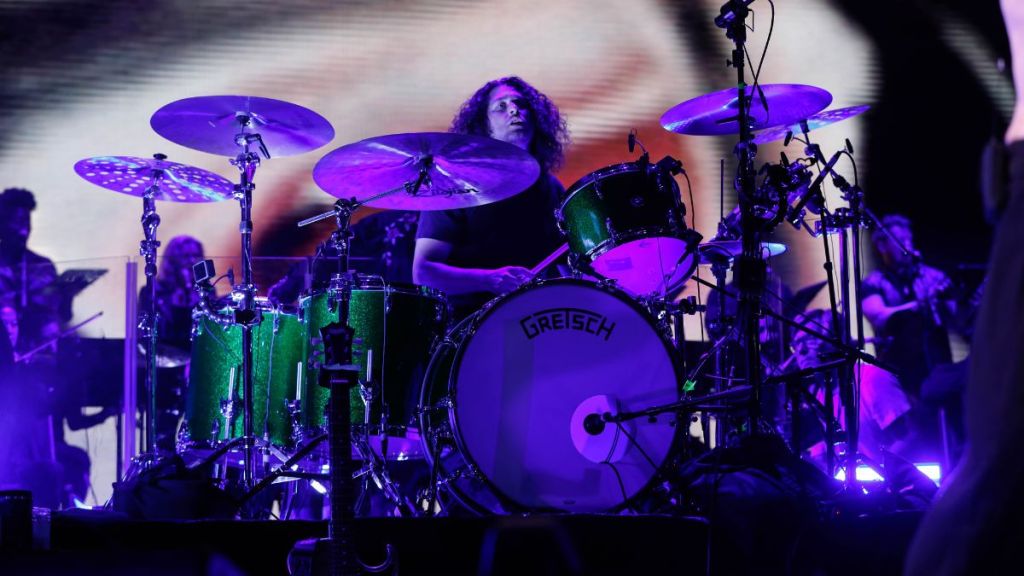 By Alex Kluft
Danny Elfman, one of the biggest names as a film composer but also as a member of iconic band Oingo Boingo, played the Five Point Amphitheater in Irvine, California on August 5th. Last year, he debuted a new show at Coachella featuring 40 years of music from Oingo Boingo and his film and TV work. Elfman brought this show to the Hollywood Bowl for two nights in October last year in place of his annual Nightmare Before Christmas shows. Elfman returned with two more shows this past weekend between the North Island Credit Union Amphitheatre in Chula Vista, CA and Five Point.
The show combines the music with bizarre visuals in addition to clips from the films he's worked on. The show included 33 songs/compositions. Prior to these California shows, Elfman's band consisted of guitarists Wes Borland (Limp Bizkit) and Nili Brosh (Tony MacAlpine/ Cirque du Soleil), bassist Stu Brooks (Perry Farrell/Matisyahu) and drummer Josh Freese (Devo/Sting) along with an orchestra and choir. With Freese on tour with the Foo Fighters and Borland on tour with Limp Bizkit, Nine Inch Nails/Angels & Airwaves drummer Ilan Rubin and Nine Inch Nails guitarist Robin Finck filled in. Conducting the orchestra was none other than Oingo Boingo guitarist Steve Bartek. Rubin was playing a green sparkle Gretsch kit which he played for the first time ever live the night before.
Elfman performed many of his fans most beloved compositions like "Breakfast Machine" from Pee Wee's Big Adventure, "The Simpsons Theme", "Jack's Lament", "This is Halloween and Whats This?" from Nightmare Before Christmas (sporting a Jack Skellington outfit and featuring live character voices), "The Batman Theme",  and the theme from Edward Scissorhands. He even drummed on a few tracks himself, playing the taiko on "Insects" and the snare on "Breakfast Machine." Advertisement
With the passing of Paul Reubens just days before the show, a vintage Pee Wee doll could be seen onstage, and following "Breakfast Machine" a photo of Reubens in his signature Pee Wee Herman outfit was displayed with the words "In Loving Memory Of My Dear Lifelong Friend." There was also a short video of Elfman and Reubens together from a number of years ago before the photo of Reubens was shown.
Elfman also performed one of his latest compositions. "Main Titles from Doctor Strange in the Multiverse of Madness" and the theme from Wednesday. The Oingo Boingo hits included"Just Another Day," "Only a Lad," and "Dead Man's Party." Bartek joined in on guitar for "Dead Man's Party" which was the last song before the encore of "Who Do You Want to Be" and "No One Lives Forever."
Modern Drummer caught up with Ilan Rubin to chat about working with Elfman, the gear he plays on, and his production work. Read the Q&A below, see photos of Elfman's show in Irvine, California, and check out Elfman's setlist. Advertisement
Modern Drummer: What gear are you using for these shows?
Ilan Rubin: The big change is that this is the first time I'm using Gretsch drums. I'm now a Gretsch endorser. There's my green sparkle kit, Zildjian cymbals, all DW hardware, Remo heads, Vater sticks… I've also had to make some additions with piccolo toms and effects crashes for this music. Same old set-up as usual with some additions.
MD: Danny did four of these shows last year with Josh Freese, and in 2008 you replaced him in Nine Inch Nails. How did you come into these shows?
IR: My manager [Rachel], her mother is Danny's longtime manager. That's how we first came in contact with one another. I know that Danny and Josh were at the last Nine Inch Nails shows at the Santa Barbara Bowl last year. I think that when Danny needed a drummer for these shows it was an obvious fit. Glad it worked out that way.
MD: How much of the set were you already familiar with?
IR: There were a few songs I was already familiar with, but this is a very extensive set learning his latest material from Big Mess was pretty sophisticated. A Lot of odd time signatures and even the Oingo Boingo stuff is deceivingly complex in terms of counts and structures. It's been a fun challenge. Advertisement
MD: On top of Oingo Boingo, Danny composed many iconic themes for movies like Batman, Spider-Man, and Doctor Strange.
IR: The film scores are kind of the breaks in between what the band does. It's nice to have those moments and enjoy some orchestral music then get recharged to continue.
MD: How did you get into producing?
IR: Production is always something I've done for myself through all my solo music with the New Regime and the most recent music I released under my own name. I felt like I had plenty to offer to other people for their music. When the pandemic hit, it really gave me the opportunity to invest my time into production and film scoring and things I wanted to take a stab at then I inherited all this time. That's how that came about.
MD: Had you ever been to one of Danny's shows before?
IR: I haven't been to The Nightmare Before Christmas show yet but I saw both "From Boingo to Batman to Big Mess and Beyond" shows at the Hollywood Bowl last October and thought they were incredible. It's hard enough getting me out of the house for a concert, so going to see the show a second time emphasizes how much I enjoyed it!
MD: Now that we're in the beginning of August, what's left this year for you?
IR: I am not exactly sure to be honest. I had a kid two weeks ago. My first kid so things have been busy and the prep for these shows was quite a bit, but it all has worked out beautifully. Tonight being the last show, this chapter closes for the time being, we'll see what the rest of the year offers. I definitely have my eyes set on fathering. Advertisement
Photo Gallery:
Danny Elfman – August 5th, 2023 @ Five Point Amphitheater in Irvine, CA Setlist:
Sorry
Insects
(Oingo Boingo song)
Spider-Man Main Title
Native Intelligence
Nothing to Fear (But Fear Itself)
(Oingo Boingo song)
Breakfast Machine
Just Another Day
(Oingo Boingo song)
Grey Matter
(Oingo Boingo song)
Jack's Lament
This Is Halloween
What's This?
Devil Take Away
Insanity
(Oingo Boingo song)
The Batman Theme
True
Dance With the Lemurs
Beetlejuice Theme
Mars Attacks
Everybody Loves You
Kick Me
The Simpsons Theme
Only a Lad
(Oingo Boingo song)
Ice Dance
In Time
Wild Sex (In the Working Class)
(Oingo Boingo song)
Main Titles (from "Doctor Strange in the Multiverse of Madness")
Wednesday Main Titles
Ain't This the Life
(Oingo Boingo song)
Alice's Theme
Happy
(with band and orchestra introductions)
Dead Man's Party
(Oingo Boingo song) (with Steve Bartek)
Encore:
Who Do You Want to Be
(Oingo Boingo song)
No One Lives Forever
(Oingo Boingo song)