Violent Femmes' John Sparrow Reveals Why He Plays on a Barbecue Grill: "It Was a Happy Accident"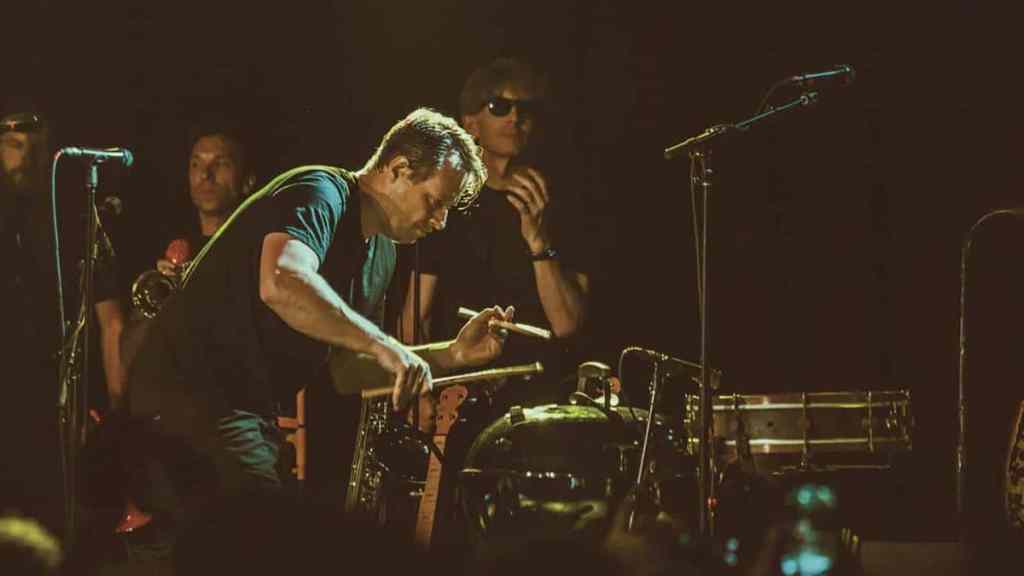 Some drummers obsess over the ring of their cymbals, the pop of their snare, or the dimensions of their bass drum. For John Sparrow of Violent Femmes, however, he's more concerned with the sonic possibilities of… a barbecue grill.
Formerly on the cajon and auxiliary percussion for Violent Femmes, Sparrow replaced Brian Viglione and joined the band as their full-time drummer in 2016, and quickly became known for his unique set up. In a recent interview feature for Modern Drummer's April 2023 issue, Sparrow outlines how the grill made its way into his drum kit.
"We were playing the Montreal Jazz Festival, but Viglione missed his flight," Sparrow tells Modern Drummer, "We had a TV show in the morning, and we had a radio thing the next day." Sparrow claims he filled in for Viglione for the TV and radio appearances, and brought only a snare drum — until a new piece of gear caught his eye. "When we were in the dressing room, there was a barbecue in the corner because they were doing a cooking segment for the show. Brian Ritchie (being Brian Ritchie) points to the barbecue grill and says, 'Why don't you just play that thing.' So we set up the barbecue and started playing." Advertisement
It wasn't long before the rest of the band saw the makeshift instrument's potential. "We all thought that it was really cool, and it sounded awesome," Sparrow says. "It's kind of like a mega bell ride if you think about it. No sustain, no ringing." Sparrow continued experimenting with the grill as a drum, making an appearance on The Late Show with Stephen Colbert with it and bringing the barbecue on tour to Australia. Now, Sparrow claims it's his trademark. "It was a happy accident," he says, "If you're a good drummer, you can play on a tin can, and if you can't play on one drum, what makes you think you can play on four drums?"
You can hear Sparrow's exemplary grill-drumming on Violent Femmes' 2017 live album, 2 Mics & the Truth. As for the make and model, Sparrow plays on a 22" Weber Kettle Grill — so if you're looking to upgrade your summer barbecue game and add a new drum to your kit, then you can take a page out of Sparrow's book.
Elsewhere in Sparrow's profile, the drummer discusses his journey behind the kit, combining a jazz sensibility with Violent Femmes' folk-punk, and learning techniques from his dad (also a drummer). Read the full profile on Violent Femmes' John Sparrow here. Advertisement