Steve Smith and Vital Information Announce New Double Album, 40th Anniversary Tour Dates
Steve Smith and his jazz group Vital Information have announced a new album, Time Flies, and mapped out a US tour in celebration of the trio's 40th anniversary. Releasing on May 5th, 2023, Time Flies is set to be Steve Smith and Vital Information's seventeenth album, and the group's first since 2017's Heart of the City. Rounded out by Steve Smith behind the kit, Vital Information also features Manuel Valera on keys and Janek Gwizdala on bass.
In addition to Time Flies, Steve Smith and Vital Information are also releasing a bonus companion album, A Prayer For the Generations, which features George Garzone on tenor sax. Aside from a John Coltrane cut as the album opener, A Prayer For the Generations consists of eight improvised tracks from Garzone, Smith, and Vital Information.
In a press release, the former Journey drummer and Rock and Roll Hall of Fame inductee outlined the premise for Time Flies: "I envisioned a trio with a big sound and a wide conceptual range, from high-energy jazz-rock, 'stadium' ballads, grooving odd-times to burning, straight-ahead swing," says Smith. Advertisement
Describing A Prayer For the Generations, Smith also shares that the album was born when him, Garzone, Valera, and Gwizdala settled on one mission: "Let's play like we're offering a prayer." "Each piece happened one time, in the order presented [on the album]. At the end of the afternoon with George we listened back and loved the results," says Smith. "We realized we had created an entire album in the space of a couple hours. George caught a ride to Newark airport for his flight to Boston and we were finished for the day, musically satisfied."
Ahead of Time Flies' release, Steve Smith and Vital Information will be heading on tour throughout the spring. The dates begin on March 29th in Ashland, Oregon and conclude at the Birdland Jazz Club in New York City on July 2nd. See below for the full list of dates, as well as Time Flies' album artwork and tracklisting.
Steve Smith and Vital Information 2023 Tour Dates:
03/29 – Ashland, OR @ Grizzly Peak Winery
03/30 – Portland, OR @ The 1905
03/31 – Bellingham, WA @ The Jazz Center of Bellingham
04/02 – Phoenix, AZ @ Musical Instrument Museum
06/17 – Hicksville, NY @ Long Island Drum Center
06/18 – Newton, NJ @ The Newton Theatre
06/19 – Sellersville, PA @ Sellersville Theater
06/20 – Washington D.C. @ Blues Alley
06/21 – Cumberland, MD @ Loft 129
06/23 – Rochester, NY @ Temple Theater (Rochester Jazz Festival)
06/24 – Cleveland, OH @ Tri-C Jazz Festival
06/25 – Pittsburgh, PA @ Manchester Craftsmen's Guild
06/27 – Lititz, PA @ Mickey's Black Box
06/28 – Marlborough, NY @ The Falcon
06/30-07/02 – New York, NY @ Birdland Theater (Downstairs, Birdland Jazz Club) Advertisement
Time Flies Album Artwork: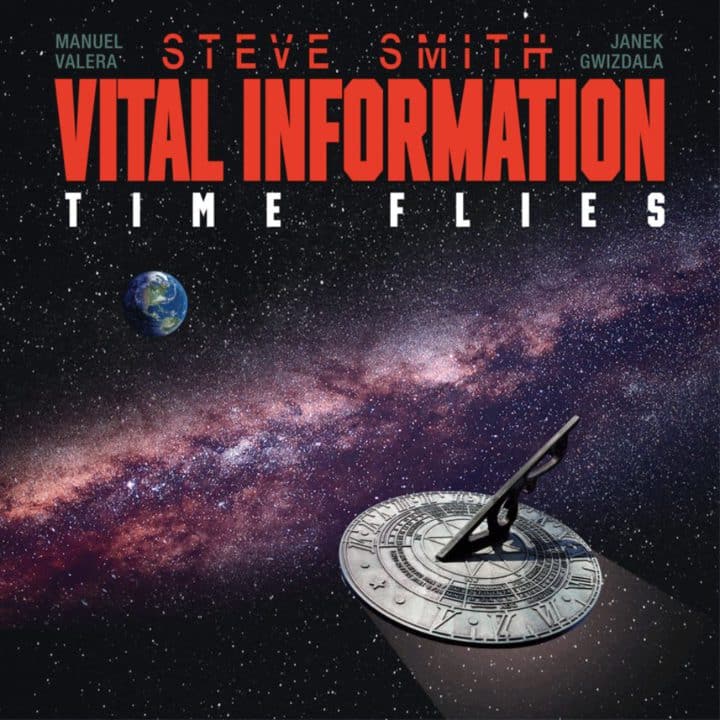 Time Flies Tracklist:
Emergence
Tempus Fugue-It
Time Flies
Darn That Dream
Un Poco Loco
Self Portrait
Inception
Choreography in Six
No Qualm
Ugly Beauty
What Is This Thing Called Love?
Erdnase